Gravitsapa from Ukraine is one of my favourite avant-prog & math rock bands, so I made an interview with the band's leader Sasha Jabowsky. Here's it.
I live in a country which is confusing for lots of people but also the one which should be known for each, considering latest events. It is Ukraine. City called Lviv, which is considered the cultural capital of Ukraine. Why? Because I live here :)
How Gravitsapa started?
In the official version of history written:
"Among first victims of Taksipods were single travelers, who were owners of teleportators. After teleportation into dangerous areas devices were working impermanent, because of the emissions of negative-fluid Taksipod elements. Dead bodies of travelers with distant homo-spark had been found in flagrante delicto. They were reduced to the level of organic matter. Humbled homo-race accepted its inexorable demise in opposition with two enemies: one was destroying mankind physically, while the other(Hastrolaters) - mentally, imposing them image of primitive creatures, which have been vanquished long ago. No one was proud of his inner spark, until one of the disciples of Shubi-dubishvabra created Gravitsapa using pleksus of instant knowledge - a device that returns souls lost in space. It was based on the principle of plazmation, not gravitation. Device was introduced on Conclave convened by the Privy Council, which rejected the gift because it wasn't working on the principle of gravitation - the basis of Privy Council philosophy. Disciple also told that Hastrolaters and taxipods were puppets of third party. He shouted its name and disappeared because members of Conclave made an attempt to kill him. Someone says that he attained theosis and still returns travelers home and protects homo-sparks with his own desciples using Gravitsapa."
Well, in that way… nothing interesting, a typical story of any of the bands
What did you play before avant / math rock?
Before Avant / math rock we used to play Christian-indie-motherf**ka – I will call it exactly in this way (probably this term is local, so I'll explain it to you, that we call the primitive Nu Metal like 'mazafaka' ). Back in those days our vision of life and music were different and all of us were participants of the Protestant Church. But after that period we were completely given ourselves into the hands of muse.
Your music is both energetic and spiritual. Where all of it did come from? What are your influences - not only in music, but in literature and visual arts?
My music was never played light-mindedly. It is always a spiritual process for me, I feel about it with trepidation. It is important for me to play an atmosphere music that will give an opportunity to the listener and to me to enter in different states of the consciousness condition.Speaking of energetic in the music, it is, I think, depends mostly on my nervous system. My temperament doesn't suit to play post rock.I love all kinds of art, except dancing. In cinematograph I was inspired by sincerity of Jodorowsky, craziness of Lynch, atmospheritc of Sokurov, conceptuality of Yevgeny Yufit and the monotony of Bela Tarr. If to talk about music, for the last half of a year I listen to John Cage, whom Shoneberg called rather an inventor than a compositor. While creating music, I feel also that a scientific approach suits better to me than emotional approach. It's easier to feel the inspiration condition when I wish to apply some technic or scientific conception in music. I was never inspired by emotional experiences or love stories.From the literature I respect Frank Herbert, Philip Dick, I begin to discover Stanislaw Lem. I love the picture of Neo Rauch, Lado Pavliashvili, Pablo Picasso, starting to get modern art :). But I think all the listed artists and writers didn't affect my music. I think, the more people are closed to the world, the better it reflects on their arts.
Your tunes are very original. I guess it's hard to bear the burden of an entirely original music?
For some reason I want to be on the crest of music evolution. I understand that our music doesn't get ahead of humanity for decades, but I never found it interesting to play something that is called 'good old rock'n'roll'. I think I despise plagiarism too much, that's why I try not to fall into temptation to become like someone else. But who exists without sin…I would never become a new Elvis or Fripp and if it happened, I would only become some Under-Elvis №665. So I'll be better Sasha number one.
What kind of the audience attempt at your concerts?
As far as I understand, those are minority individuals, who don't referring themselves to some groups or subcultures, But I do not know many of them, really…
Do you will tour Europe soon?
On spring 2016 we are going to be ready to our tour with the new band members. 4 talented introverts – I think it's great!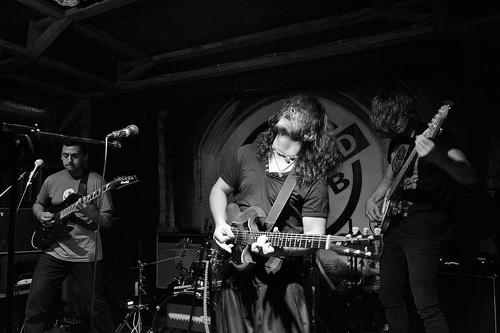 What is your favourite prog band from the 70s?
I've not been listened prog band of 70th and prog bands in general only a little bit. In general, the progressive elements appeared in our music accidentally or rather not intentionally. Even thou I'm interested in King Chrimson because Gravitsapa was compared with them. I doubt then 'who are they to be compared with Gravitsapa so constantly, should I listen to King Crimson and would they affect me?'
Is a new abum on the path?
The album is almost ready. But still I have doubts about releasing it in its current condition. I absolutely don't know about people's reaction. Most likely it is just going to be ignored. For the experiment I sent this album to a few people, but I had no replies about it ever since, they just keep silence. Maybe they think 'he becomes totally insane' or 'what a piece of sh*t he did'. Nowadays, I'm the only one who knows the value of this album, maybe this amount of fans will remain forever. But I will tell you one thing to make an intrigue – there are rudiments of 2 styles, they could be developed in the future. I would call them "minimal math" and "post sludge".