Ukrainian proggers 5R6 released their debut full-length album "Islands" in September, and it's a must-hear record for everyone who enjoys eclecticism in music. The band talks about the record and their future plans.
Hello 5R6, thanks very much for agreeing to this interview. Would you guys mind introducing yourselves?
Igor – guitars, vocals.
Eugene – bass.
Kirill – guitar.
Igor: And Dmitry – drums, back vocals, sound engineering. But he went on a small tour with his other band and I didn't manage to catch him to answer this interview, unfortunately.
I would like to ask you a series of questions about the creation process of each releases, starting with 2010's "Knots & Spirals." Could you tell me how this EP formed, how the music was written, specific influences for it, etc?
Igor: Actually, I don't even remember now how we decided that it is time to make this EP. We just had a bunch of songs and decided that we should record them and let people know about us. As for influences, I clearly remember listening to Alice In Chains , Soundgarden, Opeth, Tool, Porcupine Tree and A Perfect Circle a lot at that time. Also Death was an influence as well, I loved this band since I was 14, I guess, and I still do.
In 2012, you released another EP titled "+6.5 and Brighter." Tell me about the themes this recording captures. Also, what is the meaning behind the title of the EP?
Igor: The title refers to the fact that the faintest celestial object that is visible to the naked eye has the apparent magnitude of 6.5. So, basically, this means all the stars you can possibly see without a telescope. The main theme is how small we are comparing to the universe, and how dramatically insignificant are our problems and aspirations from that point of view. But there is rather optimistic angle to it, than nihilistic. Like live, embrace this world as it is, and stop doing the things you hate.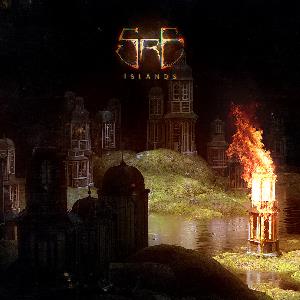 "Islands" is the name of your new full-length album. I find this record to be the most experimental musically than anything else you released before. Could you tell us about the writing process for this one?
Igor: I think that there are two factors that made the songs sound so experimental. When I develop some musical idea, I try to avoid clichés and drop anything that reminds me too much of some other bands or our own songs. Of course there are many similarities here and there, you cannot reinvent rock music. But I try to at least avoid some direct references. And then when we all start to work on a song together more fresh ideas are brought in. Some things may start to sound in a way that I could not predict. We all have pretty different musical background (a lot of things are common between us, but even more are different). So, it is very interesting to watch, or rather hear, how the song changes, flows and takes its form. Usually the final changes are made in the studio, even with the songs that we played for years before the recording.
Can you think of some moments where musical homages have been included in 5R6 tracks?
Igor: Not really. Of course, you can hear that some piece sounds in the spirit of this band, and that riff reminds of that band. Some parts were inspired by certain songs or bands, but they don't sound really similar, and I guess that it would be hard to guess which is inspired by what. There are no intentional music homages. There are a few intentional homages in the lyrics though☺. I'm not sure if I did something like this on Islands, but there were at least two lyrical homages on "+6.5…" EP, like the name of the song "A Dam Breaks Open", which is an reference to the lyrics of a song from the most popular prog album of all times, or the line "I saw a bad moon rising…" in "Cold Shine" is an homage to one of the most influential and much praised experimental/alternative rock band.
Can you tell us something about the album art on each of your releases?
Igor: The album art is traditionally drawn by our fellow 3-D artist Vadim Shchepilov. He has his own pretty unique style. We usually have very vague idea of what should be on the cover and rather explain Vadim the conception of the album and its emotional baggage. So, the result is usually a surprise to us. His art for "Islands" and "+6.5…" EP is fascinating, in my opinion, and surpassing all our expectations.
The only release for which artwork wasn't done by Vadim is "Vermin", which we released as a single through our Bandcamp page. We wanted something more raw and simple for it. The cover for "Vermin" was drawn by the beautiful bassist of Kiev's experimental/post-rock outfit Krobak, Asya Makarova.
This eclectic music must have a wide range of influences and inspiration. Would you guys mind enlightening us as to some of the influences you haven't mentioned already?
Igor: I often talk about our influences and sources of inspiration, so this time I would rather concentrate on what influenced me during the recording of this album, beside the bands that helped me to form as a musician long time ago. I would name Dinosaur Jr., Motorpsycho, Mogwai, Swans and Unwound as influences on my guitar playing on this record, as well as on guitars' sound. I listened to Seven Impale, Die Nerven and Self Defense Family a lot during the recording so, I guess, they might have influenced me too somewhat. As to what influenced my singing on this record, for me it is hard to tell for sure.
Kirill: Title Fight influenced my guitar playing much for the last couple of years. Lately, I listen to soul and hip-hop a lot, there is no obvious connection with 5R6's music of course. But this music inspires me.
Eugene: I listened to Incubus during the recording of Islands a lot. But I tried to approach each song from the perspective of its composition and sound. So I don't see any direct influence in particular. I just wanted to make it all sound good in the mix.
Igor: I second that.
What do you guys think I should describe 5R6 as to my friends? The real question here is, what do you guys consider the music of 5R6 to be?
Eugene: I would recommend you to make your friends listen to the album, and then ask them :)
Kirill: I don't know. Rock?
Igor: Yeah, I guess it is pretty hard to describe how our music sounds. I would say that we play something like heavy progressive rock with alternative rock/post-hardcore feel or something like this. Tell them we manage to squeeze good songs in odd structures and strange arrangements :)
Are there any other cool prog bands from Kharkiv we should check out?
Igor: There is no well-developed prog scene in Kharkiv. Kharkiv is mostly known in the world for its black-metal outfits (i.e. Drudkh). As to prog there is a band named Sunchild, they are pretty successful but mostly known outside of Ukraine. They play more traditional neo-prog. Also, there are our fellows Burrow, who play kind of "proggish" sludge metal.
So, what are 5R6's future plans?
Igor: We will, probably, make a video, release some new material next year, and do some touring. Then… We'll see.