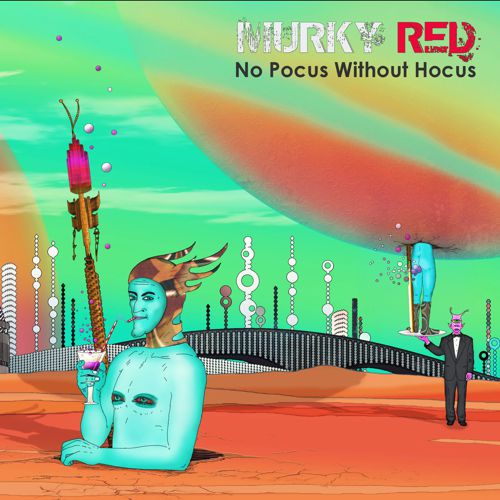 Belgian crossover prog band have released their highly anticipated 2nd album "No Pocus Without Hocus Out" The new album took over two years to record and many agree it was worth the wait. At the moment it is a digital only release, but plans are to release it on CD in 2016. At the moment the Digital album is available worldwide via Amazon, BandCamp, CD Baby, iTunes and dozens or other popular Digital Distributors, as well as the usual streaming sites.

According to the band.
The title describes perfectly, the journey that Murky Red travelled, to complete our second album. The change of the band's line-up, serious illnesses, the loss of loved ones, victims of fraud, financial and relational barriers… It seemed like The Murkies were cursed by the devil (although we paid him, the bloody t**t. Wise lesson kids: never trust a devil).

The making of 'No Pocus Without Hocus' was no walk in the park, but thanks to dedication, patience (ours and our fans'), friendship and a bit of sorcery, we returned with an album we're all proud of.

The meaning of the album title is a variation of 'no gain, no pain', which reflects on the making of the album but also on daily life. Sometimes you need a little magic to help you through the daily struggle. But that doesn't mean we made a pitch black, sad album. It's a laugh and a cry. The songs are about the normal things that happen in your life; you hallucinate a bit, you discuss world problems with your cat, you get horny, you can't sleep, you penetrate a mermaid with a fish stick… in fact this is the perfect soundtrack for your life! We know our listeners!

Musically, we stole all the best parts of Deep Floyd, The Black Doors, Led Sabbath and Dennie Christian, but you wouldn't know it if we hadn't told you. They endured the Murky-treatment: we put them all in big black cauldron, added 4 cans of blues sauce and spiced it with prog-herbs. We stirred it all up and let it simmer for about 2 years. The end result smells funny but it sounds just like Murky Red doing a cover of a Murky Red tribute band.

We asked Colin Tench (Corvus Stone, Coalition, Oceans 5, CTP, Transmission Rails …) for his mixing-pocus and as guest musician on 'Collateral Damage'. He immediately put a new set of strings on his cowbell. You really don't want to miss this!

Last but not least, a special thanks to my band members for their effort and positivity during hard times. Murky Red is back and stronger than ever.
Stef Flaming

Track listing
Pixelated Friends
Stoned And Horny
Sweet Dark Hypnosis
She's Crying Diamonds
Nothing Can Go Wrong
A Wooden Groove
Collateral Damage (feat. Colin Tench on lead guitar)
Bad Wolf Of The Pack
Wild Flower
Mermaids
Elena
Murky Red is…
Stef Flaming: Vocals & Guitars
Patrick Dujardin: Guitars
Rene Marteaux: Drums
Luk Lantin: Bass
Yolanda Flaming: Keys
Marie Vancamp: Percussion & Vocals

Music and lyrics by Stef Flaming
Recorded in the Murky Red Studios, Belgium
Mixing and mastering: Colin Tench, Stoned Bun Studios Sweden
© 2015 Murky Red Music
What the press and fans are saying about the new album.


Murky Red deserves the attention of not only progressive rock enthusiasts, but also to the 70's rock, when the absence of a music format gave free rein to unbridled inspiration. It is ultimately gratifying to notice that this spirit continues more than 4 decades later!
- Music Waves
"This album is a worthy successor to 2012's Time Doesn't Matter, and it shows a more out-of-the-trodden-path Murky Red. Brilliant guitar work, great organ and bass work, non standard drumming and percussion and a nice mix of humorous and serious lyrics make for a nice musical journey"
- Angelo's Rock Orphanage
"This album has a great 70′s prog feel to it but with a fresh modern day shininess… Thanks Murky Red…"
- Gordo Bennett
Murky Red's album 'No Pocus with Hocus' on Melodic Revolution Records is an amazing orgy of sound that titillates the ear, smelling sweetly like the shared tour bus of Pink Floyd, The Doors, Black Sabbath, Deep Purple, and Led Zeppelin going down the back roads of your dreams. An amazing achievement for a perfectionist band that never quits. Long hail Murky Red!
- Ted Ollikkala
Links
Website:
www.murkyred.com
Facebook:
www.facebook.com/MurkyRed
Colin Tench: Website:
www.corvusstone.com
Facebook:
www.facebook.com/CorvusStone
Melodic Revolution Records website:
mrrmusic.com
Facebook:
www.facebook.com/MelodicRevolutionRecords