Colin Tench Guitarist and Founding Member of Corvus Stone Solo Project News!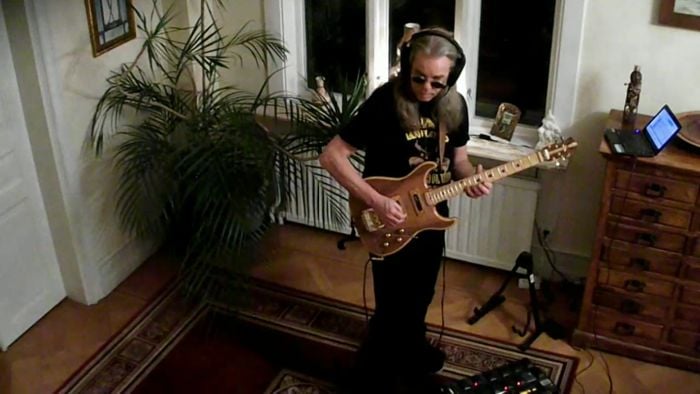 Colin Tench started out his music career in 80′s with Odin (of London) alongside John Culley (ex-Cressida, ex-Black Widow) leading to the formation of
BunChakeze
, they recorded one album;
Whose Dream?
which would sit unreleased for about twenty five years.
Whose Dream?
eventually would see the light of day and was self released in 2010, the album received much praise from the press. Since 2010 Tench has been busy working as an active member of bands such as
Corvus Stone
, Coalition &
Transmission Rails
along with
Andres Guazzelli
,
Murky Red
and
Andy John Bradford's Oceans 5
.
The Idea of
CTP / Colin Tench Projec
t came about in 2012, the first track he composed was Something Old, Something New, Something Borrowed, Something Screwed, a seven plus minute epic instrumental. Tench had no idea that he was even working on a solo project, it was just one song, then two and then he realized he needed to do something with these songs he wrote for himself and not the projects he was involved in, thus CTP was born.
Tench is no stranger when it comes to working with international musicians like; Lorelei McBroom (Pink Floyd, Rolling Stones), Joe Vitale (Joe Walsh, Eagles, CSNY), Phil Naro (Talas, Peter Criss) and Sean Filkins (Big Big Train).
For the solo album he has assembled some amazing talent featuring members of: (Karibow, Ozark Mountain Daredevils, Buckingham Nicks, Jimmie Van Zant, Springfield Symphony as well as members of Tiger Moth Tales,
Murky Red
,
Unified Past
, Coalition, Gandalf's Project,
BunChakeze
,
Transmission Rails
,
Progeland
, Druckfarben, ​
Backhand
and
DDrive
.
CTP/Colin Tench Project album track listing thus far…
Hair in a G string (unfinished but sweet) part 1 (6.34)
Colin Tench: Guitars
Steve Gresswell: Piano, Keyboards & Orchestration
Can't see it any other way: (5.05)
Colin Tench: Guitars
Phil Naro: Vocals
Gary Derrick: Bass
Marco Chiappini: Keyboards
Victor Tassone: Drums ​
Hair in a G string (unfinished but sweet) part 2 (4.30)
Colin Tench: Guitars
Phil Naro: Vocals
Steve Gresswell: Keyboards
Stef Flaming: Keyboards
Oliver Rusing: Drums
Petri Lindström: Bass
The Mad Yeti (2.51)
Colin Tench: Guitars
The Brazilian (7.26)
Colin Tench: Guitars & Piano
Gordon Bennett: Orchestra & Shaving Cream
And so, Today (4.08)
Pete Jones: Vocals & Clarinet
Colin Tench: Guitars & Piano
Petri Lindström: Bass
Hair in a G string (unfinished but sweet) part 3 (7.37)
Colin Tench: Guitars
Steve Gresswell: Keyboards
Angelo Hulshout: Fretless Bass
Something Old, Something New, Something Borrowed, Something Screwed: (7:33)
Colin Tench: Guitars & Vocals
Gary Derrick: Bass
Marco Chiappini: Keyboards
Victor Tassone: Drums
La Palo Desperado: (5.55)
Colin Tench: Guitars
When I'm Dreaming of You: (5.41)
Phil Naro: Vocals
Colin Tench: Lead Guitar
Gary Hodges: Drums
Steve Gresswell: Keyboards
Kelly Brown: Keyboards
Gary Smith: Guitar & Bass
Tina Sibley, Kirsten Weingartner, Ned Horner and Aleksis Zarins: String Section

Part 4b: (7.58)
Colin Tench: Guitars
Gordon Bennett: Orchestra, Triangle, things that goes boing
Petri Lindström: Bass
Angelo Hulshout: Fretless Bass
Jay Theodore McGurrin: Drums
For more Information:

http://mrrmusic.com/ctp-colin-tench-project/
http://www.corvusstone.com/colin-tench-project.html
https://www.facebook.com/BunChakeze


Edited by MRR - March 31 2016 at 11:23