So those are the main bands - there were others of course, but I have chosen not to feature every one of them - that got together this year although most if not all of them would not have an album released for at least another year. As for the albums we're going to look at for 1969...
From Genesis to Revelation - Genesis
If I followed my own rules then this should not be featured at all, as although it was Genesis's first album, it was far from being a progressive rock one. It's certainly more in the gentle folk area, and what's more, it doesn't even feature Steve Hackett or Phil Collins. But then again, it was the first anyone had heard from Genesis, so, like they say, suck it.

Uncle Meat --- The Mothers of Invention
Frank Zappa, isn't it enough that you haunt my dreams, skulking through my sleeping hours like some sort of spectral bogeyman waiting to assault my ears with nonsense and atonal sounds? Must I listen to an album of yours every year? It seems I must. This was another strand of the "No Commercial Potential" project Zappa created, of which we've heard already We're Only in it For the Money.
On the Threshold of a Dream - The Moody Blues
Another concept album from a band who were fast becoming one of the flag-bearers for the emerging progressive rock movement, this was the album that lifted the Moody Blues into the heady heights of number one position for their album, and into the top twenty cross the pond, though its only single failed to create even a ripple (geddit?)...
Trout Mask Replica - Captain Beefheart and his Magic Band
If there's one artiste I look forward to listening to less than Merzbow, it's this. I've already suffred through it once, but not here, so I'll have to take another crack at it. Brr! Anyway, supposedly a very influential album on the genre, and surely a lot of business to analysts and therapists years later.
Yes - Yes
Not to be confused with The Yes Album, this was the debut from a band who would go on not only to define progressive rock, but the more bloated excesses of it.
Abbey Road - The Beatles
I have my doubts about this one. I know it's seen as a seminal Beatles album with an iconic cover, but did it impact upon the prog rock scene? I'll leave it here for now, and await the judgement of those of you who can answer this question better than I.
The Nice - The Nice
Third album from The Nice. I'm not too certain about this one either; was it important? Have we heard all we need to of Keith Emerson's first band?
Volume Two (The Soft Machine Album) - Soft Machine
Second album from Soft Machine.
The Aerosol Grey Machine - Van der Graaf Generator
Debut album from Van der Graaf Generator
In the court of the Crimson King - King Crimson
An album that would go on to have a profound effect on prog rock, introduce the world properly to the genius of Robert Fripp, and become a classic of the genre, how could we not feature King Crimson's seminal debut?
Hot rats - Frank Zappa
Just can't get away from this guy, can I?
Ummagumma - Pink Floyd
Double album by a band who would go on to become one of the most important in the genre. Half of it is live, while the rest is made up of solo work from each band member. In case anyone's wondering, I've left out More as it's a film soundtrack and I don't think needs to be visited. If I'm wrong, please let me know.
To our children's children's children - The Moody Blues
Yes, they had two albums released this year. We'll be taking a look at both.
Renaissance - Renaissance
One of the only bands formed this year to put out an album that same year, this is the debut album from Renaissance.
Phallus Dei - Amon Duul II
Often cited as the first real Krautrock album, this was the debut album from Amon Duul II.
When I began this journal I admitted I mentioned it was, and is, a work in progress, and will be for a long time. The format is more or less generally set, but I can and will add to and change it as I see fit, or as ideas occur to me. An idea just occurred to me. As you can see, the amount of albums released by 1969 far outstrips those released in the previous year, and as we move into the seventies and beyond this will only increase. While not every one of them is important, essential or even relvant to the progressive rock movement, I'm trying to cover all those that are. But there are others that, while they bear no real importance, are still worth listening to and talking about. These I'll be looking at in two separate sections, titles yet to be decided but possibly "ProgWorthy", "On the Fringes" or "We are not Worthy!", which will feature albums that deserve not to be ignored, but are outside the main thrust of the journal, and something I may call "A bit of fun" or something similar, which will be albums that are, basically, just fun to listen to. Within those banners, these are the ones from 1969 that I intend to feature.
Liege and Lief - Fairport Convention
Said to be the first British folk rock album. We'll see.
Brainbox - Brainbox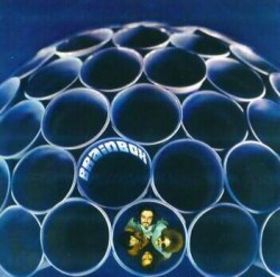 An album that came with a serious warning about causing serious psychological damage if listened to? How could we not grasp that nettle?
Catherine Ribeiro + 2 Bis - Catherine Ribeiro
Must listen to this, if only because its title gives the impression it was recorded with two lesbians!
Dracula's Music Cabinet - The Vampires of Dartmoore
I've heard so much about this I have to take the opportunity to review it!

It's a beautiful day - It's a beautiful day
Because why not?
So that's our list for 1969. Obviously, there's a whole lot to get through so this is going to take a lot longer than 1968 did. I'll begin reviewing albums soon, as we move into the realm of what I would term more actual prog albums than just ones that influenced the genre. And Zappa.