A new member in the IO Earth Family...meet Rosanna Lefevre!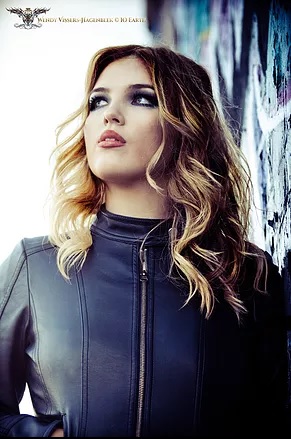 Rosanna Lefevre is a singer-songwriter and multi-instrumentalist aged 22 from Wolverhampton, UK. Having sung most of her life, her professional music career began at the age of 14. Since then she has successfully enjoyed work as a lead vocalist, songwriter, backing vocalist and drummer across the UK within a range of bands and venues, performing a wide variety of music genres with ease.
Rosanna is an amazing young vocalist. Discovered by Steve Cooper, a lecturer at Wolverhampton University. Whilst studying for her Masters Degree in Music, she currently works part time at our rehearsal space. She has a rare passion for music, and is constantly searching for higher opportunities that will challenge and help her evolve as a person and artist. Her vocal style mixes classic blues rock with ethereal beauty. Her voice will bring a whole new dimension to IO Earth's 4th studio album, announced for 2017.
Rosanna: "I feel both incredibly lucky and happy to be joining the fantastic IO Earth. I am humbled to have been given the chance to work with such talented and down to earth people, musicians and songwriters. I can't wait to get to know the bands awesome fan base around the world. I truly believe that this is the beginning of an amazing adventure for us all. Can't wait to see you on the road and start this exciting journey together".
Dave:
"Rosanna has a very mature approach to music and working with a vocalist that is this musical is a treat and it feels like she has always been there. It has been great fun working with Rosie at the rehearsals as she has a fantastic vibe and is very driven. Iím sure that our IO Earth family will embrace her and welcome her with open arms".
Adam: "We're all so excited to introduce Rosanna to the IOEarth Family. It feels like we've discovered a real gem, right under our noses here in Birmingham! At her audition, she blew us away, turning up ready to sing over 70 minutes of IOEarth material! We can't wait to bring her to your neck of the woods."

Edit:
Here's a vid of her doing a cover:
Great voice!

Her debut solo EP "Rain" will be available soon to purchase on all major music platforms.