Progarchives
is proud to present this exclusive interview with the legendary
Clive Nolan
and his new partner
Agneiszka Swita
, talking about their new project
Caamora
.
Hi Clive and Agneiszka. We all know Clive well of course, so perhaps you could start off by telling us a bit about Agneiszka. I know you come from Poland but apart from that, a quick Google search for you on the internet finds only Caamora and the related press releases. What is your musical background?
Agnieszka: I have no music background beyond my love of music… that has always been a part of me.
Have you sung with other artists or bands?
Agneiszka: No
Have you released any albums under your own name?
Agneiszka: No
Do you play any musical instruments?
Agneiszka: No
Who are your musical influences, which bands and artists do you enjoy?
Agneiszka: If I like it, I don't mind who wrote it or who played it. I listen to many different things.
Agneiszka's background is described in the press release simply as ??? Is it your intention to build an air of intrigue and mystery around her?
Clive: Agneiszka has a natural air of mystery: it's is what drew me to her in the first place.
The two of you apparently met as the result of a sort of blind date. How did you go from there to planning an entire major project together?
Clive: Actually we met by coincidence, when Agneiszka came to dinner with a mutual friend. The moment I saw her, I knew she was the right person for the role. Talking about the project was just a natural progression of our evening.
How much of the project did you have planned already Clive before Agneiszka came on board?
Clive: Well, nothing really. It was our meeting that triggered the whole thing. I had carried around the idea that one day, I would set this story to music, but that was as far as it went.
Will Agneiszka be involved in the writing, arranging and production of "She"?
Clive: Agneiszka is the inspiration for the whole project, but the writing responsibility is mine.
What "part" will Agneiszka be taking on, narrator, a character, etc?
Clive: She will be playing the main role… that of the character 'She, who must be obeyed!'
What sort of music do you envisage for "She"? Will it be predominantly vocal, orchestral, etc.? Will space be found for a few virtuoso keyboard performances too (please!)?
Clive: 'She' will be a rock opera (for want of a better description)… there's plenty of rock music… some major orchestral sections, and piles of vocals… but yes, I'm sure there will be a keyboard moment or two.
How representative are the tracks on the EP of what we can expect from "She"?
Agnieszka: I think it's a good representation of what is to come… many different flavours and atmospheres: plenty of drama and emotion. Naturally the EP is much more concise than the epic double album we are recording next year.
The November dates are described as "Two man" shows. Will you have a backing band with you, or will it simply be keyboards and vocals?
Clive: Just keyboard and vocals… but again, there's plenty of drama.
Following on from that, the DVD is to be a partially staged performance of "She" filmed in a theatre. Does this imply some sort of theatrical presentation beyond simply performing the music? Any thoughts at this stage where the performance will take place, will it be part of a tour?
Clive: 'She' will be performed in the Wyspianski Theatre in Katowice. This will be a one off special performance, with a theatrical edge, designed to be recorded for DVD and released at the same time as the album.
The first gigs to be announced are in Europe and South America. Those in Europe are with Galahad. Will the South American dates be in a partnership with another act? Why did you choose these locations to introduce Caamora?
Clive: All the gigs we play will in partnership with other bands. Our gig in Santiago for example will be with Estigma. I have always loved playing in South America, so when the opportunity came up, it was irresistible... the audiences are great out there.
You have produced several concept projects now Clive. Do you have any ambitions to move into stage shows, films etc?
Clive: That's what Caamora is all about… we are crossing into new areas. Beyond 'She', the rock opera, we have many more plans.
A project like this sounds like a major undertaking. Does it involve a degree of financial risk for you in terms of the investment required?
Clive: There's always a risk with a new venture, but if you believe in it enough, then no risk is too great!
It was recently announced that Arena are also starting work on their next album. Clearly you enjoy the pressure of working on various projects at the same time Clive, but how do you split your time between them equitably?
Clive: My energy comes from a love of what I do. The truth is that Caamora is taking a great amount of time at the moment, but we have certainly made the first steps towards the next Arena album.
Parts one and two of the Strangers on a Train trilogy have been around for several years now. Any thoughts on when the final part will be completed, perhaps with Agneiszka singing on it?
Agneiszka: Caamora is an exclusive partnership of two people. My part in Clive's music is this alone.
Agneiszka, had you come across any of Clive's work before you met? With all his projects there is a lot to catch up on! Which of them has caught your ear so far?
Agnieszka: When I first met Clive, I was not aware of his music. I liked him as a person first, then as a musician. Knowing him has made me listen to his music: what interested me the most were the beginnings of his musical career.
Clive, do you feel that each of your projects must retain its own sound and feel? For example, could Arena ever have a female vocalist? Do you write differently for different bands, or would you say write something and immediately know the song was right for Caamora but not Pendragon.
Clive: I've always been able to compartmentalise when it came to writing. Naturally there will be a little cross over between writing styles, but to me I can feel the difference between Arena, or Shadowland or Nolan/Wakeman. For the last year and a half, Caamora has been the irresistible force that has driven me.
Does the adoption of female vocals imply a generally softer and more melodic approach to the music for this project?
Clive: Not at all… this rock opera is extremely varied, and Agneiszka has risen to every musical challenge I have set her.
Is touring a necessary evil, or do you still find it rewarding and enjoyable?
Clive: I love touring. It's the lifeblood of what I do. I know Agneiszka will love it too.
Most if not all of the bands you have been involved with Clive have been classified as Progressive rock. Do such classifications matter to you?
Clive: Not really. I just do what comes naturally... I leave it to others to classify.
How familiar are you with progressive rock Agneiszka? The band Riverside from Poland are highly thought of on our website.
Agneiszka: Not at all…
Finally Clive, a question about Arena. A new "Best of" collection is to be released shortly to celebrate 10 years of the band (Congratulations by the way!). How were the tracks for that album selected? Were all the band members involved?
Clive: Mick and I chose the songs, but there was general discussion before that.
Many thanks to you both, I wish you great success with Caamora!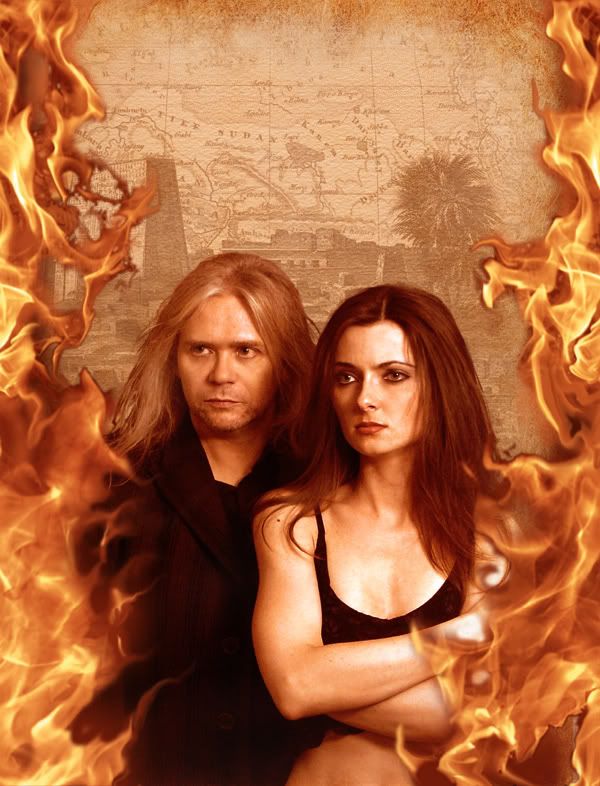 Edited by Easy Livin - October 17 2006 at 04:32