Source :
http://www.neptunepinkfloyd.co.uk/news/?y=07&id=0122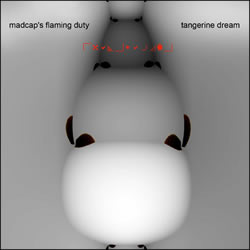 Tangerine Dream celebrate their 40th Anniversary in 2007 with the release of their latest album - "Madcapís Flaming Duty".
Released on 2nd April 2007, the album is dedicated to former Pink Floyd guitarist and songwriter Syd Barrett who died in July 2006.
Like Pink Floyd, Tangerine Dream went professional in 1967 and were pioneers in their field of electronic ethereal music. They have done music for over 40 films and TV series and their new album is eagerly anticipated.
Tangerine Dream are a German electronic music group founded in 1967 by Edgar Froese. The band has undergone several personnel changes over the years, with Froese the only continuous member. Drummer and composer Klaus Schulze was a member of an early lineup, but the most stable version of the group during their influential mid-1970s period was as a keyboard trio with Froese, Christopher Franke, and Peter Baumann. Early in the 1980s, Johannes Schmoelling replaced Baumann, and this lineup, too, was stable and extremely productive.
Tangerine Dream's early "Pink Years" albums had a pivotal role in the development of krautrock. Their "Virgin Years" and later albums became a defining influence on new age music.
The band is also known for their stunning soundtracks for William Friedkin's 1977 film "Sorcerer" and Michael Mann's 1981 film, "Thief" starring James Caan.
More :
http://www.neptunepinkfloyd.co.uk/news/?y=07&id=0122