Or: too much text by Syzygy with not enough pictures from Victor 77, whose photography is much the best part of what follows:
Nebelnest
Nebelnest appeared in their newly expanded line up - they've added a second guitarist who doubles on soprano sax, making them a quintet. They used what appeared to be a computer generated slideshow as a visual accompinament to the music, but otherwise the performance was rather low key (although the drummer did take his shirt off at the end of the first number). I only know Nebelnest from their first album, which I enjoy as a well crafted piece of work but no masterpiece, and I felt the same way about their performance at the festival. The playing was solid and assured but only occasionally seemed to come alive, and after a while all the pieces began to sound alike. The old school prog keyboards were an unusual touch in this setting and worked reasonably well, but for much of the time Nebelnest's music lacks the hard edges and shifting dynamics of the best RIO and Zeuhl. Had they been on the bill of a more mainstream prog festival their King Crimson/Magma stylings would have stood out a lot more; in this context they were unmemorable, although they seemed to go down well with the audience.
Present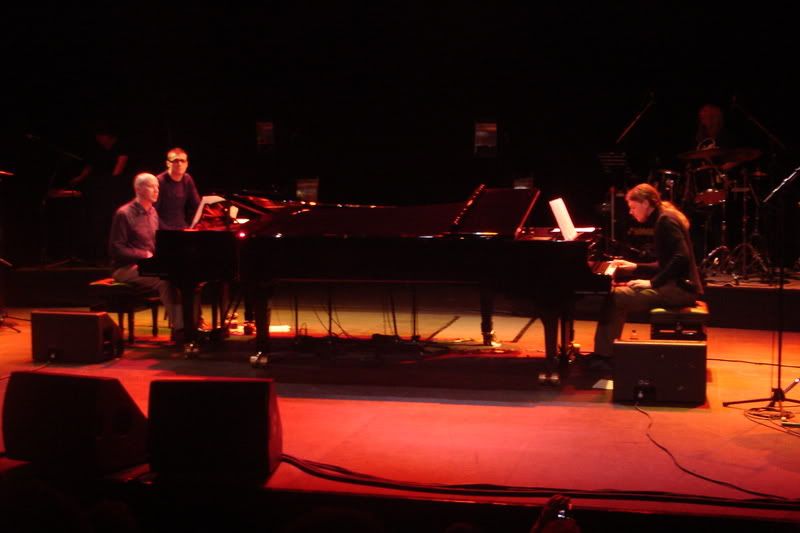 Present (acoustic) was the concert I was most intrigued by when I read about the festival line up - Roger Trigaux's compositions performed on 2 grand pianos, percussion and vocals sounded like a promising idea. The 11 piece ensemble included 4 members of the current Present line up; Roger Trigaux plus son Reginald on percussion, Pierre Chevalier on piano and Dave Kerman as principal percussionist. Roger Trigaux sat stage left, occasionally attacking a cymbal but mostly conducting the other musicians. Ongoing health problems mean that he is now unable to play many of the parts he composed and performed in the past; like Brian Wilson on his recent tours, he is integral to the performance although at times he actively contributes very little. 3 lengthy pieces were performed, one specially composed for the festival, with the 2 pianos being played extremely fortissimo for much the time. This was where the performance disappointed; there are a whole range of timbral possibilities available with 2 grand pianos, but this was not really explored. Similarly, the multiple percussionists often seemed slightly redundant - there was nothing wrong with the ensemble playing, but more interesting rhythms could have been created. The second piece was the best: Roger Trigaux hunched over his microphone and delivered a truly dark, impassioned vocal while scraping his cymbal, the percussionists used the metal parts of their kits to create the sounds of the machinery of hell, Reginald Trigaux wandered through the audience screaming back at what was happening on stage and the 2 pianists created disturbing discords - the dark promise of Present's early albums was fully realised. The other 2 pieces, for me, were rather montonous and didn't really seem to develop, although Roger Trigaux throwing ping pong balls into the pianos during the final piece was an interesting touch. There was a standing ovation at the end, as much for Roger Trigaux as for the music itself it seemed to me; from discussions I had later and some overheard comments it seems like opinion was divided, but most of the audience were positive about it. For me it was an interesting but ultimately failed experiment, while for many other audience members it was a triumph. Despite my reservations, I felt that it was a performance that was true to the uncompromising RIO spirit - it's in the nature of experiments to fail once in a while, but better that than a cliched run through of the old favourites.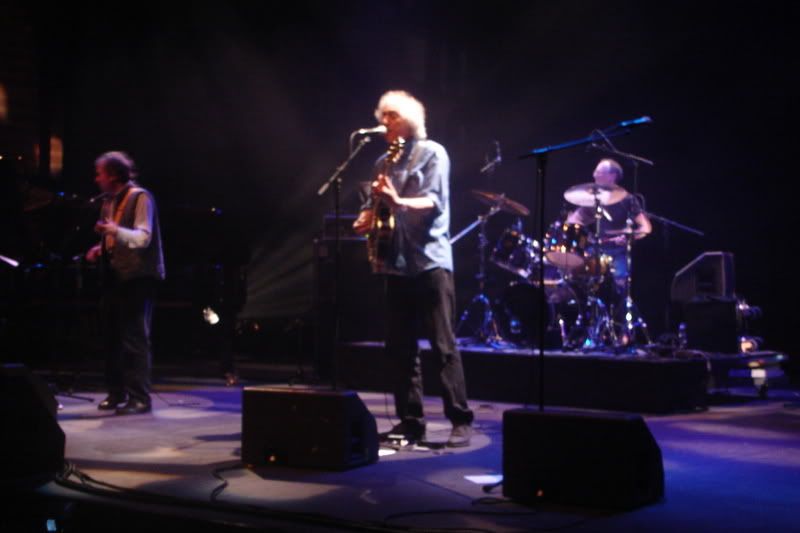 Blegvad trio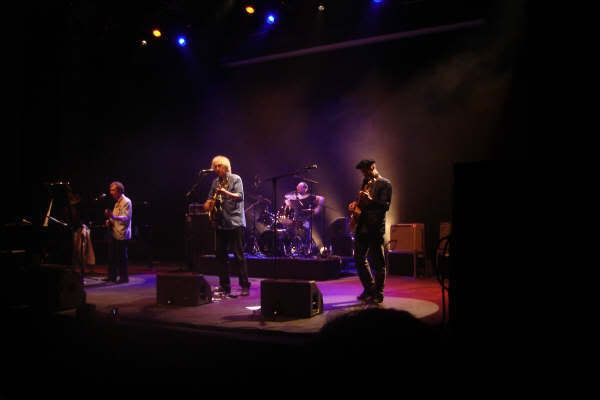 Blegvad Trio plus Bob Drake
The Peter Blegvad Trio was another act that divided opinion - some people seemed to feel that this wasn't RIO and didn't belong on the bill, while others enjoyed it as a welcome contrast to the rest of the festival. I'm a Blegvad fan and throughly enjoyed their set, but I can understand why not everybody felt the same. The case for is that Blegvad was a member of Faust, Henry Cow and Art Bears, all unquestionably RIO (as well as the more borderline Slapp Happy), and that the rhythm section consists of Chris Cutler and John Greaves, whose RIO credentials are beyond reproach. The case against is that Blegvad's solo output is straightforward singer/songwriter fare, albeit with more than usually erudite and intelligent lyrics, and is more like subversive AOR than uncompromising RIO. Anyway, Chris Cutler's unpredictable and ever watchable drumming combined with John Greaves' supple, jazzy bass to push Blegvad's Dylanesque songs into unusual shapes, and there was a relaxed and actually quite loose feel to the performance, which drew mostly from Just Woke Up and Hangman's Hill. About halfway through Cutler and Blegvad left the stage and John Greaves performed 2 songs alone at the grand piano (prior to the concert he told me that he hadn't touched a piano in months; yeah, right...), including his brilliant setting of Dylan Thomas' The Green Fuse' - for me this was one of the festival's high points. Then the trio expanded to a quartet with Bob Drake on lead guitar, and one number even sounded like it was turning into Green Onions by Booker T and the MGs.
Blegvad gave a hugely entertaining press conference afterwards, in which he revealed that he writes his songs as American rock but that Greaves and Cutler are the least funky rhythm section in the world, and that much as he likes working with them he occasionally dreams of recording his songs at Muscle Shoals with an American rhythm section. He also mentioned a performance of Kew.Rhone in Paris this summer (details to be posted in the performance section) and spoke about a possible Art Bears reunion (the musicians are willing but sadly it looks unlikely; Royal Jelly heard the same from Chris Cutler). Later still Martin & I bumped into the ever affable John Greaves who told us a little more about the upcoming concert in Paris and also that his second solo song was a setting of Verlaine from a forthcoming album of Verlaine poems set to music. Setting poetry to music is a risky business but Greaves has always handled this with aplomb - the album promises to be excellent.
Faust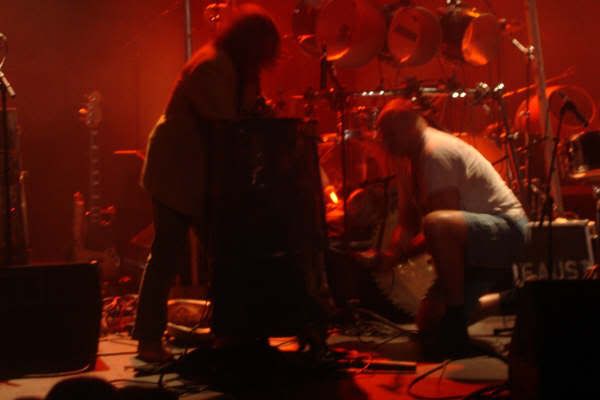 JHP sings 'Where have you been my blue-eyed son?' accompanied by Zappi
Faust were the headliners for the second day and they gave a vintage performance that (yet again) seemed to divide opinions. As an unashamed Faust fanboy I was delighted with what I experienced, but not everybody seemed to feel the same way about it. The last time I saw them they played as a quartet with 2 members of Ulan Bator, but on this occasion they were a trio - original rhythm section of Jean Herve Peron and Zappi Diemaier with Ulan Bator's Amaury Cambauzat on guitar, keyboards and sampler (amongst other things). Zappi's drumkit was inside a scaffolding cage as usual, JHP's side of the stage had basses (electric and acoustic), acoustic guitar, a hunting horn, an oil drum and assorted power tools, all in front of a sheet of plasterboard, while Amaury's side of the stage had a cement mixer alongside the guitars and keyboards. The set list included quite a lot of new material, presumably from the forthcoming studio album C'Est Complique, and a few old favourites. Faust IV was well represented this time around, with blistering renditions of Krautrock, It's A Bit Of Pain and Sad Skinhead - the latter featuring some very punky vocals from Peron. The show started relatively conventionally, with the blistering aural assault bolstered by a slideshow and some excellent lighting. About half way through JHP launched into a radical attack on Dylan's Hard Rain, singing like Johnny Rotten's godfather while Zappi attacked some scaffolding poles with an angle grinder and Amaury fed bits of metal into the cement mixer - this was amplified and provided a surprisingly effective rhythm track. Peron shouted into the oil drum while attacking it with a power drill and Zappi joined in on angle grinder. Later on JHP cut the word 'Rien' into the sheet of plasterboard with a chainsaw before running through the audience with the still buzzing chainsaw held aloft. Things settled down a bit later when, just as on Faust's previous UK tour, JHP set up an ironing board and iron and pressed an audience member's shirt, all the while reciting 'This is not music ... this is serious' before launching into an exchange of 'C'Est Complique' with Amaury. Walls of sound, surprisingly delicate acoustic interludes, power tools, all shot through with subversive wit and surreal humour; this was all spectacular stuff - Faust have not mellowed with age, although in person they are extremely pleasant and polite - and the performance won a standing ovation from the majority of the audience, athough not everybody stayed until the end and there were some negative comments overheard afterwards.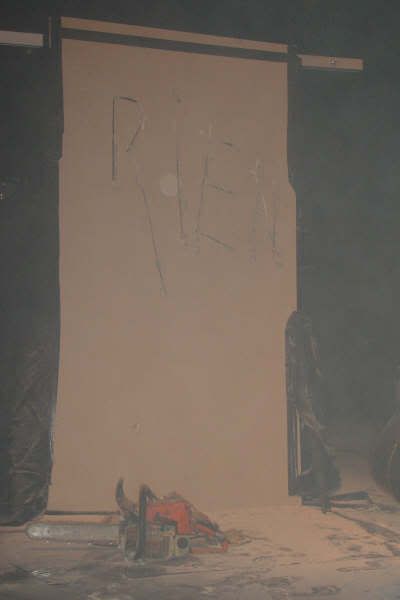 C'est Rien de Faust....


Edited by Syzygy - April 24 2007 at 17:46