"The Sky Remains The Same As Ever" (DVD)
Trailer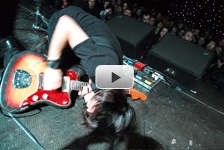 What is the underlying souce of power of MONO? What makes their sound so powerful as if it reaches the bottome of our heart, grab it and shake it brutally?
What makes their music go beyond the borders and create the same exceptional craziness among people of different color of skin, different race, different language?
You might find an answer in this DVD.
It captured their documentary of European tour in the winter of 2006, the tours in Japan, Korea, US and Canada in 2007.
The DVD is the first video MONO has ever created and yet it could be the ultimate complete work of their history.
"The Sky Remains The Same As Ever" will be out this summer.
---
This DVD was filmed and edited by Teppei. He is well known figure as "photographer specialized in live music" in Japan.
This is his first video he has ever created.
He made five roundtrips among the continents and spent more than sixty days to film the band. And at the end, he had over a hundred tapes to work on editing.
Teppei's original vision and skill to capture a moment, that has been nurtured as still photographer for many years, is vividly reflected in the moving images in this DVD. He succeeded to seize the beauty, intensity, liveness of MONO's live performance. Only a person who gained band's trust this much could have done.
As Teppei traveled with MONO on the road for many days, he filmed the audience of many countries and showed us the band's off-stage life on the road including the reunion with the band's close friends.
This is a feature film of raw passion, that goes beyond the borders and creates one exceptional craziness among people of different color of skin, different race and different language.
This is a collection of EPs we released from 2000 through 2007. The songs are not included in the original albums. The vinyl of three discs will be available as well on TRL.
The songs from the most sought after EP "Hey, You EP" (only 1000 CDs were pressed at the very beginning of MONO.), a song from the split album with Pelican originally available only in vinyl, "Memorie dal Futuro" on Cameron Craw's Vinyl Films, etc... In addition to those songs that have been hard to get, "The Phoenix Tree" of TRL's limited TIC series will be included, too. 10 tracks, 80 minutes.
"gone" will be released worldwide this summer.
You can listen the song in
"Discography/Coming soon" page
.