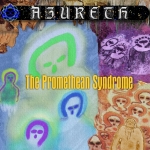 Azureth is proud to announce the immediate availability of it's second cd.
The Promethean Syndrome.
The cd (over 2 years in the making) is a factory burned glass cd with a four page color foldout and shrink wrapped. All cd's will ship in a bubble wrap mailer within 48 hours of receipt of order. In addition, a purchase will entitle you to download a beautifully illustrated lyrics page and narrations for the cd.
The cd is available now at our website. You can go to our website at www.azureth.com and click on 'E-Store' or follow the link below to go directly to the E-Store.
http://www.azureth.com/iframe_e-store.htm
The lineup for The Promethean Syndrome is as follows:

- Stephen Rivera : Keyboards
- Mark Connors : Guitars, additional bass
- John Wooten : Drums
- Rod Chappell : Lead & background vocals, Bass
- Vince Font : Lead Vocals
- Narrations & background vocals by John Morris Jones.(available after registering)

We hope you enjoy listening to the cd as much as we enjoyed making it!

Azureth



Edited by azureth_mlc - October 10 2007 at 23:49