THE HAMMOND ORGAN
"From a poor man's pipe organ to a
progrock musician's big band"
PART THREE
Chapter 8: Quotes about the Hammond organ by Dutch progrock
musicians
(from Rick Van

Der Linden to Thijs van Leer
and Ton Scherpenzeel)
Chapter 9: My favorite Hammond organ drenched CD's and DVD's
CHAPTER 8:
QUOTES ABOUT THE HAMMOND ORGAN BY DUTCH PROGROCK MUSICIANS
When I made a vintage keyboard special for the Dutch progrock magazine iO Pages I got in touch with many known Dutch progrock musicians, here is a compilation of their quotes about the Hammond organ from the interviews I made with them.
Cleem Determeijer (Finch and Veralin): "I owned a Hammond L100 with a Leslie speaker. It was a very inspiring instrument and you got a lot of extra's for free!"
Ton Scherpenzeel (Kayak and Camel):
"On the album See See The Sun from 1973 I used a Hammond organ that belonged to the studio. On stage I often played on a Hammond L100, it replaced a lot of other keyboards. Especially on the more heavy and raw parts of the music I let it scream! A Hammond is an irreplaceable and fantastic device, its charm comes from the technical imperfections like the 'keyclick' and the 'buzzing'."
Thijs Van Leer (Focus): "In my Seventies days with the early Focus line-up my most important keyboard was the Hammond organ, to be more specific: the L100. It has a wonderful sound in the mid-era, a kind of soft blanket for the arrangements. On stage the part of the Hammond organ in my range of keyboards was at about 70%. In the studio sometimes I used a Hammond B3 in order to get some special effects. I also owned two Leslie speakers. For a while I used a 'potmeter' to handle the speed of the Leslie box a bit more."
Rick Van Der Linden (Ekseption and Trace):
"My 'Hammond heroes' are Brian Auger from Trinity and especially Keith Emerson from The Nice (later I met him and he told me that he owned my solo albums!) and in 1969 I bought my first Hammond organ, a M4. It's hard to describe the sound of a Hammond, it lives, you gotta feel it under your fingers, it's the king of the keyboards. One day the M4 felt from the stairs, more than 10 meters but it still worked perfectly after that incident, amazing! Later I bought more Hammonds, including the famous B3 model. Looking at the quality it's a bit better than the M100 but that spinet sound is so impressive for such a small model."
Arjen Lucassen (Bodine and Vengeance, nowadays Ayreon)
: "I am a huge fan of the Hammond organ, it contains so many sounds and every Hammond sounds unique. My favorite models are the B3 and C3. The 'clicks' sound great but in fact these were factory imperfections. On my first album Cleem Determijer plays the Hammond organ, he had borrowed it from Magic Frankie, a blues musician. At this moment I own a Hammond module, the Hammond Suzuki XM1 in combination with a Leslie 122 speaker."
CHAPTER 9:
MY FAVORITE HAMMOND ORGAN DRENCHED ALBUMS
ACHE — De Homine Urbano + Green Man

- This Danish band was founded in '68 and made two albums: De Hombre Urbano (1970) and Green man (1971).) In 2000 both albums were released on 1 CD entitled "Ache: De Hombre Urbano + Green Man". The music is based upon splendid keyboardplay (many floods of Hammond organ) and some fiery electric guitar. The first album contains two 'side- long tracks', the atmosphere is typically end Sixties and early Seventies (the Early British Progressive Rock Movement like JULIAN'S TREATMENT, RARE BIRD, BEGGAR'S OPERA and ATOMIC ROOSTER, the German Krautrock like early JANE, ELOY, RAMSES and TRIUMVIRAT) and early Earth & Fire) with lots of soli and long, exciting interplay between guitar and keyoards, like jams. The second album includes shorter songs but the climates are in the vein of the first LP. If you listen to this CD, it's incredible that the magnificent keyboardplay is delivered by an unknown Danish musician.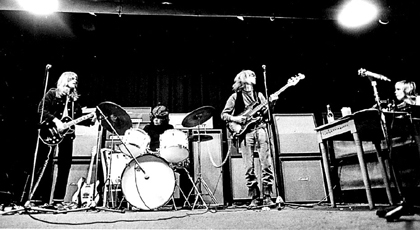 Essential for Hammond organ freaks!
GLI ALLUMINOGENI — Scolopendra
- Here's an often overlooked gem from the Italian Seventies prog! The seven compositions on this debut album are a very dynamic and alternating blend of Sixties, blues, rock and classical featuring excellent work on the Hammond organ and also great Italian vocals and raw electric guitar. The one moment you are carried away by bombastic a church organ sound, the other there is a bluesy electric guitar or pleasant and warm Sixties atmosphere, VERY EXCITING!
AVE ROCK - Ave Rock
- This is a Seventies progrock band from Brazil. Although Ave Rock their second album sounds more progressive and more mature, I prefer their eponymous debut LP. The Hammond organ play is wonderful featuring many hugh floods and great runs, the guitar play is decent and the compositions are tasteful but not very original (evoking the organ-based progrock bands from the late-Sixties and early Seventies). Only the vocals doesn't please me, they tend too sound a bit unbalanced and at some moments too high pitched. My conclusion: a pleasant album for the Hammond aficionados.
BRAM STOKER — Schizo-Poltergeist
- Here is a gem from the Early British Progressive Rock Movement. The eight melodic and dynamic compositions are Hammond organ drenched, the electric guitar is often distorted (fuzz) delivering some fiery soli but in general it is on the background. Bram Stoker their sound has elements from Atomic Rooster (Born to be free), ELP (Fast decay) and often Beggar's Opera, mainly due to the classical organ sound (for example Bach's Toccata In D-Fuga in Fast Decay and the long Fingal's Cave) and the pleasant vocals. The track Blitz has some Spanish flavored guitar undertones and sounds a bit dark. The final, horror-like song Poltergeist features floods of classical inspired organ. If you like Hammond drenched seventies progrock, I highly recommended this CD!
BEGGAR'S OPERA — Act One
- What a mindblowing debut-album this is! The very melodic and harmonic music from this five-piece band is based upon an incredible dynamic and propulsive rhythm-section and splendid, very exciting Hammond organ work, often accompanied by a powerful and fiery electric guitar. The interplay between the musicians is magnificent and the excertions on keyboards and guitar are very compelling, in the spirit of the late Sixties and early Seventies. The vocals are also worth to be mentioned: distinctive with an enthusiastic approach and often a bit cynical undertone but at some moments also warm and plesant. The highlight on this CD is the track "Raymond's road" featuring awesome guitarsoli (inspired by Hendrix and Page)and exciting work on the Hammond organ in the vein of the best Keith Emerson, including short renditions of known classical pieces from Bach and Grieg. An excellent album (my reissue contains 2 decent bonustracks) that will please every Hammond aficionado and fans from the early seventies progrock sound!
BOOTCUT – De Fluff
- As a huge Hammond freak I got more and more impressed during the Beardfish gig on the first Symforce Festival, that young guy Rikard Sjöblom (who also plays guitar and sings) knows how to play the Hammond organ (I was told by other Hammond freak 'Herman The Mellotron Man'), what a wonderful sound and how enthousiastic he performs! When a friend told me that Rikard his other musical project Bootcut was planned to play later that day I was on the first row half an hour before the show! Well, that gig was great and halfway I decided to sneak quickly a Bootcut CD on the Beardfish merchandising stand.
Bootcut has released 3 albums and this one entitled De Fluff is the second (from 2004). The band is a duo featuring Rikard Sjöblom (Hammond B3 organ, Nord Electro2 and ARP Pro Solist synthesizer) and Petter Diamant (drums and percussion) with additional musicians on woodwind – and brass instruments, guitar and contrabass. In general the 12 melodic and accessible compositions sound fluent and swinging with strong echoes from jazz (Bootcut often played in jazz clubs) but also rock and blues. Their music often brings late Sixties and early Seventies bands to my mind like The Spencer Davis Group (after Eddie Hardin had replaced Stevie Windwood who had just founded Traffic), Hardin & York (also a Hammond/drums duo), Brian Auger and Trace. And of course late Sixties fellow Swedish band Hansson & Karlson but less complex, less soloing and more keyboard variation like the synthesizer in Quintus Quest, the clavinet in Funck The Living Dead and the Fender Rhodes electric piano in the bluesy Istället För Att Jag Kom Till Skogen Kom Skogen Till Mig. Although Rikard plays less self-indulgent, we can enjoy some swirling and propulsive work like in Fresh Free Fruit (funky sound), Funck the Living Dead, Hang Em High and especially in Crazy Cookie where he freaks out, goose bumps! The interplay between Rikard and Petter is strong and often dynamic. In some songs we can welcome guest musicians on guitar, flute, trombone and saxophone, it give the music a pleasant extra dimension. A funny track is the final song Mutta, a swinging blend of organ, guitar and Turntables (by D-Cuts), that sound of playing LP's with the hand, quite original in prog!
This is a very tasteful CD that will please the Hammond organ freaks.
CAMEL — Camel on the Road 1972
- This CD has been released 20 years after it was recorded, in 1972. The sound quality is not perfect but OK and you are treated on exciting work on the Hammond B3 organ by the late Peter Bardens: tasteful organ waves and a great, very compelling solo in Lady fantasy, lots of good soli and interplay from the electric guitar and organ in Six ate, lush organ waves in White Rider and extended soli and experimental work on the organ in The last track God of light, a typical end Sixties/early Seventies composition in the vein of Vanilla Fudge, Iron Butterfly, Rare Earth and Deep Purple.
COSMOS FACTORY - An Old Castle Of Transylvania
- The Japanese progrock band COSMOS FACTORY made a serie of albums in the Seventies with every time another sound. I prefer their debut-album "An Old Castle Of Transylvania" (1973). The long title track (around 20 minutes) is a mind blowing blend of psychedelia and progrock with great build ups and eruptions, very compelling with strong hints from early PINK FLOYD but the swirling movements also brings the long live tracks from URIAH HEEP, DEEP PURPLE, IRON BUTTERFLY, VANILLA FUDGE and Krautrock like early JANE and ELOY on my mind. It contains sumptuous keyboard play including heavy floods of Hammond organ and Mellotron along biting guitar. The interplay between guitar and organ is like "Set the controls for the heart of the sun" from PINK FLOYD. The other songs are also loaded with Hammond and Mellotron, 'keyboard Heaven' for the fans of 'vintage keyboards'.
DEEP PURPLE — "Live in concert 1972/73"
This DVD is a very exciting view on the powerhouse Deep Purple on stage. Deep Purple performed very well, the exciting chemistry from the legendary live double album "Made in Japan" is also on this DVD featuring splendid performances. The track list from the legendary Denmark concert (1972) contains all the 'classics' delivering excellent work on the Hammond organ by Jon Lord: a swirling solo with great use of the drawbars in Highway Star, a legendary intro and halfway a swinging solo with varied Hammond sounds, an exciting duel with Blackmore and in the end a compelling Gillan-Lord duet in Child In Time, a spectucular intro and halfway a swirling solo in Lazy, mindblowing Hammond sounds in Space Truckin' and strong solos in Fireball, Lucille and Black Night, a big hand for Jon Lord!
This DVD also includes 3 tracks from the New York 1973 concert and 1 track from the legendary "California jam" concert in 1974 along lots of other extras.
FUZZY DUCK - Fuzzy Duck
- This is one of the many harder-edged and organ dominated progressive bands that emerged in the early Seventies. FUZZY DUCK's music is simple but it touches me very much: pleasant vocals, a tight rhythm-section, strong guitarwork and, the most delightful element, floods of Hammond organ. This reminds me of Ken Hensley from early URIAH HEEP and Manfred Wieczorke from German heavy progressive band JANE. The guitarplay is also a good point, featuring fiery solos and catchy riffs. The final song "A word from bid D" includes the so called 'ducking vocals' from keyboardplayer Roy (Daze) Sharland, very funny to hear. FUZZY DUCK's music has echoes from ATOMIC ROOSTER, SPENCER DAVIES GROUP, VANILLA FUDGE and QUATERMASS. If you like the Hammond organ, don't miss this CD! By the way, I own the "Aftermath" CD version, it contains 11 tracks, including the previously unreleased "No Name Face".
HANSSON & KARLSON – Hansson & Karlson
- Hansson & Karlson was a Swedish duo featuring Bo(sse) Hansson on Hammond organ and Janne Carlsson on drums. They made three albums entitled Monument (1967), Rex (1968) and Man At The Moon (1969) and the single Lidingo Airport (1967). They also were the support-act of Frank Zappa, Jefferson Airplane, Cream and Jimi Hendrix. In the booklet of this CD (including an interesting interview) you can read that Jimi Hendrix was impressed by the duo and Jimi and the duo even became friends! By the way, Bo Hansson is also known as an artist who made several symphonic prog albums in the Seventies, his effort Attic Thoughts is recommended. So what about the music of this Swedish duo? Well, I am delighted about these virtuosic musicians, what a skills, what a great interplay and what a wide range of exciting Hammond organ sounds (especially on the outstanding track February). The music reminds me at some moments of Julian's Treatment and Rare Bird but in general it's swinging jazz and compelling blues. My highlight is I Love, You Love (live 1968 from Rex): Bo freaks out on his Hammond organ, then he slows down but he ends with a bombastic, classically inspired sound in the vein of Keith Emerson, goose bumps! In fact it's "never a dull moment" during the 70 minutes running time of this dynamic and exciting CD compilation, highly recommended!
JANE - Jane At Home Live
- I've always been a fan from German keyboardplayer Manfred Wieczorcke. He played in the early line-up from ELOY (his Hammond work on the album Floating is great) and then moved to JANE. There he delivered his best work on the live 2-LP "Jane Live At Home". In the Seventies JANE made a progressive blend of rock and blues featuring emotional vocals (with an obvious German accent), good harder-edged guitarplay and compelling keyboardwork (floods of organ along strings and MiniMoog). The compositions sound simple but very tasteful, this band knows how to carry you away with their music: the one moment it's rock and roll with fiery electric guitar, the other moment you hear soaring keyboards, great build ups and sumptuous outbursts. You cannot compare JANE to the progrock legends ELP, GENESIS, YES or KING CRIMSON but in my opinion this 2-LP is one of the best progressive records from all those melodic and tasteful German progressive bands that emerged in the Seventies.
JULIAN'S TREATMENT - A Time Before This ... Plus (1970-73)
- In 1990 the British label See For Miles Records released a compilation with material from JULIAN'S TREATMENT recorded between 1970 and 1973. It's entitled "A Time Before This ... Plus" and a perfect showcase of the exciting sound from JULIAN'S TREATMENT: lots of organ, strong female vocals, a dynamic rhythm-section and some piano, guitar, flute and Mellotron. The music frequently alternates from melodic progrock in the vein of EARTH & FIRE (female vocals and layers of organ) to ominous climates with hints from the Gothic scene featuring haunting vocals and majestic Hammond organ. My highlight on this compilation is the compelling composition "Child of the night 1 + 2" delivering wonderful vocals, impressive Hammond organ, some beautiful flute – and violin Mellotron waves and fiery electric guitar, this is the band at their best. The music from JULIAN'S TREATMENT sounds very dated and relatively simple but if you love the organ-based progrock bands from the early British Progressive Rock Movement like RARE BIRD, BRAM STOKER, QUATERMASS or GRACIOUS, don't miss this underrated, often missed band with the powerful female vocals and splendid organplay as their trademark!
(JON) LORD WITH THE HOOCHIE COOCHIE MEN – Live At The Basement (live 2003)
- In 2003 John Lord was asked to perform at the Sydney Opera House with the Queensland Orchestra, a dream came true for him because he had always loved to play there once. He also booked a few smaller venues but unfortunately he got injured so he could hardly play the Grand piano. The contact with an old Australian friend on the bass named Bob Daisley led to the

temporary formation of Jon Lord With The Hoochie Coochie Men, this DVD is the excellent registration of a concert the band gave in 2003. As a huge fan of the Heavy Prog by Deep Purple, I was very curious to Jon Lord his role in this band. Well, it's straight 12-bar blues (like Stevie Ray Vaughan) and Jon is clearly happy with it, he delivers an outstanding, very inspired job like many exciting solos, especially in Lonesome Traveller Blues, the 'classic' Green Onions (swirling with great use of the drawbars) and the final song 12 Bar Blow Jam. The band plays tight (with good guitar play and pleasant work on the harmonica) and enthousiastically, in two songs there is a contribution by Jimmy Barnes. He sings very emotionally and expressive, it's very compelling to listen to the interplay between his vocals and John his bluesy Hammond organ sound.
This is a DVD to check out if you like blues and the Hammond organ!
MAINHORSE — Mainhorse
- I wonder how many Yes fans between 15 and 30 are aware of the historical fact that once Patrick Moraz played in the band Mainhorse? Anyway, on this album the 'Swiss poodle' delivers an impressive Hammond organ sound. The first song is "Introduction", it features fluent 'heavy progressive' with floods of Hammond organ and fiery electric guitarplay, the sound has echoes from ATOMIC ROOSTER, THE NICE and early DEEP PURPLE. The following "Passing Years" is a slow, bluesy like song with mellow organ and a bit melancholic vocals. Then again 'heavy prog' with swirling organ and biting electric guitar in "Such a beautiful day", the climate evokes THE NICE and QUATERMASS. In "Pale sky" a wailing violin and howling electric guitar colour a bluesy atmosphere, topped by strong Hammond play and dynamic drums. This song features halfway a jam with violin, guitars, electric piano, experimental sounds and a hypnotizing rhythm-section, to end with a sensitive electric guitarsolo and loads of Hammond. Next is "Basia", an up-tempo and catchy song with strong organ - and electric guitarplay, a pumping bass and cheerful vocals, halfway MAINHORSE surprises with a swinging electric pianosolo. The track "More tea vicar" contains subtle changes of rhythm, from soft jazzy to fluent heavy prog with a classical sounding organ (like EKSEPTION), assorted percussion like glockenspiel and fiery electric guitar. The final composition "God" (almost 10 minutes) is the most alternating and dynamic one with many changes of climate with Patrick MORAZ on organ and the 'Klavio- synthesizer' and strong electric guitarwork, it sounds like a blend of THE NICE and ATOMIC ROOSTER.
MARSUPILAMI - Marsupilami
- As a huge fan from the early British Progressive Rock Movement I got excited after reading the positive reviews on this site. So I ordered their two albums and especially this eponymous debut album is a treat. The sound is typical early Seventies: very alternating (a progressive blend of classic, folk, blues and psychedelia) and dynamic featuring long compositions that are build around great Hammond organ play, powerful flute work and fiery electric guitar. The vocals are good and the instrumentation delivers also bongos, xylophone and mouth organ. To me the music of Marsupilami has echoes from JULIAN'S TREATMENT, BEGGAR'S OPERA (first album), IRON BUTTERLY, THE CRAZY WORLD OF ARTHUR BROWN and some early PINK FLOYD but their music has sufficient musical ideas to nail them as a derivative! I'm delighted about this discovery, very compelling and exciting early prog!
ODYSSEY - Setting Forth
- This is a four piece band that hailed from New York in the same area as Vanilla Fudge and once they were the support-act of Procol Harum. The music on this studio debut album doesn't sound original or elaborate but "it's a Hammond fan's wet dream": fluent, tasteful and melodic songs, layered with the Hammond organ along a good singer, a dynamic rhythm-section and fiery guitarwork (often the fuzz – and wah-wah pedal). No surprise that their sound often reminds me of Vanilla Fudge but if you like Hammond drenched, typically late Sixties/early Seventies oriented harder-edged progrock, this is a band to check out!
ORME, LE – Collage
- After two psychedelic/Sixties inspired albums this third record was a true progrock gem. The 7 compositions features great Hammond organ play (Keith Emerson, early Jane and Ramses), very distinctive and warm vocals (with a melancholical undertone), some acoustic guitar and a dynamic rhythm-section. A very good element in the music from Le Orme is the tension between the mellow and bombastic climates. And Le Orme delivers a lot of musical surprises like a kind of Blackmore/Gillan-Page/Plant duel from the bass and Hammond organ in "Cemiento armato", wonderful Hammond organ work (from psychedelic to church organ) in "Evasione totale" and exciting interplay between organ and drums in "Era inverno". This album is not as refined like "Felona e sorona", "Uomo di pezza" or "Contapuntti" but it is very worth listening .... especially for the Hammond freaks!
RARE BIRD — As Your Mind Flies By
- This is a wonderful album that is build around the excellent duo-keyboardwork from Graham Field and David Kaffinetti. The shorter songs alternates from romantic to bombastic featuring powerful vocals (warm, melancholic, dramatic) and great play on the Hammond organ ("I'm thinking" is the Hammond in its full glory!) , electric piano and harpsichord ("Down on the floor"). The absolute highlight on this album is the 'magnum opus' "Flight" (at about 20 minutes), divided in four pieces. Part One contains propulsive interplay between drums and organ, Part Two has exciting duo-keyboardwork (swirling organplay), Part Three delivers a psychedelic organ (like early PINK FLOYD) and in Part Four is the focus on slow and sumptuous Hammond organ play (including excerps from RAVEL's "Bolero"), the vocals have a slightly hysterial undertone but fits perfect to the atmosphere.
SANTANA — Live At The Fillmore, 1968
- After meeting piano/Hammond player Gregg Rolie Carlos Santana started the Santana Blues Band in '66. This 2-CD was recorded at the abovementioned Fillmore West music club in December '68. In general the songs are like jams with great chemistry between Carlos Santana his guitar and Gregg Rolie his Hammond B3 organ and we can enjoy lots of excellent soli. The atmospheres range from blues (like the Albert King cover As The Years Go Passing By with a great wailing voice by Gregg and intense howling runs by Carlos) and rock (fiery and biting guitar in Persuasion) to Latin-rock (Jingo and Soul Sacrefice delivering hot percussion play) and jazz (Treat with moving work on piano). This 2-C set also includes the previously unreleased tracks Chunk A Funk, Fied Neckbones, Conquistadores Rides Again and the half hour composition Freeway (mindblowing Hammond work).
If you like early Santana and want to be carried away by his amazing guitarwork, exciting percussion and floods of Hammond organ, check out this historical document.
SOCIAL TENSION - It Reminds Me Of MacBethia
- "Welcome back my friends to the show that never ends, ladies and gentlemen, .. Social Tension!". Altough SOCIAL TENSION sounds like an 'ELP fan's wet dream', they do not deserve to be described as just an ELP clone. Keyboard player Nobuo 'Kodomo' Endoh is a virtuosic but he has a more varied an refined sound than Keith EMERSON, using synthesizers, organ, piano, harpsichord, strings, classical orchestrations and ... Mellotron (Keith EMERSON refuses to play this instrument, it would cause unemployment for classical musicians he used to say). This CD is a compilation from the two albums "MacBethia" and "It reminds Me Of Those Days", fortunately the record company has deleted the lacklustre tracks from the second CD for this compilation. The result is a very impressive tribute to the wonderful "Pictures../Trilogy" years: seven spectacular and dynamic keyboard-driven symphonic rock compositions with bombastic keyboard play and a powerful, very propulsive rhythm-section. Highlights are the two 'epic' title tracks with lots of breaks, changing of atmospheres and amazing keyboards solos. Breathtaking!
TRACE— Trace
- TRACE sounds like the Dutch equivalent to early ELP but Rick has a wider array of keyboards, including Hammond B3 organ, Hohner clavinet and pianet, ARP – and EMI synthesizers, harpsichord, Solina string-ensemble, Mellotron and church organ. He even used the sound of a bagpipe. The music on the eponymous debut album is a treat for fans from bands like The NICE, ELP, TRIUMVIRAT and early LE ORME. It delivers exciting, often sumptuous, keyboard driven symphonic rock: the mainly instrumental music is loaded with virtuosic keyboard runs, swirling Hammond organ and majestic Mellotron, supported by a powerful and propulsive rhythm-section. The Musea CD-release contains two bonustracks (Progress and Tabu) and the history of Trace with nice pictures.
URIAH HEEP-Live
- When I was at about 14-15 years old Uriah Heep Live was one of my favorite live albums and it still is because Live contains all their classic compositions with often mindblowing Hammond organ work by Ken Hensley like in Sunrise, Love Machine, Return To Fantasy, Easy Livin' and of course July Morning, Uriah Heep their epic Classic Rock composition that features Ken Hensley at his best on the Hammond organ!
Also worth to check out is the 2-DVD Classic Uriah Heep – The David Byron era. My highlight on DVD1 is the version of "July morning", a compilation of live material 1973-76 like the Dutch rock festival Pinkpop 1976.
By the way, a few years ago I attended a Ken Hensley solo concert in Holland, he played a lot of 'classic' Uriah Heep songs, including the compelling compositions Gypsy, halfway Hensley delivered a mindblowing, very extensive Hammond organ solo, the crowd (mainly 35+ male progheads along some young female groupies ..) freaked out, what an inspired musician!

This weekend I intend to publish Part 4 of this Hammond Organ
Special, including Dick Heath his very interesting contribution!


Edited by erik neuteboom - November 24 2007 at 12:24