THE HAMMOND ORGAN
"From a poor man's pipe organ to
a progrock musician's big band"
PART TWO
Chapter 5: My personal Hammond story: a meeting with my hero Thijs Van Leer
Chapter 6: 'Hammond Heroes': pioneers, masters and specialists on the Hammond organ
Chapter 7: 1967-2007 Fourty years of Hammond sounds in progressive rock
CHAPTER 5:
MY PERSONAL HAMMOND STORY: A MEETING WITH MY HERO THIJS VAN LEER
Like so many progheads in the mid-Seventies I was excited about Dutch progrock band Focus. Although a lot of praise went to the capricious guitar talent Jan Akkerman but my man was the versatile Thijs Van Leer with his vituosic organ play, his swirling work on the flute traverse and of course his unique, quite cheerful sounding 'yodeling'. I read all about Focus in the music magazines and I watched them on TV, including the footage from BBC's The Old Grey Whistle Test with the legendary Focus At The Rainbow concert in 1972. Focus was 'hot' and within a few years this Dutch four-piece band turned into a worldwide praised progrock band, from the USA to Japan!
The years went by, I had become a symphomaniac and started writing for seveal small (prog)rock
magazines from the early Nineties. A few years later I decided to make
a vintage keyboard special for a Dutch progrock magazine, my ultimate wish was to let the known Dutch keyboards players like Rick Van Der Linden, Ton Scherpenzeel and of course Thijs Van Leer talk about those vintage keyboards in my special. I succeeded to get the phone number of Thijs Van Leer, thanks to Arjen Lucassen (Ayreon) because I had interviewed him two times and I knew that Thijs Van Leer had played on his 2-CD The Electric Castle. So I tried to contact Thijs but every time his poshy ex-wife told me he was not at home. One day I came home from my late shift and my wife said to me words I will never forget: "Erik, Thijs Van Leer was on the phone, he asked you to call him back later this evening." Well, I was absolutely excited because I realised that I was allowed to ask my childhood hero a few questions. I phoned Thijs and we had a nice conversation about Focus, his keyboards and his plans for a new Focus line-up.
Thijs
was very pleasant and willing to talk for a while, at least an hour! But this is not the end of this story because a few years ago a friend invited me to visit a music festival near his home Arnhem where Focus was on the bill. That day we visited the festival many hours before it began, the area was almost empty and we walked around a little bit. Suddenly a small white van approached us, the driver turned out to be Thijs Van Leer and he asked us to give him a hand to carry his Hammond organ... "Sure Mister Van Leer, we will" we said, proud and thrilled we helped him to carry his heavy Hammond organ to the stage, like we were his roadies! On stage we had a chat, he was very friendly and when I told him about our interview on the phone many years ago, he said
he remembered that interview because it was "such a nice specialized magazine". During the festival concert in Arnhem,
I watched
my childhood hero Thijs Van Leer, playing the organ, the flute traverse and doing his 'yodeling', like in the early Seventies, full circle!
CHAPTER 6:
THE MASTERS ON THE HAMMOND ORGAN
In this chapter I have decided not to include the names of legendary keyboard-wizards like Keith Emerson, Rick Wakeman, Patrick Moraz, Jon Lord, Eddie Jobson, Tony Banks or the late Peter Bardens and Rick van der Linden but to put the focus on names that you don't find very often on Prog Archives.
JIMMY SMITH:
Intro: In Keith Emerson his autobiographical book entitled Pictures Of An Exhibitionist he tells that for a long time his idea about the organ was that "the only place was in a church or for entertainement at seaside bingo halls". But after listening to the pioneering and pivotal Hammond organ player Jimmy Smith he changed his mind and started to save money for an organ by doing several jobs.
Jimmy Smith is one of the most legendary and most exciting players on the Hammond organ. He was born in 1925 in Pennsylvania (USA), at the age of 9 he won an amateur contest. First he took the bass, then the piano and eventually the Hammond organ in 1953. Jimmy founded a trio (that briefly included other famous musician John Coltrane), he earned a contract with the known label Blue note and gradually Jimmy became a sensation with his powerful sound and as 'bebop' described style. He played with Art Blakey and guitarists Kenny Burrel and Wes Montgomery and in The Sixties he put more of his blues roots into his music. Jimmy Smith became an icon for famous musicians like Georgie Fame, Brian Auger, Graham Bond and Jimmy McGriff, another wizard on the Hammond organ! In the Seventies Jimmy opened his own nightclub but later he started touring again, from Europe to Japan.
Recently I bought the DVD Funk In The Keys, it is a registration of a concert at the Florida Keys Islamorada's Festival By The Bay in 1999. We can enjoy Jimmy (74 years old!) playing lots of very quick runs and delivering a varied sound, one of the trademarks of the Hammond organ because of the drawbars that enable you to create almost endless sounds! To me the often swinging music mainly sounds as jazzy inspired, like the sound of the skilled guitarist who plays some very strong solos. The final song Trophhic contains a Latin-Amercian atmosphere (that reminds me of the rhythm in La Bamba) featuring outstanding flute work and a mindblowing improvisation by Jimmy Smith that fits perfect to the Latin-American rhythm, this man is a Hammond organ!
MARK STEIN
In the New York era Mark Stein (organ and lead vocals) and Tim Bogert (bass guitar) played in a band called Rick Martin & The Snowmen. They were so impressed by the sound of THE RASCALS (swinging and floods of organ) that they dediced to form their own band with Vinnie Martell on guitar and Rick Martin's drummer Joey Brennan. They named themselves The PIGEONS but, after the replacement of Joey Brennan by Carmine Appice, the new name became VANILLA FUDGE. After five LP's VANILLA FUDGE decided to split up and to look for other musical challenges. VANILLA FUDGE's sound is a captivating and exciting blend of soul, blues, rock and progrock with strong hints from JIMI HENDRIX (fiery electric guitar) and THE RASCALS (floods of Hammond B3 organ).
The best way to get an impression of the dynamic and alternating VANILLA FUDGE sound is the compilation-CD "Psychedelic Sundae (the best of..)": some Rhythm & blues with soul/gospel-like vocals and vocal harmonies but mainly music that is based upon great interplay between the fierce electric guitar (like JIMI HENDRIX) and the powerful Hammond B3 organ. The compositions range from slow, almost hypnotizing to propulsive with heavy outbursts. The vocals sound soulful, a rather unusual combination in progrock. Discover this captivating, very progressive blend of different styles and keep in mind that YES, DEEP PURPLE and URIAH HEEP pointed at VANILLA FUDGE as their main influence! Best studio albums to start with are "Near the Beginning" and "Rock & Roll".
BRIAN AUGER
This highly acclaimed keyboard player (Keith Emerson called Brian Auger "the best jazz organist in the world") was born in 1939 in India but he moved to London. There he began his musical carreer in the early Sixties in a jazz trio on piano. Then he started his musical adventures, he founded the bands Trinity, Steampackett and Oblivion Express and during the years he played with John McLaughlin, Jimmy Page, Rod Stewart and with Eric Burdon he toured between 1990 and 1994. A year later he founded a new Oblivion Express formation, the line-up included his daughters Savannah on vocals and Karma on drums and he is still touring with his band. I own a video with a 1989 concert at a jazz festival, it contains lots of exciting solos by Brian Auger, showing why is generally considered as one of the ultimate masters on the Hammond organ! At this moment I am collecting information in order to buy albums from Brian Auger, here are some quotes by fellow collaborators about Brian Auger his Hammond work on a few canditates for my collection:
BRIAN AUGER — LIVE OBLIVION Volume 2
Review by Easy Money
"This is 70s jazz fusion with the emphasis on fun RnB and rock songs without sacrificing any artistic integrity. This is a live album and it is bursting with the kind of energy that only comes with live performances. Brian's solos on B3 and Fender Rhodes all have the pure analogue sound of their time."
"Brian Auger and his band are definitley drawing from 60s RnB/jazz bands such as Les McCann and Ramsey Lewis on this album, but Auger's music hits a little harder because you can also hear the influence of 70s rockers such as Santana and Deep Purple."
BRIAN AUGER — Closer To It!
Review by Chicapah (Rollie Anderson)
"Santana's incredible "Caravanserai" LP had sent serious shock waves reverberating through the fusion world and Brian, no doubt, was captivated by its spell. Therefore, the conga-laden, "traveling" feel of the intro to "Whenever You're Ready" pays unashamed homage to that spectacular group of California musicians while laying the foundation for the rest of the album. After experimenting with R&B screamer Ligertwood on the previous LP (with mixed results) it seems that Auger took a more relaxed attitude towards his own limited singing chops and decided his tone would work just fine if they buried the vocal down in the mix a tad. The approach works and it turns out to not be much of a detriment at all. His Hammond sound on this number is brisk and fresh and it becomes evident that this style of music fits Brian quite well."
BRIAN AUGER — Streetnoise
Review by Chicapah (Rollie Anderson)
"Tropic of Capricorn" is a very jazzy tune written by Brian "Auge" Auger that demonstrates right off the bat one of the main reasons to love this band. The Hammond organ. Brian is a monster and the fire he ignites every time he takes a ride is quite evident on this number."
"As I mentioned earlier, their cover of The Doors' "Light My Fire" is what got me started on Auger's work and when you hear it you'll understand why. After hearing what Jose Feliciano had done to the song they decided to make it even jazzier and expressive and the result is nothing short of genius. Julie's erotic and near-orgasmic delivery takes your breath away as she makes the tune her own and Brian's sensuous organ lead is a treat, as well. This track is the highlight of the album and singularly worth the price of admission."
"If you haven't come to admire Driscoll's artistry by now, her stunning performance on "When I Was a Young Girl" has got to be the clincher. It's a haunting vocal and organ piece that slowly builds to an amazingly emotional crescendo and I guarantee you'll never forget Julie's gut-wrenching wails that take her voice flying into the highest registers imaginable.
Brian's "Ellis Island" (an instrumental inspired by Don Ellis) starts with a typical 60s-styled clavinet riff but then gets hotter than Hades as the tight rhythm section of Thacker and Ambrose glide underneath Auger's jet-fueled, screaming organ ride."
"If you are a fan of the Hammond sound then you can't afford to overlook this album.
Auger's organ lead will curl your hair and, if you stand too close to the speakers, it might set your clothes ablaze."
"And NOBODY, including Emerson, Wakeman and Lord, had the ability to attack the Hammond keyboard with more intensity and blazing passion than Brian Auger. He proves it beyond any shadow of a doubt here."
EDDIE HARDIN
After Steve Winwood left The Spencer Davis Group to found Traffic, he was replaced by Eddie Hardin. He turned out to be a real master on the Hammond organ, just listen to the live CD Catch You On The Rebop, Live 1973, Eddie Hardin delivers a wide range of Hammond sounds and sensational solos. Later he formed a new band with the Spencer Davis Group drummer Peter York, the press hailed their music and named the duo "the smallest big band in the world". Recommended: their live CD Live In The '70, the duo on their pinnacle.
MATTHEW FISHER
- Halfway The Sixties Gary Brooker and Keith Reid decided to write songs for other artists. Unfortunately for these young musicians this didn't work out and in 1967 they founded a band to perform these songs by themselves. Gary recruited Robin Trower on guitar, Dave Knights on bass and B.J. Wilson on drums. But he also wanted an organ player to sound more sophisticated, inspired by the gospel and rhythm & blues music from the USA. Through an advertisement in the known British music magazine Melody Maker they found Hammond organ player Matthew Fisher. He liked the songs very much and immediately joined the brandnew band named Procol Harum, derived from the name of a cat!
In 1967 Procol Harum stunned the musical world with their eponymous debut LP and th eomnipresent Hammond sound, it turned out to be very pivotal and soon lots of Procol Harum inspired bands emerged in the late Sixties and eary Seventies (see Chapter 7).
On the Repertoire reissue CD of the LP Procol Harum entitled A Whiter Shade Of Pale you can listen to the amazing progressive sound by Procol Harum. This reissue also contains the single A Whiter Shade Of Pale (released before the album was recorded), because of idealistic reasons it was not on the original LP release (the band didn't want the public to pay two times for this timeless composition!). And it also contains four bonustracks Lime Street Blues (this turns out to be pure rock and roll with powerful guitar and floods of Hammond), the single Homburg (slow rhythm with majestic Grand piano, melancholical vocals and a churchy organ sound), Monsieur Armand (catchy rhythm, lush organ and fiery guitar) and Seems To Have The Blues All The Time (bluesy vocals, a powerful Hammond solo and again a fiery guitar solo). About the original LP, after the wonderful Hammond drenched single A Whiter Shade Of Pale (based on Bach's Air On The G String) the band presented mature, adventurous and varied compositions: warm vocals, strong duo-keyboards (piano/organ) and a short but swirling Hammond solo in the quite melancholical Conquistador, a bluesy climate in Something Following Me (powerful guitar solo) and Cerdes (swelling Hammond sound), a swinging rhythm in Kaleidoscope (excellent Hammond sounds) and Lime Street Blues (boogie woogie piano) and funny atmospheres in the short Mabel and Good Captain Clack. But the magnum opus on the debut album is the instrumental piece Repent Walpurgis, written by Matthew Fisher: first a slow rhythm with soaring Hammond and tender piano, then a sensitive guitar solo and warm piano arpeggio's and finally wonderful interplay between a sparkling piano, lush organ waves and howling electric guitar, goose bumps!
GREGG ROLIE
During a jam session late '66 Greg Rolie and Carlos Santana met and because of the chemistry they decide to found The Santana Blues Band, Greg gives up his job as a dish washer. Their blend of rock, jazz and blues with latin percussion sound sensational and without making an album, the band (soon simply named Santana) is invited to perform on the legendary Woodstock Festival in 1969. During the epic Soul Sacrifice Greg plays an outstanding solo on the Hammond organ, one of the highights of that festival in my opinion! A few years ago a Santana CD entitled Live At The Filmore '68 was released, it contains lots of great work on the Hammond organ by Greg Rolie. In 1970 Santana performed at The Family Dog in San Fransisco (along with The Grateful Dead and Jefferson Airplane), during the compositions Incident At Neshabur and Soul Sacrifice (hot percussion!) Gregg Rolie delivers two strongly build-up solos although the camera crew has difficulties to find Greg because the stage hosts so many musicians! This footage is now on DVD.
CHESTER THOMPSON:
Another man in Carlos Santana his band (after Gregg Rolie and Tom Coster) who was a master on the Hammond organ, two interesting DVD's featuring Chester Thompson are:
SANTANA – Live In Concert (Loreley in Germany 1998)
We can enjoy lots of sensitive, fiery and biting (wah-wah) guitar soli and Chester Thompson is outstanding on the Hammond organ, what a swirling soli in Day Of Celebration and One Fine Morning and in Savor he freaks out during a great build-up solo, how exciting!
SANTANA – Sacred Fire
This is the best Mexican party you can attend, Carlos Santana playing a home game (recorded in Mexico City, 1993)! From the very first second on this DVD Carlos and his outstanding band blow you away: a super-inspired 'Sustain Santana' with lots of moving, often howling guitar soli, hot Afro-Cuban percussion play on conga's and timbales, strong vocalists and keyboard player Chester Thompson who delivers great work on the Hammond organ.
DAVE GREENSLADE
Dave Greenslade played in Colosseum, one of the pivotal progressive bands that emerged in the second part of the Sixties. In '68 the founding members were drummer Jon Hiseman, saxophone player Dick Heckstall-Smith and bass player Tony Reeves, later joined by Dave Greenslade (keyboards), Dave Clempson (guitar), Chris Farlowe (vocals) and Mark Clark, he replaced Tony Reeves. Colosseum made three studio albums: "Those Who Are To Die We Salute You" and "Valentyne Suite" (both from '69) and "Daughter Of Time" ('70). The music is a progressive mix of several styles (rock, jazz, blues) with lots of sensational solos and captivating interplay.
In '91 the label Castle Communications released the comprehensive compilation CD entitled "The Time Machine". It's a good impression of Colosseum their varied sound: catchy and swinging with strong vocals, raw guitarwork, lots of saxophone and floods of Hammond organ in Walking In The Park and Those About To Die, bluesy in Theme For An Imaginary Western and Butty's Blues, flute in The Machine Demands A Sacrifice and vibraphone in Rope Ladder To The Moon. The final two tracks are live: lots of jazzy saxophone in Tanglewood '63 and an impressive and powerful drum solo in The Time Machine. But the absolute highlight on this CD is the epic titletrack of their second album entitled The Valentyne Suite (almost 17 minutes). It starts with a fluent rhythm delivering strong work on organ, saxophone and vibraphone, then a wonderful mellow part with Grand piano and wailing saxophone. Next we can enjoy a churchy Hammond organ sound and powerful bass runs, culminating in a swinging rhythm with swirling Hammond organ, jazzy saxophone and a propulsive rhythm-section, very exicting and the interplay between the musicians is outstanding! The rhythm slows down and Dave Greenslade delivers a Hammond solo with a kind of wah-wah sound, spectacular. After a bass solo the guitarist plays a long, bluesy oriented solo with wah-wah. The final part has a very dynamic atmosphere with great interplay between organ, sax, guitar and the rhythm-section, Colosseum at their best!
After the demise of Colosseum in '71, keyboardplayer Dave Greenslade founded his own band Greenslade, featuring Tony Reeves (bass), Dave Lawson (keyboards, clarinet, flute) and Andrew McCulloch (drums), he had left King Crimson. In '73 Greenslade released "Bedside manner are extra", in my opinion their masterwork. It's an an excellent blend of classic, jazz, rock, blues and symphonic rock with elaborate compositions and inventive and exciting dual-keyboardplay by Greenslade and Lawson. Highlight is the splendid build-up track "Drum folk" featuring halfway a short drumsolo and some Mellotron, the climax is a bluesy, very moving Hammond organ solo, goose bumps!
BARBARA DENNERLEIN
Born in Munich in 1964, Barbara Dennerlein started playing organ at the age of eleven. Just a few years later, aged fifteen, she performed regularly at local jazz clubs. There she laid the foundations for her future career as a professional musician, which, before very long, let her rise to the circle of the few German artists with international reputation and become the leading representative of her instrument, the legendary Hammond B3. With her brilliant playing technique she created an innovative and distinctive style that opened up totally new musical dimensions for the Hammond organ, which in modern jazz had been ignored for a long time. Without doubt she can claim that she has paved the way for the organ's current renaissance in jazz. In the early 1980's she was a secret known only to insiders on the Munich jazz scene: 15-year-old Barbara Dennerlein, captivating an enthusiastic audience with impressive wit and skill as she whirled her fingers over the B3 Hammond organ - an instrument often derided and associated with the dusty patina of bar jazz. But what this pert, unaffected teenager performed was pure jazz. Jazz at its best, ranging from swing to bebop, from blues to funk. And many a local jazz celebrity competed to appear on stage together with this prodigy.
Yet despite all this enthusiasm, scarcely anyone truly believed that this young lady would become Germany's most important and successful jazz export, acclaimed and respected by critics and the public alike on both sides of the Atlantic. In the "Critics' Poll" organised by the renowned American jazz magazine DownBeat she has been among the leaders year after year. In 1998 she took first prize for the fifth time in the "TDWR organ" category; in 1995, for the third time, she carried off the "German Record Critics Award, on this occasion for her Verve debut album Take Off. In the same year this successful CD was honoured twice with the "Jazz Award" and, after holding the Number One position in the German Jazz Charts for several months, proved to be the best-selling jazz album of 1995. An international success that was even outdone with her follow-up albums Junkanoo and Outhipped.
Above all, she is one of the very few organists who play a pedal bass, and is surely unequalled for her breathtaking technique."The pedals are absolutely crucial for my way of playing the Hammond organ. They enable me to create a very special rhythmic structure which cannot be easily imitated by the double-bass, since together with the two manuals I have a kind of "rhythmic triptych" at my disposal," explains Barbara Dennerlein.
In order to get an impression of this acclaimed Hammond organ player I bought the CD compilation The Best Of Barbara Dennerlein. Well, I am absolutely delighted about her because she combines great skills and emotion, from powerful jazzy sounding runs to moving bluesy inspired waves, check out this lady!
REESE WYNANS
This was Stevie Ray Vaughan his outstanding man on the keyboards in his band Double Trouble, he often used the Hammond B3 organ. On the 2-DVD Live At Montreux you can watch his skills on the second disc entitled Live At Montreux 1985: exciting support to Stevie his fiery and biting solos and groovy guitar riffs with tidal waves and swirling runs, from Soul To Soul and Mary Had A Little Lamb to Texas Flood!
CHAPTER 7:
1967-2007 FOURTY YEARS OF HAMMOND SOUNDS IN PROGRESSIVE ROCK
a) The Hammond organ embraced by the Progressive Rock keyboard players
My starting point for this special is the year 1967 when Procol Harum and Vanilla Fudge released their eponymous debut albums, loaded with the distinctive and powerful sound of the Hammond organ. In the same year The Nice featuring keyboard-wizard Keith Emerson on his Hammond organ stunned the audience, Keith was soon named "the Jimi Hendrix of the progressive rock". He got this nickname not only because of his adventurous and creative use but also because of his infamous abuse like stabbing with knives and jumping on it! From his autobiograpy Pictures Of An Exhibitionist: "Together with his father Keith intended to buy a Bird organ but in the Portsmouth Organ Centre his father hesitated, then the salesman proposed to play on a Hammond organ. Keith says "And there it was, resplendent in beautiful shining mahogany: the Hammond L1 00 electric organ! I playes on it. That was the sound! My father agreed ("you've got to have it, it's a far more superior instrument")."
Inspired by the Hammond drenched sound of
The Nice and Procol Harum soon many bands frequently used the Hammond organ between the late Sixties and the early Seventies like Yes, Genesis, Gentle Giant, Caravan, Van Der Graaf Generator, Jethro Tull, Camel and Barclay James Harvest. Most keyboard players were classically trained and their influence on the music of the progrock compositions in those days was siginificant with some awesome examples of work on the Hammond organ: Rick Wakeman his solo during Roundabout and his church organ sound halfway Close To The Edge, Tony Banks his psychedelic solo during in Supper's Ready, his majestic sound in The Musical Box and his interplay with the Mellotron during the intro of Watcher Of The Skies, Peter Bardens during his exciting solo in Lady Fantasy, Rick Wright on Pink Floyd At Pompeii and Animals and Keith Emerson on Pictures At An Exhibtion.
In his book Rocking The Classic the author Edward Macan explains that the Anglo-Saxon church tradition played an important role because many musicians grew up with the sound of the church organ and the choir. During the progrock concerts in the late Sixties and early Seventies Edward considers the atmosphere as almost religious ceremonial happenings with the Hammond organ as a substitute for the pipe organ.
In the UK you can trace that huge influence not only in the music of the legendary progrock formations like Yes, Genesis and ELP but also in bands like Bram Stoker, Beggar's Opera, Fantasy, Fruupp, Fuzzy Duck, Gracious, Greenslade, Rare Bird and Refugee (featuring the 'Swiss Poodle' Patrick Moraz). In many music books about the Seventies these bands are named as a part of The Early British Progressive Rock Movement.
In the late Sixties and early Seventies countless progrock bands emerged in Italy, often inspired by ELP, Yes, King Crimson and Genesis but also Jethro Tull and VDGG. It was a very florishing music scene that delivered lots of excellent and varied sounding bands with an important role for the Hammond organ like Banco (their early albums), Formula Tre (Sognando E Risognando), Le Orme (Collage), Alphataurus (album Alphataurus),Gli Alluminogeni (Scolopendra), Anology (album Anaolgy), Il Balletto Di Bronzo (Ys), Cherry Five (album Cherry Five), Metamorfosi (E Fu Il Geste Giorno and Inferno), Murple Io Sono Murple), Museo Rosenbach (Zarathustra), New Trolls (I love the 2-LP Searching For A Land), Nuova Idea (Clowns), Panna Freda (Uno), Reale Accademia Di Musical (RAM), Rovescio Della Medaglia (Contaminazione), Rustichelli & Bordini (Opera Prima), Triade (La Storia Di Sabazio) and The Trip (The Trip and especially Atlantide).
Denmark delivers the exciting Hammond drenched sound by Ache on their two albums De Homine Urbano (1970) and Green Man (1971), keyboardplayer Peter Mellin is a real Hammond wizard (see Chapter 10)!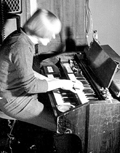 From the early Seventies the Japanese progrock delivered lots of interesting, often ELP and UK inspired bands with a prominent role for the Hammond organ with as the most obvious examples Cosmos Factory (album An Old Castle Of

Transylvania), Social Tension ('the second coming of ELP'), Gerard (especially as a trio in the Nineties), Outer Limits (album The Scene Of Pale Blue),

Deja Vu and later Ars Nova
In the Eighties the neo-progrock ruled, speerheaded by Marillion, and remarkably is the omnipresence of (mainly digital) synthesizers, it seems that the Hammond organ was not very popular among the keyboard players of this category.
But then in the early Nineties we could enjoy the Skandinavian Progrock Revival, bands that were firmly rooted into the Seventies sound of the symphonic progrock dinosaurs and that made lavishly use of the Hammond organ like Anglagard, White Willow, Atlas, Manticore, Sinkadus and Zello. And in the USA the new band Spock's Beard also sounded very retro with lots of vintage keyboards. On the video Lie At The Whiskey the Japanese keyboard player freaks out on his Hammond organ! In the USA another band hailed the Hammond organ, their name Niacin is even a 'hidden tribute' because it means Vitamin B3!
And how about the amount of Hammond organ in the current progrock scene?
Well, I would like to recommend some bands I discovered this last decade, first a trip to Argentina with Nexus. The music on their studio-albums albums Detras Del Umbral, Metanoia and especially Perpetuum Karma is rooted in the Seventies symphonic rock sound with obvious echoes from Keith Emerson his Hammond and Moog sound in early ELP. Their keyboardplayer Lalo Huber was willing to tell me about his passion:
" My first musical encounter with the Hammond organ sound was in the Seventies when I accidentally listened to Blues Variations in a neighbours' house. At that time I was just a school boy and played electric guitar. But after listening to Emerson's roaring Hammond sound in Blues Variations I immediately changed my guitar for the keyboards!
I had fallen in love with the Hammond and vintage synthesizers like the Moog and with progressive rock too, all at the same time! My love for the Hammond continued to grow while listening to Rick Wakeman, Eddie Jobson, Steve Walsh and Jon Lord. These keyboard players are my key influences... together with Hammond pioneer Jimmy Smith of course, the man who "invented" the Hammond tricks and modern sounds!
My favourite albums with Hammond sounds are, almost obviously, Pictures at an exhibition, Tarkus, Brain Salad Surgery and Trilogy by ELP and The six wives... by Rick Wakeman.
My own style is aggressive, I like to use overdrive and I almost break the organs in my live performances. I have even left blood on the keys in live performances... due to very fast and energetic "glissandos"! These are of course influences from the master Keith Emerson, and also Jon Lord. Sometimes I like to think and feel the Hammond as a wild animal, an animal with a lot of power that you have to control.
It's interesting how an instrument that was meant as a low cost replacement for church organs ended up as a jazz and progressive rock icon! I believe the Hammond is a key part of the essence of progressive rock and I work everyday to understand it better and better."
Finally to Italy with two interesting bands.
Areknames: This is an Italian band featuring Michele Epifani (keyboards, guitars and vocals) as the musical brainchild. On their eponymous debut-CD we can enjoy pleasant progrock that frequently alternates from mellow or compelling to sumptuous delivering a lush organ sound and melancholic vocals. In general the compositions are based upon creating early Seventies symphonic and psychedelic landscapes with analogue keyboards like the Hammond – and Farfisa organ, Mellotron and Fender Rhodes electric piano. The electric guitarwork is sensitive and in combination with the lush organ sound a very compelling element. The information booklet mentions many bands that were an inspiration, in my opinion VDGG, early PINK FLOYD, ATOMIC ROOSTER and IL BALLETTO DI BRONZO were the main sources.
Just released: Areknames Live, what a stunning live album with an omnipresent, often compelling Hammond organ sound, from powerful runs and swirling solos to sumptuous eruptions and psychedelic sounds, goose bumps and highly recommended!
Wicked Minds: This new Italian band Wicked Minds is a 'musical time-machine' that brings you back to the heavy progressive sound of the exciting Seventies era: a Hammond organ (lots of swirling soli) and fiery and biting (often wah-wah) guitar drenched sound and David Byron like vocals in simple but very catchy and compelling songs that will appeal to fans of mainly Uriah Heep but also Deep Purple, Atomic Rooster and even Jimi Hendrix. You can get a good impression of their exciting music on the CD/DVD set entitled Witchflower (including videos and concerts in Italy and Belgium) and the album Live At Burg Herzberg Festival 2006.
b) The important role of the Hammond organ in the Seventies Heavy Progressive Rock
In the very early Seventies many bands emerged that combined a powerful Hammond organ sound with harder-edged guitarwork. This delivered exciting and dynamic music with a lot of tension between the approach of JS Bach inspired keyboard players and Jimi Hendrix oriented guitarists, supported by powerhouse rhythm-sections and good singers. This movement was named The Heavy Progressive Rock and speerheaded by Deep Purple and Uriah Heep. Their live albums Made In Japan and Live are true their masterpieces, loaded with excellent work on the Hammond organ by Jon Lord and Ken Hensley.
In the slipstream of Deep Purple and Uriah Heep followed bands like Quatermass, Black Widow, Mainhorse (with great work by Patrick Moraz) and ....
Atomic Rooster, known as the band that hosted Carl Palmer before he founded the trio Emerson, Lake & Palmer. But after Carl his departure, Atomic Rooster started to sound more and more interesting, thanks to guitarist and vocalist John DuCann who joined the band in 1970. Immediately he went on tour with the band. When bass player Graham left the band keyboardist Crane refused to replace him and started playing bass lines on the lower part of Hammond organ. To compensate the fact that he couldn't use his left hand to press down chords on the lower manual he created a 'burning' style of playing, often in furious interplay with DuCann. When Carl Palmer left Atomic Rooster to join Keith Emerson and Greg Lake left for supergroup ELP Rick Parnell shortly replaced him. John and Vincent were not satisfied about his skills and had to replace him by Paul Hammond, an extremely good drummer from a local band called Farm. Soon the trio started to develop their influential 'heavy progressive' sound: hard edged progressive music with a swirling Hammond B3 organ and fiery guitarplay. The interplay between John's guitar and Vince organ is hot and often furious. In fact this powerful sound was the precursor to 'progressive metal', many metal- acts from The Eighties pointed at Atomic Rooster as their main source. In '89 it was all over for Atomic Rooster because of Crane's tragical death, he commited suicide. On the great compilation album The First 10 Explosive Years (my favorite Atomic Rooster CD) you will be blown away by the dynamic sound, loaded with short but magnificent soli on guitar and organ, energetic drums and powerful vocals.



Edited by erik neuteboom - November 22 2007 at 09:21