It's Hawkwind again! It's always a bit of a lottery whether they'll be good or not, and the feedback I got after this gig was mainly ratings of so-so or poor. But some folks thought it was great !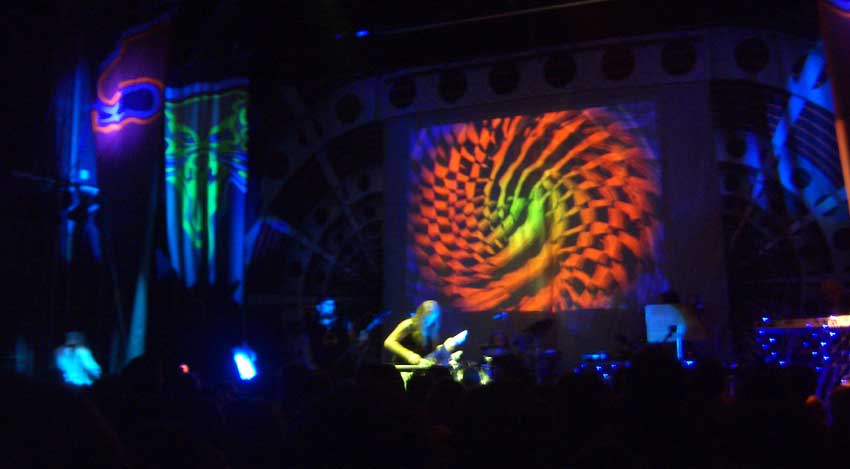 There's no doubt that many in the audience enjoyed the show. Sadly, there's also no doubt that many thought it was a poor gig. I canvassed four people who I've known for years and whose judgement on Hawkwind I know to be sound, and over 15 other people outside the venue – and around 1 in 5 of them rated it as good.
I approached one bunch group of people and told them I was writing up the gig for a website. "What did you folks think of it," I asked. One of them entheused about it, but the others shrugged or laughed.
One old rocker was not short of a few words. He said that Hawkwind have lost the ability to engage with the audience; they no longer pay any heed to how the audience is responding. He said something to the effect that they have a plan beforehand and doggedly stick to it, and the audience can just take it or leave it.
Personally, I rather agree with that analysis. Energy is a two-way process, a bit like England football fans not getting behind the team, because the team aren't delivering. The team should give you something to cheer about, and the fans should cheer anyway. Well, we cheered, but the band (for many of us) didn't deliver.
One bunch, when I asked them what they thought, initially didn't reply. It seemed they didn't like to commit the heresy of criticising a Hawkwind gig. "A good set-list," one of them tentatively offered. (That's a bit like describing someone's CV as "nicely typed.")
One guy became indignant about the lack of Space Ritual style stuff. In fairness to the band, that was just rumour: nobody officially said the gig was going to be a 1972 performance and I never imagined that Dave Brock would revert to 10-minute riffing.
As it turned out, I could hardly hear any guitaring from Brock during the performance. I stood in several different places, too. Orgone was done in the same style as Hawkestra 2000 – a crude banging beat and in a jaunty style that makes a mockery of the track. Sonic Attack was a pointless mess. They'd tried to liven it up with a sort of rhythm, but I thought it was crap. Silver Machine was pretty good, and Flying Doctor went down very well with the audience.
Redeeming feature? - the lights and visual displays were pretty good, as you'd expect.


Edited by sonic_assassin - December 16 2007 at 14:03