Apostolis Anthimos returns with third solo album entitled "Miniatures". Anthimos is a musician of exquisite subtlety, playing both the guitar and percussion instruments. He is most significantly known as guitarist of the Polish rock super group SBB. He has also been involved in co-operation with Czeslaw Niemen, Tomasz Stańko, George Dalaras, John Mc Laughlin, Pat Metheny, Paul Wertico, Gil Goldstein, Jim Beard, Matt Garison, Miles Evans, Vangelis Katsoulis, and also a number of bands, including Krzak and Dżem. Starting with the 80s, he has split his time between Poland and Greece, where he became a highly regarded session musician. During the 90s he has also run his own trio, Trias. Apostolis Anthimos has participated in the recording of over fifty albums, including thee of his own: "Days We Can't Forget" (1994), "Theatro" (1999) and "Back to the North" (2006, backed by Paul Wertico and Marcin Pospieszalski). Years 2000-2001 saw SBB's comeback in the renewed line-up: Józek Skrzek, Apostolis Anthimos, Paul Wertico. They played a European tour and in 2005 recorded a new, long-awaited studio album "New Century".
And now Apostolis Anthimos returns with his new solo album entitled "Miniatures". Pearls, jewels, musical diamonds… Of course, with full objectivity, each of these names would fit Lakis' music perfectly. But these sounds escape all categories… Apostolis talks about simple, common things like friendly chats about every-day stuff, about life and about us, the common people. About music and inspirations, simple friendship, cheerfulness, about passions and dreams. And all that is kept in the spirit of this album – a specific mosaic of sounds, emotions and impressions. These miniatures are like a sip of ouzo, they are musical pearls with a slice of magma, a journey to the modern Acropolis, but also the madness of Hellas… The introduction to the album and its first sounds are a true magnum opus, but also the essence of the music and Lakis' sensitivity. It shows Apostolis as the guitarist, the drummer and the fantastic keyboard player… The album is a true masterpiece of talent, hard work and, what seems to be the most important factor, true imaginativeness and passion.
"Miniatures" differs from the previous offerings – the album was created basing on the musical ideas which we could hear on Apostolis' concerts many times before. The most fascinating thing, however, is the musical lightness and integrity of those musical miniatures, the combination of ideas, a true play of imagination, sensitivity coming out of every sound. This album is another chapter of Apostolis' musical adventure, but also, more importantly, a beautiful work of art, mirroring not only the Artist's musical abilities, but also his soul and sensitivity.
Metal Mind Productions will release "Miniatures" on 10th November 2008 in Europe and 20th January 2009 in USA (via MVD).
Apostolis Anthimos
"Miniatures"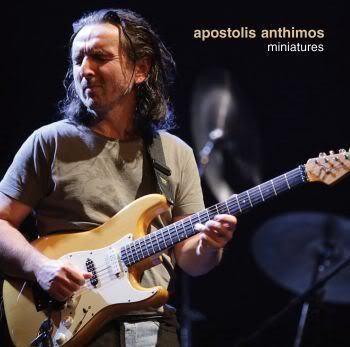 Label: Metal Mind Records
Cat. No.: MMP CD 0648
Barcode: 5907785033672
Format: CD
Genre: jazz / rock
Release date: 10.11.2008 Europe / 20.01.2009 USA
Tracklist:
1. Sunrise
2. Manhattan Circus
3. Circles
4. Pinnochio's Son
5. Far Eastern Road
6. Squares
7. Midnight Walking
8. Ta-Ta
9. Triangles
10. Oh, I Can't Stop
11. Alpha
12. Sunset
13. Moussaka In Evening