Continuing on from Part 1 of our interview with bass player Jeff Whittle of Tiles. Part 2 is the conclusion to the discussion while Part 3 is a group of questions sent to the other members who weren't able to make it out for the original interview.
Part 2

----------------------------------------------------------------------------------------------------------------------------------------------------
JW: but we were talking about the guests earlier and Hugh was amazing on the two songs that he did, and I don't know if you have the actual disc with the bonus track on there. The piano thing that he did, the bonus track on there was just a piece of music that I had written a long time ago right about the time that my mom had passed away and it was right about that time that she was sick and whatnot. But I had given Chris that me-playing-piano thing because I'm not really a piano player – but Chris is, so he made the chords more like what a piano player would do. I had asked on this disc if there was maybe a way to add it as a bonus track. It was just something I was really proud of and the way Chris had arranged the chords it made it sound like a real piano piece and stuff like that. Anyways when Hugh got involved we played it to him, andhe really liked it, which surprised me, I mean… he's an unbelievable musician and he wanted to do that and to orchestrate the stuff behind it. I had a different title for it at the time and me Chris and Hugh kind of bantered around all these different ideas for it, and I think it was hugh that came up with the title of "Passing Notes", so I thank him for that and for playing unbelievable piano and orchestration on that.
For me, personally… a guy of his talent, to want to take that on, knowing the circumstances behind that piece of music… it was amazing! I could listen to that over and over again.
PA: Do you guys ever get sick of the comparisons to Rush?
JW: Absolutely. I'm the guy in the band that gets the most frustrated with it. I don't think I play anything like Geddy – well I know I don't because I can't play his stuff. I think from a guitar standpoint I feel bad for Chris because he hears it all the time, but I will say that he handles it really well. He usually says, "I guess you can't stray miles away from what your influences are". I will admit that the first album… on that album for sure I can hear it, but maybe it's because I didn't play bass on the first album [evil chuckle]. But from the second album on we've always grown and done different stuff than that. I don't really get 'angry', but I think there was a time, right around Fence The Clear and Presents Of Mind were it was really upsetting to me, but I don't get upset anymore because I just don't hear it. I don't think Paul – Paul's got a higher and much different voice than Geddy and on Window Dressings, Pat doesn't play like Neil. I don't think mark plays like Neil at all. Although he loves Neil Peart's drumming he's a Carl Palmer guy. So that's just the way that it is. It used to kind of erk me a little bit, but it doesn't do that for me anymore.
And it's funny because we don't really talk about it anymore. In the early days it used to be like, when the reviews came and they'd mention it and we used to make jokes, but we just don't do that anymore. I guess we just kind of accept it and I mean, being compared to a great band, is that bad? Well no [laughs]. I guess it's just a little bit frustrating because I just don't hear it. Does Marillion still get compared to Genesis? I think Marillion has grown out of that moniker and I believe we did after the second album. I'd like to sit down with the people who think that we sound like Rush and just get them to show me what sounds exactly like Rush. Because I know it ain't my bass playing! I don't have a distorted bass sound and I just don't play like him. Maybe Paul has a higher voice, but does that mean that every higher-register singer sounds like Rush? I don't know. Paul doesn't play the keyboard so me and Chris play the moog pedals, but there's many, many bands that do that too. But what can you do. I guess after you read the 15th review that says that you sound like Rush it gets a bit on your nerves, but I don't think that Terry Brown would want to work with us if he though that we sounded exactly like Rush, so there must be some sort of uniqueness there.
PA: That might be one of the things that people jump off of though, the working with Terry Brown, Hugh Syme, Kim Mitchell…
JW: Yeah, but then again… that had nothing to do with Rush. The only reason we went with Terry Brown to begin with was because he had done that Rush Tribute thing and he was working with Fate's Warning and we were wondering if we could get him to do the mix. So that's all he did on the second album, he just mixed, he didn't produce. That was produced elsewhere, and it wasn't until Window Dressings that we hired him to produce, engineer, and all that stuff. Up until that time he didn't produce anything, other than mix, although I guess you do a bit of producing in the mix. The Hugh Syme thing only came about… There's a story about this but I can't remember it right now. I think he did the Arena record and we thought, "well…", because we were using a local company here that we really, really liked and for the first two albums we used them and really liked them and we just wanted to shake it up and we also wanted to add another name to give the band credibility. To show that we were moving.
I dunno, the guy has worked with every band I can think of [laughs]. It was kind of a stab in the dark too because we never even thought he would do it! So yeah, I guess I understand the comparisons, but Terry Brown did work with Dream Theater and do we see Rush attached to Dream Theater's name all the time? Just because you use the same people – hey you're using talented people, I think we can all agree on that. The Kim Mitchell thing came up with Terry for Capture The Flag, there was a solo section in the middle and Chris is a big Kim Mitchell fan, and I am too, but Chris is a huge fan and when Terry mentioned it we were all on board. So that's really how that came about. It was just more of a stylistic thing. And again, it just adds more credibility to a band that's trying to make headway. We don't do things as a marketing ploy, but Kim's solos are great! They're mega, and maybe a bit different from what Chris might do.
But Terry, again, hasn't been with Rush for years. Does that mean that ever Fates Warning album that he worked on, does that sound like Rush? That's just unfair to him. It's unfair to us, but it's unfair to him because he's done so much stuff since then. He doesn't do into the studio and go, "oh, what did I do in 1978 on that Rush record, I'm going to do that here!" I've never heard him mention that [laughs]. That's the great thing about Terry is that he can hear a song and have all these great ideas about how to record them or mix it… so I can honestly tell you that at no point did it come up that he wanted to do something the same as when he did it on, say, 2112. That just didn't come up, not that we would have argued about it! But that's why we keep hiring him, for his ear and his ideas, and he's so fast too! That's another thing, you can say, "well, I'm kind of hearing this sound" and that dude can dial it up so fast – and he totally gets what you're talking about. There's no big long discussion, he just gets it. He's been doing it for a long time, he gets it, and there's something to be said about that – especially when you're paying for studio time. That's one thing Chris has said about working with him is that he can just dial tones up so fast.
So there you go. It's comfortable for us because we've been with him for 10 or 11 years and it's nice when you can go in and have some good conversations with him. And he'll challenge you on something, he'll say, "hey, I don't even understand why this is even here!" The melody for "Markers" got totally rewritten on Terry's call, we went to record it and Terry said, "look, this is totally not working, it needs to be different". On Window Dressings I had to totally re-write a bass part. He doesn't just let anything go. He really challenges you and he does the same with Mark and with Chris for his parts. I like that, we all like that. He's there to get the best out of us. I can tell you a million times where I play a part note for note and he'll say, "let's do it again. The energy just isn't there. The part is there but let's work on the energy." And that's why you hire a producer, right there.
So there you go [laughs].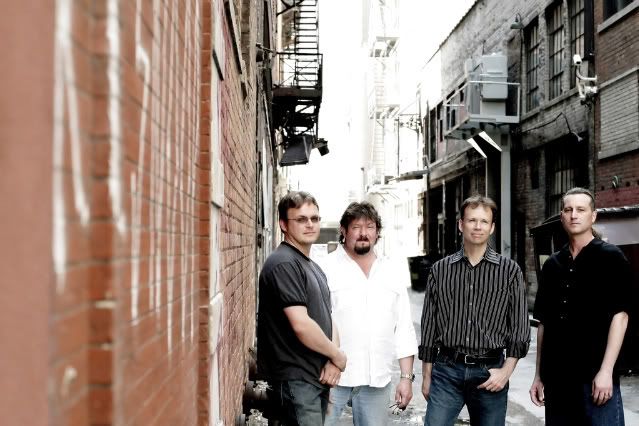 PA: The last "live" material that you released was back in 2000, are you planning on releasing any more live material any time soon?
JW: Yup! We've talked about that of and on. You're talking to the guy who has wanted to put out a live record for a long time [laughs]. So I definitely think it's in the works. I'd like to maybe record something in 2009 and have it out later, maybe early 2010. I think as a live band we do some really, really kick ass stuff and we all take on a different personality live, so I'd really like to record some of that and get it out. It's something that Chris and I have talked about quiet a bit, and the old European stuff was great because we just recorded every show. We had a little DAT machine that was just left and right, and that's what you're hearing on the record, just the left and right of the board. You can't fix anything, you can't add anything - It just is what it is. We just edited the songs together and there isn't any overdubs, nothing. There's a couple of bass mistakes on there… but it was what it was. If we do another one we'd want it to be a little bit more professional, we'd actually have a live rig there. Not that we would need to overdub anything… but just to get a better sound. I love listening to that old recording, because I think it truly represents what we were doing at that time with the sound and everything.
But I think we'd even want to film it too, kind of get both at one time. But we've always just been focusing on getting the next record out and I think that now that we've done 5 albums… 6 with the live one… I think it would be great to put out a professionally done live video or a professionally done live album. I think our fans would like that.
I think it's either that, or a greatest hits album [laughs]. We're going to call it 'Piles of Tiles'
PA: [laughs] nice
JW: So that's the thoughts about the live album. We really have to think about timing and just finding a really cool live venue. Just doing it right. We want to do it right.
PA: And I'm coming into my last question now, and that would be – what was the last cd you listened to?
JW: That would be… and it was just now as I was walking, it was on my iPod… and it was Steve Hackett, Voyage Of The Acolyte. That's what I was listening to. And before that I was listening to Keane, they're a pop band. So it was Steve Hackett, Keane, and before that it was a Canadian artist, her name is Kathleen Edwards. Then I was listening to a progressive group, I think they're from England… Maybe Switzerland… they're called Wobbler, then last night I was listening to the Genesis remixes, the 5.1 remixes. They are amazing! If you get the chance to listen to them on surround sound it's just disgusting. Me and my friend were checking out The Lamb Lies Down On Broadway and then Foxtrot, and then the nice part about the dvds is that they have these pictures that go along with the music, like they'll have artwork or pictures of the band and sometimes they even have running video footage of the Lamb tour. It's awesome. I mean, it's expensive to get the box set but I personally believe that it was worth it. It's just chalked full of bonus tracks and interviews were they talk about where they were coming from and all that happened. So that's why I pulled out Steve Hackett, because I love those first three solo records by him, I think they're amazing. So I pulled those out and listened to them again. Acolyte is just great… there's not a clunker on there. Gentle Giant too, I love them, and I listen to them all the time.

Part 3
- e-mail correspondence from the band
----------------------------------------------------------------------------------------------------------------------------------------------------


Mark Evans - Drums


What made you pick up the drum sticks all those years ago?
I saw
Buddy Rich
in an episode of
I Love Lucy
, and that did it! My folks went out and bought me a four piece Dixie drum kit and I began taking lessons at age 7. I remember what really did it for me prog wise was when at 13 I discovered Emerson, Lake and Palmer's Welcome Back..., blew my little mind and introduced me to
Progressive rock
.

This is your first album with the band since "Fence The Clear", where have you been all this time? Why did you leave/rejoin the group? Are you here to stay?
Actually the last album I did with Tiles was Presents Of Mind. I played all the drums as the basic tracks were recorded before Pat joined. Pat ended up only doing some
electronic drums
and percussion embellishments on POM.
I left Tiles at a time when I was going through some personal stuff. Financial as well as Musical and just lost my way. I went on to record a CD with prog band
House of Usher
and did some other session work. Also I started teaching drums and percussion. I was doing a gig with an 8 piece swing band when Chris called me up and asked if I wanted to come and jam on some ideas he had. I really missed the chemistry we had in Tiles so of course I said ok. And that was it…We all got together and jammed and it was like we picked right up where we had left it. Jeff, Chris and Paul asked me to come back and I said yes. We pretty much dove right into Fly Paper pre-production at that point.
And yes I am here to stay.

What is your favorite song to play from the new album?
Really depends on my mood at the time but drum wise I love Dragons Dreams and Daring Deeds. Terry really captured the moment on that one.
----------------------------------------------------------------------------------------------------------------------------------------------------
Paul Rarick - Vocals

What made you originally start singing?
I had friends in school that played in bands and I roadied for them. When one of the bands broke up they needed a singer, I figured it would be pretty cool so I gave it a shot and from there it has evolved over the years.
Is there any instruments that you play on the side/would like to play?
I used to play a bit of drums along time ago, my brother Jeff is a drummer so there was a kit in the house to bang on. I don't currently play any other instruments.

Why are you the only guy in the band with long hair?
Originally, Jeff and myself had
long hair
so it 2 long and 2 short and it grew to 3 long and 1 short when Pat was in the band. These days it has gone the other way with myself in the minority and I not completely ready to give up my hair yet.

What is your favorite song to sing live?
Right now, as much of "Fly Paper" as possible and "Checkerboards" from "fence the clear" which has alot of moods and intensity.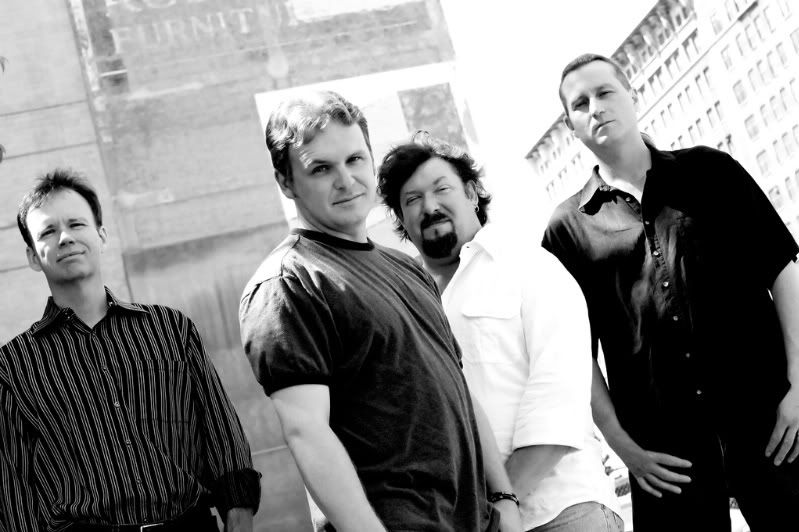 ----------------------------------------------------------------------------------------------------------------------------------------------------
Chris Herin - Guitar


What made you first want to pick up the guitar?
In the mid-70's, during my family's annual

summer vacation

to visit my relatives, I discovered my older cousin had started
playing guitar. He showed me some Stones tunes and offered me his old guitar and amp; which I ended up buying
with my paper route savings (much to my parent's displeasure). I started learning songs from Boston,

Foghat

, Kiss,
Frampton, Rush,

Nugent

, etc... A few
years later I hooked up with some guys in High School and we'd play the odd house
party or have friends over to hang out
during practices. I didn't have an epiphany or a goal - it was just fun.
Were there any specific themes or messages that you've tried to get across in Tiles' lyrics?
No, not really. The lyrics are stories based on what I've experienced, read about, or witnessed other people experiencing.
I suppose there are some philosophical moments and certainly many of the songs deal with the quirks of human nature.
For Fly Paper I tried to create a bit more imagery and mystery.
I love Back & Forth (especially the guitar parts), can you give us some insight on the writing of that song?
Thanks! The chorus came from a simple

strumming pattern

I came up with while experimenting with moving the lowest note
of a "C" chord
around to create different variations (a practice common in hymns). The main verse riff came along at the
same time as kind of a reggae counterpoint on the upbeats. Back in 2005, after the complications "Window Dressing," I was
just "writing..." and a lot of the songs were fairly simple & melodic.

What did you think when

Alex Lifeson

first gave you his guitar parts for Sacred and Mundane?
Terry Brown

had given Alex "Hide in My Shadow," "Sacred & Mundane," and "Back & Forth" for his consideration. We didn't
even know which song Alex was going to work on until Terry called late one day after spending 12 hours with Alex at his
home studio. I guess Alex immediately took a liking to "Sacred" and came up with a bunch of parts: the big single note riff,
the textures all the way through, acoustics, the backwards solo... he must have done 20 separate tracks! You should hear
the "Lifeson" mix with all his guitars turned up so we could hear everything he did. Terry sorted it out and came up with
what you hear on Fly paper. I was definitely excited the first time I heard it. It was quite a departure from the original - but
it's an
excellent departure. I told Terry that if there's anyone who I'd like have replace all my guitar parts it would be Alex!
Although
Terry did find room in the mix for me in a few places ;-)... All in all it's a great privilege to have Alex dedicate his
time and talents to help bring more attention to an independent band.

----------------------------------------------------------------------------------------------------------------------------------------------------
Thanks to Jeff and the band for sitting down to answer our questions. Tiles' new album, Fly Paper is out now.
Tiles Official Website
Tiles Myspace
Tiles on PA


Edited by King By-Tor - December 23 2008 at 14:00