Master of the keyboards, Derek Sherinian, is on the cusp of releasing his next solo project - the follow up to the highly acclaimed "Blood Of The Snake" with "Molecular Heinosity" which is to be released later this month. In this interview he sits down to talk about the new record and the people involved as well as potential new projects, a potential Planet X reunion and more.
------------------------------------------------------------------------------------------------------------------------------------------------
ProgArchives: Once again you've decided to work with Zakk Wylde, is there any reason why you like him over other guitar players?
Derek Sherinian: Well, Zakk is an old friend of mine of 20 years and we have a great chemistry. We always have a lot of fun making these recordings, but besides all of that – Zakk is just the heaviest guitar player around, no one brings the heaviness and the ferociousness to the tracks quite like Zakk. So, he's always invited to play on my records any time he wants, I just think he's incredible.
PA: This album had a lot less guest stars on it than previous albums, why was that?
DS: I wanted to focus a little more on doing a heavier record with a more concentrated sound. My last record kind of got a little out of control with all the guest artists, so I just wanted to pull in the reins a little bit and make a more focused album.
PA: Any particular concepts or themes that you had in mind when you started the writing?
DS: The only concept that I had was to make a great record, there's no, like… themes or anything – I just wanted to make a heavy… progressive… dark, metal record.
PA: You'd said that this was going to be a much more 'metal' record from the start that part of that was because Simon Phillips was not available for the sessions, did this change the writing process at all?
DS: Well, a lot of times I write according to who's going to be playing on it, and whenever I write with Simon it always has a Jazz Fusion sound to the compositions that he's playing – which I love. Simon wasn't around for this record, so I had to look in other directions.
PA: Was that any kind of compromise?
DS: No – not a compromise – because if you listen to all my albums there's always a mixture of the metal and the Jazz Fusion, so it was kind of nice to not have all the genre hopping and just be more focused. That's not to say that my next record might be completely with Simon and it might be more fusion, you just never know.
PA: You've been using vocals more on your recent projects – on the new album you've got "So Long Gone" – have you ever been tempted to trade in the instrumental approach for more traditional songwriting?
DS: I have been strongly entertaining the thought of putting together a progressive metal band with a singer where the sound would be like the music on Molecular Heinosity, but with a new progressive… ballsy vocalist. I've been looking for someone, and there's been a few submissions, but I haven't found what I'm looking for yet. I'm hoping that by the end of the year I will have found the right guy – and my record label is very excited about me doing a vocal band. I can see it being very successful in 2010.
PA: Was there anyone that you had in mind for filling the other positions in this band?
DS: Yeah, I have a couple of people in mind for sure, but the main thing is finding the singer. But I guarantee you that it will be great, whatever it is.
PA: Who did you get to do the cover art for the new record?
DS: My last five records have been done by an artist named Mattias Noren out of Sweden - I've never met the guy, or talked to him on the phone, I've only had communications with him on the internet and we have a good working relationship. I name the album and figure out what it's going to be called, then I tell him the title and just some basic imagery ideas and he'll send me a first draft. I tweak it and send it back to him and we probably go back and forth about 10 times until I say, "that's it! That's the cover" and that's how I've done my last 4 or 5 records, with him and we just have a good system.
PA: So where did the title, Molecular Heinosity, come from?
DS: Well, Heinosity is a word that I invented – it's a combination of "heinous" and "monstrosity" and Molecular I just chose to give the Asians a tough time, like a tongue twister. I'm also very proud to be the first person to use the word Heinosity in a title of any sort.
PA: [laughs] so here I am thinking the title is all deep and it's really just "Molecular Awesomeness"
DS: [laughs] yeah.
PA: For a project named after yourself there's a lot of guitar in the mix, sometimes even over the keyboards – do you consider yourself to be more of a composer on these projects?
DS: I think to me it's more important to be the pioneer of a sound and the production and the song more than showcasing my keyboard playing. The bottom line is that everyone knows that I can play, and I don't need to showcase myself and do a whole record of just keyboards. I would get bored of making it and I'm sure the listeners would get bored of hearing it. I love guitars, so I need that guitar power in my sound and sometimes the guitars will overpower my keyboards and I'm fine with that, because I'm trying to make a musical statement.
PA: You were talking about this other band that may be in the works sometime in the future, but do you have any plans for the remainder of 2009 now that this record is done?
DS: Yes – I'm working on a 10-year anthology to commemorate my 10 years as a solo artist. It'll be a best-of cd, two CD set with a DVD and that will be coming out around the holidays. Also, there's been some talks about a Planet X reunion with the original line-up, so we may be playing some dates this year, and then mainly – finding a vocalist, so I'm going to try and grapple all of those things.
PA: In terms of guests on this and all your other albums, who would you say has been your favorite to work with?
DS: All of them have been really cool in their own ways, but I think the best experiences that I have with a guest is with Simon Phillips in the studio. He's a hero of mine when I was a kid, and he's just great at everything when it comes to making records from playing and producing to engineering and composing, and he's been like a musical mentor to me and being able to work with him entirely on that record was a really big career boost for me in a lot of ways. So I think that working with Simon on my Inertia record was huge.
PA: If there was one person who you could realistically work with on the next Derek Sherinian album, who would you want it to be?
DS: If I could do it I would love to have Eddy Van Halen work on the next record – that would just be a dream come true. I had the opportunity to play with him one time at a private party at his house at a gig and it was incredible. I had to pinch myself to make sure it was really happening, and I would love the opportunity to be able to write and record with him.
PA: Last year you toured extensively with Planet X and Billy Idol, were there any plans to tour again this year?
DS: There's nothing booked, but there's always stuff coming up and we'll just have to see what happens. You can stay tunes to my website at
http://www.dereksherinian.com/
for my touring.
PA: What is the prime difference between writing music for your solo projects and for something like Planet X?
DS: Well, Planet X was a band effort, with Virgil Donati and Virgil has been doing most of the song writing because I've been concentrated on my solo career. So Planet X is a band effort and with my solo material I call all the shots. They're different in those aspects.
PA: So would you say that writing for Planet X when you do have your say in the material is the same as writing solo?
DS: Well, really, I can do whatever I want in Planet X – but the fact of the matter is that Virgil is just on a different plane, musically. He's one of the most advanced musicians that I know, let alone played with, and his compositions are just from another planet – literally Planet X. The object, when I started Planet X the object was to form a band where the musicians played so fiercely that when other musicians heard our music it would strike fear into their hearts, and that the music was unlike anything that had ever been recorded. To achieve that it's very important that I give Virgil a lot of control in the writing. Which is just fine with me, because it just makes me a better keyboard player.
PA: You've been a solo artist now for 10 years, is there any time when you feel drained of ideas?
DS: All the time. That's why it's always important to me to bring in new musicians and new guests, like this time I brought in a new guitar player named Rusty Cooley who's kind of known in the guitar community – but other than that he's kind of unknown. He was really cool to work with, he and I wrote the song Frozen By Fire, and we're going to do a lot of work in the future. But I'm always open to hearing new talent.
PA: Okay, I've got some obligatory Dream Theater questions – the first one was if you ever had any plans or would like to do another show with them since the last time you got back together with them in 2004?
DS: There isn't a plan and I don't really have any dying desire to, but if Mike was to call me and he asked me to guest at a show or whatever, I would always participate because I'm always proud of my time in the band and I'm proud of their success and my time with them, so I'm very proactive.
PA: One more question, and you kind of filled it in a little bit there, I was wondering if the 'ex-Dream Theater' tag ever bothers you?
DS: No, absolutely not. A lot of people know who I am because of my time in Dream Theater, so that was very important in my career, as was all of the other bands that I played with. Alice Cooper was important, Kiss was important, playing with Yngwie… all of them together make up a very important aspect of my career – so no, doesn't bother me at all.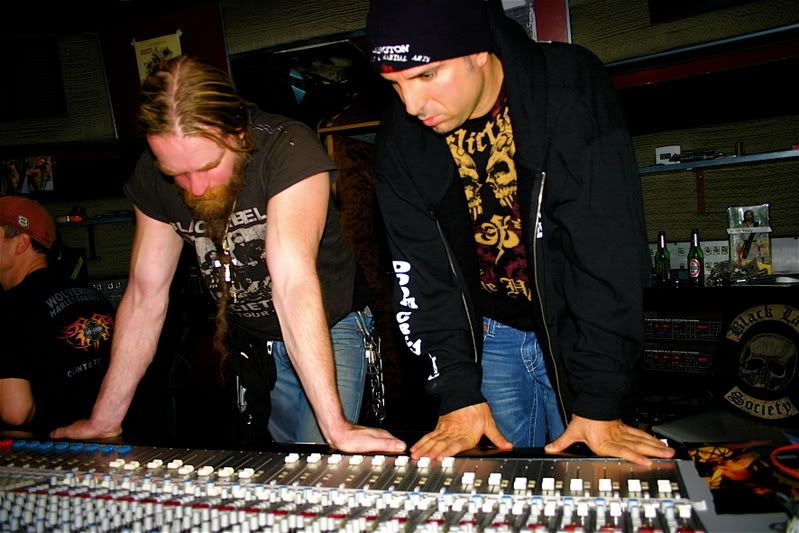 PA: What are your thoughts about the modern progressive scene in the world right now?
DS: I honestly don't pay that much attention to it, the only thing I really pay attention to right now is Meshuggah – I think they're incredible and I love everything that they do. I'm sure there's some other bands out there, but I haven't really listened to it – so I'm not really qualified to give an opinion.
PA: Into the last couple of questions now, the first one being – why the keyboard? What originally got you started?
DS: There was a piano in my house growing up so I always gravitated towards it, and my first music lessons were on the piano. Then when it was time to start playing in bands we all picked out instruments and I picked the keyboard because I already knew how to play it. So I just stuck with it and got to a certain level at it, at one point I really wanted to become a guitar player, so I switched over – but I really hated being in the middle and being 'mediocre' at an instrument [laughs], so I went back to the keyboard because there's also a lot less competition. I think every musician has an instrument that they're meant to play, that their hands fit naturally on – and keyboards were mine.
PA: Alright, last question now – and that would be what was the last cd you listened to?
DS: Last cd I listened to was Snoop Dogg, The Blue Carpet Treatment, I have it in my car right now.
------------------------------------------------------------------------------------------------------------------------------------------------
Molecular Heinosity hits stores on March 24th, thanks again to Derek for taking the time to do the interview.
Derek Sherinian's Official Website
Derek Sherinian's MySpace Page
(Features tracks from the new album)
Derek Sherinian's PA Page


Edited by King By-Tor - March 05 2009 at 11:59