Charlie Looker of Extra Life

New York City has produced a number of great experimental bands recently, although the only ostensibly common quality these bands share is that they are all notoriously difficult to define. Extra Life is one of the more recent additions to this scene, lying sonically somewhere between Meshuggah and Guillame de Machaut
,
Swans and Morrissey. They are one of a few bands I've been exposed to that is capable of combining such a wide array of sonic ideas to form a truly cohesive and meaningful end result. Extra Life released their debut album, Secular Works, to critical acclaim by such publications as Dusted Magazine and Stereogum, but it strangely hasn't received much exposure in the progressive rock scene, which is odd given the undeniably avant-garde and forward-thinking nature of Ex
tra Life's music.

Charlie Looker, the band's front man and primary songwriter/composer, agreed to conduct an interview encompassing his previous musical experiences, his approach to Extra Life's music, his future plans for Extra Life and his other projects.



Interview:

You've been writing and playing music since your teenage years. In what ways have you matured as a musician and composer since then?


In the years since I first began seriously writing music, I've become far less self-conscious about certain things. When I was younger I was consciously trying to combine disparate styles of music: metal, jazz, classical, pop, etc. I would stitch together elements from these different musical spheres, like a quilt. Nowadays I don't think about my "influences" when I'm writing music. Having written a lot of music over the years and also having played other people's music, I've become able to write in a far more intuitive way. Whatever I may be drawing from, it all flows together and is synthesized without my feeling like I'm reconciling differences. My writing isn't a bunch of references to an eclectic record collection. It has become more natural and whole.

Before starting Extra Life, you were a member of the Brooklyn-based experimental rock band Zs. How has your experience with that band differed with your work with Extra Life?

My role in Extra Life is very different from my role in Zs. Zs was, and is, an entirely democratic, cooperative band where each member would bring in material, and where some pieces were written collaboratively in rehearsals. While Sam Hillmer always tended to play an organizing role, the general m.o. was that of the rock band team effort. Because of this, the nature of Zs' music changed over time, with line-up changes and with collectively-felt aesthetic shifts. Extra Life is entirely different in that I write all the music and I assembled the band for the purpose of realizing a particular thing. Of course, what I write is geared towards the personalities of the members of the band, what would work with their vibes, what they would enjoy playing. They also help with tweaking arrangements and certain kinds of editing. But in general, Extra Life is my concept and I play the role of leader and front man. That is one major difference from Zs.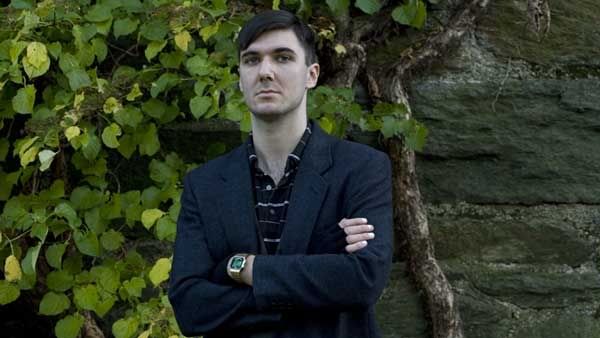 You also worked with Dirty Projectors in 2006. How was that experience for you, and do you intend on working with Dave Longstreth again in the future?


Playing in Dirty Projectors was lovely. They are great musicians, wonderful people, and Dave's music is extraordinary. I doubt that I'll be re-joining that band any time soon, however. At this point, they have their solid committed line-up and I don't imagine they would need me floating back in. I was actually only in the band for one tour and one record, but my involvement with them has received a lot of attention because the
Rise Above
album blew up, and then
Secular Works
came about soon after. No complaints there. It was great to play with them; but it wasn't a huge part of my musical background.

Brooklyn, New York is home to a thriving albeit varied avant-garde scene. I would imagine that at local shows, Extra Life typically plays with these bands, but what type of bands are you typically billed with in your US tours?


Whether at home or on the road, Extra Life shares bills with many different kinds of acts: solo noise artists, prog rock bands, singer songwriters, quirky indie pop, chamber ensembles, free jazz, drone metal bands. We don't fit neatly into any one scene. In the most general sense, I can say I feel solidly connected to the overall community of American diy (do-it-yourself)/underground rock. More specifically than that, however, I don't feel allegiance to any one trend or scene. I'm excited to be billed with any bands who are simply good at what they're doing, regardless of their particular aesthetic position.
What other bands would you include in the diy/underground rock community? I haven't heard this term used to describe a specific group of bands.
By diy/undergound, I'm not referring to one particular scene or aesthetic. I really just mean in the broadest sense, the post-80's, post-punk American network and culture of diy venues, indie labels, booking your own tours, silkscreening flyers, etc. Aesthetically, that could mean anything from Devendra Banhart to Pissed Jeans. It's not an aesthetic, it's an ethic.

You have Bachelor's Degree in Music. In what ways, if any, would you say your formal music education influences your musical aesthetic? Do you actively use learned compositional techniques in your music, or is your music more informed by experimentation and personal experience?


I believe that as an artist, no matter how much or how little formal training you have, everything you know is essentially self-taught. You can study music, but you only really absorb knowledge by getting your hands dirty with it in a personal, raw, creative, non-institutional way. The RZA says you have to "do the knowledge". No one gives it to you, you have to take it. For me, formal technical training is incidental for my music. I have studied, learned, forgotten, remembered, re-interpreted, ignored, and misunderstood much about music. In the end, it's imagination, sensitivity, willpower and a generally intense engagement with life and death that drive the creative machine.

Your music seems to have been influenced equally by Medieval/Renaissance and Modern classical music, a combination rare among classical aficionados, let alone composers working in more modern genres. Could you describe how your experience with classical music has been thus far and how it has affected your compositional approach with Extra Life?


The main aspect of classical music which informs what I do is the use of written notation. In Extra Life, we all tend to memorize the music so we aren't reading sheet music on stage, but when I write the music I notate it with traditional notation and we rehearse it that way. This actually makes a lot of things which sound really complicated far easier to write and learn. The use of notation also has an effect on the kind of music you come up with. The possibility of writing non-repetitive, continuously varying material becomes less strange when are you write it down.
As for the actual cultural world of classical music, my experience is not really extensive. I've written some chamber pieces and had them performed here and there. I also did a residency at the Ostrava Days festival in the Czech Republic a few years ago. On a purely musical level, all that was cool. However, the classical music world isn't the social circle I move in. I'm not sure if it really is a social world.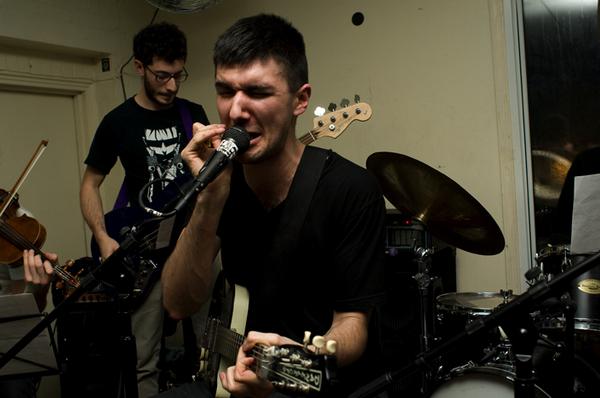 The rhythmic aspect of Extra Life's music is very complex, featuring not only time signature changes but unstable tempos as well. A friend of mine joked about how strange the rehearsal of this type of music must be. It seems as though sheet music/tablature would be an inadequate medium of describing your music to your band mates. Could you elaborate a bit on the rehearsal process?


As I suggested before, written notation is the perfect medium for music which isn't based on repetition and symmetry. All the rhythms are written out, and we just work on them in rehearsal. We take small sections very slow, get comfortable with them, do them faster, run larger sections, talk about what's not tight, tweak the instrument sounds, etc. Mostly it's very efficient, dry and straight-up. There will be jokes and philosophical digressions, but the main thrust of an Extra Life rehearsal is like a bunch of guys putting up dry-wall or installing a sink.

Could describe your compositional process with Extra Life's music? I've read that Thom Yorke, for example, composes much of his music with the aid of computer software, whereas other songwriters prefer to form the basis of their compositions by playing out tunes on their instrument of choice (with a pre-envisioned structure in mind) and then gradually layering on other instruments. Do you have a compositional process you follow for your work with Extra Life?
My writing process has changed since Zs. Since Extra Life, I've always begun with lyrics. I have a tendency to get caught up in overly minute musical details, so I enjoy starting with text (itself non-musical) as a way of hitting the ground running. Once I write the lyrics, I start to imagine loosely the kinds of things the instruments might be doing, establish some key or mode, general tempo and feel. Then I set the lyrics to a melody, which is maybe the most fun part. Then I get more detailed about what the instruments are doing, and then it goes back and forth between the voice and instruments, more and more detailed until it's done.

You just finished wrapping up your US tour with Extra Life -- the first since Secular Works was released. How has your music been received among audiences thus far?


It seems that Extra Life tends to divide audiences. A certain portion of the crowd will run up to us after the show with effusive thanks, buy everything on the merch table and start emailing us regularly. The rest of the crowd will roll their eyes and go out for a smoke. No one ever responds with casual comfortable acceptance.

What type of music are you listening to these days? Any recent discoveries or new influences?


On this last U.S. tour, we had some really amazing listening experiences in the van. The guys turned me onto a bunch of things. In particular the Meat Puppets
Mirage
, which is a very strange and subtle record. I also have become blown away by Steely Dan, a band which in the past I couldn't really comprehend. I can finally feel the utterly creepy, repressed darkness in their work. Amazing. I also became temporarily obsessed with that song 80's song "Everything" by Dramarama. It's that really proto-emo-ish song where he screams "marry me, marry me". You would know it if you heard it.

Extra Life released Secular Works in April of 2008. When can we expect a sophomore album to be released?


We have about an album's worth of un-recorded material which is in live rotation, along with the older songs. I'm not in a rush to make the next record. It would be good to do it in the next year or two, but I still want things to percolate a little more before we do the follow-up.

Do you intend for the compositional process of the next album to be similar, or do you plan on changing things up a bit?
The newer material isn't radically different from
Secular Works
, but on the whole it's a bit less complex. A couple of the pieces are still epic and involved, but there are some shorter, more traditionally-structured songs in there as well, plus some more acoustic ballads. There is also a broader sound palette, more synth sounds, the use of the EWI (electronic wind instrument), effects on the violin. I think compared to the old material, the new is both more severe and more accessible.

Finally, you've listed Period, a collaboration with drummer Mike Pride and others, and your own classical work as other current projects on your web page. Can we expect to see major releases for these two projects?


Period has a bunch of recorded material which we're excited about, but we are currently unsure about exactly when it will be released. Business/logistical issues are keeping that on hold for the moment, but I"m sure it will become available before too long. As for my chamber music, I have no particular plans to release any of my past work. I am planning on writing some orchestral songs in the next year or so, which could turn into something public.
Another brand new project which deserves mention is Sculptress, my home recording collaboration with Chuck Stern, former front man of Time of Orchids. We have just begun this and it's already getting very deep. Lots of synth, fake instrument sounds, drum machines, and low-rent studio trickery. This project probably won't perform, but we should have an album's worth finished by the summer. Check it.

Do you have anything else you'd like to add?


Look out for us in Europe in May. We'll be playing a bunch of festivals with some sick bands, and I'm really looking forward to it. I've been to Europe, but I've never actually toured there. I think people over there are ready for us.

Related stuff:

Extra Life's official MySpace:
http://www.myspace.com/extralifetheband

Charlie Looker's webpage:
http://www.lookerland.info/

Zs official MySpace:
http://www.myspace.com/zstheband

Dirty Projectors official MySpace:
http://www.myspace.com/dirtyprojectors

Chuck Stern official MySpace:
http://www.myspace.com/sterntheman
Interview by Jimmy Matthews for ProgArchives.com


Edited by auralsun - May 03 2009 at 19:30