Hi,
May 2009 Featured Artist is
DIALETO
a Heavy Prog artist originating from Brazil.
They released their first album in 2008 , titled
WILL EXIST FOREVER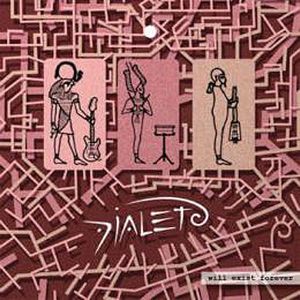 The bands is promoting 3 full tracks available on their artist page , or on the front page spot.
Here's the band bio , writted by THE WHISTLER:
DIALETO (meaning "Dialect") is a Brazilian power trio that has existed on and off since 1987. Comprised of Nelson Coelho on guitar and vocals, Andrei Ivanovic on fretless bass and Miguel Angel on drums and backing vocals, the three grew up in São Paulo, Brazil, where they played separately in various underground bands. Eventually though, they met up and, finding a similar musical vision, decided to form a band.

Their first LP, the essentially self-titled "Dialect", was released in 1991, and was followed by three years of heavy touring. However, in 1994, the band decided to split up. But then, in 2008, the trio re-formed with intent to re-record some unreleased material on a new CD, "Will Exist Forever", and followed it up with some more heavy touring, continuing today.

DIALETO claims a diverse background, both musically and culturally. All three members proudly proclaim descent from at least two nationalities, ranging from Portuguese and Haitian to Yugoslavian. With these musical heritages, coupled with a musical diversity running from JIMI HENDRIX and the MAHAVISHNU ORCHESTRA to KING CRIMSON and Black Sabbath, DIALETO produce an eclectic sound that dashes from no holds barred heavy rock to tricky and experimental and places in between.

You can also read the interview transcript of KING-BY TOR
here :
http://www.progarchives.com/forum/forum_posts.asp?TID=57533
Feel free to discuss more about the bands and their music here.
Enjoy DIALETO proggers !


Edited by [email protected] - April 29 2009 at 13:31