So glad to introduce such a promising outfit ... a Japanese symphonic jazz rock combo
ptf
and their debut creation
"percept from ..."
.

ptf
... (left to right) Hiroyuki ITO, Yusuke SEKI, Keisuke TAKASHIMA, and Takeya KITO
A Japanese symphonic jazz rock combo PTF (officially ptf, written in lower-case letters) were founded as a quartet by Keisuke TAKASHIMA (violin), Takeya KITO (keyboards), Hiroyuki ITO (bass), and Yusuke SEKI (drums) in 2009. Gained musical experience through lots of gigs mainly around Tokyo quite inspired by 70s progressive rock, jazz rock, and heavy metal scene (according to what Keisuke says), finally their debut album "percept from ..." was released in February 2013 via Musea Records.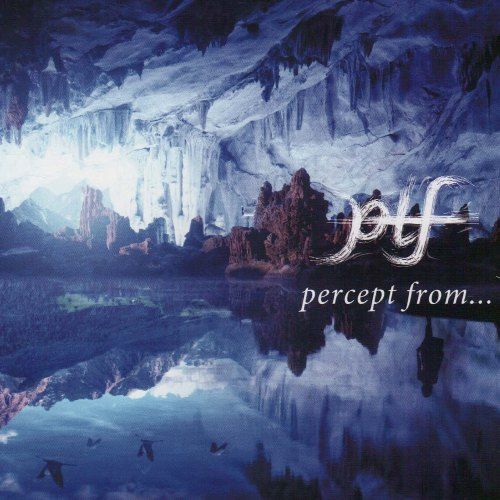 percept from ... (2013) - PTF
The key word for them is "stability", that should be a hope at the same time, I'd like to say.
ptf are a Japanese jazz rock quartet featuring keyboards, bass, drums, and violin. Through the entire album, we can feel theatrical agency here and there, based upon strict jazz-heavy-mixed rhythm stream. Their debut album "percept from ..." can be thought as a compilation featuring almost all of their works since their formation in 2009.
Their good point is that the listeners or the audience cannot feel eccentricity via their complex song structure completely veiled with natural artificial music science. This phenomenon reminds me Trevor Horn mentioned about Yes that their wrong way to create music magically sounds natural. ptf perfectly squeeze dramatic symphony constructed with only four instruments into our heart. Yusuke's jazz-oriented drum comfort and Hiroyuki's deep, steady bass curtain are the core of ptf soundgarden. Takeya's keyboard, piano works sometimes stand on the front and sometimes behind, with his clearly crystallized sound gems. And Keisuke's violin - one of the key instruments of all - alters the vibe itself dramatically for situations. Sometimes sounds like a dancer to a groove, like a sharp knife edge or a cold ice (reminds me David Cross' cool violin sounds in "The Night Watch"), and sometimes like a noble lady walking quietly. On the basis of jazz symphonic, their scape can be easy to absorb, despite of a bit long (about 10 minute) song theatres.
Their strong intention for this album is obvious ... we can find easily in the first track "Arc Tailor", where the mixture of pop phrases created with Keisuke's violin winds and innovative sensations along with their deep rhythm section. Sounds like their innovation is heard as simpler, smoother one rather than "progressive". "Firefly Effect" sounds like a flood of critical phases and magnificent blue, bluesy atmosphere, that can be well-expressed with their fantastic instrumental explosion. "Fair Wind" is an aggressive speedy symphonic heavy rock, that can get popular amongst almost all progressive freaks, methinks. On the contrary, a slow ballad (featuring keenly electronic violin shoots in the middle part) "Chromatic Rays", filled with safe and sound, wraps our lonesomeness up with their hearty rays. Until the last dramatic versatility "Seaward Meteor", their sound compilation "kaleidoscopic wind of change", they launch drastic dramatic music rebellion.
Whilst to be honest, there might be a problem in their promising album, let me point out. They play smartly "art rock" with well-balanced instrumental formation so that complex rhythms or eccentric riffs are not needed. Some inorganic polyrhythmic riffs can be heard but they are too artificial (not artistic) to be fit for their musical basis. Looks like they overreacted for digesting progressive rock in their stomach, and disturbed the smooth surface of their soundscape ... it's a pity for me. Yeah hope they would shout they are progressive rock haters (lol). ...Joking aside, they should go ahead as an jazz / art rock project, not as a "non-innovative" progressive rock one, because they are so artistic enough to impress us.
Thank you for reading this blog.