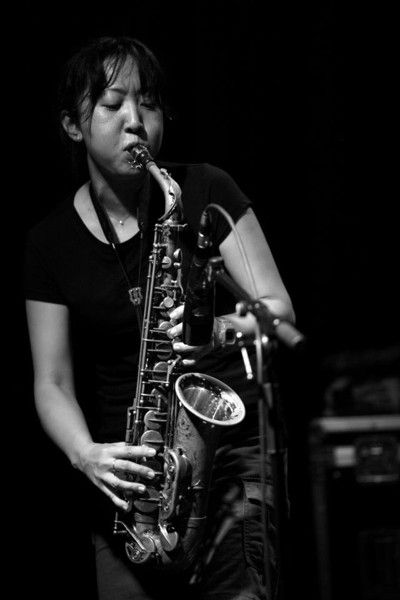 Ryoko ONO
Happily I could grab
Ryoko ONO
's solo album "Electronic Elements - second edition" finally ... released in Feb. 2014 via Janus Sounds but sadly could not get this first edition. Contacted Ryoko and she has sent me the second edition created by herself ... yappie!

Let me say my impression at first; a fantastic jazzy-improvised-electronic creation seasoned with musical / atmospheric tranquilizing agents.
Ryoko ONO's solo album "Electronic Elements", featuring her electronic experiments produced with Music Instrument Digital Interface, released worldwide in 2014 via Janus Sounds. Such an album title like "Electronic" or "Elements" had let me curious indeed, and according to my expectation, her avantgarde electronic launcher could make me crazy. Iíve got, in her kindness, the second edition of this album, with a new track "Slut Or Slattem" and a longer "Sunset" added. Not pure nor fresh but sticky, slimy electronic vatting, that is felt simply awesome.
Electronic Elements (Second Edition) (2014) on her own
Here and there we would got flooded with unstable percussive digital bullets and mellotronic sound waves kicking us into an "uneasy trance" upon the second track "Tetragon". On the other hand, in "Slut Or Slattem" we can touch life and death mixed with pain, madness, depression, and at last quietness through her programmed synthesizer gales. What swims beneath "Depths Of The Sea" characterized with dry, swift, and inorganic digital percussion attacks? Difficult to make a definition but that reminds us of something obscure moving quickly along with randomized patterns, at least Ryoko's inner depths of the sea.
Upon "Sunset" are tribal texture, beautiful scape, and remarkable anxiety in the dark ... all of which be expressed with unsteady, rough, tough electronic percussion like a merry-go-round in an old amusement park. The last "Extra" is the compilation of her electronic elements blended with nobility, gorgeousness, scatter, manie, calmness, kaleidoscope, safe and sound. We can make sure that Ryoko should create such a electronic gem quite intensively through this epilogue.
At the same time I feel her saxophone play should be important also in this creation. "Ubiquitous" is a good example, where her enthusiastic saxophone play could drown electronic percussion perfectly out. By the way in the first one "Polygon" her play and the digital percussion killer can get superbly harmonized, crystallized. Another atmospheric departure between a surrealistic quiet electronic and a repetitive saxophone phrase can be experienced in "Ensemble". "Dual" is one of my favourite tracks in this album. Very enjoyable to imagine that Ryoko might play plenty of improvised saxophone phrases to beat electronic percussion completely. Her saxophone play is beautiful, flavourful as well, even if avantgarde or experimental. Wondering how she would record "Sunrise" based upon her crazy saxophone launcher merged perfectly with digital percussion. Very mysterious, and amazing really.
In conclusion, the woodwinds and their luxurious sounds cannot be avoided for Ryoko and us (her freaks) indeed but I'm sure she's left such an excellent solo creation for us. Enjoy such a kaleidoscopic agent.
And more happily she's sent me this thank-you-mail ... what a lucky man I am!

Thank you for reading this blog.