SHADOW GALLERY TO PREMIERE NEW SONG
"GOLD DUST" ON PROGARCHIVES.COM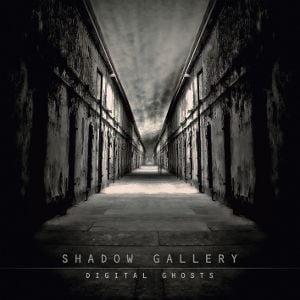 NEW ALBUM "DIGITAL GHOSTS" AVAILABLE NOVEMBER 3 ON INSIDE OUT MUSIC
Starting today, the song "Gold Dust" from the new SHADOW GALLERY album "Digital Ghosts" is available for streaming at Progarchives.com. Progarchives is the internet home for all things Progressive Rock, including reviews, interview and exclusive tracks from yesterday and today's Progressive Rock royalty.
SHADOW GALLERY, widely considered a major and innovative force within the realms of progressive rock and metal, have returned with their 6th studio effort "Digital Ghosts". Following up 2005's "Room V" as well as the "Prime Cuts" compilation release of material from previous albums in 2007, "Digital Ghosts" will be released on October 26th, 2009 in Europe and November 3rd, 2009 in North America via InsideOutMusic.
After the tragic passing of lead singer Mike Baker in October 2008, "Digital Ghosts" introduces new lead singer Brian Ashland and not only sees the entire band once again sharing additional vocal duties but also features guest vocal appearances by Ralf Scheepers (Primal Fear) and Clay Barton (Suspyre) to compliment the release. With "Digital Ghosts", Shadow GallerY's members Brendt Allman, Carl Cadden-James, Gary Wehrkamp, new addition Brian Ashland and returning drummer Joe Nevolo (who appears on two songs of the record) have focused their powerful energies on creating a seamless blend of progressive, metal, and symphonic rock as a transcendent work of musical art that advances the boundaries of these genres into new directions.
The track-listing for the album reads as follows:
SHADOW GALLERY – "Digital Ghosts":
1. With Honor

2. Venom

3. Pain

4. Gold Dust

5. Strong

6. Digital Ghost

7. Haunted
Two small first video teasers for "Digital Ghosts" can be viewed on the band's youtube channel:
www.youtube.com/shadowgallerymusic
More details as well as music samples for "Digital Ghosts" will be available in the coming weeks.
In the meantime, please visit:
www.myspace.com/officialshadowgallery
www.youtube.com/shadowgallerymusic
And:
For More Info: Adrenaline PR Maria Ferrero 732-462-4262 or [email protected]


Edited by [email protected] - October 15 2009 at 09:43