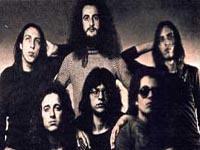 Raccomandata Ricevuta Ritorno is back again with their new album almost 40 years since their first album.
I caught up with their guitarist and vocalist Luciano Regoli for an update.
The interview was submitted by me and all answers from Luciano has been translated from Italian to English by Raff. I am very grateful for his help and general friendliness.
As per usual, my questions are in bold and  Luciano Regoli's answers are in bold italic red. 
When, where and by whom was Raccomandata Ricevuta Ritorno formed?  
RRR was formed by Nanni Civitenga (guitar) and Luciano Regoli (vocals) in Rome, March 1972.
Raccomandata Ricevuta Ritorno included members from other bands. Please tell us more about these bands.
Damaso Grassi and Francesco Froggio Francica came from Panna Fredda, Nanni Civitenga from Quelle Strane cose Che, Paolo Bencivenga (RRR's first bassist) from cover bands inspired by Eric Clapton's Cream, Stefano Piermarioli (aka "The Raven") from classical music, Luciano Regoli from Bubble Gum and Il Ritratto di Dorian Gray, as well as a slew of minor, post-beat bands.  
Il Ritratto di Dorian Gray featured Claudio Simonetti (keyboards), Walter Martino (drums), Fernando Fera and Roberto Gardin (guitars). We did not have a bassist, and essentially played covers of bands such as The Nice, Deep Purple, King Crimson, and Yes. We were active in 1971, and, on account of our technical skills, quickly became one of the most highly regarded bands in Rome. In May 1971 we participated in the second edition of the Caracalla Festival in Rome, and attracted a lot of favourable attention - I have a 3-minute Super 8 mm film of the band on stage, unfortunately without sound.  
When I left the band to found RRR, they kept going with an ELP-like lineup, enlisting the help of classically-trained Massimo Giorgi on double bass. However, the first lineup of the band remains the only true incarnation of Il Ritratto, since the second was very short-lived.
How did you get a recording deal back in those days?  
At that time it was not very hard to get a recording deal. Record labels understood that progressive rock was good business, and obviously they broke out the red carpet for us. As RRR, our manager Pino Tuccimei found us a deal with Fonit Cetra, which treated us like royalty, believing and investing a lot in us – paying for tours, flights to the most important festivals, and, especially, two months in a Turin recording studio with everything we asked for, including a 40-piece orchestra. Unfortunately, when they decided to send us to the Sanremo Festival, we started fighting badly among ourselves, and ended up disbanding.  
Your music at the debut album is in my view very intricate. But how would you describe your music ?
There were two souls to the band, so to speak – a jazz one, and a dark rock one. My own personal reference point was Arthur Brown, while our drummer was a huge jazz fan. Those conflicting souls were both a blessing and a curse, since they generated an intense creative rush, but also caused the end of the band, as our individual tastes drifted more and more apart. Though at first Italian progressive rock was strongly influenced by British prog, in a very short time it managed to find a personality of its own, assimilating the Italian flair for melody in the vocal parts, and our long-standing folk tradition as regards the musical side of things. Singing rock music in Italian is not easy because of the many words stressed on the very last syllable. Then, lyrics dealing with everyday subjects (such as the ones found in blues) sound much better in English, while in Italian they often end up sounding ridiculous. Therefore, Italian prog bands turned to lyrics with epic or fantasy content, and so did we – concocting the story of an astronaut that comes back to Earth, and finds the world destroyed by its own human inhabitants.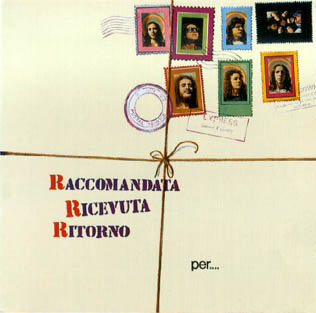 Please tell us more about Per... Un Mondo Di Cristallo. The music, the recording, lyrics, the musicians, the artwork, the tracks.........  

In the summer of '72 we retreated to the small village of Preci in the mountains of Umbria, in central Italy, where our bassist Paolo Bencivenga had a house. There we wrote the whole album, in an atmosphere of true friendship, drinking and eating sausages, with the house full of pretty girls. All around us the mountains were keeping watch over us, and the album came easily, in true collaborative spirit. I wrote "L'ombra" together with The Raven – a dark, disturbing piece both musically and lyrically – as well as the central section of "Un Palco di Marionette", where a speaking voice is featured. I also wrote that snippet of "L'ombra" where it says "La guardi per capire, ma invece sta ridendo", which I took from the soundtrack of an Alfred Hitchcock TV series. Paolo Bencivenga was about 6.7 ft tall, and older than us by some four or five years. He was a devoted follower of psychedelic rock, and did not really believe in progressive rock – for him only Cream and Hendrix existed, so he used to make fun of us whenever we produced dreamy or wacky themes. A few months later he was ousted from the band, though it was a matter of need rather than choice, and replaced by Manlio Zacchia for the album's recording. However, we were not very keen on Manlio either, so in the end I managed to bring in my former guitarist in Il Ritratto di Dorian Gray, Roberto Gardin, to play bass in our live shows.
You did a lot of festivals and gigs before and after the release of this album. Please tell us more about them. How was the Italian scene at that time?
We were constantly on the road, even before recording our album (which happened in the fall of '72). Our manager had understood that he could make a lot of money out of us, so he got us travelling back and forth all over Italy, performing in the most unlikely places. Once in Sicily we played at a fried-foods takeaway. On the other hand, there were also many important festivals, such as Palermo Pop or Villa Pamphili, or tours with other prog bands, such as the one in the winter of '73 with Metamorfosi and Flea On The Honey, which lasted many weeks and touched the most important venues in northern Italy. The highways became a meeting point for bands – at night it was possible to eat at rest stops with a band coming from the opposite side of the country. When we were on stage, the audience participated in an incredibly intense fashion – until politics got in the way, and the kids started smashing everything in sight because they wanted to get into gigs for free.  
Why went Raccomandata Ricevuta Ritorno into this long hibernation and almost became one of these many "one albums only" bands the Italian Prog Rock scene is known for?
As I said before, there was no future for another album, since the musical tastes of the band members were so diverse. Therefore, one of the many promises of Italian prog became a 'legend' only because it released a one-off album, especially since it was one of the very first bands on the prog scene, together with Banco, PFM and Osanna.
What did you do in all those years besides of playing in other bands like Procession, Samadhi and Kaleidon?
I became a painter when I quit playing music in 1974. Nanni Civitenga went on to play bass in the orchestra of the RAI (the Italian broadcasting company), and subsequently joined Ennio Morricone's orchestra. Francesco Froggio Francica continued to play jazz almost exclusively, though still using the RRR name, but he never recorded anything. Roberto Gardin joined the orchestra of trumpet player Nini Rosso. Stefano Piermarioli left the music world behind, while Damaso Grassi dropped off the radar after the 'jazz RRR' experience.  
I guess I am not the only one to be surprised when your new album was announced (but without revealing any details). Your first album from 1972 is well regarded in the progressive rock community and the announcement created some excitement. Hence this interview. Why did you return to release a new album?  
You really want the truth? Here you are. In the years 1994-2000 I was a member of a prog-metal band, DGM, where I sang in English. From 2000 to 2008 I acted as a producer for my singing (and life) partner, Cristina Cioni, who unfortunately claimed my complete attention as a producer, so the idea of reforming RRR had to be put on hold because of that. Once our relationship ended, I was free to devote my whole time to the reunion, but was unable to trace all of my old friends. Some had quit playing, some had ended in serious trouble, so only three of all the former RRR members have collaborated to the recording of the CD. Essentially, though, this is my solo project, since I had already written both the music and the lyrics. Nanni Civitenga, Roberto Gardin and Walter Martino have only collaborated to the arrangements, and of course provided the instrumentation.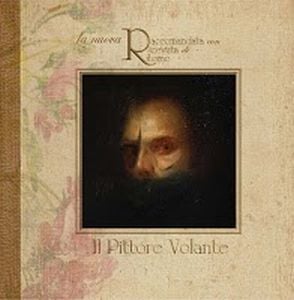 Please tell us more about your new album Il Pittore Volante. The music, the recording, lyrics, the musicians, the artwork, the tracks.........
About ten years ago I wrote a book based on the travel notes and reflections on life and art that I had gathered during my travels around the world, when I was a portraitist very much in demand by high-profile families. I called the book "Il Pittore Volante" (The Flying Painter), as if it was a bird's-eye view of human events, sometimes related with a sort of detachment, sometimes with wholehearted participation. I wrote the whole of the album of the same title in less than two months, and took the lyrics from the book. Clearly, the dark, gloomy influences featured in my painting became part of the musical work. Tracks like "La mente" contain philosophical elements deriving from my direct knowledge of both the person and the work of Jiddu Krishnamurti (1897 – 1986). On other tracks, such as "Il cambiamento", you can hear the influence of my love for Led Zeppelin, while on the likes of "Raoul" you can feel my passion for the blues. Many years have passed since 1972, and I have wanted to almost cram all the influences of my life – far too many things to say. I have had the pleasure of the participation of so many musician friends, both younger and from my own generation: Carl Verheyen, Nicola di Staso, Claudio Simonetti, Walter Martino, Roberto Gardin, Nanni Civitenga, Fabio Pignatelli, Lino Vairetti of Osanna, and then Francesco Venerucci, Cristina Cioni, Jessica Gentini, Riccardo Santini, Massimiliano Castellani, Moreno Falciani, Fabrizio Desideri, Maurizio Pariotti.
All the artwork is based on my paintings – both the cover and the inside of the vinyl version and the CD booklet – with the painting on the right-hand side, and the lyrics on the left. For each song I have chosen the painting that represented it best – for instance, for "Il vecchio" I have chosen a portrait of my grandmother's head (painted in 1982), while for "Il fuoco" I have chosen "Il sabba", depicting the meeting of four witches around a fire.  
A special collector's edition was also released – 66 copies of a boxset containing an original oil painting the size of a vinyl album (which means 66 different paintings), a CD, a videoclip of "Il cambiamento", the book "Il pittore volante", the vinyl album, and a 24 x 30 cm photo of RRR performing at the Villa Pamphili Festival in 1972, with my autograph.  
What are the plans for Raccomandata Ricevuta Ritorno?  
At this moment, after all the hard work of the past two years, I am about to organize our live performances. My idea is to play only in theatres, as the album is very theatrical, and at a few festivals. The basic band will include a drummer, two guitarists, a bassist, a keyboardist, a saxophonist/flutist, and a vocalist – as well as the participation of high-profile guests such as Claudio Simonetti and Carl Verheyen.  
There is a lot of renewed interest for Italian Progressive rock at the moment with people from all over the world, myself included, having declared their devotion to this scene. Which includes books and websites. Have you noticed this interest and why do you think Italian Progressive Rock is so highly regarded ?  
I believe that Italian prog, together with the British variety the first to appear on the music scene, was defined by its Mediterranean influences, which differentiated it from the varieties that in the Seventies developed just about everywhere else. Therefore, I think Italian prog has rightfully earned second place after British prog, which we might call the 'father' of the genre.  
I found you through your own artist page. You are an accomplished artist and some of your paintings are really beautiful. Please tell us more about your life as an artist and your paintings.  
At the age of 17 I was a rocker, and was so until I turned 24. Then, I quit music to immerse myself fully in traditional figurative painting. In spite of my young age, I was seen as an 'old young man' who loved to study Caravaggio and Velazquez instead of Warhol or Bacon. However, I continued undeterred in my search for the lost technique, and at last I managed to become a real painter – just like a craftsman who has once again found the tools with which to practice his art. For 36 years I travelled, did shows, painted portraits all over the world, especially in Europe, with the support and patronage of the great Swiss, French and American families. A hard life, completely dedicated to art, yet extremely gratifying. I studied at the Art School in Rome, then attended the faculty of Architecture. For a year I studied painting with a friar (who was also a painter) at the monastery of San Bonaventura al Palatino in Rome. However, it was on my own that I found the thread leading me back to the great painting tradition – in a kind of artistic solitude that kept me company for years. This is why I have come back to music – in order to get some respite from a very intense life. I don't believe I need to talk about my paintings, because they are the only things that can speak on their own. It takes an instant to understand the emotion that can be evoked by a real painting. Anyone who would like to see my paintings can visit my website, http://www.lucianoregoli.it
Anything else you want to add to this interview?
I'd like to add a word for all young people who are getting into the arts. They should cultivate a sincere approach, without any hidden agendas, humble yet full of passionate fire.  
Luciano Regoli, 1st March, 2010
A big thank you to Luciano Regoli for the interview and to our very own Raff for the translation.
Raccomandata Ricevuta Ritorno's artist page on PA can be found here 
Their new album can be bought from http://www.btf.it



Edited by toroddfuglesteg - March 08 2010 at 05:28