Akacia is one of these US symphonic prog bands who never really conquered the world. Despite of Akacia not being a household name in the symphonic prog scene, I still think their voice deserve to be heard. So I got in touch with them. Stephen Stortz kindly answered my questions.
This interview is meant to be both an update and a "this is your life" type presentation of this band. So without any further references to the teaching of Platon (my cat, not the philosopher) I give you Akacia.
As per usual, my questions are in bold and his answers are in red italic bold

Your last album This Fading Time was released back in 2006. What were you up to between then and now, March 2010 and what are up to these days ?
Unfortunately, it looks like the days of Akacia are over. We had enough music written after This Fading Time to record another album and even had some demos, but Mike Tenenbaum started to go in a different direction personally and that essentially broke up the band. I (Steve) moved to another state, took another job, and we have not been together again since then.
The next part of the interview is a "this is your life" and "the record collectors wet dreams" part where I ask you some more or less intelligent questions about your music and your albums before we move on. When, where and by whom was Akacia formed ? Why did you choose Akacia as your band-name ?
Mike Tenenbaum was the driving force behind Akacia. He had been in a Christian rock band that had run its course and was really more interested in playing progressive rock, so he gathered some musicians he knew who liked the genre and started the band. I joined in 2001, but there had been another bass player before me (Donnie McKinnon). Mike played keyboards on the first album, but we had Dave Stratton join us for the second and Tricia Lee for the third. Eric Naylor and Doug Meadows were there from the start. The name Akacia is a tribute to the fact that all the important things in the Old Testament are built of acacia wood: the ark of the covenant, the tabernacle, etc.
How was your formative years and how did you get your first record deal ?
Early on we were practicing in a church and we actually recorded the first album An Other Life on a 4-track in the sanctuary. Mike did some overdubs and when we were ready we sent it off to a Canadian company to press 1000 copies. I spent a few years sending promotional copies to every prog show and record station who asked for one and finally sent one to Musea Records. They issued a new pressing of it and also handled The Brass Serpent and This Fading Time.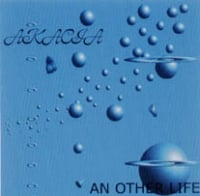 Please give us a presentation of An Other Life. The music, the recording, lyrics, the musicians, the artwork, the tracks.........
The lineup for An Other Life is Mike Tenenbaum - guitar, keyboard, vocals; Eric Naylor - lead vocals; Doug Meadows - drums; Steve Stortz - bass. Much of this music Mike brought with him to the band. "Mary" was a track he had written for his previous band, but he reworked it as a progressive tune. "Hold Me" was a tune we used to jam on during practices. "Journal" was Mike's story-song about a guy keeping track of his thoughts on God and the nature of the universe. "An Other Life" was probably the first song written just with Akacia in mind.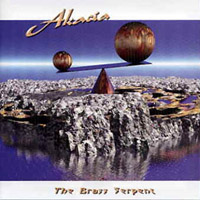 Please give us a presentation of The Brass Serpent. The music, the recording, lyrics, the musicians, the artwork, the tracks.........
The Brass Serpent grew out of an idea that I brought to Mike about writing an epic song about the Exodus. In about a week he had written six pages of lyrics. We went back and looked it over and compromised and rewrote some of the music and in the end, I think it is our "Supper's Ready" or the closest we got to something of that nature. "Postmodernity" was the first song that we recorded with Mark Rabuck at his home studio. He was a very patient engineer and a great musician and he improved the band's sound considerably. "Olivet" is a paraphrase of the Olivet Discourse from the gospels. "The Grace of God" was another song that Mike brought with him from a previous band. We had a running joke in the band that our wives did not like our music and Doug insisted that "The Grace of God" was the only song of ours she could listen to. As I mentioned before, Dave Stratton was our keyboard player for this album and Mark Rabuck did some backing vocals for "Postmodernity". We left the solo part of "Olivet" as Dave's showcase and I remember playing a show where he built that solo into a whirlwind of sound. His keyboard was shaking and he was banging away and I just put my bass down and watched him wail away. I wish I had a recording of that solo.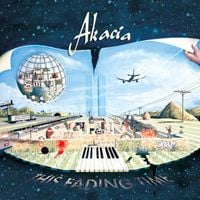 Please give us a presentation of This Fading Time. The music, the recording, lyrics, the musicians, the artwork, the tracks.........
After The Brass Serpent, Dave got married and took a new job, so he opted out of the band. The rest of us would gather at Tricia Lee's house, one room of which she converted into a practice room. We didn't have the money to record with Mark again, but we had a digital 16-track and our practice sessions grew into recording sessions. Musea suggested that we license some professional artwork for the cover and Paul Whitehead's cover mirrors the 9-11 theme of the song "In the Air". We were playing around with different time signatures and the new keyboard sound that Tricia contributed. Mike wrote most of the material for this album and used a more enigmatic idiom. January Sixth is entirely his - I never heard it until it was completely done. "Descartes" and "Weatherman" were the best received tracks, but I love listening to "Another Life".
What is the current situation regarding availability and distribution of your albums ? What is your experiences with the music/record industry ?
Our music keeps showing up in the most interesting places. I just heard two of our songs on Rhapsody and they sound like they've been re-engineered! It sounds clearer than the cd in my opinion. Musea has been very nice to us and took a big chance on our music when nobody else was interested. We never really made it big enough to make anybody any money, but Amazon and iTunes have our music available and every once in a while CDBaby records a sale too. I have a few copies of the original pressing of "An Other Life" still.
I guess it is fair to say that you have one or two Yes, Genesis, King's X and Kansas albums in your record collections. But which bands has influenced you most and how would you describe your music ?
Mike is a huge Yes fan. He would go off on Yes riffs during practice. I'm more of a Genesis fan, although I know every note on most of the Yes albums. I'm also a big Moody Blues fan and I was thrilled to have an Akacia track on a Moody Blues tribute album "Higher and Higher". Mike and Eric were also really big into Spock's Beard and then Neal Morse when he went solo. We actually opened for Neal when he came to Lowell and that was the highlight of our stage performances. Clearly, other influences were Kansas, Rush and Doug's favorite band, Love.
This question may take the form of a rant, but it is still a question. Most countries in Europe has constitutions saying that all it's citizens is Christians. USA has a constitution saying that all it's citizens are secular. Despite of this, Christianity is almost everywhere in the USA while it is hidden away in churches here in Europe. So when an artist sings about God, Jesus and Christianity, that is normal in the USA, but it is deemed offensive in Europe. In short, we don't do God here in Europe. At least, not in public. I think there is a huge cultural difference here between USA and Europe.
Yes - we have been criticized by some French and German listeners, and American too, for having Christian lyrics. America is still a predominantly Christian nation, but we are becoming secular quickly. There are groups trying to take every cross off every piece of land and remove every reference to God in our country. When our post office wanted to put Mother Theresa on a stamp, these people got very upset. But who has done more to relieve suffering than Mother Theresa? Who would be offended by honoring her? Look at the current political and economic situation in nations that have abandoned their faith in God. They are nations that were once great, but no longer. America is heading down that path and soon will no longer be the dominant world power. The Old Testament has one story after another about just that: a nation abandons God and He abandons them. They return to Him and He blesses them again. The problem is that every generation has to figure that out again and some generations need harsher lessons to realize that God is in command.
Akacia has some Christian lyrics. What has been the reaction to these lyrics ?
Some of our critics have said that we would be a good band if we stopped singing about Christianity. Some have said we're part of the problem - part of the reason American's elected a president like George Bush. The ones who like our lyrics have been quietly supportive - most of the feedback has come from those who oppose the message.
Is Akacia a part of a Christian ministry or do you stand alone as a band ?
We stood alone as a band although we did all belong to the same church at one point. We were never an explicit part of the church ministry, just a band that had a Christian message.
Your albums was released through the secular label Musea at least here in Europe. But still; is Akacia's main market the secular or the Christian market ?
Honestly, I don't know who bought Akacia albums. We tried to interest the Christian market in our music, but the Christian music scene does not really have a place for progressive rock. It's harder to get a song into the rotation on a Christian station than on a regular rock radio station. Most rock stations have a program for independent or local music, but not Christian stations. I don't think we need to be handled just by a Christian label, there's nothing bad about having professionals like Musea handle our music.
Please tell us more about the gigs and festivals you have played. You are still available for gigs and festivals ?
That's a good question. I suppose if a big festival made it worthwhile, we might consider getting back together. I would. Like I said before - our highlight was a NEWEars concert in Lowell to open for Neal Morse. Our second most significant show was at Club Swords in Connecticut where we headlined and did a radio interview at the same time. We did other local gigs and festivals, but nothing of the same significance.
What is the plans for Akacia this year and in the future ?
Most likely, Akacia is finished unless Mike wants to revive the name and get a new band together. I don't know how likely that is. I would expect Mike to continue making music in one form or another. It is my dream to someday record some of the music that I had written for the 4th album, but I don't know if I can make that a reality.
Anything you want to add to this interview ?
Just that the guys in the band were such amazing musicians. Doug really had an ear for percussion and he would go back over the recording sessions again and again until he had a sound he was happy with. The sound of his Gretch kit really pleased him. Mike could probably record albums all on his own, he is so talented and has such a vision for music. Eric had more talent than we were able to utilize: brass and percussion besides vocals. I think if we had had more help on the recordings and had done more vocal overdubbing, we would have made it much bigger than we did. But our recordings have some obvious flaws and people who listen to prog rock are quick to spot them. On the other hand, for an amateur band playing and recording in a church sanctuary, we made it pretty far!
A big thank you to Stephen Stortz. Akacia's PA profile can be found here



Edited by toroddfuglesteg - March 16 2010 at 13:36