The last ten years has seen a renaissance in the Italian progressive rock scene with a lot of new bands taking over the baton from the 1970s bands. These new bands are by no means bad replacements for the older, classic bands. One of these new bands are Il Castello Di Atlante. They have so far released five studio albums, one acoustic live album and a collection of old demos.
I caught up with Paolo Ferrarotti from Il Castello Di Atlante to find out more about this band and their albums.
So without any further introductions, I give you Il Castello Di Atlante.
This is a very colorful interview so my questions are in bold and the answers in normal script this time around.
------------
What is Il Castello Di Atlante up to these days ?
Well, Torodd, first of all let me say thank you to give me the chance to talk about the band and let me say hello to all prog lovers who will read this interview. What Il Castello di Atlante is? It's not a band! Is the virtual place where five young men met in the far 1974 and where they have been growing up till now. Il Castello is the place where we can find peace and stillness, 'cause we're friends, nothing else, simply real friends. What binds us is friendship not the music, this is why our line-up has had few changes over the years.
The next part of the interview is a "this is your life" and "the record collectors wet dreams" part where I ask you some more or less intelligent questions about your music and your albums before we move on.
When, where and by whom was Il Castello Di Atlante formed ? Why did you choose that name?
Sit down and relax , it's a long story… It all started in September 1974, when Dino Fiore asked me to form a new band. I was 18 at the time and I had been playing the drums for three years, Dino, whom I had known since I was little as he lived opposite me, was one year older than me and played the bass. We remembered having met a boy, Massimo by name, who played the violin and perhaps also the piano. After a little investigation we discovered that he was called Massimo Di Lauro. It took a few days to find him but, in the end, we did and we recruited him. In the meantime, we found a flautist singer and a guitarist. We thought we'd play our own music rather than wasting time playing, perhaps badly, famous songs by others. Except that, instead of beginning with simple things, just so that everyone could get used to each other, we started with a suite on the history of Man! By the way, the name wasn't Castello di Atlante but Hydra. With this name we finished the Man suite and February 1975 arrived with us in a state of crisis, as we realised that the guitarist's rock 'n' roll nature was not at all suited to our kind of playing which was in line with the progressive rock music of the time. We began to think about replacing him, without saying anything to him of course! By pure chance, in that period, I met Aldo and I asked him to come for a rehearsal. I had known him for a long time as we had been schoolmates. First he came to hear what kind of music we played and then he returned a few evenings later with his guitar, a beautiful Fender Stratocaster! It was amazing how easily he entered into our songs. He was the guitarist we were looking for! So we replaced the previous guitarist with Aldo. Immediately after Aldo's arrival, in a short time, we composed 5 new songs including Il Saggio and L'Ippogrifo which we're still playing today.
In that period we discovered there was already a group called Hydra, so we had to change our name. We choose Il Castello di Atlante 'cause in that period we found inspiration in epic poems and in the Italian poem L'Orlando Furioso by Ludovico Ariosto there's a magician named Atlante. It sounded good and everyone liked it, so we choose that name for the band.
In 1982, to give more space to Massimo's violin, we decided to find a keyboard player. Dino told us about Roberto Giordano, "ok, let's see him" we answered.
In this way Roberto arrived. Roberto soon melded into the group very well and after just a few months, we had prepared a complete repertory with him re-arranging the songs we had composed for the 4 of us. He had a good voice too, which gave us an alternative to Aldo who always sang all the songs. Roberto was also good at composing and arranging; so an excellent choice from all angles. Since then the line up is still the same.
How was your formative years and how did you get your first record deal ?
Well, from the musical point of view the band was born in the middle of "Progressive Era" and, even if we had different experiences and origins, Progressive rock was our favourite music, it was the point common to all. We were perfectly at ease in the romantic atmosphere of prog, and we still believe that prog could be the most expressive and creative musical genre. At that time we heard to every prog band, Banco, Genesis, PFM, , King Crimson, Van Der Graaf, Jethro Tull, Yes, Le Orme, and other bands more jazz influenced as Area, Perigeo, Arti & Mestieri. Personally I have been influenced by drummers who followed the melodies rather than beat time. When I heard for the first time to "The Return of The Giant Hogweed" I was fascinated by Phil Collin's work. Another drummer I really liked was Carl Palmer and when I met him in Mexicali at Baja Prog it has been as know a myth. From the human point of view we grew up with the band, better "inside the band!" The band's story is our own story. We shared every emotion becoming men all together. Our music is permeated by our friendship.
About our first record deal: once, in 1983, Beppe Crovella came to see us; he was the founder and keyboard player of Arti & Mestieri.
We met him after the concert, he said that he liked us and we could do something together. He organized some gigs for us.
Some year later he called and told us about his new project: a progressive music collection called "New Prog '90" to produce for a label from Milan, and he wanted to know if we were interested in taking part. OF COURSE!!! We answered. Since then Beppe is our friend, producer, landmark and more….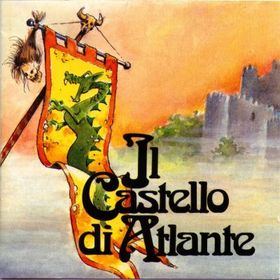 Please give us a presentation of Sono Io Il Signore Delle Terre A Nord from 1992. The music, the recording, lyrics, the musicians, the artwork, the tracks.........
When we was involved in Beppe's project we had been playing since sixteen years so we had produced a huge quantity of songs. We had to choose which songs to record and wasn't easy at all!! First of all we took the classic pieces: 'Il Vessillo del drago', 'Tirando le somme' and 'Semplice …ma non troppo;'. Then we moved on to others which we considered worthy of being included on the first Castello's album. We choose two of the first songs composed: Il Saggio and La Foresta dietro al Mulino di Johan, both written in 1975; then we selected Estate, not so an old song, but with a great piano intro by Roberto. Another one was Il Pozzo, a delicate acoustic song close to Angelo Branduardi's style.
When the songs list was ready we went to Beppe's studio.
We were rather afraid of what Beppe would have said, because if he had wanted to change anything, it would have been a problem: we wouldn't have accepted 'interference' even from our producer.
However Beppe only advised us to modify the drum beat slightly in part of 'Tirando le somme and nothing else.
We were ready and booked the studio for the last week in January 1992, we started working on Friday evening. The plan was to sort out the arrangement of my drums, the preparation of the microphones and sounds, then – if there was any time left - we would begin recording. We set up the drums, ate a sandwich while the sound technician arranged the microphones, and then we did the sounds. I brought a little photo of Phil Collins whit me.
When Dino arrived at about 10pm, we began to record. First, we rehearsed the song, we wanted to record a few times, and then we tried recording.
The strange thing was that when we were only trying the piece out, we played really well, but as soon as the sound technician said: "Ok, now we're going to record," oops! Everyone's arms and hands stiffened up; we got studio nerves and couldn't get anything right!
On that first Friday evening we didn't manage to record anything!
On Saturday we began at 10am, we were a little more relaxed and finally we managed to play the first song well.
We played late into the night.
On Sunday we did the same thing, finishing the bass and drum elements of all the songs.
I remember that on Sunday evening at about 7.30pm we were completely wiped out and we still had two songs to go!
'Estate' was recorded at the first attempt while 'Non c'è tempo' was quite difficult.
At a certain point we started to talk nonsense: Massimo, after having given a long speech, instead of saying "I don't know if I've made myself understood" said "not if I've understood"; Aldo, who was talking to the sound technician called Pippo, instead of saying, "Turn up the volume in the headphones," said, "Headphones, turn up Pippo".
We were just exhausted.
With the basic elements recorded, the others began to record their parts on the Monday.
Fortunately we managed to respect the predicted time limits and, at the end of the week, all the pieces were recorded.
After about a month, towards the end of February, we did the mixing which took another 3 or 4 days.
With the recordings finished, we had to think about the type of cover we wanted and the title of the CD.
A long debate began: we didn't know whether to call the record by the name of the group or give it a specific title, and in this case, we were uncertain as to what title to choose.
In the end we decided to title the record "Sono io il signore delle terre a Nord" which is a lyric from 'Vessillo del Drago.'
We decided to ask Gigi Ruga – who had already designed a number of our previous covers - to design this one, only telling him the title of the record.
Gigi drew a beautiful design with a castle in the background and a standard with a dragon in the foreground. Everyone liked the design; the only feature that left some people puzzled, in particular Aldo, was the skull which was attached by its hair to the standard's pole.
We were worried that it would make people think of heavy metal music which is absolutely not our genre. Anyway, we decided to keep it.
At the end of 1992 the record was at last released on the Vinyl Magic label in the New Prog '90 collection. It was a big satisfaction when, a few months later, I found it in Milan in the Virgin Mega Store.
I remember that I went to look for it in the progressive rock section and I couldn't find it, so I asked, and they said it was in the heavy metal section; Aldo had been right, the cover deceived! Ah, ah, ah!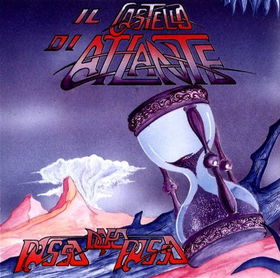 Your second album Passo Dopo Passo from 1994 is a collection of live material from 1974 to 1984. Please tell us more about this album and why it was released.
Well, towards the end of 1993 Beppe got in touch with us with some astounding news: the first CD was selling well and we should make another one! Even if the distribution was on a small scale, it was worldwide. Beppe had sent some copies to the United States, Japan, South Korea, Singapore and Brazil.
In fact he showed us reviews printed in various specialised magazines from the different countries.
Fantastic! We were being successful.
Beppe suggested we do a second CD.
"Ok," we said, "When?"
"Immediately," he replied.
"What do you mean IMMEDIATELY?!! We haven't got any new songs to record!". So we thought of making a collection of our recordings and releasing a kind of anthology of songs composed between 1974 and 1984.
We rather liked the idea, but we were a bit hesitant given the very bad quality of the recordings and, in some cases, of the music itself.
Moreover we would lose the opportunity to re-arrange some of the songs if we wanted to use them for a new album.
But Beppe wouldn't listen to us and so, our second CD 'Passo dopo passo' was released in all haste. The cover was made quickly too, apart from Gigi Ruga's design. We put a concert photo which had been taken in 1981 on the inside; it's a very good photo except that it was taken from so far away that you can't see our faces, it could be any old rock band!
In fact the critics didn't like this second CD very much; it looked too much like a business move and the recordings were really very bad. It was a pity 'cause some songs deserved a better fate.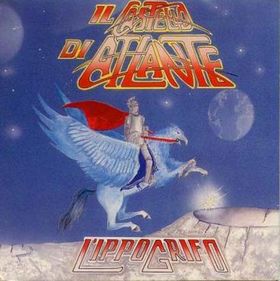 Please give us a presentation of L'Ippogrifo from 1995. The music, the recording, lyrics, the musicians, the artwork, the tracks.........
Given the limited success of the second record, together with Beppe, we decided to make quickly another studio album. We immediately set to work.
We took some very old tunes like 'L'ippogrifo', 'Volta la Pagina' and 'La Vittoria di Er' and improved on them, re-doing some parts, and taking out others; we also wrote some new songs.
Lyrics began to be different, not only based on fairy tales and magical characters but also on harder images. The lyrics of 'E Recito Anch'io' for example are really sad and gloomy, 'Volta la Pagina' describes what Aldo said me after a bad ended love affair, while 'Chrysalis' tells about Il Castello; I wrote 'Chrysalis' lyrics in 1994, but today I'd write exactly the same words!!
We recorded in July of 1994. The sessions were exhausting that time too; 12 or 15 hours a day in the studio for a whole week.
We decided to use the same title for the album as one of the songs, the most representative being 'L'ippogrifo'. We also decided to have a rather different cover which folded up into three parts, with all the lyrics in both Italian and English. In effect the cover was really noteworthy, so much so that several reviews highlighted how such a small label could manage to put together such a sophisticated package while the majors limited themselves to rather spartan covers.
The album came out towards the end of 1994 and was received quite well.
There were also some negative criticisms, above all about the length of the songs which, in some cases, were considered to be too long. Perhaps they were right, certainly 'L'ippogrifo' hasn't got such a fresh or simple sound as the first album, but I think that it has more depth and needs to be listened to a number of times to be truly appreciated.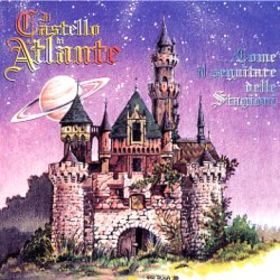 Please give us a presentation of Come il Seguitare Delle Stagioni from 2000. The music, the recording, lyrics, the musicians, the artwork, the tracks.........
After 'L'Ippogrifo' had published, we began immediately to prepare the new album because we had decided not to use old, re-arranged songs, but only to do new songs, so we started composing immediately; we knew that to prepare a new album we would take at least 3 years so we began straight after the release of 'L'ippogrifo.'
The reason why we're so slow is our way of working: we work always in team, one of us has an idea, usually Roberto or me, immediately puts it in common with the others. Then we start working all together, so everyone contribute to the development of the song. It's quite hard 'cause we're 5, so there are 5 different sensibilities and musical tastes. Then we hear to the new music critically. After, I work on the lyrics if not still ok. The song is over only when we're all sure and convinced that both music and lyrics are ok. It's a long way to go up, but, at the end, everyone puts something of himself.
Anyway, we weren't lacking in inspiration and in just over a year we composed the four main pieces we would put on the album: 'Sotto il ponte', 'Ad un amico', 'Giudizio' and 'Stava scritto'.
Towards the end of 1997, we went and saw Beppe.
Our relationship had now become routine; we knew that once we had the definitive version, we had to record the songs in our studio and then take them to Beppe to listen to.
This time too, after listening to them, he only said: "Ok, when do you want to come and record?"
What I've always liked about Beppe is the fact that the pieces we record with him are exactly as we conceived and played them; he never asks us to make any changes, not even the most insignificant. We are evidently in complete harmony with his requirements as a producer.
In January 1998 we began the recordings of 'Come il seguitare delle Stagioni', the fourth album.
The week in the studio slipped by without any particular problems.
Recording had become second nature to us now.
We were no longer wooden like the first time; I remember that I did the final break on Giudizio (which isn't easy) perfectly at the first go. I amazed myself!
Beppe also gave us a very pleasant surprise because as well as the CD, he produced an LP.
The LP has one song missing: 'Giudizio' is not on it simply because they couldn't all physically fit onto the vinyl. It was a great satisfaction however, also because it is now considered a rarity since record companies don't produce vinyl discs any more.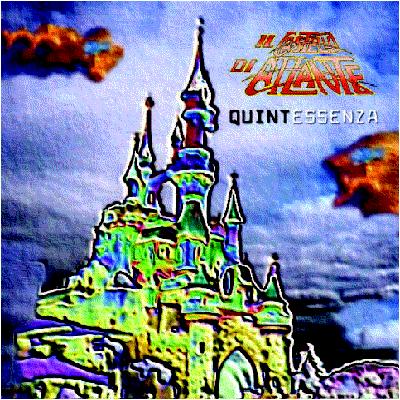 Please give us a presentation of Quintessenza from 2004. The music, the recording, lyrics, the musicians, the artwork, the tracks.........
After Come il Seguitare delle Stagioni came out, Dino left the band; this has been a really disgrace because Dino had been with us from the beginning, he and I had had the idea of forming Il Castello di Atlante, we couldn't imagine being without him! But unfortunately it happened.
Roberto, in 2001, introduced us Franco Fava who played bass.
From the musical point of view, although Franco was an experienced player- he was 52 years old – he had never played progressive rock before and was curious to see how he would like it.
From the personal point of view, he remained quite cool for the first few times, but we tell there was some kind of feeling and this was a good sign. As you know we would never be able to play with somebody who wasn't first a friend.
Ehmm, what we're talking about? Ah yeah, Quintessenza.
In this record we had taken particular care over the lyrics so that they were as near as possible to the harmonies of the music.
I remember a phrase in the text 'Non puoi fingere' which had to last for four beats in 3/8 time. We took nearly 3 hours to find the phrase ("lascia che il vero si plasmi all'interno di te") that was both metrically correct and relevant to previous and following lines, but in the end we were very satisfied!
When we had finished the song, we realised that we had written one of our best ever.
We played it to Beppe who also thought the same. We soon decided that it would be our first track on the new CD.
Another good song is Ilmarinen forgia il Sampo that we wrote for Kalevala Project: we were invited by a Finnish magazine called Colossus to set the epic Finnish poem called 'Kalevala' to music created by 30 groups from around the world.
I went to the Colossus website to look at the project and I saw that there were English, French, Swedish, Finnish and American bands; goodness, I thought, how on earth did they think of us?!
The main poem's character was Ilmarinen, a blacksmith whose adventures took place in a magical world populated by wizards, wicked ladies, spells and fairytale characters. We had no problem in composing a piece based on an environment which, in the past, had inspired many of our songs. For the beginning we took inspiration from a piece I had composed years before which we considered suited to the atmosphere we wanted to create.
Together with Roberto, I wrote the first two lines of lyrics to this music; then one evening Aldo arrived saying: "Guys, I've had the music in my mind all day, let's write it down."
Aldo hummed and Roberto found the notes on the piano and in the end they came up with a lovely melody in three-four time, which was perfect for the song. We decided to include 'Ilmarinen forgia il Sampo' too although it was in Kalevala; it was too lovely not to be included in our work.
To record the new CD we experimented with a new approach: when a piece was prepared, we told Beppe and we began to record drums and bass then, even after a few months, we recorded the other parts. This system is a little 'diluted' but in this way we don't have to be ready with all the songs to record for one precise deadline. We have a little more breathing space. The new system of recording (chosen by Beppe) was really very good because we could record and still go on preparing other new songs. In fact when we'd finished recording the first track, we also finished 'Questo destino' while every now and again Roberto or Aldo went to Beppe's to do their parts.
After the composing of this three songs: 'Non Puoi Fingere', 'Ilmarinen Forgia il Sampo' e 'Questo Destino', we dusted down 'Cavalcando tra le Nuvole' and 'La Strada', which I had written in the early 1980s, of which we did an acoustic version with piano and guitar and a symphonic orchestra-like finale.
In November 2003 we went to Beppe to plan the last recordings and the release of the new CD.
As it was too late for the end of the year by this time, we decided to release it in spring 2004.
We spent the rest of the winter finishing the recordings and mixing. When I heard all the pieces one after the other for the first time, I realised that we just made our best album. The musical parts, the arrangements, the lyrics, everything seemed made with an attention to detail and a maturity that I hadn't noticed before. The recordings were of a superior quality compared to the previous albums, I think the sound spectrum is much wider than the other albums.
We had to find a worthy title, we made a close examination of the most significant phrases in the lyrics but found so many that it wasn't possible to isolate just one for the album.
As it was being released in 2004 which was the Castello's thirtieth anniversary, I wanted to give it a title that commemorated this fact and so I suggested 'Trent'anni dentro il Castello' (Thirty years in the castle) with a photo of our faces in profile and full face, like prisoners.
The idea was quite good but Beppe preferred to make use of it for a collection of our hits, (he has been thinking of doing a greatest hits for some time now, with the best tracks from our albums) and he thought that such a cover would be better for that occasion, so we let it drop.
One evening, while we were weighing up the various possibilities, Aldo suddenly exclaimed, "Quintessenza! (Quintessence) Why don't we call it Quintessenza?"
"Sounds good," I said, "it's also our fifth album, so with the word staring 'quint' it's perfect and also, in our albums there's the essence of our music."
The others also agreed and so the title was decided.
For the cover, we decided for the first time not to have the usual design but to have something different.
We looked for several photos, mostly with abstract subjects and in the end we all agreed on a photo of a castle which Roberto had taken during a trip to France, but with totally exaggerated colours.
It was definitely different from our usual cover designs but we all liked it and we chose it.
Thus in March 2004 Quintessenza was released, Castello's fifth album.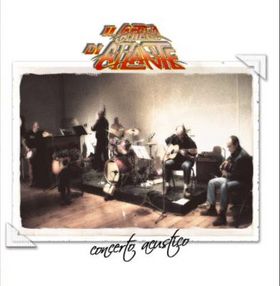 Please tell us more about the acoustic live album Concerto Acustico from 2006.
Well, after five CDs recorded in the studio we would have liked to do something different, we have discussed at length with Beppe on the possibility to record a live show. But wasn't enough, our songs live would not have been so different from the CD version. Then one day in 2005, I had an idea: play our songs in acoustic version, we would have given a new "dress" to the songs by changing the arrangements, while maintaining at the same time, the real substance of the songs themselves.
We had already composed acoustic songs such as Il Pozzo, Alice and others, but the idea to set the songs were born in the electric version in a different way could have been very interesting. So we did an experiment, we took Non puoi fingere, we cut the most symphonic parts trying to exalt the more simple and intimate moments. The result was amazing indeed.
Too Beppe was immediately agreed, he appreciated very much the new atmosphere and the new "sound" of the tune and supported the project. We spent seven months, more or less, to re-arrange the songs we had chosen and, in the same time, to find a place where manage the acoustic gig. The occasion was the inauguration of the lobby of the Teatro Coccia of Novara. I knew the artistic director of the theatre and I asked him if the new space was available for acoustic gigs.
"Of course, in December, a string quartet and a month later a soprano with piano will play there," he said. I said "No, I mean, an acoustic concert of rock music." "Rock music .... ROCK MUSIC??!!" shouted. "Yeah ... why not," I said calmly. "Yes, why not," he repeated after a moment. So I put on other three acoustic shows beyond our own. The venue was quite small but with very good acoustic and the audience was really close. We haven't had any problems to record, on the other hand, there wasn't so many instruments, 16 channels were enough. It has been the most simple recording we did! Dino came to see the show and we dedicated him a song, it has been a very touching moment….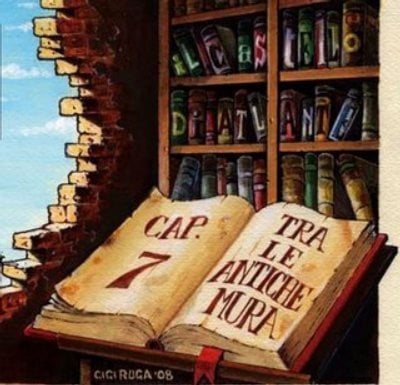 Please give us a presentation of Capitolo 7 - Tra Le Antiche Mura from 2009. The music, the recording, lyrics, the musicians, the artwork, the tracks.........
Well, after 2006, many events happened: Franco left the band, some of us have had some personal problems ...So I was very impressed by them and I started writing new songs based on these events. First, I wrote 'Ancora Suonare Ancora Insieme' which tells the return of Dino within the band after ten years; the first time we played together I felt, but everyone I suppose, how much deep had been Dino's absence. Basically as a friend more than a bass player.
Another song written during that time was 'L'Uomo Solo' based on a novel by Luigi Pirandello, who was one of the greatest Italian poet of the 20th century, even for this song I found the inspiration from our lives . 'Tra Le Antiche Mura' is based, once again, on our friendship and the meaning of the Castle .. the place where we can find ext, ext, as I said at the beginning of this interview. Malebolge was written by Robert, for another project of Colossus (the Finnish magazine, remember?): Dante's Inferno.
Malebolge is the longest song we've ever written, more than 19 minutes, but never boring ... I hope! When we finished all the songs, we noticed that 2 songs on 5 were based on novels. So we had the idea of representing each song as a book linked to each other by putting a musical theme and, at the beginning and end, a brief introduction and a closing song. In this way the whole album sounds like an album "concept". Beppe was enthusiast! He suggested that the cover had to be close to the idea of books. I called Gigi Ruga and I told our "needs", in a few days he drawn an old library in a longue in a partially ruined castle, with a big ancient book in the foreground .. really beautiful!
For me this CD is very particular 'cause I wrote the most part of the songs. Course we worked on them all together as usual, but my proposals have had really few changes, for example the final version of 'L'uomo Solo' is the same I composed, 'Leggi e Ascolta' too has had few changes.
Then, for trademark reasons, the author of music is Robert and I'm only the writer of lyrics but it's not true. So I feel this CD as my own, much more than the previous ones. And I've been very very surprised when I read the first good reviews published, but when 'Tra le Antiche Mura' has been selected by the jury of "Italian Prog Awards" to participate as best Italian prog record in 2009 I remained incredulous.
I had already composed several songs in the past, but after the contribution made by others, the songs were very different from my first idea; this time, on the contrary, the arrangements have changed a few things. What is considered our best CD is based on ideas born in my mind ... Can you believe!?
What is the current situation regarding availability and distribution of your albums ? Is there any plans to make your back catalogue more widely available ?
Well, I'm not much upgraded about this, Beppe is in charge of production and distribution; I know that Massimo Orlandini's Maracash is doing a good work to distribute our CDs abroad, but I really don't know much more. You know, we prefer not to put our hands in things that don't belong to us. Every one has his own role: we compose, play music and record CDs, Beppe follows the rest. If things weren't so clear there could be a sort of confusion, can sounds strange, I know, but it works good!!!
What is your experiences with the music/record industry ?
Well, we had two different experiences many years ago, both unhappy.
The first in 1977 when the group "Area" came to play in Vercelli, we met Pierluigi Fariselli, keyboardist. We talked with him for a long time about our music and the possibility of making a record or playing professionally. He gave us the address of their record label (Cramps) and the name of a producer to make an appointment. We met the producer, whom I don't remember the name, he heard our music with attention and, at the end, he said: "well, guys, the music is very good but we must work on the lyrics". "Why?" we asked. "There's no political topics" he answered. Political topics??? "Yeah, our label is clearly on the left side, we support bands who are on the same side". "Ahhh"… and we gone away. The problem wasn't left or right, we did not want "dirty" our music with political topics! One year later, in 1978, we took part in a competition and we played in Turin at Telestudio Torino a little television. Even if the first classified in the competition could have a chance to record a record with the label RCA, one of the Majors, we weren't interested in the competition but we participated because we wanted to play. According to the rules of the competition you could only present new songs of your own composition, but the first two positions in the competition were taken by a girl who sang one of Mina's songs and a boy who had sung a piece by Paul Simon…. so much for new songs!
But since we have been started working with Beppe we haven't had problem anymore. We owe much to Beppe.
Please tell us more about the gigs and festivals you have played.
Until 2000 we played in Italy only, some everywhere, in 1981 we played in a festival near Vercelli and the day after played Banco, in that occasion we knew Banco's guys, in 1996 we took part in a festival in Bologna with Museo Rosenbach and other Italian bands less known. We had many other gigs but nothing particularly remarkable, we did some shows in local TV. Beppe, (always him!) started saying, since 2000, that he had received from many different countries some requests to play abroad and it would be better if we had accepted. We had some doubts about this opportunity, we were not sure of our capacities and we could have also have problems with our families. So we never approached seriously the problem. You know, when you don't think you have a chance to do a specific thing, you think only: I would but I can't… and nothing else, but it's deeply wrong!!!
In 2004 I received an e-mail from an unknown address, the object was: "YOUR MUSIC IN MEXICO". What's this? Spam? I thought, not exactly ... Baja Prog organizers had invited us to the 2005 edition of the festival. I read three or four times the message, thinking: "there's a mistake…. someone must have made a mistake…. is not possible… how f**k can they know us?"
The day after Beppe called me: "did you receive an e-mail from Mexico by chance?" He asked me. "Yeah, I did", I said, "but I didn't understand anything"… Simple! Said Beppe, "I've sent to Baja Prog management your latest CD, they like it and they want to involve Il Castello in the next edition." We had to decide and we decided to go! It was the real turning point in the life of Il Castello. In Mexicali we met a lot of musicians, producers and managers and in some cases deep friendships are born; for example with Alfonso Vidales, my Mexican brother, well more than a brother Poncho is my twin because he was born one day after me! Or Hiroshi Masuda, my Japanese brother, or Alain Chiarazzo from Marseille. At Baja Prog we spent unforgettable days, bands and audience were hosted all together in the same hotel, there I knew Carl Palmer, the atmosphere was incredibly friendly, the audience was extremely warm and involved into the gigs. We had really a good time!
A year later we gigged at ProgSud in Marseille; Alain, the boss of ProgSud, saw our show in Mexicali and, when I proposed him Il Castello, he accepted. The venue wasn't large but the audience…very hot, really connoisseurs. In the same night played Mangala Vallis (Bernardo Lanzetti's and Gigi Cavalli's band) and "monumental" Soft Machine. The fantastic side of these festivals is the chance you have of knowing legendary bands or mythic characters of prog music! In 2008 we played in Verona Prog Fest with Le Orme, Aldo Tagliapietra is really a simple and smart man, Arti & Mestieri (Beppe's band) are all friends of us, their drummer Furio Chirico, one of the best Italian drummers, played with us in Sardinia at the festival In Progess…One. I asked him to play drums during the last tune of our show when I introduce the band's members…really funny! In 2008 we had the Japan Tour, we played three gigs in Tokyo, one in Nagoya and one in Kyoto…GREAT!!
We must thank Hiroshi Masuda (my Japanese brother), Tsuneko Arakawa and Yayoi Isutzu who managed this tour. Japanese people are simply fantastic! Don't believe the one who says that Japanese people are cold and shy, is not true! They're more than warm, and always ready to be involved in the show, they sang in Italian with us!!
The last festival where we played has been Prog Farm in Holland last November, even there we found very good musicians and new friends…we're lucky men to have so many good relationships. For example, I never met Edo Spanninga (the boss of Prog Farm) before November, but when I saw him, I felt an immediate good tuning as I had met an old fellow. This is very….how can I say… gratifying: you meet a person and the only thing you have in common is the music, but in a few hours you become a friend and you can talk with him about everything without any problem. I meet Poncho Vidales once every two or three years but I consider him as a very close friend, and every time I hear him is a deep joyfulness.
I think it is fair to say that Il Castello Di Atlante is a classic Italian symphonic prog band with a slight folk rock feel, but still with the sound from the 1970s scene. But how would you describe your music ?
I answer with the description that is on our website: "Musical production is geared to the genuine Italian symphonic prog. The texts, strictly in Italian, originates from the emotions and experiences and are often characterized by allegories and metaphors.
In the group all takes precedence over individuality as a consequence of composition, based precisely on teamwork than on individual ideas." Forgive the shortness but there's no much more to add.
How is the progressive rock scene in Italy these days ?
Well, in Italy there are a lot of very good prog bands, but there are a lot of problems too. First of all in Italy prog music has not a large audience, TV and radio broadcast only….sh*t, forgive my vulgarity, but it's tragically true! I've got three daughters: one of 22 and two twins of 16 and they are seeing TV programs as "Big Brother", music contests and other rubbish like these and they are listening to the singers who come out from TV; and all their friends are on the same line. Yeah, sometimes they listen to Castello's music but I don't believe they really like prog music, you know…Dad's music…what a bore!!! Another problem are the costs: in these days I'm trying to manage a prog festival as I already did four years ago; today as yesterday the shows must be free because if there were an entrance fee nobody would pay. In Italy there are two kind of events: the ones where people pay even 100 or 200 Euros to see Madonna, or Laura Pausini or bands from abroad and others completely free, there's no middle way, nobody is available to pay 5 or 10 Euros to see a festival with good but not well known bands. So it's vital find out partners and sponsors to cover charges and, in this period, this is a very hard work! There are some good initiatives as Verona Prog Fest or In Progress One in Sardinia but are quite isolated cases. For Italian bands is much simpler to play abroad rather than in Italy!
I guess Il Castello Di Atlante does not fill every hour of your lives. What else are the band members up to ?
You're right, we aren't professional musicians, the only musician is Roberto who plays in a dance orchestra (sigh!!) and is the owner of a small recording studio, Aldo, Massimo, Dino and I…. are….we are...attention…. are you ready for a surprise? We are BANK MANAGERS!!! You know the ones always with jacket and tie, always serious, always connected with their offices? These we are! But, once a week, we change becoming a prog band… this is for the last 36 years. Few colleagues of ours know that we're a prog band and we go around the world playing our own music. I remember once I was in Verona, where there is the main branch of my bank, with a colleague of mine, we were waiting for a meeting and we went into a shop, it was Fnac, I found in the Italian CD section 'L'ippogrifo', "this is mine own" I said, "Your own? What do you mean?" he asked. "I recorded this CD" I replied. Ah, ah, ah! He laughed loudly, I bought the CD (true!!), I opened it and I showed him the inside pics… he was stunned! He took up the CD, and after a few days, I asked me "I didn't know….what are you doing in the bank?"
What are the plans for Il Castello Di Atlante this year and in the future ?
Well, at the moment, we have several projects:
Gigs = we'll play in France at Crescendo Festival next August, then, on September 11th we'll have a great event in Italy at 2 Days Prog festival in Veruno where we'll play with Delirium and New Trolls, two of the most important Italian bands from Seventies. For next year I'm working to put on a short tour in North America, but now it's just little more than an idea.
DVD = as you know on November 2008 we had a Japan Tour, we took a huge quantity of material: footages, recordings, pics. We have planned with Beppe to publish a DVD based on that tour this year.
NEW SONGS = we're already writing new songs, but next album should be at least good as the previous one which probably has been our masterpiece, so….. We have an idea….better…a dream… something special….but it's too early to talk about this now.
Anything you want to add to this interview ?
Yeah. Thanks for giving me the chance to make known better my band and my friends.
Then, let me say I've been really a lucky man. I have never felt alone, my drum set or my piano have always filled my life, and even during the most sad and difficult moments I always found Castello's friends around me. I don't know how many men can say the same thing.
Paolo Ferrarotti from Il Castello Di Atlante

A big thank you to Paolo for this very revealing interview. I personally rate this band very highly. Their music is on par with the best in the RPI scene.

Il Castello Di Atlante's PA profile can be found here and their website can be found here



Edited by toroddfuglesteg - June 19 2011 at 13:02