The happy 1960s........... what an era for music !
As we all know; this era ended very sudden at the Altamont festival on the 6. December 1969 where Hells Angels stabbed a man to death. The music scene pretty much fragmented after that tragedy into several different scenes. Black Widows is one of the products of that era. Their music is a mix of everything from that time, with some added elements. 
There is no denying that Black Widow have an aura of controversy. In their case, most of it is undeserved. When I started doing interviews for ProgArchives, an interview with Black Widow was therefore on my most wanted list. 

I got in touch with Clive Jones through Pasi Koivu, a very dedicated fan. The scene need more guys like Pasi Koivu.
I let Clive Jones take over the baton...........
Clive. Let's start with the beginning, slightly bypassing the ice age and the Battle of Hastings in 1066 (if you don't mind) before we join up with you at the forerunner to Black Widow; Pesky Gee. You grew up in Leicester in England. A city that also spawned Family. Please tell us more about your musical influences.
My first musical influences were from the 60s the usual pop music but i always liked the American charts and artists i felt they were so much better than the uk artists with the exception of Dusty Springfield, I loved all the girl groups but when i joined Pesky Gee! soul music was the underground thing ,Wilson Pickett and Otis and i have always loved Motown and the artists on that label.
Pesky Gee! were a soul band just like Family were and most of the other bands in Leicester at the time.
We had a great nightclub there called "THE NITE OWL" we used to take it in turns every 2 weeks with another soul band Hal C Blake to play support to whoever the main act would be.
My soul influence changed when i saw Arthur Brown  and King Crimson and a few others so Pesky Gee! left its soul roots and became what was known in 1967 as a psychadelic band our first single was a cover of the Vanilla Fudge song "Where is my mind" a great band who were a big influence to myself i spoke to Mark Stein from VF a few years back and sent him our version he was thrilled we had covered it sadly it was not a hit for either band (lol)      
By whom was Pesky Gee formed ?
 Pesky Gee! was already formed when i joined but they were not called Pesky Gee! they went by the name of "Inside Outfit" we had the great girl singer Kay Garrat
The band had been started by Bob Bond our bass player we all owe a lot to Bob there would be no Black Widow without him we still meet up now and again with a few other x members its great fun i think it was possibly the best time i ever had.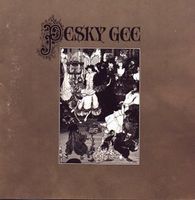 Pesky Gee released the Exclamation Mark album in 1969. Please tell us more about this album.
Well it was a bit of a joke really we were discovered in Warrington by a songwriter called Malcolm Rabbit we were booked to play for 2 days at a club there and he saw us the first day and came to see us after the show and said he had a song for us plus he was in contact with London management, the song was "A place of heartbreak" he tought us the song and introduced us to his management the Meehan's who at one time were in league with Don Arden, Sharon Osbourne's father
They came to see us and loved the band and in particular Kay
We got a call one day to come down to London and in the middle of the night in 4 hours recorded the whole album we had never been in a studio before so we just went along with it all whatever we played even the mistakes were all left in there are some really crazy things in that album if you listen
To Malcom Rabbits dismay his song was put on the b side of the single 
A funny story is that the name Pesky Gee! has an eclamation mark at the end of it (something you missed off) the band really liked this so the manager rang PYE records to say dont forget to put the ! at the end of the name but some silly office girl got it wrong and they forgot to put it at the end of the name but called the album "Exclamatiom Mark" i got the ! added after about 40 years when it was re released
But a lot of people like the album its a great memory for us of how much fun we had and how little we knew about the bizz at the time
I feel when I play it we are all back together again
You shed some members, changed direction name to Black Widow. Why did you choose that name and who continued over to Black Widow ?
Yes we had this idea from our drummer to do this black magic story the Pesky Gee! name did not suit this so a name change came about and what was to really be a fresh start im not quite sure who thought of "Black Widow" but its a great name
After recording a demo version of the Sacrifice album kay left the band to get married this was a blow but we carried on with Kip as the lead singer, Bob on bass, Bok on drums, Zoot on keys, Jim on guitar myself  Clive Jones on sax/flute & clarinet
It is my understanding you signed on the mainstream label CBS (now Sony Music). How did you get in touch with them ?
This was all arranged by our management CBS were a big label at the time with many artists and lots of musical styles we had now re recorded "Sacrifice" and were just starting to get lots of publicity for the live stage act CBS released a sampler album that got to no2 in the album charts "Fill your head with rock" we had the track "Come to the sabbat" on it and everyone went mental over the song
Black Widow is very much linked to a band from Birmingham called Black Sabbath through it's fellow management. Black Sabbath also snapped up a US tour originally meant for Black Widow (banned from USA in the aftermath of Charles Manson's murder of Sharon Tate & others) and the rest is history. Please tell us more about the Widow vs. Sabbath connection. 
 Like you say we both had the same management for a while we would often meet the B/S in the office there was no rivalry between us only in the press
It is strange but when we first met B/S at the Munich Fest 1970 we were both playing on different days the guys were waiting to greet us when we arrived they opened the car doors and to be honest we did not know who they were , It was early days for both bands so we did not recognise them at the time we thought they had come to collect our bags  OOPS  (we laughed later)
Do you think Black Sabbath stole your thunder, so to speak ? 
YES for certain i just wish they would stop blocking us in books and interviews but i know for certain that Sharon Osbourne in her own book sharon told the B/S story and did not mention us you cant tell that story and not include us.
The persona non grata thing from USA was in connection with your occult image. So just to steal the thunder, or rather a title from a Black Sabbath biography and use it here: How black was Black Widow ? (in the context of how occult was your band)
Black Widow was the real thing we learn't about the occult and all the words and rituals are correct Alex Sanders always warned us we could invoke the Devil and i have met the devil twice once when i was alone in the daytime and once when i was with another band at night and most of us saw him (a long story).
Was your occultism used to bring evil spirits to the people like the occultism in other cultures ? The Nolans and their "music" was everywhere in the radio and on the TV at that time, remember..
....NO we have every respect for other types of music the Nolans are big now with a come back in the UK.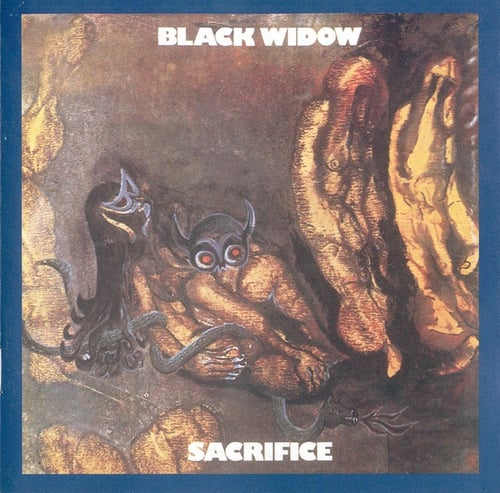 Over to your debut album Sacrifice from 1970 which is still mostly remember for it's lyrical themes. Please tell us more about this album in your own words.
I guess we never realised at the time it would be a classic album you don't it should of done more chart wise but as you know it did not get the plays but its still being discovered now as far as black magic goes it was the first to break into that barrier if your talking black magic you have to have Black Widow the new album goes back to the black magic we should never of left.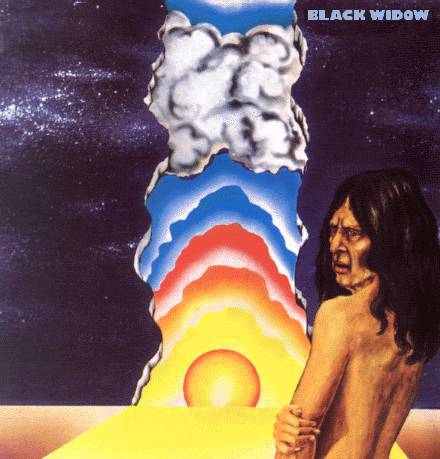 Please tell us more about your second album Black Widow from 1971.
The band was going through a bad time Bok the drummer and myself wanted to continue with the black magic but others in the band kip and Jim thought it was holding them back (lol) so they sacked Bok.
I did not enjoy that album it was recorded twice the first recording apart from Mary Clark has been lost the best track Legend of Creation should of been a single or Mary Clark but there was no single taken from it, we released an old Billy Boy Arnold song "I wish you would" it was awful they did not even put flute on it i was left to play marracas, not a strong follow up album it bombed.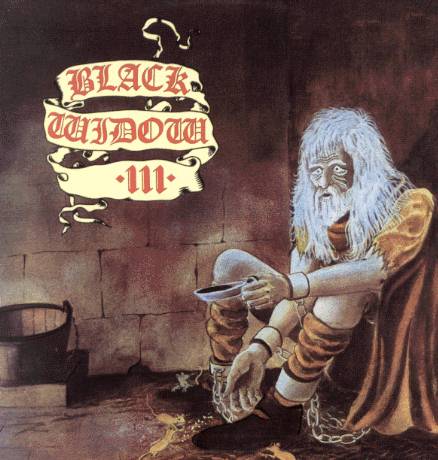 And please tell us more about the third album Black Widow III from 1972.
Well the best thing about this album was Jim had left us and we brought John Culley in to the band on guitar we had just done a tour of Italy with YES so it was very YES influenced, unfortunately we were given the office boy to produce it, another dud album.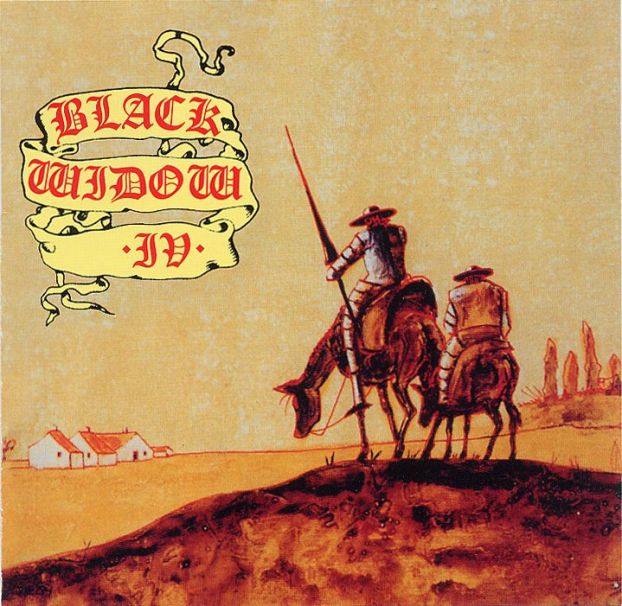 And then please tell us more about your fourth album Black Widow IV from 1997, but recorded in 1972.
This was really a demo album but turned out better than the last 2 we had no manager or record company so it was never released at the time, some great songs on this album mainly written by Geoff half way through Kip left to join Jim with some plan to take the black magic story to the states, we did not know that at the time but the backers pulled the plug on them
We recruited a singer from the states Ric E who had at one time been the singer for Twisted Sister before Dee Snyder.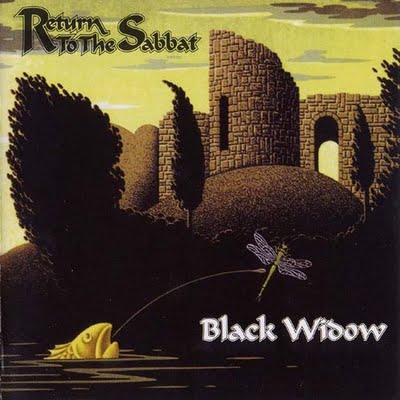 And finally, please tell us more about your fifth album Return To The Sabbat. Is this album a reworking of Sacrifice ? 
Well "Return to the sabbat" had been the demo for sacrifice at the time Kay Garrat was with the band  it was never intended for release but when the record company found out i had it they loved it and wanted to release it
So it was brought out by a friend of mine who owned Mystic Records in the UK and also B/W4 beter to have them out than lost under my bed where they had spent 40+ years.
The art work on these albums is highly memorable. Please tell us more about them.
Yes it is The Return album has the most amazing cover if you turn it you see a different picture ive never seen that on an album before BW4 was taken from a picture at the record company it kind of suited the mood i'm sure the original picture is now worth a fortune (lol)
I pick up a lot of the old British blues and rock scene in your music, together with some hard and folk rock. But never mind my opinions. How would you describe your music ? 
I m never quite sure i dont like labels it was all called Prog Rock at the time i certainly enjoyed the music and it gave me a chance to blow B/W were a bit different with sax & flute i never used the clarinet mush it was so hard to tune on stage.
You played a lot of gigs and some of the biggest festivals. The Isle Of Wight festival for example. Please tell us more about these festivals. 
IOW was great and is still talked about i remember we were inbetween Chicken Shack & Supertramp it was quite cold on stage with the wind blowing and i was worried about keeping the sax/flute in tune there is some recording of the band on stage but i cant get hold of it the guy is in the States and just will not release it although he released a dvd of the festival he used all the major bands when really you can see the WHO/Jethro tull anywhere, i guess i will die never seeing it ????
We played a few others Munich fest 1970, one with the Rolling Stones in paris that was abandoned halfway through due to the weather
The best part was meeting the other bands i remember FREE were the nicest people we met ive recently become friends with Andy Frazier who now lives in the US we both did not realise we were gay at the time.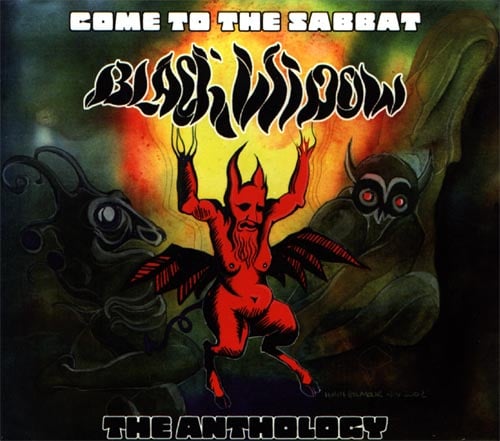 Please tell us more about the Come To The Sabbat: The Anthology compilation from 2003.
Sanctury record approched me because i have all the unreleased stuff and own B/W4 and Return plus i seem to be the only one who kept cuttings and pics  thats thanks to my mum and dad they said i could pick all the tracks so i did a lot of work to make it interesting there were some cuts by Kay that had never been heard before and 2 Pesky Gee! tracks the cover i had to fight for they wanted this awful cover for it, i turned it down and they got Hugh Gilmour to do the new cover based round our logo the little demon i love it its nice and bright.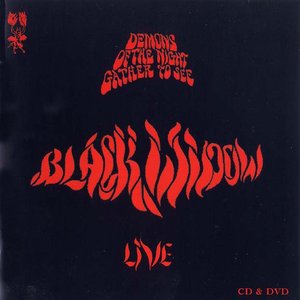 You released a live album in 2008 called Demons of the Night Gather to See Black Widow Live. Please tell us more about this album. 
Well this is a fluke we played Beatclub in Germany it was the last time the original band played together we were on with Gary Wrights Wonderwheel who were having great success in the states at the time, we had just 10 mins to play to a live audience where most of the bands did 2 songs we did the one Sacrifice because it was something we could really freak out in i never saw the recording
Years later i tried to find a copy of it from Beatclub after quite a search i found a lady who tald me there was a copy but as it was so old it would need some work on it and she would send it to me in a months time
It turned up and i sat down to watch the band for the first time in 40 years but it did not start with Sacrifice and i soon reolised it was the black magic show we had done for the cameras in the afternoon before the audience had arrived we had all totally forgotten all about it
I was amazzed here was the show that had got us banned, stopped us from going to the states and had got the press to give us headlines such as (Dont let your kids see this show)
for sure it was a lost gem i spoke to Mystic Records and we bought the rights for it gave it a great title and it came out to great reviews last year
I was so worried when i first watched it in case we had gone wrong somewhere in it but no it was great.
Please tell us more about your relationship with CBS and your experiences with the music industry.
What can i say CBS dropped us but we were just one of MANY acts for them the music bizz is pure luck but its very hard to break into it now i think shows like the X factor have given it all a bad name i miss the charts like they used to be also.
Why did Black Widow ceased to be/break up ?
The band was destroyed by 2 people in the band who thought they were stars Kip and Jim they brought drugs into the band and we simply went down hill while B/S all stuck together at the time, I will never forgive them for what they did to the band by the time we got to do the B/W 4 no body wanted to sign the band, now its different everyone wants to know about the first black magic band and we have cult status.
I have worked hard to keep the band name alive but ive had great help from a fan in Finland Pasi Koivu who is brilliant. 
Black Widow have now reformed again and is recording a new album. Please tell us more about the new Black Widow and what we can expect from the new album.
This is just fantastic. I got together with Geoff and we both had the idea of reforming the band at least for another album but i said i would only do it if we went back to the black magic theme and Geoff agreed.
Geoff lives in Thailand so i went there to record but we have also used the UK and German studios and some guest musicians who really wanted to play with us,
Kay from the original band is on backing vocals and has her own song on the album and would you believe i can now confirm Tony Martin from Black Sabbath is a guest on one of the tracks
On keys we have from Italy Paolo Negri who is fantastic plus some great songs we are thrilled with the results not all the songs are evil we showed that black magic can also be fun (yes its true)
One sad thing is my great friend from Germany Stefan bender sadly passed away after playing on one of the tracks "EVIL CLOCK" so the album will be dedicated to him (as the song goes tic toc nothing stops the Evil Clock).
There is a song based round Come to the Sabbat as i have never heard a song like it since i wrote it so i guess you could say its the follow up after 40 years The title of the album is called "SLEEPING WITH DEMON'S" and should be out this year.
Just at the end of this interview, I want to return to this occult theme because it returned with a vengeance in the beginning of the 1990s. I was around the black metal scene in Norway, some even says I was involved in it. What was/is your reaction to these arsons and murders in Norway and what do you think about the black metal scene ? 
I don't know a lot about the Norway thing I even took part in a TV interview and Black Widow were mentioned as the first band to start it all off.
I will just say like i did earlier in the interview, black magic is not all about death and evil things these guys were maybe just playing at it like i hear from a lot of bands who think if they have mentioned the word Satan or Death in a song its about black magic that need not be the case
Like i say i met the Devil twice and im sure we will meet again
Im very disappointed  in what seems to be called doom rock the singers all sound the same as they growl the words if you have something to say lets hear it loud and clear or you lose the message.
What is your favourite five albums of all time ?
I like this question well my hero is Phil Spector the heaviest of them all so NO 1 would be
 1) A Christmas gift for you  = Ronettes/Crystals/Darlene Love/Bobby Sox & the Blue jeans 
 (Then in no order)
 King Crimson = The Court of the Crimson King
Supertramp = Crime of the Century
 Family = Music in a Dollshouse
 Dionne Warwick = Greatest hits album
 These might surprise a few people but i love pop as well as rock music and also write pop music for many artists
Watch out for a band from Canada i have just been a guest with PROPAGANDHI the new album Suporting Caste has "Come to the sabbat" on it, and i was askedto join them for the UK tour they are so tight and pro and great guys.
Anything you want to add to this interview ? 
Well i'm sure i have missed a lot out but my band Agony Bag has just released on i tunes the "Piss out your Trash" ep ive just been a guest on Paolo Negri's new album and i have just had a pop song released by The AIRWAVES from Sweden
A few years ago i wrote a musical METAL HEART at last it loks like we have some interest from Australia of all places so there is a lot happening
Will Black Widow tour lets see what happens i would only want to play festivals guess i will have to chat to SATAN im sure he will fix it up????
Many thanks for the interview.
I am the one who are grateful here ! A big thank you to Clive Jones for this interview. 
Their PA profile is here and their website is here