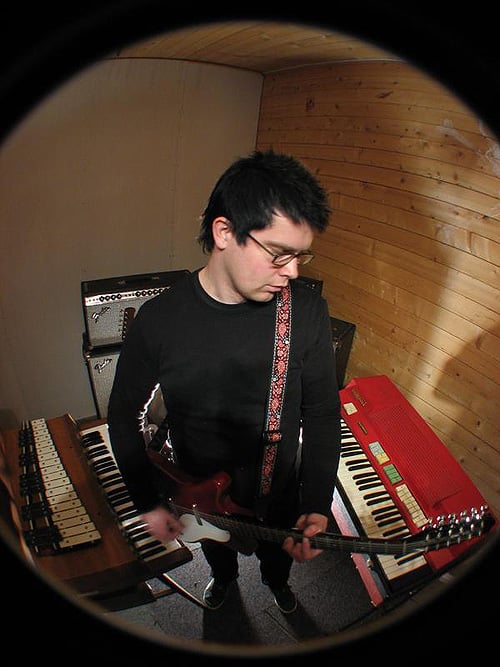 Annot Rhül from Trondheim, Norway is not a household name. But this one-man project has released two albums and two EPs. Their music should appeal to most of us too. 
I contacted Sigurd and got the Annot Rhül story.
I thought I had a pretty good overview on the music scene in Trondheim....   but you managed to evade my radar. And that's to my eternal regret.
Who are you, when did you set up Annot Rhül and what is the musical   philosophy behind Annot Rhül ?
I'm Sigurd Lühr Tonna (read those last names backwards), 30 years old father of a son, living in Trondheim, Norway, come originally from a small place called Skotselv near Oslo. Profession: Pre school teacher. I play guitar, keys, bass and other things. Annot Rhül came about in ca 2002 when I recorded Annot Rhül Surf Experience - released in 2004. The musical philosophy is to make music, experiment with sounds, use varied influences, make music that takes the listener to other places and have fun. I tend to enjoy the studio and the rehearsal room more than playing on stage - perhaps one reason why you have evaded me.

Please give me your (long or brief) thoughts and lowdowns on the following releases.......
The Annot Rhül Surf Experience from 2004
Recorded on 8 track reel in 2002. Originally intended to be released on Trondheim's Luftwaffel Records label (Seid released their debut album Among the Monster Flowers on this label) as a split with Mr South T (has formerly played in Bomber and plays currently in No Life Orchestra) - label manager. This didn't happen - still sad about the fact that it wasn't released on yellow 10"... The songs on this release were a mix between spaghetti western and some hints of the space music I made on the following release. I guess I got lucky in 2001, meeting Burt Rocket of Seid and Tremolo w**kers. Surf and space rock instrumentally is perhaps the essence of my music - Burt Rocket did both and I dared ask him to help me record some songs. He remained a helpful collaborator for the next years. Without meeting him, Annot Rhül, I think, would not have happened at all. "Tractor" was composed when I went to Trøndertun Folkehøyskole in 1998/99. We recorded a demo back then which included the last song on this release, but they did not really fit together in terms of bpm
:)
I'll upload this demo on my website soon. "It takes two to tango" is my try at a mix between erotic movie sound track meets eerie horror. It was written for this release. "Shootout!" was written back in 1997 as a direct response to listening to Kåre & the Cavemen. "Annot Brül" - the title origins from a msn chat with Seid's singer/guitarist Jürgen Kosmos. Written for this release. Fast and furious surfrock. "White Horse". Spaghetti western. Written for this release. "Life's at another place" was made backin 1998/99. The guitar arpeggio was written by George Tanderø over some chords I had.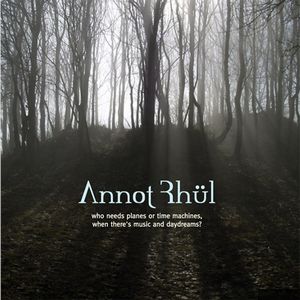 Who Needs Planes Or Time Machines, When There's Music And Daydreams? from 2006
Started recording this in Fall 2003, six songs was recorded during these sessions. The first song to be recorded was Planes or Time Machines. A big step forward from what I was doing on the Surf Experience, but it's clearly Annot Rhül on the Surf Experience nonetheless. Recorded another 3 tracks in January 2004, the rest was recorded in March-April 2005. So it took some time, mainly financially motivated reasons and some due to composing. The result is perhaps a  bit too eclectic - but I like it nevertheless. Lots of focus on details and soundscapes. The cover was made by Marianna Rossi, from Rome, Italy. She now lives in the US and is a very talented graphic designer.
"Mirage" is my Robert Fripp/Eno tribute.
"Evergreen Forest" - had another title in my mind for this -  Lothlorien, but i decided to go with a title that was less descriptive. Bird sounds downloaded from the net
:)
A combination of two songs really. The flageolette part is hinting at some of Genesis music from Lamb Lies Down on Broadway. The part with the drums and band is more typical british psychedelia a la Pink Floyd. Love Burt Rocket's bass playing here and elsewhere on the album. "Planes or Time Machines" was the first track recorded. It came naturally and set the feel for the album. Jazzy 5/4 theme meets some brutal 6/8 parts. Prog'ish. Some krautish vocoder voice (me) says the album title - the only spoken words on the album. The song as a tail on the end - I made these small interludes to glue together the album as I wanted it to be music and sound nonstop with small bridges and segues.
"Light" is a tribute to Stereolab in a way. Sort of symphonic with layers of mellotron samples.
"Carlos Brothers" started out as a demo in a more Allman _Brothers meets _Carlos Santana. It still has these elements, but I decided to make the song a journey of musical soundscapes. You have a minijourney to India, some garagerock guitarsolo, eerie middle section, Led Zeppelin like piano solo and Genesis-like moogsolo. The outro is more of a depressive metropolitan car ride. Håkon Marius Pedersen on organ, piano and moog really nailed this one. This is perhaps one of the most mentioned songs when I read reviews of the album.  
"Sans Souci" was inspired by the thought of a Paris Wheel Ride going bad, Todd Rundgren also has a song about this. The sound effects at the end is perhaps overstating the point...
"King Arthur" is a nice little surf tune. Some The Who guitars, bob hund-like synth melody and medevial music tossed into this
:)
"Knife Valley" is a horror tune. Perhaps a bit of Smashing Pumpkins' "The End is is the Beginning is the End" cds inspiration here. Some inspiration from Hawkwind as well.
"The Haunted Mansion" is an attempt at making eerie soundscapes sounding like a house of horror. A bit repetive but gives you the goose bumps
:)
"Aurora Borealis" is a tribute to Nordheim and Tangerine Dream. The title came about as a homage to my country and the fact that the music is kinda changing all the time.
"Stung By A Cactus" is mariachisurf. A weird ending for a weird and varied album.


Lost In The Woods EP from 2007
I felt that on Who Needs Planes I got a bit overboard with different influences, so this is very much intended to be a more focused output.
Recorded by myself - perhaps the minus for this release as I'm not good at studio technics and drum miking (Robin Barstow - the guy who mixed this was frustrated at the drums to say the least) The freedom of having the projects for this album on my laptop was great, as I could work with editing and composing at home. This gave me complete control and made it possible to concentrate and make a more complete whole package. On this release I also added vocals, and wrote lyrics, a new universe for me.
"Lost in the Woods" was composed with midiorgan, I wrote the chords and made a lead track with an organ sound. I then cut and pasted the sequence of the entire song. Then came drums and bass. Then bass was replaced as Burt Rocket was in town; he moved to Iceland sometime in 2006-2007, and now lives in Oslo I think. After that guitars were added, Sven Arne came and played some lapsteel, Jürgen Kosmos sang, Stian did some percussion and helped me with some MIDI issues and Organ Morgan redid the organ and added the MiniMoog solo. I also had an evening at Organ Morgan's place where we added some Mellotron (not samples, the real deal) and Farfisa for other songs. So, this song is really a patchwork of different sessions. 
I wish the drums were more properly recorded and planned. Other than that I'm really satisfied with this and hope to top it some day. Starts out as a Pink Floyd a la 1969-71 song, then some Stereolab vibraphone and ends with Pink Floyd around 1975. Kåre & the Cavemen are also present here. Forest music.
Think there are some 46 tracks on this. "Ghost Children" is a 60s horror movie homage. This song is part deux of "Planes"' The Haunted Mansion. Halvor on the drums on this, as well as Lost in the Woods and The Dark Lord. I play bass, guitars, keys and make screeching noises. Jürgen Kosmos sings verses, Organ Morgan's wife, Lene, sings the chorus. Organ Morgan on Mellotron. "Deadly Nightshade" is a horror instrumental. 100% MIDI. Intended as the soundtrack to the experience one might get when getting stung on some toxic forest plant.
"Roses Blue" is a Joni Mitchell cover. When I first heard this, I imagined how Pink floyd could have done this, a la Cirrus Minor. So I did. And added some other things. Sven Arne's lapsteel at the end is so beautiful. 
The song is very gloomish. "Sailing on the River Styx" is a title I would have liked on a surf rock song. The theme on this one is from when I and Johan accompagnied some children's theatre and needed a scary theme. Some might say it resembles Inspector Gadget, but I say they are tone deaf
:)
"The Dark Lord" is, to date, as hard rock as Annot Rhül gets. Lyrically in Lord of the Rings land. Burt Rocket on vocals and fuzzbass - we even got neighbour's complaints when we recorded the bass "sounds like someone's using a chainsaw in your basement!". Sounds a bit King Crimson'ish to me, and maybe some Hawkwind and Seid. Maybe a bit atypical for Annot Rhül.
Lost In The Woods compilation from 2007

When Sulatron wanted to release both albums, I decided on having the recent release first, as I think it's stronger and more coherent as a work. It turns out the sequence works great. Halvor, who did cover art for the "Lost in the Woods EP", got the job to make a cover that bridged the two together. You can actually choose which front cover you want, depending on what you favourite or daily mood is. I took the pictures of the branches on the front at work one morning (that clawlike branch is not drawn, it actually excists), and took some picture at this park i London, England and some misty forest water near my parent's hut. Halvor drew the scary house and some background forest behind the fisheye pic of me underneath the cd.
Annot Rhül is signed on a small Austrian label. How did this come about ?
Well, the guys in Seid are good friends of mine, and when they released their 2nd album Creatures of the Underworld on Sulatron Records - David Schmidt (label manager) visited Organ Morgan here in Trondheim. He jammed with Organ Morgan and Janis and some others at a outdoor private festival. Then I had released "Planes" on CDR because I did not have belief that someone would release my album properly with distribution and promotion. Just flat out believed it had no commercial value, but remaining satisfied I did it and wanted to make more music. It was summer of 2006 when David visited Organ Morgan, and I was currently recording "Lost in the Woods" EP. Organ Morgan thought it to be a good idea to visit me so Dave and I could meet and that he'd get the CDR of "Planes". So we did. I kept on recording and finishing "Lost in the Woods", and had finished mixing and mastering it when I put some songs out on myspace. Within the same 24 hours, Dave had listened to the tracks and (I think) thought that he would release my music. So a lot of mail correspondace followed, leading to a combined release of "Lost in the Woods EP" and "Planes".

Based on your ethereal beautiful song Lost In The Woods,  I think you are pretty overlooked in the Norwegian music scene. How do you promote you activities and how do you view both the local and the international music scene ?
I think it must be my own fault, to be honest. I have done two concerts in Trondheim to celebrate the album. One to have a release party and one as support band for Acid Mothers Temple. Suppose I could have played more gigs, but decided I wanted the project to be studio based. Maybe I'll do more at a later time
:)
I promote my music using the net (website and myspace mainly).
My thoughts on the music scene - to be honest - I listen to music I like and go to concerts I wanna see. Sometimes I go to Oslo to see things i REALLY want to see. But to keep track of all that's out there. Maybe I should. But I don't.

How would you describe Annot Rhül's music and which musical reference points would you give us ?
Eclectic, atmospheric, soundscapes and soundtravels are words that come to mind. References too many to mention. Generally music from 1966-1974: Psychedelia, kraut, prog, folk, country, rock, jamrock, accoustic stuff and so on. An then recent stuff that do the old stuff in a good way, but also fuses things together: Flaming Lips, Tortoise and so on. Modern sounding, but oldfashioned thinking.

You do the guitars, bass and keyboards with hired hands from other bands. Who are these hired hands ?
I mainly do all guitars with small exceptions. I can play keys and make melody lines with keys - but nothing fancy. Bass can be easy, but to play good. Drums - I'm lost. Vocals - I'll try soon
:)
So I need help. The people involved have not got money to do what they do. Those are friends helping out
:)
Members of Seid:  
Burt Rocket - studio tech, drums, bass and keys. Without him - no "Planes".
Organ Morgan - keys Jürgen Kosmos - vocals.  
Others: Halvor W. Sanden - house website and cover designer. Plays drums on "Lost in the Woods EP".
Sven Arne Skarvik - old time friend and multiinstrumentalist. Plays in Amberville.
Stian Gjelvold - old time friend and multiinstrumentalist. Plays in The Daily Hum.
Lene Stakset - Organ Morgan's wife and excellent drummer!
Håkon Marius Pettersen - ex f**kface, now playing in New Violators and Moving Oos. Extremely good at keys.
Ståle Norum - ex Tremolo w**kers, Thrush and so on.

You has been and still are involved in other projects and musical constellations. Please tell us more about these.
Hege and Sigurd - shortlived studiobased duo which made a cds of westcoast surfpop.
Fritt Fall - I played the bass and met Halvor, the drummer.  
Monkfish - I played keys at their last concerts and throught this met Erlend, who was a member of the live band celebrating Lost in the Woods live. Monkfish eventually became Asiago.
Geist - during the time I made Lost in the Woods, I needed to get some outlet on other music(!). I also finished an EP with Fritt Fall during this time and we also recorded some other songs. With Geist, me and Stian Gjelvold wanted to make a tribute to krautrock. All songs were made with rhythm as starting point for composing. Was released on CDR. You can buy it from me from the website
:)
Moon Module - was born on the night we supported Acid Mother's Temple. Some of us wanted to play on, and me and Lars, Erlend and Sven Arne started rehearsing. Sven Arne left after a short while leaving us to search for a drummer. We never found one that lasted. With me becoming a father and us loosing the rehearsal space, the band has been on hiatus since summer 2009. Me and Lars are the only members now, but we want to find new members and start something new. We need a bass player and a drummer who wants to play music similar to the tracks at the myspace (se further down)

What is your plans for this year and where do you want to take Annot Rhül and other projects ?
Playing with Moon Module has taught me more about playing with a band live in studio, an approach that will be observed more at the next Annot Rhül album. We have some work to do at the new rehearsal place. A 16 track reel studio will be up and running soon I hope. The plan is to rehearse with drums and bass for basis tracks for an upcoming full-length. Two tracks can be heard on Moon Module's myspace (myspace.com/moonmoduleband). These are demos for the songs. Will be recorded more or less similarly as this, but better and with vocals and some extra instruments. This was Moon Module on 3rd gear, with Halvor flying in for a weekend to substitue as drummer for some songs.
I also wrote lots of parts when playing in Moon Module which became  songs. These will also be recorded for the album.
I also have some demos on my laptop due for recording. Some laptop demos will also be website-only released in time for summer
:)
To this date, the album title for the upcoming album is "Octopus" or "Leviathan".
Just to wrap this interview up; do you have any regrets in your music career ?
Maybe that I haven't been good at promotion and not trying to expand outside Trondheim.

What is your five alltime favourite albums ?
Ouch, that's hard. Really hard. 1. Some strange combination between Pink Floyd's 70s albums (hehe) Finally settling on "Animals" (1977) 2. Long Day's Flight 'till Tomorrow - Kåre & the Cavemen 3. Future Days - Can 4. Lark's Tongue in Aspic - King Crimson 5. Trust Us - Motorpsycho

Anything you want to add to this interview ?


Edited by toroddfuglesteg - April 04 2010 at 13:35