We Find Your Lack Of Faith Disturbing from 1998
Henrik:
The previously unreleased recording was made up of a lot of old material we had lying around. On the second demo we had a handful of songs written during the year. At the time of the recording I believe that Stefan had already announced that his heart wasn't totally into the band but he did sing on the demo anyhow. It might have influenced our choice of songs to record since there were two songs with vocals and two instrumentals. The backing tracks were again recorded live with vocals and other shenanigans added. This demo was also distributed on cassette but I don't think we sold or sent out any copies at all because when it all was sort of done we more or less had the album deal with Record Heaven which was a lot sexier than cassette demos. I have a huge box of these lying around somewhere.
Mattias:
We recorded "Ångloksångest" at this session but I decided that we should keep it "for the full lenght". We did not have any record deal or anything but I felt so confident that we would do a "proper" CD and I thought that "Ångloksångest" should be the opening track. And that's how it turned out. Must be the only time I have been right! The song "Den trettonde månaden" remains one of my favourite BoH songs to this day.

Art To The Blind from 1999
Henrik:
By the time of recording the second demo we had already been in touch with Record Heaven and they were interested in releasing music by the band. I'm not even sure we even sent them the second demo at all. But they agreed to release an album with the band and we had the weird situation of trying to decide what we wanted to do with this album. We decided to use the demo recordings but redo bits that we felt we could improve on. I believe only "Den trettonde månaden" remains the same mix as on the demo. Stefan again came in to redo some vocals on a couple of tracks and we wanted to redo the guitars on "Infertile ground" completely. It was all a patchwork done in different studios and rehearsal rooms. We added one completely new track, "Fading from grey", which I recorded the drums and electric piano for on an 8-track and we then took these to the one studio for some overdubs and another studio for other overdubs. I can't even recall what went on where. But in the end we got all the tracks for the album.
The album was generally received favorably but it was more or less exclusively commented in prog rock publications. I've always been very uncomfortable with that type of labeling as I feel it tends to exclude a potential audience that might have actually endured a few minutes of the music if they hadn't been told that they were about to be subjected to some prog. As far as I know the album is sort of deleted although I see it cropping up in listings here and there.
Mattias:
Made up from the previous sessions, like a greatest hits collection of what we had recorded so far. Plus the addition of the new song "Fading from grey" that we just had to have on the album. We remixed some tracks to make the album more coherent. The trip to the mastering studio was also vital for making it work as an album since the songs had been recorded in different studios. I think the first two and the two last songs on the album stands the test of time pretty good.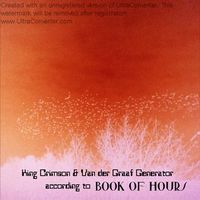 King Crimson and Van Der Graaf Generator according to Book of Hours from 2003
Henrik:
This one was great fun as I remember it. We were approached by Record Heaven to record some covers for a possible 7"-release. By this time the band was just me, Mattias and guitarist Per and I think that between us the decision as regards what songs to chose was a fairly easy one. We wanted to go a bit whacky on "One more red Nightmare" and asked Ulf (keyboard player on Previously unreleased) to join in to play some funky clavinet. I asked a friend of mine Andreas Runeson, who had this weird band with some mates of his, to sing as he had a very idiosyncratic vocal delivery. He did so and it turned out wonderfully weird. I also wanted "Scorched Earth" to be totally guitar based as VDGG didn't have any guitar at all on that particular track. I think it actually works pretty well. The vinyl idea was scrapped though and it was eventually released on CD.
Mattias:
Record Heaven came up with the idea to produce a 7 inch single with two cover tracks to come with the album as a promotion gimmick. We loved the idea and recorded two songs we liked and thought we could "make our own". Of course the idea proved to be too expensive so it became a cd-single instead. I can't re
member there was much debate on which songs we were going to do. Henrik, being a massive VdGG fan came up with the arrangements for "Scorched Earth" and we all liked King Crimsons Red album and choose "One more red nightmare". The arrangement was much more of a band effort for that one. John Wetton is one of my favourite bassplayers so doing that song was great. I am still very pleased with how it turned out. Our versions are both good and considering the songs never got mastered it sounds pretty good anyway.
Transmissions from 2003
Henrik:
To get to "Transmissions" we need to fast forward a few years. Per left the band in 2000 and it was only me and Mattias doing recordings in the studio on borrowed time. In late 2000 we found a new guitarist in Adam Skogvard and we set about rehearsing material. I seem to remember we focused more on new material rather than trying to break Adam in on older stuff. We were constantly looking for singers but it proved to be an extremely difficult matter. Then, in late 2001, we found Anni Thulin and found ourselves being able to play music as a full band again. We did a few gigs and in the autumn of 2002 we went into the studio to record what was to become "Transmissions". It was made up of the drums and bass from one song from the last recording session with Per back in 2000, one backing track that I had been putting together at home to see if my computer was a worthy audio recording unit ("In-between") and two new songs that we had been rehearsing. It was mixed and recorded in four days. A few months after the recordings we parted ways with Adam but rather quickly found Jonas Hansson to fill the vacant spot and this brings us to the final BoH lineup. By this time we didn't have a channel for releasing stuff so after a few months of wheeling and dealing we decided to make a few copies of the recent recordings, call it "Transmissions" and release it ourselves.
Mattias:
By now it was just me and Henrik left in the band. So we set out to find people to play with and we had also relocated ourselves to Stockholm since a few years. First we found Adam Skogvard who shared our ideas and was a very good guitarplayer. When it came to vocalists we were open for suggestions and did not think in terms of gender but rather that we wanted the best one we could find. We tried out a bunch and found Anni Thulin.
In between Stefan Zell and Anni Thulin we had a finnish guy named Manne Ikonen singing with us. He was very good but decided to move back to Finland for personal reasons. Too bad we never got to do a proper recording with him. Anyway, when we did Transmissions we already then had material for a full length that we had started to work on. So we picked the songs from what we wanted to have as a compliment to that.
How would you describe your music and who would you compare yourself to ?
Henrik:
Phew, that's a tough one. I assume the question concerns BoH. There was definitely a bit of King Crimson/Anekdoten as far as the bass and drums go. But then we were never jazzy or psychadelic to any large extent. I think it's difficult to disregard that most of us came from a hard rock background. One gig review once compared the later incarnation of the band as a cross between Black Sabbath and Cocteau Twins, which might sound a bit odd, but I think it actually encompasses most of the stuff we did.
Mattias:
I feel that we were a metal band with a progressive twist from the beginning but eventually the metal side of the music faded out. We had started to listen to progressive bands but had a metal background. I don't think, at least not from my side, that it was a conscious decision to become more "alternative" - it just happened as our songwriting skills expanded. I have come to understand that when we did "Art to the Blind" the metal audience thought it was a bit to progressive and not in a progressive metal kind of way (which to me is an different genre) and that the progrockers might have thought that we were to much metal.
Book Of Hours has now split up. Why was the reasons for the split up ? Did the members continue in other bands/projects ?
Henrik:
Something must have happened once we got Jonas in the band because that spawned the most active period in the bands existence, gig-wise. We either must have had a huge backlog of stuff that we introduced him to or we just simply got a lot of new material together. Me and Mattias had bought a digital recording unit and in between gigs and rehearsals we were recording stuff intended for a full length album. Since the recording was made in our rehearsal room in a very on-and-off-manner it dragged on and took a very long time. As I recall it we were recording from the spring of 2003 until the band split up in late 2004. I'm not sure if it was the everlasting recording that was our undoing but for me, being mainly responsible for recording and editing and so on, it certainly was a very tough period. The recordings might have slowed down the work on new material which in turn might have given me a sense of musical status quo. I remember that during the last months I preferred spending rehearsals in the sofa rather than actually being in the room playing. I might also have grown tired of the limitations of us in the band as musicians and the sense of being trapped in what was some kind of Book of Hours-sound, whatever that was. I was feeling very detached from the band that manifested itself on Art to the blind. I think we ever only played two tracks from the album with the final line-up so that world wasn't interesting me any more. And I had an urgent feeling of wanting to do stuff that I felt was outside that BoH-box. It's a bit of a paradox as I guess I was the only one to experience these limitations in any case. We even went into the studio to record four new tracks while we were still working on the material for the album, possibly to get a feeling of that we were actually doing new stuff as well. These recordings are a bit weird as I feel you can hear a band trying something but not really getting there. I think it all just slowly drifted away for me.
A few months after the split me and Anni got together to work on some music and in the end we needed musicians to play it as we were offered a gig. So we actually asked Jonas and Mattias to play it which they did! This was in the spring of 2005. The project went under the name Ekrano and that's the band I still play in today, but with other people totally unrelated to BoH. We have a few recordings at myspace.com/ekrano and are working on new material and hassling people for gigs. I believe Anni is writing her own music on and off. Check out her myspace at  
www.myspace.com/annimusic
. Mattias and I play in an Iron Maiden covers band but it's been on hiatus for some year it seems. Him and I also released an album of weird Iron Maiden interpretations in 2005.
Mattias:
We just grew tired of nothing happening. I was probably the last one to give up as I thought we had something unique going and that we had great songs. But the band sort of died around me. We worked on our second full length album (to be called "About time") for what felt like ages. We recorded on our own in our rehearsal room for the most. In hindsight it was a very exhausting experience. Adam had left after Transmissions and we found a substitute in Jonas Hansson that Henrik got to know from classes at university. Jonas was not as skilled as a player as Adam but was (and still is) a very nice guy. He also dived right into our experimental/alternative/proggish way of working without hesitation. Adding his very own take on soundsscaping.
Jonas and myself has a new band called Onda Radio and I have had a metal project for a few years; Astrakaan that I rarely have the time to work with.
Adam is currently studying composition. Original guitarplayer is Per Broddesson is very active, now playing in Griftegård, a doom metal band. The Zell brothers are recording their next album with "Wolverine".
Henrik and myself recorded an "must be heard to be believed" -Iron Maiden tribute under the name Food for Thought. We released it on our own label Book of Hours anti-tainment in 2005. It got great reviews.
What was your experience with the music industry ?
Henrik:
Insignificant. The only bit we really butted heads with was getting gigs and that's a very local part of the industry or what have you. I don't think I've ever encountered such fierce indifference as when we were trying to book a gig.
Mattias:
What? Is there a music industry!? Book of Hours had almost no encounters with it. Our time with Record Heaven was very brief and not much to judge from.
Who is taking care of the Book Of Hours copyrights and releases ?

Henrik:
It was always going to be Record Heaven who did the album and the covers EP. I think, if there would come a time that would require any sort of meddling with those old releases again in any shape or form, it would be down to us. At the moment I can't really see there being a demand for any of the older stuff anyhow and post 2000 all stuff that we've made is controlled by ourselves anyway. It would be nice to get the second album together and get it properly released, though I doubt there is any interest in such a venture from anyone outside the band.
Mattias:
Guess its me and Henrik since we were there from the beginning until the bitter end. We own all of our recordings ourselves.
Just to wrap this interview up; do you have any regrets in your music career ?
Henrik:
I'm not one for regrets. There's a lot of things that I or we might have been able to do differently but I also know that, at the time, we always did what we could do to the best of our musical and economical abilities. It's not like we've been offered any golden opportunities that slipped through our hands or anything of that kind.
Mattias:
I regret we did not write and record more songs. Maybe we thought a bit too much at times!
And, cant say its a "regret" as it was not in my power to change it, but it still bugs me that "About time" never got out. Its still there. The songs is still very good so if the mysterious "music industry" would be interested. The band changed into a different style over the years so the conception (if anyone cares) of what Book of Hours were is very misleading if all you have heard by us is Art to the Blind. If we had had a chance to release albums like an "ordinary" band I think it would have been a interesting development to have followed.
What is your five all time favourite albums ?
Henrik: I find it difficult to differentiate between "favourite record" and "important record" so this list might be a mish-mash of both.

Anekdoten – Nucleus
Van der graaf Generator – Pawn Hearts
ChromaKey – You go now
WovenHand – Mosaic
Nick Drake – Five leaves left
Mattias:
Hard to pick, but these five albums I cant seem to get tired of:
Nucleus - Anekdoten
Piece of Mind - Iron Maiden
Abbey Road - The Beatles
Mob Rules - Black Sabbath
Mastodon - Blood Mountain
Anything you want to add to this interview ?
Henrik:  I have two main bands at the moment. In Ekrano www.myspace.com/ekrano I play drums and also supply most of the musical backbone. In Librah www.myspace.com/librahmusic I play drums and try to stretch myself to play different from what I would play on "autopilot". I also have a sort of lost-and-found library of my own music www.myspace.com/meurglys where I put stuff that I don't really see fit for any band but I still feel has to be recorded.
Mattias:
Please feel free to visit
www.myspace.com/ondaradioswe
or
www.myspace.com/astrakaan
to hear some of my more recent work.
Henrik's and mine Iron Maiden project Food for Thought can be found at  www.bookofhours.net/fft

A big thank you to Henrik and Mattias for answering my questions. Book Of Hours PA profile is here and their website is here