Adagio from France is a good progressive rock band with four studio albums and one live album on their conscience.
I caught up with their founding member Stephan Forte for the full Adagio story. 
~~~~~~~~~~~~~~~~~~~~~~~~~~~~~~~~~~~~~~~~~~~~~~~~~~~~
What are you up to these days ?
We've just finished our European tour supporting Kamelot, it was great ! I am currently finishing my instrumental solo album, I hope everything will be done this summer. And then I will start composing the 5th Adagio album.
When was Adagio born, by whom and how was your formative years ?
First album has been released March 13th 2001. In the beginning I was doing instrumental/shred oriented music. An A&R very interested in the stuff sent me to Philadelphia to record a demo with keyboardist Vitalij Kuprij, we were supposed to do this band together. In the end, after three weeks, we decided it was not a great idea, we were having a lot of artistic disagreements, and so I fully composed and recorded the first Adagio album "Sanctus ignis", with some musicians I liked such as David Readman on vocals Dirk Bruinenberg on drums, Richard Andersson on Keys and my long time friend Franck Hermanny on bass.
How did you get your first record deal ?
With the same A&R mentioned above, Olivier garnier, who launched Adagio and really helped the band during the early years.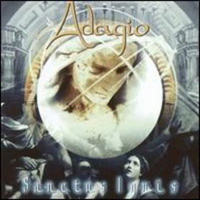 Your first album was Sanctus Ignis from 2001. Please tell us more about this album.
At that time, I was really into Neoclassical/progressive metal, and I think this album sounds a lot like the influence I had at that time. I still like it of course, but it is not really representative of what we're doing now. Some songs are really complex and long, such as "Seven lands of Sins" or the instrumental "Niflheim"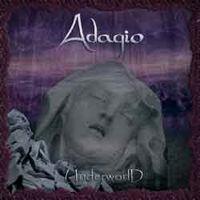 Your second album was Underworld from 2003. Please tell us more about this album.
Underworld was a very ambitious album. I wrote all the scores for it to be fully played by an orchestra. Unfortunately, it was financially impossible and we had to do it with samples. I've just hired a full choir ensemble which is already bringing a lot more life to the music. This album is very personal, I was n a very dark state of mind at that time, and did a big introspection, I wanted to explore the darkest corners of myself. That was a very demanding experience, but I'm really glad I did it and been able to transcribe it into music. This album is the most complex of Adagio, songs like "Next Profundis" or "Underworld" represents a lot of work.
You changed style from the more symphonic sound on your first two albums over to a more metal orientated sound on your two more recent albums. Was there any reasons for this change ?
Firstly because we wanted to have more fun on stage. Playing "Next profundis" live for example requires a lot of attention, and we definitely cannot do anything else but focusing on what we're playing. Then, it also reflects the evolution of our tastes, I'm mostly listening to Metal these days, and less progressive stuff. Still a lot of Classical music, but I'm more into Lamb of God, and Devildriver right now than Dream Theater. I think it is also due to the fact that since Kevin and I are taking of the production duties, prod and mixing in general has become a very important part of our concern. And we're both very big fans of Colin Richardson and Andy Sneap's work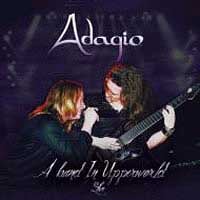 You also released a live album in 2004 called A Band In Upperworld. Please tell us more about this live album.
It's the last concert we've done with David Readman. It has only been released in Japan so far, and I think it's a cool way to hear different version of the songs from the two first records.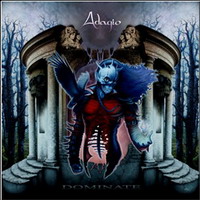 Your third studio album was Dominate from 2005. Please tell us more about this album.
That marks the start of Adagio straighter musical direction. The growls were more present, the structures were more "song" oriented, and I was thinking Live when composing it. I think that's the album I like the less. I like the songs, especially "Children Of the Dead lake" and "Dominate" but the mix, mastering and production sucks…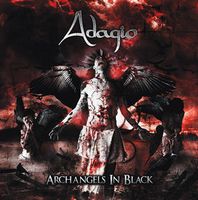 Your fourth and most recent album (from 2009) is called Archangels In Black. Please tell us more about this album.
I think with his one, we finally found the exact direction. It's dark, heavy, shred, it has all the ingredients that defines Adagio 2010. So we'll keep up in that direction, but of course now trying to make it sound darker and heavier.
Both Underworld and A Band In Upperworld is being re-released these days. Please tell us more about the changes from the original albums.
Band In Upperworld re-release is simply because it has never been released outside Japan so far, and we thought it would be cool to have it out in Europe. For Underworld, we wanted to have a new artwork, the previous one was definitely ugly as hell J there are some bonus track, one is an unreleased demo version of a song composed for Dominate
How would you describe your music and which bands would you compare Adagio to ?
Its difficult to describe my music.
I only can use adjectives I've already used ten times since the beginning of this interview J Dark, Heavy, Dramatic, Virtuoso, Black, Classical influenced, Melodic, …
What is the lyrical themes you sing about ?
I'm a big horror movie and literature fan, so everything is around this theme….with some personal beliefs hidden into it
You are now on Listenable Records, a very fine label and one of the pioneer labels from the heavier, avant-garde part of the metal scene. How do you feel that you fit into their roster of bands ?
We're probably the most melodic band of the label, but as weird as it might be, I think both Listenable and Adagio fits each other pretty well. We're a bit aside of the Melodic scene, and Listenable is not only an extreme label
Is any of you involved in any side-projects ?
I'm doing my instrumental stuff, Kevin is producing progressive metal bands, such as Myrath, and that's pretty much it
Just to wrap this interview up; do you have any regrets in your music career ?
Absolutely none! I have done a couple of mistakes business wise, but I think that's the best way to learn what not to do again. So in a way, it was more helpful than destructive J
What is your five all time favourite albums ?
Yngwie Malmsteen's Rising Force,
Megadeth's Rust In Peace,
Jason Becker's Perpetual Burn,
Dream Theater's Images & Words,
Dimmu Borgir's Purianical Euphoric Misanthropia
Anything you want to add to this interview ?
Thanks a lot for the great interview and the cool questions, looking forward to meeting all the readers sometime soon on tour with Adagio!!
~~~~~~~~~~~~~~~~~~~~~~~~~~~~~~

A big thank you to Stephan Forte for answering my questions.