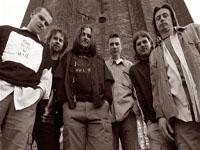 If you're a prog fan looking for the cream of the nineties progressive releases then add Poland's QUIDAM to your list. Influenced by MARILLION and CAMEL, this band elegantly blends harmonies, refined arrangements and diversity of orchestrations (keyboards, cello, flute, oboe, strings).

The neo prog style guitar playing is interlaced with haunting flute, cello that evokes depth, female vocals and keyboards that give an orchestral fullness to the music. Their style is a melodic, text-based (female vocals) symphonic rock. The rhythms intensify, the symphonic keyboard textures thicken and the electric guitar plays long melancholic notes. QUIDAM is certainly the main and most appreciated act to have emerged from this field, with ABRAXAS and COLLAGE.

(Anonymous biography writer, Prog Archives)
I got in touch with Mariusz Ziólkowski for the Quidam story.
~~~~~~~~~~~~~~~~~~~~~~~~~~~~~~~~~~
What is Quidam up to these days ?
We just finished our polish tour with Acute Mind. The tour was a promotion of our latest DVD " Strong Together". Currently we are working on new material.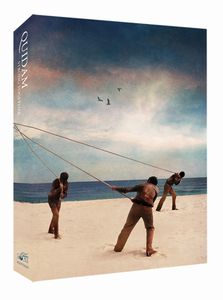 Please tell us more about  this DVD
Well, I really love this album. It shows what Quidam is now, and how we have evolved during the last couple of years. With help of Tylda Ciolkosz (violin) and Piotr Rogoz (sax) we show the best side of Quidam, live performance. All this is accompanied by great film work of Rufio Film and masterpiece artwork by Michal Florczak. I recommend it to you with all my heart. You will not regret it.
The next part of the interview is a "this is your life" part where I ask you some more or less intelligent questions about your music and your albums.  
When, where and by whom was Quidam formed ? Why did you choose that Latin phrase ?
The band was founded in 1991 by Maciek Meller, Radek Scholl and Rafał Jermakow. First name of the band was "Deep River", but later it was changed to Quidam. It was an idea of our label Ars Mundi.
How was your formative years and how did you get your first record deal ?
We simply worked hard and got the offer.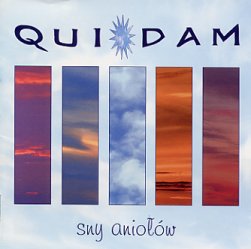 Please tell us more about your second album Sny Aniołów / Angel's Dream from 1998 which was released in two different versions; English and Polish. Please also tell us why you released it in two versions.
English version was a must for our French label Musea. They wanted to have it in English so we did it.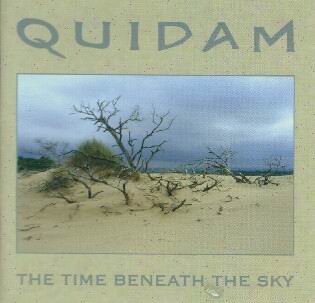 Please tell us more about your third album The Time Beneath The Sky from 2002.
For sure this was most mature album with "old lineup". Some people claim it is more pop music than progressive, but we don't care, we like it 
When Emila Derkowska, Rafal Jermakow and Damian Sikorski left the band after that album, I get the feeling you also left behind the folk music roots and moved onto becoming a more Neo-Prog band. Or how would you describe Quidam before and after these departures ?
After "The time beneath the sky" half of the band changed so it was obvious that music would change. New drummer Maciek, has got rather jazzy roots, Bartek and Mariusz are are into the old prog-rock, so here we have different influences and different music comes up.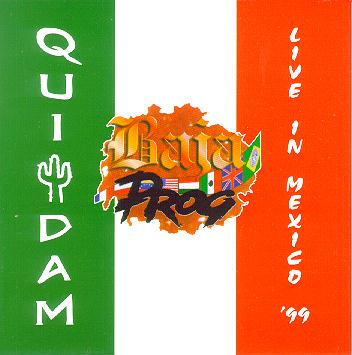 The Live In Mexico '99 live album from 2000 and Baja Prog is an interesting documentation of the Emila Derkowska era of Quidam. Please tell us more about this album, the Baja Prog and the Mexico experience.
Trip to Mexico was our first visit in such exotic and far country. The atmosphere and people who were there let us to play great concert. So we decided to release it. I believe, that when you hear this album, you can feel that we had a great time during the gig.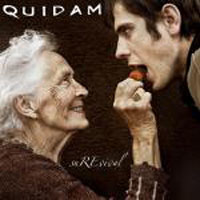 You got a new vocalist, a male vocalist, for your 2005 album surREvival. Please tell us more about this album.
It was first album with new line-up. Most of the material was created out of improvisations. As I said before, half of the band was new so it was very interesting to create something totally new with totally new people. I think it was very good debut.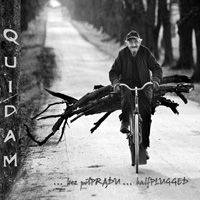 Another live album called Half Plugged was released in 2006. Please tell us more about this album.
We were asked to play a gig in rather acoustic mood. Out of curiosity we recorded it. It turned out it sounded good enough to be released so here we have Halfplugged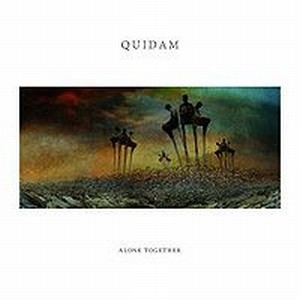 Alone Together from 2007 is the last Quidam studio album so far. Please tell us more about this album.
This album is what we are most proud of. We were more conscious about what we were creating during rehearsals. We knew each other better than on surREvival so the act of creation was much easier. We played better, our sound was better and we were more slef confident.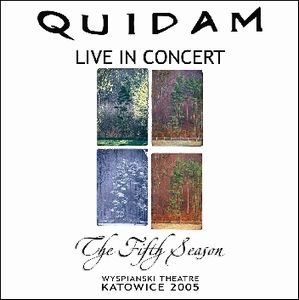 A third live album and DVD was released in 2009. It is called The Fifth Season, Live in Concert. Please tell us more about this album.
Actually it was released in 2006. This was recording of our 4th gig in new line-up and it is visible. On that day 3 bands recorded DVD there so whole atmosphere was rather nervous and not very helpful. We are not much satisfied with the final effect.
In hindsight; how would you rate your albums ?  
It's cliché but the best is the latest one. "Strong Together".
Music wise, I would compare you with bands like IQ, Pendragon and Pink Floyd. But the use of flute gives Quidam it's own identity. But how would you describe your music ?  
We can't avoid comparisons like this and we don't mind because those are great bands. We like them and respect them but those influences are only the small part of our music. I think you will be surprised when you hear our coming album 
Besides of Baja Prog, please tell us more about the festivals and gigs you have played.
I can't remember everything but what comes to my mind is Rio Festival in Brasil, Crescendo in France, Summer's End in England and of course Night of Prog Festival at Loreley, very magical place.
How is the progressive rock scene in Poland these days ?
I think we have strongest prog scene in Europe or maybe in world. There are lots of bands known abroad e.g. Indukti, Division By Zero, After…, and of course Riverside. Apart from them there are couple of young promising bands like Acute Mind, Osada Vida, and much more.
What is your experiences with the music/record industry ?
It's tough business, especially in this genre. I wish it was easier to be famous but it's not.
I guess Quidam does not fill every hour of your lives. What else are the band members up to ?
Almost everyone has regular job, has his family and runs normal life 
Is any of Quidam's members involved in any other bands/projects ?
Mariusz, the bassist, plays with After…
What is the plans for Quidam this year and in the future ?  
This year we are concentrating upon our new material. We spend hours on new trucks and hope that you will be able to hear them by the end of this year. Actually, two new songs were played on the last tour.
What is your all-time five favorite albums ?
Dave Matthews Band - Big Whiskey And The GrooGrux King
Peter Gabriel - Growing Up Live
Racoon - Another Day
Dredg - The Pariah,The Parrot,The Delusion
Pink Floyd – Pulse
These are albums which most often come back to me…
~~~~~~~~~~~~~~~~~~~~~~~~~~~~~~~~~~~~~

Thank you to Mariusz Ziólkowski for this interview.