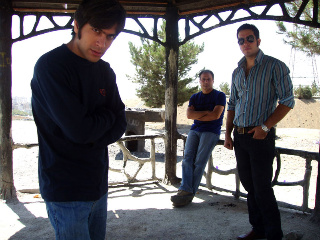 ARASHK are a progressive metal band from Tehran, Iran consisting of Pouyan Khajavi (guitars, vocals, bass), Salim Ghazi Saeedi (guitars, keyboards) and Shahram Khosraviani (drums). ARASHK members are eastern minded guys who enjoy western music and bring their own unique interpretation of progressive rock. The band is mostly instrumental but does include some vocals.
(Anonymous biography writer, ProgArchives)
Excellent. Bands like Arashk have an interesting story to tell and I was delighted when I was able to do an interview with them. Both Salim and Pouyan answered my questions.
***********************************************************************
Your band is a band with even it's own cultural position and is important enough to merit a Wikipedia article. I refer to that one for the biography.
But what is your musical philosophy and what does Arashk mean ?
Pouyan: Arashk is the name of the founder of Ashkanian Empire (Arsacid Empire). Although Arashk's reign as a king was not long (250 BC to 247 BC) but the empire he established, ruled Iran for about 600 years. He was the one who regained Iran's freedom from the dominance of Seleucid Empire which was a Greek Empire ruling Iran. His name stands for standing against the unpleasant situation and trying to change. We have tried to blow the spirit of moving in our songs, we have also tried to emphasize on the fact that living beings should break the surrounding boundaries to survive and this is not merely limited to our lyrics but most importantly exists in our music.
The book Heavy Metal Islam: Rock, Resistance and the Struggle for the Soul of Islam By Mark LeVine describe an own Islamic scene with it's own music. Please tell us more about your scene and the life and censorship situation in Iran.
Salim: Iranian music industry is administered in a very old fashioned way and is isolated from outside world. So we've preferred to focus on customers outside Iran specifically to adapt to ever growing demand of digital music. Censorship exists but I believe a healthy and up to date business environment is more critical. There are technological limitations for ebanking in Iran - which are mostly due international embargos. Meanwhile Iran is not bound to international copyright laws.
Pouyan: A serious problem in Iran is that events that lead to gathering of youths are being prevented and this policy becomes more serious when it comes to Hard Rock … So in Iran we cannot have live performances which is vital for a rock band, as a result Iranian rock bands tend to immigrate to foreign countries so they can at least play for people and have their connection with people which is the main point in any kind of art.
What is the difference between pop/rock music in the west and the Iranian scene?
Salim: In my opinion, however that there are growing trends for pop/rock music among Iranians, the dominant music scene in Iran - even among many younger generations - is still traditional music. Most of Iranian people enjoy their ancestor's heritage… You know sometimes even in a weird way! Iranians have a kind of mythological impression on everything… e.g. we have sayings like "The Art does belong to Iranians". Of course these are merely reflections of traditional and outdated views that still dominate. I think it makes Iranian artists pretentious and outmoded not even in form but in idea.
Pouyan: As Salim and I mentioned above, in Iran, rock music is not permitted to be communicated to people and its fans. As a result, the only kind of music that is widely available to public is Iranian traditional music (although even traditional music is not completely free from censorship!); so maybe people still listen to traditional music because they don't have quite a choice among Iranian artists.
Rock music in general (English rock bands and Iranian ones) is being listened by a small portion of today's young generation in Iran. But Iranian Pop music which is quite different from American and European Pop music has always been popular among people, but they face limitations for selling on the market. In the past, people used to copy music from each other's tapes. But after MP3 came in, copying has become even easier. So songs are shared in the internet and people download them and give them to each other. In recent years, American Hip-Hop music has been growing more popular among the youth, and so, came the Iranian Hip-Hop. Iranian musicians who work in this genre are growing in number, but again all the music is shared through the internet and songs are not allowed to be sold on the market.
Please give me your (long or brief) thoughts and lowdowns on your albums.......
Salim: Arashk has released four albums from which I have composed Abrahadabra, Sovereign and Ustuqus-al-Uss that are all instrumental progressive rock. The fourth album, Yell, is a hard/progressive rock album, mainly composed by Pouyan. In Yell, I have had contributions for rhythm guitars and some secondary guitar solos.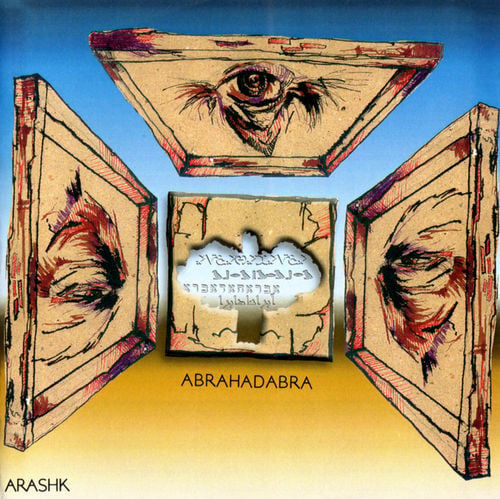 Abrahadabra from 2007
Salim: Abrahadabra is a reflection of my exaggerated personal feelings. It is the first endeavor to my idea of "pictorial rock" - i.e. the composition of sounds that recite sequence of mental pictures. Actually all of those instrumental tracks have a real-life story behind them. There are very vague allusions to these stories in CD booklet. e.g. "Route" is a story of a death ceremony and reflects the mourning over dead in way that is done in eastern culture. Or "Told to the Bird" is story of me confessing to a bunch of flying birds in a ritualistic way… In one word I was very lovesick, idealist and outraged while composing them.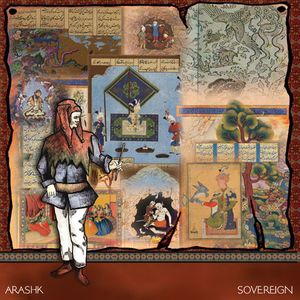 Sovereign from 2007
Salim: Sovereign is an instrumental recitation of Shahnameh (The Epic of Kings) i.e. an extensive Persian epic poems written by Ferdowsi (935–1020) as a collection of Persian mythologies. You will find western rock instrumentation with eastern flavor. Some songs I think are apt to be adapted for traditional Iranian dance; especially "Sovereign" and "Harem" tracks. I am looking forward choreographic performance adaptation for this work whenever possible. Imagine Iranian "Coffee-house" paintings and belly dance with distorted guitars performing cheerful rhythms… Unusual combination? No, to me that sounds all natural!
In this album Pouyan contributed to generating some theme ideas for some songs.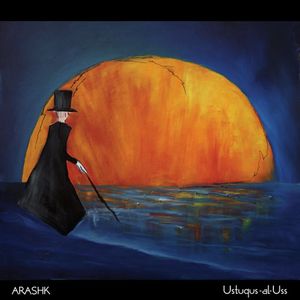 Ustuqus-al-Uss from 2008
Salim: In this album I somehow inclined to jazz fusion and classic instrumentation. I think the eastern "blend" still dominates e.g. in "Ustuqus-al-Uss-al-Avvalin-val-Akharin" which I think is the most progressive tune I have ever made (The second catchy guitar solo is performed by Pouyan). Some songs are extremely personal e.g. "Naught been I thou" which is a off-beat jazzy with unusual dance elements… These songs are my utmost fears and hopes - to a degree that made me mute from communicating by words. And thus they become instrumental sounds…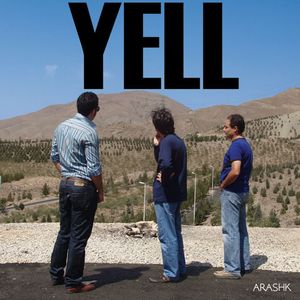 Yell from 2008
Pouyan: The composition of the songs in this album started from the very beginning of our band, and most of the songs were made before Salim joined the band; but the recording and mastering of this album took so long! This album is a true Persian rock album, where the lyrics are in Farsi and some are chosen from Iranian classic poems. But the soul of each song is very avant-garde; not old fashioned and dusty! Each of the songs has its own spirit, mostly they draw you a scene. For example the song "Yell" (lyrics by Ferdowsi) is the conversation between a rebel and the king, (which is an Iranian ancient myth, Kaveh and Zahhak). One can consider it as a theater. "Falcons of the Sky" is also an epic music which describes a scene about jet fighter pilots fighting in the sky and the feelings one would have in that situation.
What is the latest update from your band ?
Salim: Arashk has been inactive recently. I am now focused on composing a solo project which will be released within a few months. It is mostly combination of screaming electric guitars, electronic rhythms and classical orchestra… Beside the standard Audio CD edition, I am mixing a dolby surround DVD (Quadra or 5.1 mix) that can be listened in home theaters.
Pouyan: Actually I have lost my appetite in music recently and that's because we are not able to do anything public in Iran! (I guess I've said it so many times in this interview!) But I'm trying to change my way and think about other types of music, recently I've composed 6 Turkish folk songs with electric guitar, piano and daf (an Iranian musical instrument) and I had a great feedback from the listeners, however that the performance was very private for some of our friends. So I'm trying to free my mind to discover new possibilities in music.
How is the distribution of your albums and what is your experiences with the music industry ?
Salim: We have been indie artist and maintained the distribution ourselves and limited to outside Iran. Of course we look forward future possibilities.
Pouyan: Well, It's a very hard thing to sell your music through the internet without serious advertisement, concert and without having anyone to know you! But we still had the chance to be able to sell our albums, even in small numbers.
I guess this is a pretty difficult question to answer, but how would you describe your music and who would you compare yourself with ?
Salim : I have an extremely versatile taste for listening music. I listen to electronic music, classic and heavy metal in a row. Actually it was http://www.progarchives.com that for the first time used the term "progressive metal" for the band. Actually Arashk consists of composers that gather from time to time to contribute.
Pouyan: We don't have commitment to a specific kind of music; we play whatever which feels right. I don't think it would be a right thing to compare different music bands with each other, but if I want to describe the music we play - especially the album Yell, it would be some kind of hard rock music with kinds of eastern taste. This album may sound like several hard rock and heavy metal bands such as Rainbow, Iron Maiden, Black Sabbath, Deep Purple, Megadeth and so many other bands. Yell album may sound like the rock music played during 70's but heavier and more rhythmic than them. It happened to me once that a friend told me there's a song by some band that sounds like one of ours, but that's just coincidence and it's not a strange thing as long as we all play some kind of rock.
Do you have any regrets in your career ?
Salim: Making music makes me to suffer more... So if there should be any regret, it is the selection of this path itself... But it has been long time ago I stopped concerning about its 'philosophy'. Now I am just doing the work...
How do you see the future of Arashk as a band ?
Salim: It mainly depends on the geographical location that each of us reside in future.
What is the daytime jobs of the Arashk members ?
Salim: I have part-time job to have something on the table. The rest of time I am busy composing.
Pouyan: I'm still studying! … Master of science in electrical power engineering! Which has nothing to do with art and music! So I still don't have a job.
What is your five all-time favourite albums ?
Salim:
[1] Nevermind (1991) by Nirvana
[2] You Had It Coming (2001) by Jeff Beck
[3] Thelonious Monk Plays the Music of Duke Ellington (1955) by Thelonious Monk
[4] Electronic (1991) by Electronic
[5] Youthanasia (1994) by Megadeth
Pouyan:
[1] Brave New World (2000) by Iron Maiden
[2] Floating (1974) by Eloy
[3] Emerson Lake & Palmer (1970) by Emerson Lake & Palmer
[4] Seasons in the Abyss (1990) by Slayer
[5] I Can See Your House From Here (1979) by Camel
~~~~~~~~~~~~~~~~~~~~~~~~~~~~~~~~~~~~~

A big thank you to the band for this interview. Their albums can be bought from here,  their PA profile is here and their homepage is here.