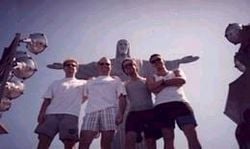 Apocalypse is a Brazilian band who are celebrating their 25th anniversary these days. They are perhaps not the most known band in Europe, but they are highly respected in the southern hemispheres. I got in touch with the band for their story. Eloy Fritsch and Gustavo Demarchi answered my questions.
~~~~~~~~~~~~~~~~~~~~~~~~~~~~~~~~~~~~~~~~~~~~~~~~~~

When and by whom was Apocalypse formed and was and what is your musical philosophy ? Why did you choose that name ?
Eloy Fritsch: I formed Apocalypse with my school friends in 1983, in Caxias do Sul, Southern Brazil. The following year my brother Ruy Fritsch and my cousin Chico Fasoli began to play with Apocalypse. We presented a very different style, compared to the other local groups. We used organ, synthesizers and classical vocals to created songs influenced by Uriah Heep, Yes, Pink Floyd, Led Zeppelin, Rush and Genesis. From 1984 to 1988, the line-up changed several times. We had vocal and instrumental themes and in some performances we used exotic white clothes similar to Jethro Tull way. Because of those clothes we received the nickname of "Brasinhas do Espaço" - Space Kidettes from Hanna-Barbera Studios.

To start with; please give me your (long or brief) thoughts and lowdowns on.......



Apocalypse from 1991
Eloy Fritsch: In the end of the eighties we won festivals and after recording the song "Só Você" in a regional rock compilation we signed with the local record company to register some of our first compositions. The Apocalypse LP was our first official album. The material on Apocalypse was written mostly by me. Since the beginning of the musical project I tried to impose my style using synthesizers inspired in the groups of symphonic progressive that preceded us. Therefore my compositions are generally longer and more elaborate and features mystical lyrics which reflected my intense interest in Science Fiction, Cosmos and Nature. Some of these classically-inspired compositions remain favorites of the band's fans, especially "Miragem" and "Caçador de Máquinas".
I remember some histories of 20 years ago. Me, Chico Fasoli and Chico Casara arose in a high tower of the big chemical industry with the especial protection of the firemen to produce the pictures for the album cover. An adventure! For the premiere of our first album Apocalypse interrupted the traffic in our town's main street and gave a concert for over 2.000 people. After Apocalypse´s Portuguese version for Marillion's "Lavender" soon became a hit at the local radio, which led to a successful tour in the south of the country.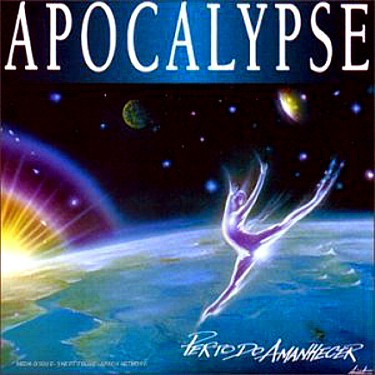 Perto do Amanhecer from 1995
Eloy Fritsch: The Apocalypse album was sent to Musea Record Company that asked Apocalypse about the possibility of a new album. My brother Ruy Fritsch returned to the band and we signed with Musea to release "Perto do Amanhecer". We tried to arrange old songs and compose new material in the symphonic prog rock way with strong influences of progressive British bands such as Yes, Marillion, Genesis and ELP. I used my minimoog to the synthesizer solos because I liked a lot of the sonority obtained with that instrument. The first track is "Ao cair no Espaço" - When falling in the Space - in the Wakeman line following by "Terra Azul" – Blue Earth - a type of Brazilian prog rock classic. I can detach several themes based in keyboards that please me in that album as "Corta" – Cut, "Magia" – Magic - that were performed many times in the concerts. We compose some classical moments and even hard rock passages contributes to the diversity of the album. The vibe illustrated by the constant changes in rhythm, hard guitar chords, and a duel between the acoustic guitar and Minimoog makes Perto do Amanhecer a good and creative Brazilian Prog Rock album. The Portuguese lyrics shows the nationalist side of Apocalypse giving a touch of Latin America (later, in the CD Refúgio we recorded the song "America do Sul" - South America) The lyrics deals with several themes, such as existentialism, nature, science fiction, and mysticism. The good reviews from abroad soon started to arrive, which led to a rise in the band's popularity and another invitation from Musea, this time for the compilation "Le Melleur du Progressif Instrumental". This CD was edited in the end of 1995 with several European bands and APOCALYPSE representing Brazil. With its baroque influences and a beautiful interplay of minimoog and guitar solos, the chosen song was "Notre Dame".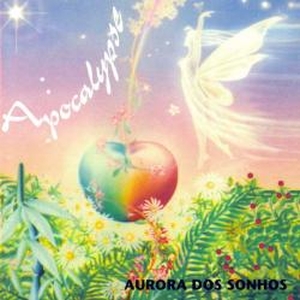 Aurora dos sonhos from 1996

Eloy Fritsch: The musicians were well motivated with the acceptance of the album "Perto do Amanhecer" and it was a very creative moment in my life. In a time that the internet was not used for the promotion, Musea made his role presenting the Apocalypse music to the Europe. The reviews motivated the musicians a lot and one year after "Perto do Amanhecer", we released "Aurora dos Sonhos" with an approximation to the 70ths progressive rock school with more elaborate arrangements, better-resolved themes, longer and more instrumental themes and more emotion. I highlight two compositions that I did for that CD: "Do Outro Lado da Vida" - On the other side of the life - and "Vindo das Estrelas" – Coming from the Stars. These are my favorite compositions in that album.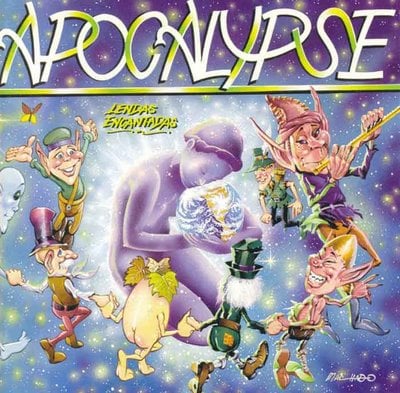 Lendas Encantadas from 1997

Eloy Fritsch: The band decided to record new themes and used the old material to release a new album. Therefore, "Lendas Encantadas" is almost a reissue of our first LP with all lyrics in Portuguese. The difference is that the track "Sozinho Perdido Dentro de Mim" was completely re-recorded and the guitar parts were added to this CD. We included three bonus tracks recorded between 1992-1993 (Mesmo que não Haja Nada, Levando a Vida and Chamando por Ajuda - Crying for Help - Portuguese version). The artwork of the booklet carries listeners on a journey to a land of elves and fairy tales.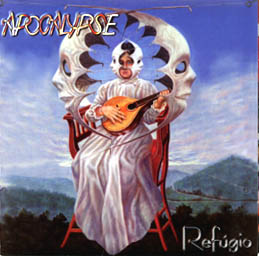 Refúgio from 2003

Eloy Fritsch: The composition Refuge is one of my favorite and it was conceived well in the line of ELP. I am great fan of Keith Emerson and this music is a form of honoring that great keyboard player. I composed a great progressive rock song called "Cachoeira das Águas Douradas "– Waterfall of Golden Waters - in a moment of great inspiration. I like the poetic lyrics, the rhythm changes and alternation of the parts. Unhappily, in spite of the musical quality reached in the compositions, Apocalypse was not more with the same energy of the nineties and new musicians joined the group to take the progressive rock ahead. I need to thank all Apocalypse teams, but especially the one which recorded and played live the themes of the Refugio album. The concerts were really moments of great personal satisfaction.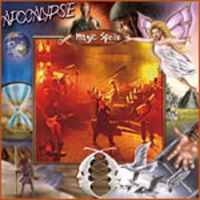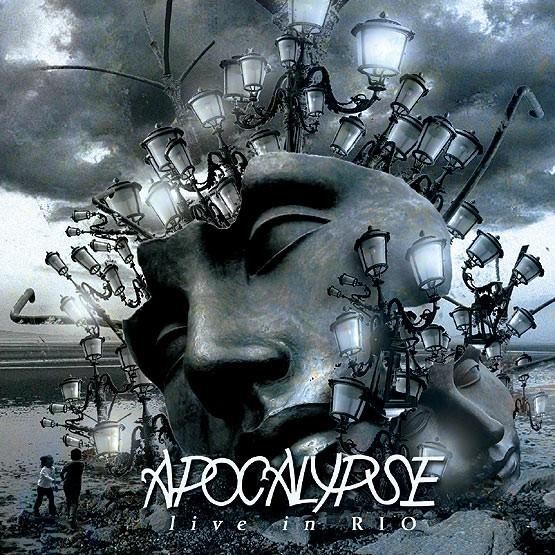 Live in USA, Magic Spells and Live In Rio


Gustavo Demarchi: Well, they´re live albums and this itself makes a lot of difference because in live albums that you can see a complete picture of the band, exactly because the situation on stage is unique and it is hard to undo what was done different as in the studio. But talking ´bout us, I believe that all albums were made in the best of us and we gave our best and we´ll always be proud with, although they´re very different when you compare.
About Live in USA, I can not say much, since I was not in the band at time, but has been in this album that I first met the guys, when the band that I was singing, Cinema Show, opened their gig in Porto Alegre. But I always listen to Eloy and Ruy talking about the hospitality and professionalism from the Prog Day staff. Moreover, as a listener, I have to say that the show is great, and a great document of that era.
Magic Spells, I´m able to say that was my "tour de force" because it was one of the first shows I did with the band, and everything was new to me. At that time, many songs were still taking shape with the new English accent, and even my way to sing them at the time. But when I listen that show is evident our happiness with the audience reaction and it transpires throughout the whole album. It all turned that show and the album itself with a little "heavy" accent more than those songs would eventually become some months later in his final form, that is nearest that we presented in the Live in Rio album, which was a presentation in Rio de Janeiro as part of one of our first tours.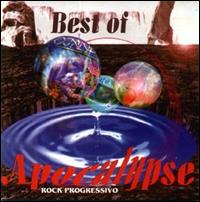 The Best Of Apocalypse

Eloy Fritsch: We had release our CDs in Europe and it had arrived the hour to produce something in Brazil. After we performed at Planeta Atlântida, the biggest music festival in the south of Brazil, Atração Fonográfica record label made an offer for Apocalypse to release a compilation. We selected some of the best songs of the three works released by the French label, Perto do Amanhecer, Aurora dos Sonhos and Lendas Encantadas, and the CD The Best of Apocalypse was released on the Brazilian market.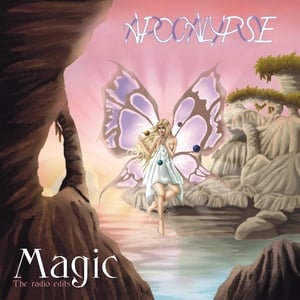 Magic The radio edits
Gustavo Demarchi: Magic was an EP, recorded mainly to present the new line-up and the new versions from the old songs in the English language. It was mainly sent to the radio stations, so we had to work with different shorter versions, than they really had originally. This material, which was very well received by critics, gave us confidence to share for free with the fans, and became available in our official website released at time and distributed in several other sites. Magic was the first result in give us the confidence and allowed us to see where we wanted to go as a group.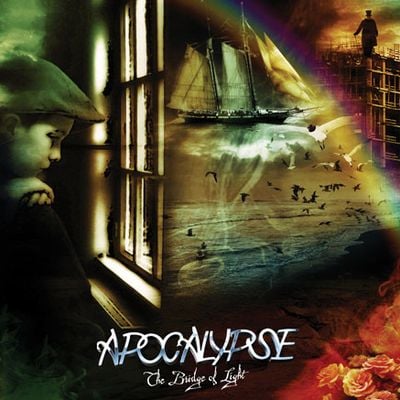 Your most recent live album The Bridge Of Light from 2009

Gustavo Demarchi: The Bridge of Light is a semi-conceptual album. Precisely for this reason, was divided into two distinct acts, as 2 sides from an album. In the first side, the songs have different themes. In the second, we told the short story of Jimmy, an orphan boy who has always been content to live in an attic, watching the life passing by a small window. But on his 13th birthday, Jimmy decides to leave this place for the first time, just to arrive in the old park, where a great business man plans to build a mall, what in Jimmy´s thoughts, will bury the only chance that he have to know something about his own life.
In fact, the original plans was to record a studio album, but during the process of writing, we had the opportunity to record a great show to a DVD that intended to be based in this full new album, with actors interpreting the characters of the songs and narrating the story of Jimmy. We recorded this show but when we heard the recordings, we felt that the album could be released in that way because the quality of the material and performances, and we would had the addition of the audience that sold out the theater and applauded warmly, what was amazing considering that many of them was listening the songs for the first time. Moreover, there are not many bands that record live albums full of new material. We had that chance, why not?
You are now releasing a 25th anniversary box. Please tell us more about this box.
Gustavo Demarchi: This release will mark the Apocalypse´s 25th anniversary. We will have a DVD that contain videos, concerts, backstage footages and interviews, plus a complete show from the Bridge of Light Tour. We will have also two CDs, the live CD Magic Spells, as I said before, contains one of the first presentations from this era of the band, the new studio CD and a book in Portuguese and English telling the story of the Apocalypse in this 25 years. I really believe that will be the kind of material that any fan would like to have from his favorite band, and the best part is that we´re doing everything possible to not make it expensive. So, I think by the end of this year, you can expect this material that delivers hours of reading, music and video.

Is there any other celebrations planned for this anniversary?
Gustavo Demarchi: This time we're focused in local shows, intending finish the Bridge of Light tour, so I think that we'll be doing that until we release the commemorative box. After that, we'll begin officially the 25th tour, and we hope, finally, lead us to the countries from Europe, Asia and North America. I think there will be no better way to celebrate our 25 years than being together with the fans.
How is the distribution of your albums these days and what is your experiences with the music industry ?
Eloy Fritsch: Our distribution continues being worldwide through Musea. You can find the Apocalypse CDs and mp3 at Amazon and another internet stores. We have labels in Brazil to distribute the CDs: Free Mind, Rock Symphony and Sonhos e Sons.

Gustavo Demarchi: Sure we know that the industry is going through an adjustment time. If in the mainstream is very bad, imagine in other styles. But if the internet make easy to access all media, it helps bringing the people together. So I really believe that the artists never depended so much from the fans. So, we always ask that if you like the band, even having downloaded the album, help us coming to play shows, buying official merchandise or even expressing yourself through the forums and official websites. This is how we keep ourselves doing our music.
Your music has been compared to the likes of ELP, Marillion and Rush. But how would you describe your music and who would you compare yourself with?
Eloy Fritsch: Of course has a lot of influence of the work released by all those great prog rock bands. They showed us the Art Rock Masterpieces and for that we honored all of them since our CD Perto do Amanhecer.

Gustavo Demarchi: We were always grateful to our main influences and expressed this in our album's booklets. You will always find there all those bands you mentioned and others like Uriah Heep, Deep Purple, Journey, Kansas, Genesis...
You have extensively toured South and North America. What was the highlights of these tours?
Eloy Fritsch: We really had moments of glory in several concerts. I will mention two: Progday99 and the Rio de Janeiro´s concert that we played with Uriah Heep.

As veterans in the scene, is there any new South American bands and talents you would recommend to us prog heads around the world ?
Eloy Fritsch: I already wrote about the difficulty in developing a Art Rock project in Brazil. Even the great Brazilian groups like Sagrado Coração da Terra, O Terço and Apocalypse faces difficulties to make concerts and to travel for other countries to promote new CDs. What remains then for the beginners and less experts?

Gustavo Demarchi: The Brazilian progressive scene needs a more collective mentality. The new bands is more busy with run alone than together and we never can build a real prog scene alone. Also, we've noticed that younger bands prefers to have all its influences from one single band, rather than surrounding themselves with a varied number of influences. So, when is not fresh, usually they split. But there are some bands here that are realizing this and will be great musically, but it´s very soon to tell you with sure. Let's hope they continue with this mentality and alive after five years and at least two albums.
Do you have any regrets in your career ?
Eloy Fritsch: Good and bad things happen with all bands. We always needed to lift the head and to continue with the project that we believe. Brazil is the country of the soccer and samba and we don't have support to produce progressive rock music. Because of that difficulty to realize an Art Rock project in Brazil, we decided to sing in English in order to try new opportunities.

Your band is celebrating it's 25th anniversary. How do you see the future of Apocalypse as a band ?
Gustavo Demarchi: While we have a true team spirit, joy of playing together and desire to seek new challenges, there will be future for us. We never had to ask ourselves why we are still doing this, because we always had the answers. We understand that we love to make music, because this is the secret to do it right.

What is the daytime jobs of the Apocalypse members ?

Gustavo Demarchi: Is not so usual to live from music in Brasil, but we actually lucky enough to have two in the band that actually live from music. Eloy is a professor at the Federal University of Rio Grande do Sul, and Fábio has his own drums school, the Institute Fabio Shneider, and he's supported by several drums companies. I am a graphic designer, developing websites, magazines, album covers and books, Magoo has a computer company, and Ruy has a video production company.
What is your five all-time favourite albums?
Eloy Fritsch: I will mention the five albums of progressive rock: Albedo 0.39, (Vangelis), Close to the Edge (Yes), Brain Salad Surgery (ELP), Myths and Legends of King Arthur and Knights of the Round Table (Rick Wakeman) and The Dark Side of the Moon (Pink Floyd).
Gustavo Demarchi: Just five (laughs). Well, I surely can put in this list, The Lamb Lies Down on Broadway (Genesis), Abbey Road (Beatles), Joe´s Garage (Frank Zappa), A Passion Play (Jethro Tull) and Demons and Wizards (Uriah Heep), but in fact, I need 10 positions in this list at last, because I missed Gentle Giant, Soft Machine, Vander Graaf Generator, Premiata Forneria Marconi...
Anything you want to add to this interview ?
Eloy Fritsch: We would like to thank to all people that enjoys our music and help to maintain the Apocalypse project alive.
Gustavo Demarchi: Well, just say thanks for this interview, and to invite all you proggers to come to our website, myspace and youtube channel, and make contact. Let´s do all we can to make the progressive rock alive. Thanks you all.
Thank you to Eloy and Gustavo. Their PA profile can be found here and their excellent homepage here