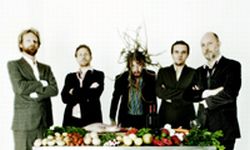 AFENGINN are an adventurous Danish avant-garde klezmer band who formed in 2002. The name itself means "intoxication and strength" in Old Norse. They have a strong punk, Nordic folk and world music influence and since the release of "Akrobakkus", have taken on jazz influences as well. The group are categorised by the musical press as a "'b*****d-ethno' band with Norse melancholy and cheerful madness" and they are not far off with this definition. 
(words by James R. Yeowell)
I personally like their albums, although they challenges my mind to breaking point. I think the inclusion of Afenginn and similar bands is making ProgArchives a mind expanding place. So as an admirer of this band, I got in touch with them. Kim Nyberg answered my questions. 
¬¬¬¬¬¬¬¬¬¬¬¬¬¬¬¬¬¬¬¬¬¬¬¬¬¬¬¬¬¬¬¬¬¬¬¬¬¬¬¬¬¬¬¬¬¬¬
What are you up to these days ?  

We have recently (Jauary 2010) released our fourth full lenght album 'b*****d Etno' internationally and will use the rest of 2010 on touring with that. Mostly in the german speaking areas and Scandinavia. At the very moment we are on a tour in Denmark which is always real good fun.  
Afenginn means intoxication and strength in Old Norse and you were formed in 2002. But by whom and how was the musical vision in the start ?

We all came from rather different musical backgrounds - classical, jazz, punk, rock etc - and at that moment I had begun being interested in the klezmer/eastern European thing as well as the Nordic tone, which Rune (drummer) also were quite into. We never really had a totally clear vision of how it would be, but experimented and played the tunes I came up with and little by little it became more clear what we actually wanted to do and what worked live etc.  
How and with whom did you get your record deal ?
The first three albums were released on TUTL which is a quite small label based on the Faroe Island. We made a tour up there in 2004 and got in touch with the nice people running the label and decided to stick to that. The new album is released on Westpark Music, a German based label. They had heard the previous records and wanted to work with us...and is bigger and has more distribution channels to work through. It seems really good.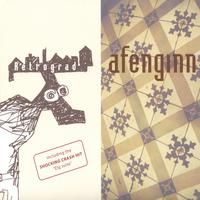 Please tell us more about your first album Retrograd from 2004.  
Retrograd was recorded in the summer of 2004 at the Royal Danish Academy of Music after an intense period of rehearsing, touring and arranging. We wanted to capture the energy from the liveshows and not by just making a "live" album in the studio. So we invited many guestmusicians to give it another dimension. I arranged for stringquartet, brass ensamble, garbage-o-fone, accordion etc. It was a long and exiting recording and although it ended up having a playtime of 60 min, we still cut some 20 min. In retrospect we probably worked on a little bit too much material :) It was nominated in 4 categories at the Grammy Award and received a grammy for "Best World Album 2004"  
You changed music style over to a more jazz style after Retrograd. This was due to a band member leaving and an arrival of another band member with another vision or is it more to it ?  
Andrzej Krejniuk left just after Akrobakkus was recorded and was replaced by Aske Jacoby. I have also read somewhere that we changed to a jazzier style after Retrograd, but I'm not really sure what that means - I think it went to being less jazzy actually :) There is naturally a change in the dynamics with the arrival of a new member and he is very experienced and has much to say and give. And although there is some jazzy elements, the main change is to a more rockish expression, I think. This was a decision we took. We wanted to have a "heavier" sound and wanted to play more rock venues and festivals, because that's where we feel most at home. After a festival gig in 2005 there was a Canadian journalist who said: "If you guys were playing rock, you'd be heavier than Slayer"...and we don't mind that :)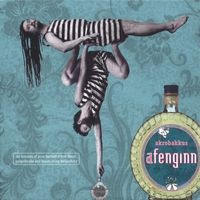 Please tell us more about your second album Akrobakkus from 2006.  
On Akrobakkus we basically had the same ideas about the sound but maybe wanted to have a more "studio-album" aproach. Again we invited som great guest musicians, but this time it was more individual performances than whole ensambles although there is a brass quartet on this one also.We wanted to make an album with a form in itself rather than just tunes after each other. So we worked quite a lot on the "setlist" and also the "mini-symphony" - b*****d Kompleks - has grown out of this idea, which is the climax on the album in my opinion.This is the first time when we used lyrics also. They were written by a childhood friend of mine, the Finnish poet Time Haapaniemi. The language is some mixture between latin, greek, english, finnish, swedish etc....some kind of street latin, I guess :) We recorded it in the legendary Sweet Silence Studios in Copenhagen where among many many others also Metallica did som of their records, that's pretty cool :)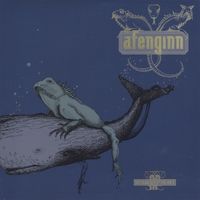 You changed your style again on your third album Reptilica Polaris from 2008. Please tell us more about this album.  

The idea to the Reptilica Polaris album came from some poems of Timo Haapaniemi about reptiles. I put music to some of them and the idea to make a whole symphony or rock-opera with these lyrics came up. I presented the idea to the band and everybody was in to it, so it started from there. Right after Akrobakkus Aske joined the group on bass and we toured quite a lot and hardly met to rehearse. So it made sense to write the music first and then rehearse...  
The lyrics are really a chapter for itself, and Timo knows much more about this. But a basic thing is that every word and sentence is carefully being thought of and we have been in close collaboration about which themes and verse-meters etc they would have. The music was written in my dark basement of a musicroom in about one year. I usually started at 9 in the morning and worked until 15, so it reminded of a "real job" in many ways :) Because it lasts for one hour, there were plenty of space and compositional possibilies to use some motifs, themes and ideas in their inversion, variation etc throughout the piece, which was great fun to puzzle with. Because it was actully written for a male choir and 12 brass players, it was quite hard to rehearse up to the recording. Nobody knew what it was going to sound like, we didn't really know if all the parts would fit together and even harder for the others, that didn't have a chance to hear it in their head and just was left there guessing. Because we rehearsed as a quintet there were always some voices and melodies missing, making it hard to get a real overview over the piece. In the recordings it was really a great ressource to have Aske on board with his huge experience and good ears. He played some fantastic guitar parts also. So far my favourite Afenginn album and one I listen to once in a while. It might take some time to get into, but there is a lot to be revealed :) Won a Grammy for "Best Contemporary Album 2008"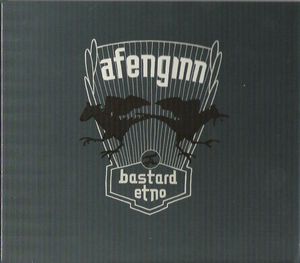 Please tell us more about your fourth album b*****d Etno from 2009.  

The Reptilica Polaris project costed us huge amounts of energy, it was a very long way from the first rehearsel to the final album. This left us quite drained for quite some time afterwards. We made a tour with the big Reptile setup, but it is too expensive to tour with so many people so the main focus was still on the quintet. We were touring intensivelly and it seemed hard to have time and energy to write new material. At this point we received a grant on 54.000€ from the Danish Arts Council to establish Afenginn on the international scene. And we got a record deal with Westpark Music in Germany plus more exposure. We wanted to do the best with booth the grant and the record deal, and decided to make the best possible "introduction-to-Afenginn-album" for the international market. And, I guess, as a reaction on the rather heavy and demanding process with Repilica Polaris, we decided to make an album with some of the best tunes from our previous albums + some new tunes that we already were playing and knew very well - AND to record as a quintet only :) It was a very good experience, we worked for two weeks in the summertime - good vibes, great studio, beautiful nature besides the sea and all-in-all really easy and fun, which we needed. We recorded it on an analogue 24-track recorder and it turned out very good I think. The best sounding Afenginn album and a good place to start. Sometimes it's good to stop up and make status of where you are and this album does that in a good way for us.  
I got both Akrobakkus and Reptilica Polaris and I have for the last ten minutes tried to describe this music which is pretty avant-garde, even for the RIO genre. But I cannot find words so I give up. So how would you describe your music ?  
We call it 'b*****d ethno' - a mixture of high-speed balkan/klezmer, rock n'roll, classical music, scandinavian music....with a twist of cheerful madness and deepfelt melancholy  
Strangely enough, you have won some prices in the World Music genre. I thought World Music was something totally different again. Please explain that one for us........  
Worldmusic is in a way just something you say about folkmusic (in the meaning roots/trad) from other locations than yourself. This means that African high-life is worldmusic in Svalbard, while it's not necesserely in Togo. In the same way balkan/eastern european sounding music is often called worldmusic in Denmark and here is where we fit in I guess :)  
You have toured all the Scandinavian countries. How has the reception been there to your concerts ?  
Very good! We have a high energy concert act and have always had great focus on the live part and the audience seems to appreciate it a lot  
Any good stories you want to tell us ?
Uhu, there are some great stories from the tours yes, but I think they might be too long to tell here. Let's have a beer and a chat sometimes :)  
I get the impression that the RIO and avant-garde scene in Scandinavia is based around the universities there. You yourself has an academic background from the local university. That also goes for all the Norwegian bands I know in this genre. Is this a coincidence or not ?  
I don't know at all actually. Maybe...?  
What is your plans for Afenginn and where do you want to take this band ?  
Apart from the "supreme world domination"-goal, the plan is to continue working for as many years as we all find it fun and interesting. I think there are many albums and years left in the band. Right now I have slowly started working on new material and I think it is realistic to expect a new album in 2012. For the first time we will take a 6 months touringbreak when this year is over. I want the band to be one of the best in our field of music worldwide.  
Just to wrap this interview up; do you have any regrets in your music career ?
There is no point in regretting things in the first place, but if anything I would sometimes have liked to start earlier  
What is your five alltime favourite albums ?
Beatles: White Album (if I have to say one), Paul Simon: Graceland, Nirvana: Nevermind, Jan Johansson: Jazz på svenska, Mike Oldfield: Ommadawn  
Anything you want to add to this interview ?
Thanks for your interest in Afenginn and for your time making this interview. All the best!
A big thank to Kim Nyberg for this interview. Afenginn's PA profile is here and their homepage is here


Edited by toroddfuglesteg - May 07 2010 at 16:14