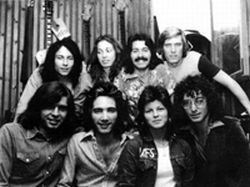 In the early seventies, the British-American group CARMEN broke new ground in rock music, combining the British flair for progressive rock with traditional Spanish folk themes into a very fresh, energetic and powerful new mix. The sound is centered around guitar, keyboards are used subtly but to good effect. On the whole, they are a rather hard band to describe.
(Anonymous biography author, Prog Archives)
I got in touch with David Randall-Goddard from Carmen.
________________________________________________
When and where did Carmen start up ?

I was 19 when I started putting together Carmen with my childhood friend Dennis on lead vocals at the start of 1970. We were living with my parents in an area, just south of Hollywood, called Ferndell park at the time.

Over to the one million quid question: What made an Anglo-American band in the early 1970s wanting to do Spanish/flamenco influenced progressive rock ?

I was trained as a flamenco/classical guitarist from the age of two. My first live appearance was at four years old - I was a soloist in my parents flamenco nightclub show. My mother's Mexican and quite gypsy in appearance so when she met relatives of Carmen Amaya ( one of the most revered and famous flamenco dancers ever ) while my parents were honeymooning in Paris, they were sure she was gypsy like themselves. They ended up inviting both her and my father to visit them in Granada, Spain - where they all lived.

While they were there my mother - who was a trained ballet dancer - learned how to dance flamenco. My father - who was a fine art painter and folk guitarist already, also learned to play flamenco guitar in return for painting all their portraits.

That explains my Spanish influences!

Over to your albums; please give me your (long or brief) thoughts and lowdowns on.......



Fandangos In Space from 1973

An amazing album technically. We had a long time to practice and perfect the music on it. During the making of it we were introduced to David and Angie Bowie, Marc Bolan, Bryan Ferry, Amanda Lear and all of Tony Visconti's friends . . . it was a magical period of time, considering that 4 months earlier we were nowhere, over in London on tourist visas with only enough money to last us a few months . . . and then kaput!!!


Dancing On A Cold Wind from 1974

Our improvised album - my personal favorite. We went in an almost made it up on the spot as we recorded . . . vocal harmonies, parts, everything except the words and chords we'd have written the night before. I love the sound we got for John's bass, all the sounds in fact.



The Gypsies from 1975

Our last album and one that is always mixed with sadness for me. The Jethro Tull influence is fairly obvious - we'd just finished touring with them for 3 months. I think the live experience shows most in this album. Unfortunately, I knew from the start that this was probably our last album, our manager had secretly vowed me to silence about the fact that he was leaving us, Tony V. was no longer our producer - a great blow to all of us as we loved his musical touch - and we were bankrupt after touring with major acts in America for over a year. I was put in the position of producing the album - after the first two with T. Visconti, an almost impossible feat. I did it, but I feel it is missing the Visconti magic.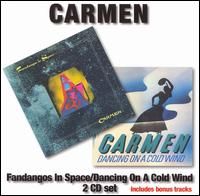 These albums were re-released on CDs some years ago. Please tell us more about these re-releases and the 2 for 1 Fandangos in Space/Dancing on a Cold Wind two CDs box from 2006.

The first re-release of Carmen on Line records was negotiated by T. Visconti during the late '80's. Paul Fenton, our drummer, was friends with the head of AngelAir - and so was responsible for Carmen's latest releases. I also recorded a new instrumental album called Widescreen so that we could have a double cd for The Gypsies - and from those beginnings I formed my new band Widescreen.

How would you describe Carmen's music on these three albums ?

We were the first World Music band. Carmen combined flamenco, classical Spanish, north African and Anglo/European styles of music.

Our community both rate the three albums highly and also find the whole Carmen concept intriguing. Please tell us more about the whole Carmen experience and your time in the music scene back in the 1970s.

It was a very intense experience. We were young and fully committed to what we were creating. Our appearance, the 'mystique' of who we were and where we came from, and wanting to be the best live and recorded act of our time . . . those were the goals that fueled us. We more or less lived together for the final two and a half years of Carmen - we were family.

We opened for almost every major act of the mid seventies while working in the States, and acquitted ourselves admirably, as young as we all were ( early and mid twenties for the majority). It was a period of my life I will always treasure.

When and why did Carmen split up ?

We split up shortly after finishing the third album. We'd lost our manager, producer, drummer - Paul ruined his knee in a horse riding accident - we were bankrupt - we lost heart and hope.

Besides of yourself contributing songs to other artists and John Glascock joining Jethro Tull, what else did the Carmen members do after the split up ?

My sister Angela joined a prog band called Oppo as lead singer and gigged in England for a while. She then met her first husband and left music. She now lives in LA with her husband and is opening a craft furniture store.

Roberto went back to flamenco dancing. He also formed a music production company.

Paul Fenton formed a version of T Rex with many of the original musicians and tours with them to this day. He also owns and runs his own bespoke carpentry business.

In this cyber age some decades later, a website called fandangosinspace was set up where fans and Carmen band members can reconnect again. How has the interest in Carmen been in this decade ?

I have been made more aware of the love and enthusiasm of our fans than ever before. There are a huge amount of fans out there, some who have obtained access to film of us I hadn't been able to get hold of.

You are now active again in a band called Widescreen which to me, seems like a latin music inspired band. Please tell us more about Widescreen.

Widescreen is what Carmen would have eventually become. A world music band incorporating even more influences. Besides the flamenco and north African, we mix in a huge slab of Mexican, Cuban and Klezmer influences. Larry Lush, our keyboard and accordionist, brings a wealth of musical experience as a producer/re-mixer. Our violinist, Charlotte, brings a more northern European style, and I - after a major operation on my throat for cancer - have developed a singularly distinct and raspy singing voice to accompany my acoustic/electric guitar playing. Our website is linked to the FandangosinSpace site and we also have a myspace site at www.myspace.com/widescreenband.

Just to wrap up this album; do you have any regrets in your career ?

Not really. Since Carmen I've had a career as a successful photographer/author under the name of Housk Randall, I have a wonderful family . . . and regrets aren't useful. Widescreen is as innovative as Carmen, my singing voice has become what I always hoped it would be, and if Carmen had continued these adventures might not have happened!

What is your five favourite albums of all time ?

Jimi Hendrix - Are You Experienced? Sly and the Family Stone - A Family Affair. Magma Live. Kate Bush - Hounds of Love. Tori Amos - Little Earthquakes.

Anything you want to add to this interview ?

Thank you for asking me these questions, I've enjoyed thinking about them.
A big thank you to David Randall-Goddard for this interview.
Carmen's PA profile can be found here and their homepage is here