Velislav Ivanov, born in 1988, is an independent musician from Sofia, Bulgaria. He releases his music for free, which allows him the freedom to do whatever he likes both musically and lyrically. He is primarily a keyboardist and singer, and utilize samples for other instruments. Both of his albums are strictly solo affairs, with only Ivanov appearing.
I got in touch with Velislav for his story.
¬¬¬¬¬¬¬¬¬¬¬¬¬¬¬¬¬¬¬¬¬¬¬¬¬¬¬¬¬¬¬¬¬¬¬¬¬¬
You were born in 1988. What is your musical background and why did you start with music ?

It might seem a bit odd, but I am almost completely self-taught. My grandmother taught me the very basics of piano when I was less than 10 years old, and that was about it. When I became a bit older, say, 14-15, I sought ways to express myself and my vision, and, naturally, music found its way through me. I think my work has progressed since then and I have become much more confident in my musical abilities.

How is life in Bulgaria ?

In what aspect? I cannot advocate for the whole country, but in Sofia, I suppose, it is rather normal for a Southeastern European city. Surely, there are quite a few negative aspects - a policeman-turned-PM being one of the major ones - but still, as in every big city, one can find his place.

Which artists and bands did influence you most ?

I think musical influences change through time. For instance, back when I started writing rock music, I was enchanted with Alan Parsons Project's first album, and this certainly shows on the debut. For my second album, early King Crimson and Marillion were obviously a huge influence. For the project I am working on now, there are quite different influences. In the last 1-2 years I have been more or less obsessed with Scott Walker's first four albums and Suede's Dog Man Star, and that will certainly be heard on the album.

Just to start with, please tell us more about your two albums Pod tamni nebesa (Under dark skies) and Tai blizko do samia nebosvod (So close to the sky itself).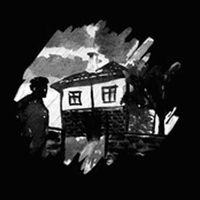 Back then when I was 17, I became captivated by the works of a renowned Bulgarian poet, Dimcho Debelyanov. For those who are not familiar with his work, it can be compared with that of French symbolists or Edgar Allan Poe, for instance. His verses are immensely melodious and while I read them, I basically heard what was to become my first album, Under dark skies. What started with a single song experiment (the second track on the album, and the first with vocals) ended up as a wholly realised conceptual album. Put simply, the story follows the poet's life through his verse. Musically, it is a mixture of slower, thickly orchestrated passages, and progressive rock, as in the aforementioned Tales of Mystery and Imagination. There are reprises and similarities between the tracks to round up the concept sonically. Looking back on this record, I believe it could have been better produced, and if I were to revisit it today, I would certainly drop most of the rock arrangements in favour of a more subtle orchestration. Who knows, I might just even do this one day.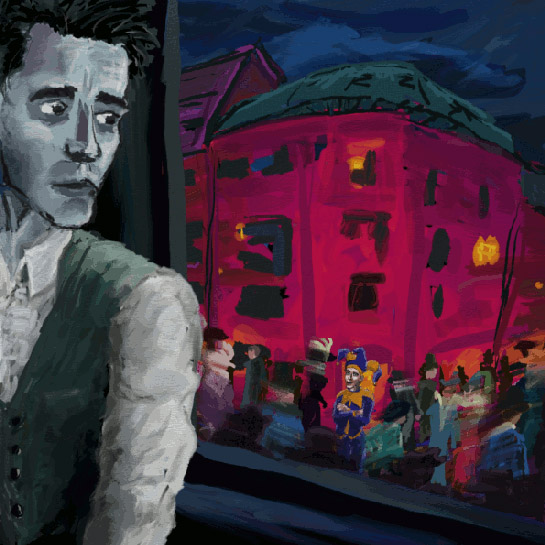 After a creative block lasting a few months, I began work on a more complex, claustrophobic and nightmarish work. If Under Dark Skies was melancholy, So Close to the Sky Itself was pitch-black depression. I mixed works of another Bulgarian poet, Atanas Daltchev, with my own verse and some spoken word to create an elaborate and multi-layered concept. It revolves around a detached and disgusted man; a victim and enemy of society, and his doppelganger, the emanation of his very fears. Just look at the brilliantly painted album sleeve by Felix Drott, it says everything so brilliantly. In terms of music, this is a mellotron-drenched, multi-layered and intensely detailed album. In the post-production stage I spent weeks tweaking just little sounds and nuances. I think prog fans who enjoy King Crimson's Islands, Marillion's Brave or Tindersticks II will find themselves at ease with this record.

What has the response been so far on your albums ?

Mostly positive, although sparse. My albums come up on blogs and fora every now and then and people are generally positive and acknowledge my effort to bring famous Bulgarian poets' verse to music. I have even heard that in certain schools, they actually teach Debelyanov with my album. However, I have moved away from that. I am no longer using dead poets' works and wouldn't like to be under anyone's cap. It is not my fixed idea to become famous and to sing at stadiums, so as long as I do what I would like to, and the few who enjoy it appreciate it, it will be ok.

Do you have any plans to release physical albums like LPs or CDs ?

I actually have, with album sleeves, cd stickers and everything. Both my albums have about 40-50 physical copies, which I have given away to aficionados. I would make an order form through the website, but that's just too much bother at present.

Your music have a very folksy (folk music) melancholic feel like Manning at the same time as it is incorporating some influences from the likes of Pendragon and IQ. Would you categorise your music as a mix of Neo-Prog and folk rock or do you want to use other words ?

Well, that's the first time anyone has compared my music to folk. I usually even avoid using acoustic guitars, as the samples just don't sound right. In my first album, some of the songs have a light orchestral arrangement, but I believe that bears more resemblance to chamber music than anything else. However, I do not want to categorise my music with just one label. With each album I try to do something different and to move away from the previous. If I had to tag each album, I would categorise the first as 'orchestral neo-prog' and the second as 'alternative prog'. What I am working on now is somewhere in between chamber and alternative, although I am not quite sure where it will end up. On the whole, I don't think people should be afraid to merge genres and incorporate different styles into their music - not after Kid A. That album showed us that music is far beyond any categorisation.

My guess your music would make it great on the British pub scene circuit. But Bulgaria perhaps have a different music scene than the British scene. Are you planning to take your music on tour and/or what is your plans ?

British pub scene? As in half-drunk people singing along? I doubt it. Anyway, here the most popular kind of music is the so-called 'pop-folk'. Imagine, if you will, a cheap, quasi-oriental equivalent of latino music, and you won't be far from the truth. As I am not a professional musician, I do not have to worry about filling venues and finding my audience. I rarely play in front of people, and when I do, it is at friendly soirees, when I sing stripped-down piano versions of my songs. I might release some footage of such an event some day, but I don't see myself going on tour.

Are you involved in any other projects too ?

Apart from the album I have been working on during the last year, no. I have written music for indie adventure games in the past, as well as helped other people with their sonic efforts. Right now I don't really have time for anything like that.

Besides of releasing free albums, what is your daytime work and how do you earn a living ?

I am currently a student of International relations and will hopefully pursue a career in that area.

What is your five favourite albums of all time ?

Just five? Indeed, a difficult question. In no particular order, I shall elaborate on those that come immediately to mind. Tindersticks II is just divine. That's music devoid of any boundaries or conventions. It is to be heard to be believed. I wholeheartedly recommend it to all the prog fans who have not yet had the pleasure of listening to it. Marillion's Misplaced Childhood opened up the world of prog to me, and still holds a place in my heart. The theatricality, the concept and especially the poetry are beyond comparison. In the Court of the Crimson King is still the visionary masterpiece it was back in 1969. Suede's Dog Man Star is what rock music should sound like, and even after hundreds of spins at the end of "Still Life" I feel solemnly uplifted by the cathartic power of this album. Kid A, misunderstood as it might be, is a blueprint for what the music of the future should be. And apart from these five? Nick Cave's work, early Genesis, David Sylvian's Secrets of the beehive, Goldfrapp's debut and many, many more. Music is an endless world, even well beyond prog.

A big thank you to Velislav Ivanov for this interview. His PA profile is here and his homepage is here
His two albums is free downloads from here and here. 
I am sure all of you will find these albums well worth the downloads. Please also review these albums for ProgArchives as a sign of respect for Velislav Ivanov and others who donates their albums for free.    


Edited by toroddfuglesteg - May 09 2010 at 10:23