Greg Massi was very successful in his two bands Maudlin of the Well & Kayo Dot from 1999 to 2006. He then ventured onto his own with his band Baliset. I got in touch with Greg Massi to find out more about Baliset.
------------------------------------------------------------------------
Please tell us more about your time in Kayo Dot and Maudlin At The Well. 
  
Well, first of all, those two bands and the 10 years I spent with them are really special to me. I started them with my friend Toby Driver who I have known for almost 20 years and they really represented our development as musicians and composers as well as helping us learn about the music business by trial and error. 

I think for me personally, I was not a very developed songwriter or musician when we started. I was a half decent guitar player but I was not very confident on my songwriting skills so as Toby had really created a distinctive sound to his pieces early on, it made sense to pursue his ideas musically and see where they led us. 
  
Working with Toby for those 10 years really helped me expand my horizons musically and really gave me the confidence and skills to produce and arrange my own music and really create my sound as a songwriter. 

By 2006, I really had felt that the time was right to leave Kayo Dot and pursue my own music. I was beginning to develop my own voice and I was discovering that it was becoming harder and harder to contribute to the music we were making and that meant to me that it was time to move on so as to allow them to grow to where they needed to be without me. 

And I think the strength of the last two Kayo Dot albums show that Toby has refined his artistic goals and really created a cool new path for himself and the band. I love what they have done, but at the same time I am very happy to be on my own pursuing my own artistic path with the musicians in the band I am in now. It's a very exciting new journey for me! 

In addition to writing, the time in those bands also introduced me to many people over the years who taught me or helped me out with all the logistics of releasing your music and really prepared me for the career that I have now. 
  
I gather Baliset was originally planned as the solo project for the Kayo Dot and Maudlin Of The Well member Greg Massi. But long term friend Adam Letourneau joined together with Lauren Flaherty and Rob Macleod. The solo project became a band project. Please correct me if I am wrong. But why did you choose that name ? 
  
Baliset really was started back in 1996. At the time, Toby, Byron and myself (the core motW members) were in high school and all had our own "one-man bands" which were demo projects we would record on a boombox or a 4-track and share with each other. I had finally made a tape of some tunes and needed a band name. I was reading Dune at the time and looked in the glossary one day while looking for a band name and Baliset just jumped out at me as it was a musical instrument in the book and it sounded really cool to me at the time. So I went with that and it stuck with me the last 14 years. 
  
As for the album, it was originally intended to be a 4 song ep. It was always going to be released under the Baliset name but essentially would have been a solo project since I was in Kayo Dot at the time and they were my main priority. Adam has been the Baliset drummer since 1999 when we first started working together on music projects while in college. So we started recording in 2003 around the same time that Kayo Dot finished up work on Choirs of the Eye and I had the free time to pursue it. From there we recorded it bit by bit over the next 5 years whenever we had money and time. 
  
My focus was almost always on finishing the album and I never really had a grand plan for forming the live group but the dream of bringing it to live on stage was always there and Adam and I had discussed it many times. 

After the album was done, and promotion was needed, we really believed the project needed to become a real band and get out there and play. So Dana Chisholm from Dreaded Silence helped us out on bass and we got Lauren to guest sing with us for our first few gigs and after Rob joined up as our permanent bass player and Lauren agreed to be our official lead singer, we had a band.
Please give me your thoughts and lowdowns on your two albums....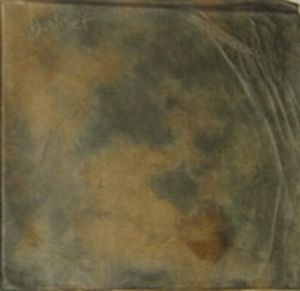 Black Light Moon from 2006 
  
When Kayo Dot was touring, everyone in the band had solo projects they were selling and promoting on tour so I figured I should release a demo to try and get the word out about Baliset. So at the time, the song Black Light Moon was mostly finished musically and I had some acoustic demos I had recorded with my friend Colin Marston in NYC so I put down some rough vocals on them, made some ambient bits to tie it all together and created our first demo. It was a hand made release, which I still make at home until the 200 limit is reached.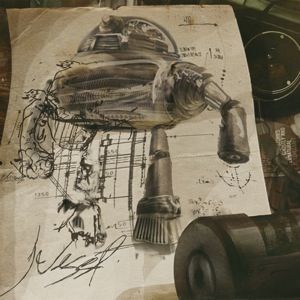 A Time For Rust from 2009 
  
I could write a novel about the making of this album. It is the culmination of 10 years of songwriting, 5 years of recording, and countless hours dwelling on when I would ever finish it. 

I found the whole process of making this album was one thing which truly helped me refine myself creatively and changed my life dramatically. As circumstances changed, and I grew as a person and musician over the course of its production, it changed the way I related to the songs. As I grew more comfortable with writing and arranging, more material popped up during the lapses between sessions and while the core songs remained the same on the album, I was creating the future musical identity of Baliset at the same time. 

However, I couldn't move on to the new ideas until the the debut was done, so that helped give me the drive to finish it and take these songs to where they needed to be to be my statement to the world of what I can do and what I have to say musically and lyrically. 

To that end, I am more proud of this album than almost anything else I have done musically to this point. Some people like it, and some people don't like it but to me it is a powerful piece of music that I put my everything into and it came out way better than I ever expected back in 2003 when we started recording. 
  
What is (mostly) the lyrical themes on your albums ? 
  
On the album "A Time For Rust," I really drew the lyrical inspiration from a time of my life in 2002-2004 when I felt very adrift in the world. I was in my mid-20's, I had a job, I had a band, but I felt very disconnected from the ideals and aspirations I had when I first decided I wanted to pursue music.  I felt very deeply like I was just going through the motions and not really experiencing life. So from the depression came this idea that instead of the immense freedom and excitement of living on your own that you think about as a kid, you end up just sitting on the side of everything and exist in this routine and slowly rust away while life goes on. 

To that end, the imagery I used to express it came from a variety of sources. I am a huge Joss Whedon fan and there was an episode of Angel called "Lonely Hearts" which I related to a lot and felt encapsulated the vibe I was trying to express. 

Also during the last few years, I have been suffering from a very bad case of anxiety disorder and so a lot of the lyrics over the course of the whole album make reference to that directly and indirectly. 

I also think I went through the pre-requisite T.S. Eliot "The Wasteland" phase as well and that was something directly quoted in the title track of the album. 
  
These aren't the most original ideas I know, but they are honest reflections of what I was feeling at the time and it seemed like a worthwhile and meaningful concept to pursue lyrically. 

Also during the last few years, I have been suffering from a very bad case of anxiety disorder and so a lot of the lyrics over the course of the whole album make reference to that directly and indirectly. 

To sum up, I just tend to write about myself and I feel a lot of people fo through similar periods in their lives, although they may experience things differently, there tends to be these universal themes which I tried to express in the hopes of getting the listener to relate to the songs on a deeper level if they so chose. Or if they didn't relate to it directly, they could just enjoy the words and music. 
  
What is the latest update on your band ? 
  
We are currently booking gigs in the Boston area, and finishing up the promotional work on "A Time For Rust." We have scheduled recording time in May to begin the 2nd Baliset album and we have are all getting very psyched by the new material. Everyone is really bringing alot of great ideas to the table and as a band, we have really awesome chemistry and it is inspiring to watch the songs I write at home on my acoustic turn into these huge powerful pieces. So hopefully recording will take a lot less than 5 years and we can get the new record out early next year. 

It will be a concept album that we are hoping to release digitally and on vinyl with the rough working title of "The Scavenger's Daughter." 

I am just finishing up the rough draft of the story and I am in discussions with our album artist Eliran Kantor and a NYC photographer named Gemma Fleming to work on art, photo and video direction to help bring the story to life and make a truly awesome package for the listener to experience. 
  
How would you describe your music and who would you compare yourself with ? 
  
I usually use the term "atmospheric rock" to describe us because at least on record we have a lot of textures and keyboards that accompany the music. I think my idea with these songs was to combine elements of bands I love and see what happens. 

So if I would compare with us other bands, I took the high energy of Iron Maiden and mixed it with the more atmospheric vibe of Porcupine Tree or Chroma Key and that was the starting point. People will probably hear our influences pretty easily I think, as the material is still our very first stuff and we are still learning, but I hope that the honesty and emotion comes through because that is the true reflection of our music. 
  
What is the availability of your albums and what is your experiences with the music industry ? 
  
Our album and demo were both released through my own label called Ret Con Recordings. As of now you can purchase "A Time For Rust" through our website www.baliset.net in either a cd or digital format, ITunes, The Omega mailorder, the Kayo Dot webstore, or CD Baby. 
  
As well you can order the Black Light Moon demo or a t-shirt by contacting me directly at  [email protected] 
  
How is the gig situation for your band ? 
  
We are slowly building up a local fan base here in Boston. We played a handful of shows last year and right now we have a few more on the horizon. We are hoping to expand to different states but touring is a difficult prospect for a band at our level right now since we are still relatively unknown. 

It's been an interesting experience since we are only a four piece live without keyboards or a second guitar, so we have had to re-arrange some parts in the songs to make up for the lack of ambience or harmony parts. 

Our stage show is slowly coming together as we learn with each gig what songs work live and which ones don't and I think we will be developing that aspect of our music over the next year or so. But the feedback I have gotten has been rather positive so I think we are developing on the right path and hopefully be a top notch live act soon. 
  
Do you have any regrets in your career ? 

I try very hard to not live with regrets about my career choices. It is a cliche saying but every choice or decision you have made is what in turn creates who you are now. As long as I am feeling truly connected to the music I make, and feel like I am progressing as an artist then there can be no regret about how I got here, how long it took, or what could have been in the past. 

That being said, I do find the one regret that will always stay with me is that I was unable to finish my album before my Mom passed away in 2008. She had always been so supportive of everything I did and was always pushing me to record my own material and she never got a chance to hear the finished product. 
  
How do you see the future of Baliset ? 
  
I see us continuing to make and self-release our albums for the time being. We have no strong desire to be on a label unless the circumstances and benefits of moving to that level seem appropriate. We want to continue to be a self-sufficient band but we realize that this won't be paying our bills any time soon. The money from gigs, album sales, and a good chunk of the money I make at my day job goes right back into the band fund to help with replenishing our merch supplies and funding our studio time. 
  
Some of us have families, jobs, mortgages, etc. to deal with so touring is not something on the horizon from a financial standpoint but also not being ruled out either if we make big strides in increasing our name recognition and get more money rolling in. We are just taking our career one step at a time and doing the best we can to spread the word 
  
What is your five all-time favourite albums ? 

It changes all the time but right now this would be the current list: 
1.    Iron Maiden – Seventh Son Of A Seventh Son 
2.    Jethro Tull – Thick As A Brick 
3.    Cerberus Shoal – The Land We All Believe In 
4.    Bruce Dickinson – The Chemical Wedding 
5.    Chroma Key – You Go Now 
  
Anything you want to add to this interview ? 
  
Thank you so much for the interview. I have been a big time prog fan for a long time and to see my musical efforts being well received by other prog fans has been very gratifying. 
  
I encourage anyone who might be interested in checking us out to head over to the website www.baliset.net where "A Time For Rust" is streaming for free and see if you like it. We are paying for this all by ourselves so if you enjoy what we do, please consider buying an album or a t-shirt or even making a paypal donation to help us in our quest to keep making music. 
  
Thank you for your time!
A big thank you to Greg for this informative interview. His PA profile is here and you will find his homepage listed above.