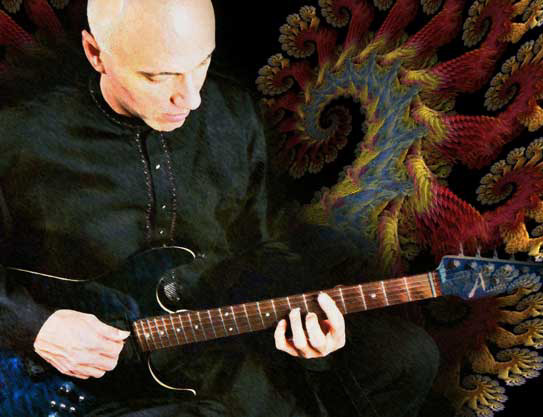 US composer and guitarist LINDSEY BOULLT has been an active musician ever since he first picked up his guitar at age 21. He graduated from the Guitar Institute of Technology in Hollywood 6 years later. He has played in bands exploring styles as diverse as world fusion and hardcore metal, and have also created, organized, directed, composed and performed for the show ChaoticArtCircus, an avante-garde, multi-art extravaganza involving more than one hundred performers. He's also a guitar teacher, and keeps his skills sharp by playing live as often as possible. (words by anonymous PA biography writer)
I got in touch with Lindsey for his story so far.....
_________________________________________________
What is your musical background?

Musical background – began at age 21, I had had a quite turbulent &
disciplined upbringing. Our family is of creole/cajun descent living in
Texas. The immediate challenges were deep, brutal and ongoing. Music
was an important release from the stress, but only thru listening.
Opportunities were non-existent leaving high school unless self-created.
And at that time, I decided to look upon the concept of "no opportunities"
- as – "all opportunities are the same, and appear impossible". Which
naturally lead to the concept "since all paths appeared impossible, pursue
the one that has the most appeal".
So, I began uncovering the traits that I possess, i.e., what would I want to
do everyday, what makes me excited, keeps my attention, remains
dynamic learning, etc…and eventually landed on music and musical
thought/composition. The guitar was a versatile instrument and all of the
innovative composers I liked were guitarists. So, on my 21st birthday, I
bought an acoustic guitar and some lessons.
When I began to understand the concept of the guitar, things made sense
to me quickly, musical theory made sense to me. So, I worked very hard
and learned very quickly, graduating in 3 ½ years with a music/business
degree at the University of Texas/Arlington – and on scholarship.
And I was soon married and raising a young son, so yes, trying times were
all around. We moved to LA, and I contacted Musicians Institute/GIT to
enroll, where I graduated with honors, the following year.
Then we moved a few times, then off to NYC hardcore scene with Prong,
Helmet, White Zombie, L7, Lunachicks, etc… to Houston to San Francisco's
avant-garde, fusion, rock, chaotic art circus, scene. Back to Los Angeles to
teach at MI/GIT, recording, producing, gigging, traveling, etc…and still
quite exciting after all this time, and impossible, so the fundamentals
remain.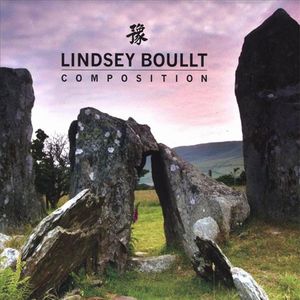 You have so far only released one album in 2007 called Composition.
Please tell us more about this album.

Yes, one album "Composition" 2007. Ultimately, to record these pieces
was an act of documenting the material correctly, i.e., correct
arrangements, instrumentation, etc…
I was aware that if I recorded the tunes effectively, the bombastic nature
of the pieces would generate movement, unknown outcome, of course,
but still movement none-the-less. I have an affinity for the style of music
that I compose, arrangements and ideas can still be quite difficult, but the
energy to match the obstacle is there.
So, I composed all of the pieces on the recording, leaving ample creative
room for solos, ideas, interpretation, etc…the approach seemed to work
well.
The players were key – Atma Anur, who is the 2nd coming of Billy, Narada,
Tony Williams, & John Bonham, knew the direction well, and we were off.
Jerry Goodman was a gigantic thrill, he played so brilliantly, and creatively.
Jerry is such a musical giant, and a very cool dude.
Wide-reaching credibility was received, due to having Jerry, Atma, Derek
Sherinian, Stu Hamm, Jeremy Colson, Jon Herrera, Sukhawat Ali Khan,
Peter Van Gelder, and freakin Mingo Lewis on the recording. All of the
players had previously listened to the music and wanted to be a part of it.
And I'm very grateful.
The artistic viewpoint that I tried to present was to communicate – as we
move forward in time, all of the complex elements currently being thrust
together will transpire into a great thing. A very exciting time, not a fearful
time, but, where one's engagement must be required!
And above all, it will enhance your 'bad-ass-ness'!

The art-work is pretty special. Please tell us more about it.


The cover art work was continuing the theme of 'composition'; and to
explore various images that overtly or covertly displayed a sense of
'composition'. The concept didn't really matter - realistic, futuristic, avantgarde,
abstract, cubism, etc…Although, bright vibrant colors were
important, due to their engaging quality on the viewers' innate sensitivity
to brilliant coloring. So the images chosen fit those criteria, as mundane as
they may appear. The Chinese symbol on the front cover is the I-Ching
symbol for 'harmonize' - which has a very real meaning in all of this, but
that story can be deferred to another time – in essence, we must learn to
'harmonize'.
The back cover text was chosen in the style of the Mahavishnu Orchestra
records use of text/font; to create a 'classic' album feel when reading.
Composition throughout, one could say.

What happened after the release of this album and what are you up to
now?

Happenings since the release – basically, the CD release changed a
multitude of perceptions, and generated a lot of movement. It has allowed
opportunities to arise, industry reaching credibility, and real respect within,
and without, the art world. The recording (Composition) has retained its'
impactful energy, and remains exciting to play live also – a promising
feature. Pointmade Productions/NYC offered me a gig to compose music
for their film; which had won some awards, so I was thrilled for the
opportunity. Getting recognized artistically was very cool - from author
Walter Kolosky lending his endorsement, to all the Music Mag sites/people
worldwide, a huge obeisance is given!
Distribution deals with Marquee, Inc/Japan & Just For Kicks
Music/Germany were key in communicating with the planet-at-large.
Rockbox Electronics has honored me with endorsing the 'Boiling Point'
pedal, which won 'best in class' from Premier Guitar Premier Gear.
Dean Markley Strings has honored me with a string endorsement.
Interviews, sales, press, etc…are thrilling.
The past year I got to perform with Greg Howe, Ric Fierabracci, Joel
Taylor, Stu Hamm, Elvin Bishop, and on a mini-festival with Kai Eckhardt,
Alex Machacek, Marco Minneman, Fareed Haque, etc…it's getting exciting!
And some cool things in the works, currently, so we'll see.

How would you describe your music and which bands/solo artists would
you compare your music with?

Musical Composition Description – as Derek Sherinian so aptly put it, "it's
very Zeppli-Vishnu." And incorporating modern guitar techniques, grooves,
phrasing, into the elements of the composition.
Bands/Solo artists comparisons – Elements of a lot of guitar players, Zep,
MVO, John Cage, LTE, Indian ragas, chants, etc..

You are mostly doing live jobs now and some instructions. Please tell us
more about this.

Just finished a gig with Ric Fierabracci (Chick Corea) & Joel Taylor
(Holdsworth) at Alva's Showroom – Los Angeles, which was very cool, very
successful. We're trying to set up a series of gigs to expound on the fun.
There's a youtube clip of us playing "Page Revisited" from the album –
please check it out. 
And yes, I'm instructing the art of note proliferation, as well. Always have,
always will, I am a thankful participant in the global musical process.

What is your plans for this year and where do you want to take your
career?

Plans for this year – so far this year has been efficient, as mentioned
previous. Some cool things in the works, and I'll be happy to report upon
any and all news arriving.
Future plans – Continue working with great, creative musicians et al, and a
cool tour soon would be optimal.
Rockbox is having some events coming up as well, should be fun.
Putting together an online site for lessons.
And new material is compositionally underway, so stay tuned.

Just to wrap this interview up; do you have any regrets in your music
career?

Regrets, oh yes, many. But that's living a life, I guess. And living an artistic
life, will have built-in regrets due to the sacrifices one endures. Above all
of that, I am very thankful to have a direction/purpose where I can focus
energy. Difficulties remain, as always, but the obstacles are designed to
dissolve.

What are your five all-time favourite albums?

Led Zeppelin -IV; Mahavishnu Orchestra -Inner Mounting Flame; Allan
Holdsworth – Metal Fatigue; Pantera – Far Beyond Driven; The Great
Guitar, Bass, & Drummer recordings everywhere!

Anything you want to add to this interview?

Many, many thanks to Torodd, and all at ProgArchives. ProgArchives was
key in spreading the artistic word for me. Always very nice & very efficient.
And to all of you reading this, thank you! Keep slammin!
Thank you to Lindsey for this interview and his nice words about us.
It is very rewarding that we can help out artists like Lindsey. 


Edited by toroddfuglesteg - May 13 2010 at 10:36