Vynce Leff is a busy man with his new band Whyzdom
But he took some time off to give us the story about his two previous bands Saens and Sensitive To Light. This is the interview he gave us.
---------------------------------------------------
What are you up to these days ?
Hi ! I'm fine ! I'm working a lot with my other band Whyzdom... composing new songs, and playing some gigs in France but also in Europe (Belgium, Swiss...).
I know you are no longer involved in either Saens or Sensitive To Light but I feel that an interview with you is still important for the sake of our community. What is your musical background ?
I started music quite young, with the flute. My main instrument then became the classical guitar. I loved to play classical stuff from Tarrega, Albeniz, Villa Lobos... It was therefore natural to play the electric version of the instrument of course. And on the classical side I started to study orchestration (and piano at the same time). That's why you can hear some orchestral parts in Saens and Sensitive To Light music.
When did you set up Saens, how was your formative years and how did you get the record deal ?
I started the band with Pascal Bouquillard back in 1997. We did compose enough material for an album quite quickly. We tried to sign with french labels, and at that time, we thought it should have been possible with Musea (the french progressive label)... but oddly, they answered us that our music was "not progressive enough". It still makes me laugh after all these years. Then we tried to find a record deal abroad, and Mellow Records Italy offered us one very quickly.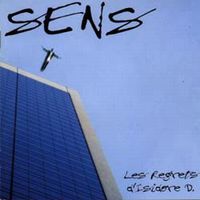 Please tell us more about the first Saens album Les Regrets d'Isidore D. from 1999.
So, at that time, the name of the band was "SENS". The lyrics were in french. The songs were collected from various pieces that were composed before Pascal and I met, but there was really something thrilling, putting it all together. We both learned a lot from each other. It is both complex and attractive. I don't think it met the success it should... probably because of the bad distribution and the lack of promotion.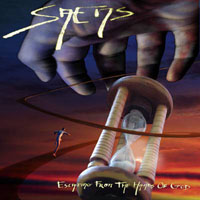 Please tell us more about the second album Escaping from the Hands of God from 2002.
We tried to find another label for the second album. We contacted Cyclops Records, and they answered us very quickly. Actually, they had already received our demo 2 years before, but we signed with Mellow before they had the time to give us an answer. The main problem was that Malcolm from Cyclops was a bit reluctant to release an album with french lyrics. So when they got an email from us in 2001, they asked us if it could be done in english language. Hence the change in lyrics from Les Regrets to Escaping. And I must say I never switched back to french since then (sorry for my bad english, ha ha ! ). This album did work very nicely. The best sale figures of Cyclops at that time.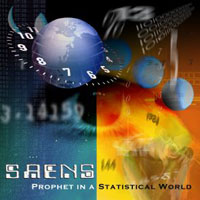 Please tell us more about the third album Prophet in a Statistical World from 2004.
Prophet was a more ambitious album. In many ways, it is superior to Escaping... but more adventurous, so people got a bit lost when they listened it. I think it is a very mature album and it takes a lot of time to fully get into it. That's what I really like with this one. Moreover, it can be considered as a double album, since the limited edition initial released was a 2 CDs set, with the "Dodecamania" track - a piece of contemporary dodecaphonic rock music. I think it is something unique that only Saens could do... and I am quite proud of what we did.
How would you describe Saens music, your years there and who would you compare them to ?
As I said before I think that Saens was unique in the fact that we did mix very adventurous music with very melodic and attractive parts... and most of the time, we worked a lot to hide the complexity in the songs... so that complexity is not a purpose in itself : it's useless if it's not there to create emotions. I think we achieved something in this direction with Saens.

All in all, the years I had with Saens were great. I learned a lot with Pascal and it's like a stone on which I could build all my new musical work.

Why did you leave to set up Sensitive To Light ?
After 3 albums, I didn't see what new we could make after such tracks as "Dodecamania", or "Statistical World"... and I wanted to work with new people... especially with female vocals. So I thought it was time to build something new.
How much from Saens did you bring over to Sensitive To Light ?
I guess I brought my own musical identity, so people can obviously recognize the melodic style from Saens to STL... as well as the work on the structures. The main difference is that it's less complex, more melodic, and with a delicate female voice.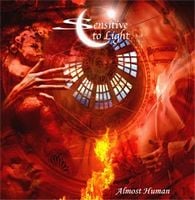 Please tell us more about the first Sensitive To Light album Almost Human from 2006.
Almost Human was like a rebirth. I met Jenny who is a fantastic scottish singer and who inspired me so much... and I had a fantastic concept about Pinocchio. At that time, I also met Andy Tillison from The Tangent, who did like our music, and he influenced me - though I'm not sure a lot of people can realize it in our music. When the album was released, we were much more mature for playing live and we enjoyed a lot on stage through France and also at the Progsol Fest.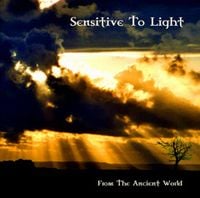 Please tell us more about the second album From The Ancient World from 2008.
I wanted to compose a 4 movements piece, just like a real symphony, with a real coherence throughout the whole work. It's full of melancholy about the past, about the passage from childhood to maturity. There are a lot of celtic elements, with some reminiscent folk parts, that are associated with the "ancient world" and parts with clearly contemporary dissonances and metal sounds, much more aggressive , that are associated with the "new world" - mixing these two influences is really what this work is all about. It also gave me the occasion to compose an orchestral piece as the 5th movement and epilogue of the album.

How would you describe Sensitive To Light's music, your years there and who would you compare them to ?

Ah, honestly, I wouldn't compare them to anything else. This is probably the thing that I love the most with SAENS and SENSITIVE TO LIGHT : I never read any pertinent reviewer able to compare it directly with any other band. I really think that we had our own identity. Sensitive To Light is just some female fronted progressive symphonic rock, with celtic and contemporary elements... you just have to listen to the album and let it grow on you to know what it's all about...

You left Sensitive To Light and set up a goth/metal band called WHYZDOM. Please tell us more about this band.
Yes. While I was working on "From The Ancient World", I had another idea in mind, since I'm an orchestrator : I wanted to use real orchestra parts in rock music. Unfortunately, the vast majority of prog lovers prefer Mellotron over real orchestra. I must say that I HATE mellotron, and that I'm deeply in love with real orchestra. At that time, I saw a concert of After Forever in Paris, which is a great symphonic metal band. They had an incredible piece of cello right in the middle of their gig, and I was surprised to see that the audience was really listening to it in great silence and respect... and that they simply loved it. I discovered that many metal fans were really opened to symphonic music. So at that time, I started to look for a new singer to create a new project of metal music mixed with orchestra : WHYZDOM. The band was signed very quickly, and people are so enthusiastic about it that it started to take all my time... that's the reason why I had to give up Sensitive To Light. I know that STL and SAENS fans are a bit disappointed... but if you listen closely to Whyzdom, you'll find many similarities with Sensitive To Light. This is especially true with the forthcoming 2nd album that will be even more progressive that the first one.

Just to wrap this interview up; do you have any regrets about Saens and Sensitive To Light ?

No regrets at all. Both bands were great, and I learned a lot with them. I met fantastic people in the progressive world. Everything that I do nowadays is related with all that I learned then. Creating Whyzdom was a logical continuation of my personal musical development.

What is your five alltime favourite albums ?
Loreena Mc Kennitt - The Mask And Mirror
Mike Oldfield - Amarok
The Alan Parsons Project - Tales Of Mystery And Imagination
Pink Floyd - The Dark Side Of The Moon

Dream Theater -  Images And Words
Anything you want to add to this interview ?
A big thank to all the fans who followed Sens, Saens and Sensitive To Light... and please... give Whyzdom a chance. You might be surprised !