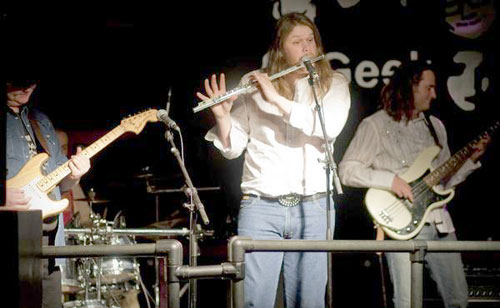 D`AccorD is one of the better bands in the New Wave Of Norwegian Prog Rock. A term I have invented myself to best describe this new scene which is now setting the prog rock world alight. D`AccorD has got a lot of well deserved praise for their so far only album and their gigs.  
I caught up with Daniel Maage for the D`AccorD story.
-------------------------------------------------------------
If I am not totally wrong, you are from the west coast of Norway not too far away from the small city of Haugesund (the Stord island, to be more precise). Please put me right and tell us more about the start up of your band, bands you have played in previously (if any) and why you chose that band name.

You are in fact very right regarding our location on Stord Island, between the two cities of Bergen and Haugesund. This was also the place where D`AccorD was formed, at least on paper, late in 2007. Front man and creative force Daniel Maage had just left his former band (Munchausen), and were discussing the possibilities of forming a more prog oriented band with bass player and long time friend Martin Sjøen (brief stint in Munchausen). Through a mutual friend Daniel, learned that there were a prog fanatic drummer looking for a band, and so he invited the likes of Bjarte Rossehaug (Tapir) to join the band. The foundation of what was to become D`AccorD was now laid, and rehearsal started in early 2008. The name D`AccorD was an idea by Daniel, later embraced by the band. D'AccorD in French means "OK", so there was a reference to the fantastic band Yes in the making.

D`AccorD were on the lookout for different guitarists, and a few weeks after the formation saw their mutual friend Stig Are Sund (Hereide & Bluesgangsters) join the ranks of the band. Unlike the rest of the band, Stig has a more blues oriented background as opposed to a progressive background. Still he managed to blend his play in quite well with the rest of the band, and this became the line up for a period. Later that summer D`AccorD saw the addition of the virtuoso Fredrik Horn on keys and sax. His musical background is far too complex to describe in few words. This addition also meant that Daniel did not have to play keys anymore and could therefore focus on vocal and flute. This line up played a certain amount of concerts and rapidly received a loyal following in the months that followed.    

Fredrik did not find the hard work D`AccorD were laying down very appealing, so he decided to call it quits in the autumn of 2009. He now resides in the outskirts of Stord where he runs a small farm. His relationship with the band is still very good, and he will probably feature on the up and coming albums.

It soon became evident that D`AccorD was in dire need of a new keyboard player. Årstein Tislevoll who previously had played with the band on certain occasions was then asked if he wanted to join the band on a more permanent basis. Årstein brings a vast musical experience, and he plays instruments like keys, violin, guitar and mandolin.

The current lineup is now Daniel on vocals and flute, Bjarte on percussion, Martin on bass, Stig on guitar and Årstein on keys and various.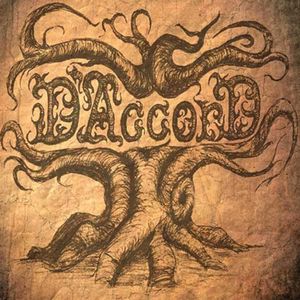 You have so far only released one album, last year's self-titled album which is worthy of all the praise it has received. Please tell us more about this album.

The self-titled album was a project conceived by Daniel and financed by the band. The backing tracks of this album were recorded very quickly and LIVE over two days. Other parts of the album were subsequent added the months that followed. Daniel created all the tracks, he also did  mixing and production on the album. For mastering purposes we sent the album to previous Pink Floyd sound engineer Andy Jackson, who we feel did a great job on it.

The album was released in June 2009, and we were blown away to say the least by all the great reviews we have received, including nominations for best debut album by Progawards.

What is the latest update from your band and what is your plans for this year and next year ?

The latest update is that D`AccorD is currently working on their second album, which will be a concept album. This album will hopefully be released sometime in the autumn of 2010, and we are very much looking forward to it. Besides that, we are also playing live shows in many of the greater cities in Norway, and we can also be seen on the Dutch progfestival PROGFARM September 2010. We are in talks with different American festivals, and hopefully we will do a transatlantic trip to play in the States next summer.

I know that your band is being compared to the likes of Uriah Heep and Jethro Tull. And that is a good reference point. But in my opinion, D'AccorD can also be compared to the likes of Høst, Aunt Mary and Lucifer Was. Your band is following in their path too. But how would you describe your music and which bands would you compare yourself with?

We do not have a certain goal of emulating anyone, but being compared to the bands that inspires us is always nice. You can probably hear elements of all the bands which people compare us to, but perhaps one can draw closer lines to the likes of Genesis, Van Der Graaf, Jethro Tull and Pink Floyd in regards of our own music. We do receive the odd criticism from people who find our music to be very little innovative. There are also those who say we should play the sort of music we play but with a modern sound. This is for us not even an option as we want to make music and play it in the style of the 1970s progrock. D`AccorD is a retro band, and from all the positive feedbacks we get, there is obviously a craving marked for one.


Your album has been as well received as a pot of honey among grizzly bears. Outside Norway, at least. The Norwegian scene is dominated by the goat herders (the black metal scene). When do you think your band and the progressive rock scene in Norway will become as socially accepted as the arsonists and the murderers ?

The funny thing is that followers of the Norwegian Black Metal scene are a very large part of our fan base. And what a loyal fan base they are! We do feel that there is in fact a substantial underground scene regarding progressive rock in Norway today. There are many interesting bands doing some great work around the country, not that the media gives it much coverage. The reasons for this are probably diverse, but one cannot overlook the lack of financial gain in this genre. Perhaps a bit simplified we dare to say that as long as there is no money to be made for certain companies, you will not see that many progrock bands playing on the most commercial festivals, receiving playtime on radio or getting other media coverage.


The gigs reviews I have seen so far has been full of praise. But how is the gigs situation for you in Norway ?

The gig situation is constantly improving. Only a year ago we were struggling to find a venue even in nearby cities to play concerts. We are now in a situation where we will be playing in some of the larger cities in Norway these up and coming months. In early May we were warming up for the wonderful Italian band The Watch in John Dee (Oslo). There we had the pleasure of playing our music to a fantastic crowd of over 300 people. This sparked an interest from certain people, and we are most confident about coming back to the Norwegian capitol for more shows later this year. Playing live is more or less the driving motivation for this band, and we would like to play as much, in the most places we can.

Your album is self-released as far as I am aware of. What is the pro/cons of self-releasing your own album ?

The pros would be all the artistic freedom we have on the music. We can also do the recording in the style and fashion as we decide. In terms of a learning curve this is a great experience, both with the process of recording, but also as a band.

The cons are in terms of financial limitations and perhaps lack of time. There is a lot of hard work not just in recording an album, but also promoting it. As a band not currently signed on a label, there is clearly a lot more work that we have to do ourselves.

Just to wrap this interview up; what is your five favourite Norwegian progressive rock albums ?

Being a retro band we would have to go with the following in random order

Quiché Maya- Popol Vuh
Aunt Mary- Aunt Mary
Janus- Aunt Mary
Hardt mot Hardt- Høst
På  sterke vinger- Høst

Anything you want to add to this interview ?

Thank you for everyone who goes to our shows, listens to our music and makes playing in D`AccorD the greatest job there is!!
Thank you to Daniel Maage and D`AccorD.
This is a band which may go far so keep an eye and two ears on them.  
Their PA profile is here and their home page is here