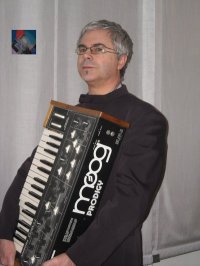 Orchestre Celesti is the creative moniker of composer and keyboardist Federico Fantacone, which he use for his endeavours in the field of music. The project was born in 2006, and the idea was to blend the stylistic expressions of typical Italian prog artists with the English 70's variety, and to add innovation to this mixture by spicing it all up with contemporary electronic soundscapes. All compositions are instrumental, but sampled voices are used on occasion.

I caught up with Federico for the Orchestre Celesti story.
-----------
When was Orchestre Celesti formed and do you have any background from other bands ?
Orchestre Celesti is not a band in a traditional sense. It's a virtual band, or If you like a one-man-prog band.
It's an initiative of myself, Federico Fantacone, keyboardist since the late seventies, involved in different prog and rock band near Milan, well known locally but nothing more. The only thing to mention, we played as a supporter of Vanadium, perhaps the best band of Hard Rock - Heavy Metal never appeared in Italy (singer Pino Scotto). After having experimented Ambient and Electronic music in '80 and '90, I came back studying and "formalizing" (almost with a scientific approach) progressive styles and harmonic solutions, beginning to compose or re-adapt the songs which will become Orchestre Celesti tracks in the album "Compi la tua magia" e " Black and Red"). The "brand" Orchestre Celesti was born officially in 2005, and the suite "Compi la tua magia" was the first composition", it became the heart of the homonymous album two years after.
Please give me your (long or brief) thoughts and lowdowns on.........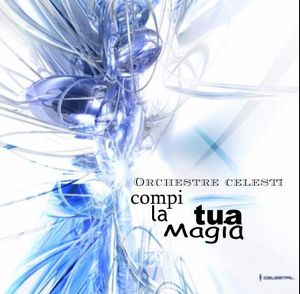 Compi La Tua Magia from 2007
CLTM is a very long album, about 80 minutes, very creative and inhomogeneous, influenced by the Ambient / Electronic period. I poured there all the compositive energy of the previous 15 years. But the progressive format are well evident in Compi la tua Magia and in WOTS 2 – acronym for Wacher Of the Skies 2, a "serious joke" clearly inspired to the sound texture and rythms of the Genesis song (but chords and melodies are different)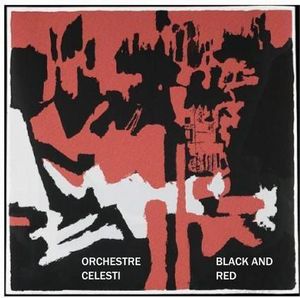 Black and Red from 2009
B & R is more homogeneous, more consistent, trying to limit excessively long songs. It tries to reproduce a wider range of progressive styles. The piano, that is the trademark of OC is more present, many songs were born for piano and were not suppressed by other musical instruments, in the stage of arrangement. This applies for example to the two piano suites, which can be listened also on Prog Archives.
Surprisingly, B & R received a ProgAward nominations this year in the category: Best Italian record
You are currently working on a new album. What can we expect from that new album ?
We expect to confirm the high quality compositions which the reason why OC is an appreciated project, even if it's instrumental (this increase the risk of boring the listeners) and without real bass and drum player
How is the writing and creative processes in your band ? 
I record directly via MIDI a very high amount of musical notes, even very short, and then join them consistently getting longer tracks. When arranging, I add loops and audio files, trying to limit and to avoid stifling the really "played" parts. Then I make some provisional recordings for detection of errors that can be captured only heard the songs on CD, and to better understand the best sequence of songs. Then I make the final mastering, and distribute the entire CD on Amiestreet site.
How would you describe your music and which bands would you compare your music with ?
Evocative, great atmosphere, with some "virtuosistic" concession, passionate.
Our sources of inspiration are very evident: EL&P, Genesis, Orme, Banco del Mutuo Soccorso.
Besides of the new album, what is your plans for this year and next year ? 
Although we have had no news, our song was accepted in the production of Colussus Project dedicated to Flowers King, a 4-CD tribute whose release is scheduled for September 2010. I hope. I recorded the cover of The Rain Maker, from the same FK album. The result, on my opinion, is very interesting, the spirit of the song is kept under a completely different arrangement
What is your five favourite albums of all time ?
King Crimson – In the Court fo Crimson King
EL&P – the first
Yes – Close to the Edge
Genesis – Foxtrot
Genesis – Selling England by the Pound
Le me add a sixth: UK, the first.
Anything you want to add to this interview ? 
Simply, thanks to Prog Archives and a wish that the Progressive Rock continue to be cultivated and kept alive by the world community of fans and new bands.
Thank you to Federico for this interview. The Orchestre Celesti profile in PA can be found here and the homepage is here



Edited by toroddfuglesteg - September 08 2010 at 04:39