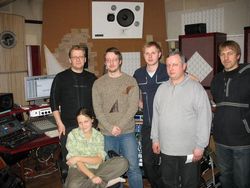 Olive Mess from Latvia is a pretty good RIO/Avant Garde combo which may give the RIO fans here a very positive surprise. I got in touch with Aleksej for the Olive Mess story.
--------------------------------------
When was Olive Mess formed and do you have any background from other bands ?
Me and Denis are friends from the school, and one day I've propose to play some rifs on guitar to him. We did it for a while, until Edgar have come to Riga and have met Denis. Edgar was the only one (besides my father) who have played in band before Olive Mess. He have few gigs in his home town Rezekne, and then he have come to the Riga to study at the university. The official date of the "Olive Mess" creation is November 2, 1998 - the day of their first joint rehearsal.
Why did you choose that name ?
The name of the band pruposed my father Sergey Syomin. It's means Olivie Messian - great french composer. The second explanation is the direct meaning. Something that's for the small group of fan. We know we are playing not popular music and the number of fans is not big. So that meaning suits us very well
Whose bands were you influenced by ?
Universe Zero, Gentle Giant, Genesis, King Crimson (first 8 CD), PFM, Yes, Jethro Tull and a lot of classic, barouqe, reneissance and academic music (J.S.Bach, Leo Brower, Torroba, Tarrega, Villa Lobos, Olivie Messian, Arvo Part, Shostakovich, Skryabin...)
To start with; please give me your (long or brief) thoughts and lowdowns on.......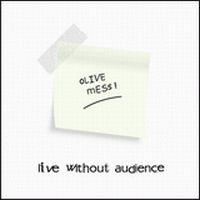 Live Without Audience from 2001
It's not an album – it's just demo CD we've send to Soleil before they sign a contract with us. And then, Denis write it in our discography like a joke.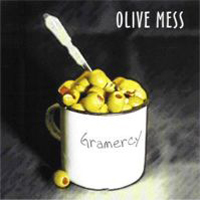 Gramercy from 2002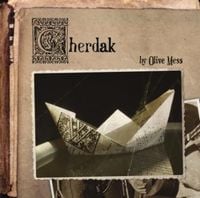 Cherdak from 2008
Cherdak and Gramercy are very close stylistically.Both have rather long tracks and have instrumental pieces of music. You can hear in both influence of the classical, baroque, renaissance and modern academic music. But the sound in Cherdak have became more dense with more "drive", but the Gramercy sounds more chamber. The keyboards play now bigger role in the sound. Instead of soprano of Ilze Paegle, on the second album, you can hear barriton of Maris Jekabsons, who sings in the classical (opera) style. Maris have made available for the band, to use in their music, such a great instruments like bagpipes, which you can hear in Beowulf. In this album, again you can hear the beautiful sound of archlute, and this is what is giving some similarity with the early baroque operas.
The band, keep the tradition, which was also in the Gramercy album, to use historical events in our music. "Gramercy", includes a long epic - "Stefan, the shepherd boy", a poem based upon the XIV century Children's crusade but written specially for OLIVE MESS by Jonathan TULLY and in Cherdak, you can hear the story of battle between Beowulf and Grendel , from the old Anglo-Saxons saga. Mane, Thechel, Phares told us the story of the prophet Daniel and the Tombeau de Cherdak is the medieval troubadour cry, about his friend, king of England – Richard, the Lion Heart. Three different languages have been used for the song's texts, which are English, Latin and old Provencal.
Your latest albums is from 2008. What is the latest update on your band and what is your plans for this year ?
We have new keyboards-man, very talented young composer Platon Buravitsky. We try , now, to do a new show with video on the background with our ex-vocal Dmitrij Rumjancev, but it's a long process. Also we have written some new tracks. We are planning to record a new album in a future, but it more financial question.
How was the writing and creative processes in your band ?
The main point of the beginning is conception or drama if you wish. Most of our songs were written based on historical events or old legends and this is the main influence and that what inspired us. It's can be a short text, only 5 sentences (as it was with Stephen). We always try to put into our songs ideas or drama or tension and of course our feelings.
How would you describe your music and which bands would you compare your music with ?
We are often compared with Canterbury bands, KC, Gentle Giant, but we never wanted to be like them. They are great and no need to be the copy of them. But their influence on prog is very big, and of course we like them very much.( Lizard is one of the greatest albums in rock, may be the greatest). We just write our music and don't think: "at this moment KC would do like that – let's do it too". Listeners hear our music and think "this moment sounds like this band and this moment like that band" And he can be right, because in our time is hard to compose something that will be absolutely unlike the music from other bands or composers. Always you can find something similar.
How is it being a non-commercial band in Latvia and how is the scene in that country ?
We almost have no concerts for a one simple reason – no where to play. In Latvia we have 1 may be two places where we possibly can play (1-2 times in a year). The second reason – a very little number of our fans. Usually it's 5-10 listeners for a gig. That's a pity, because live we can play like we want with all dynamic accents, which were corrected for the record, more like chamber orchestra. Like to use a lot of volume pedals and so on.
How easy/difficult is it to promote your albums these days and how easy/difficult is it to get gigs ?
We are not professional band and have no manager or something like that. So our promotion is our website (which we are planning to reconstruct in short time) and myspace. We can play gig in Riga easily, but it cost money and there is no income from this concerts, so we do it very rarely.
What is your five favourite albums of all time ?
It's a very hard to decide which are the best but in rock music it can be:
King Crimson "Lizard"
Gentle Giant "Octopus"
Yes "Close to the Edge"
Genesis "Foxtrot"
Jethro Tull "A Passion Play"
Anything you want to add to this interview ?
All the best to prog fans and ProgArchives readers!
Thank you for the questions. Hope you'll enjoy our music!


Edited by toroddfuglesteg - September 10 2010 at 03:38