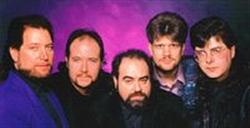 Ancient Vision is a five-piece set from Kansas City whose three albums capture the warm sounds of the 70's using today's technology and sensibilities. Since both of their albums were engineered by ex-Jethro Tull Tim Matyear, the Tull influence is noticeable through out their material. At best, it could be described as a blend of rock, classical and (to a lesser extent) folk. 

I bought two of their albums some time ago and I am more than curious about this band. I therefore sent them some questions through Tom May, a well respected reviewer here in ProgArchives. 
When,where and by whom was Ancient Vision formed ? Why did you choose that name ? 
 
Ancient Vision started out really in my mind as a one-man (Mike Oldfield) type project. But, since this was in the mid 80's and technology wasn't where it is today, I felt that to do the project right, and to add "other talents" - I would enlist some friends that came into the music store I worked at. This was in Independence, MO (Kansas City suburb). I had a few false starts, which ended up with the core of the group remaining, and, I had just gone through a divorce and needed a place for the band to practice. So, a friend of mine had a recording studio/rehearsal hall in an industrial cave, and the band rented space there to begin our preparation for the first recording.At that time we used a drum machine to support us, but when we got closer to the recording - and I had gotten remarried and purchased a house - we enlisted the wonderfully talented Rob Leytham as our drummer and friend. 
 
As far as the name, it actually started out as Ancient Future. But one day at my local record store (sure miss those days!) I saw that the name had been taken, and it just came to me that Ancient Vision would actually be better, as I did have sort of a vision for the concept of the music. 
 
To start with; please give me your (long or brief) thoughts and low downs on... 
 
I think I'll answer these with emphasis on both the history of each release as well as the music. 



The Vision from 1991 
 
Wow, what a trip the first album was to do. It could be a long story, but I'll try and cut it down. 
 
I have always been a huge Tull fan, as were some of the other members in the band. Barry Spry, our bassist went to see Tull somewhere out of the Kansas City area, and somehow ended up playing pool with the guys in the band (Tull) and made a great/quick friendship with David Pegg. Later that same year, Barry went to England for a vacation and found Dave, which led us to the following year going to Pegg's "Woodworm" studio to record the music. 
 
Needless to say, there are a million stories that I could relate here, but suffice it to say - WE HAD THE TIME OF OUR LIVES! A dream come true for me. The interesting thing was to be all of a sudden at the studio that real pro's had recorded seriously successful recordings. It was a bit overwhelming at times,but we got it all done in a couple of weeks - unheard for today's way of recording our stuff. 
 
As far as the music goes, I felt that this would be our one and only recording,so we really put a lot of progressive type styling into the music. I am still quite proud of the album, but especially the lengthy track"Stand." I believe it to be our trademark piece of music. The musical approach here was very much from a Tull perspective, and of course the other influences in my life. There is also the beginning of my own ideas/style creeping in. Much more hard edged than the next two albums, with shorter songs- except the epic Stand. 
 
Working with the engineer Tim Matyear was the real music lesson learned. I will never forget on the first day of recording, he came to me and said that since this was my music, he wanted to know which "timing accuracy"magnifying glass to use. I asked what were the choices, and he replied"well, you can live with what comes naturally, or you can use my (Tim's)better tempo/time magnifying glass, or there's one more." Of course I asked what that was, and he said "Ian Anderson's (Tim had been working with Ian for some time at this point,) it's the best there is." I chose to use Tim's - and man was his even tougher than one might expect. 
 
We mastered the music when we got back to Kansas City, and with the help of Archie Patterson (Eurock) distributed the album. 


Focus or Blinders from 1993 
 
After the release of "Vision" we started to play a little bit "live." So, since I had a lot more ideas/songs to work with, we arranged those for our live performances, and then got them ready to record for our second release. 
 
This time, instead of going to England, we brought the wonderfully talented Tim Matyear (Tull's engineer at the time, and the one from our 1strelease) from England to one of the local Kansas City studios. The recording was quite trying, as there was actually way too much material, and too little time. But again, we prevailed and through the same path as the first (Eurock helping) we released our 2nd CD. At this time, we were actually playing somewhat frequently, even though one of the guitar players had moved to Chicago, and the lead singer had moved to New Orleans. Still, we came up with a nice show, sometimes without that particular guitar player, and with me playing the guitar parts. In fact, we have a double CD of one of the shows from that time period that we've never released. Maybe someday we'll release it as a digital release, or CDR if there's interest. 
 
The music this time was quite changed from the first albums sound.Still quite progressive, and no doubt a bit of Tull influence, but now my own thoughts/style really started to come out. We added the magnificently talented Joe Allen to the lineup, and I played a considerable amount of guitar (mainly acoustic.) With new elements, and the addition of some female backing vocals,and great sax, the album took on a more subtle, transparent style - still with the long song "Why Send A Man In" as the centerpiece, and quite proggy. 
 
Except for the fact there's just too much music on the CD (actually we ended up with over 20 minutes finished product that has never been used,) I really enjoy this album, as it represents an evolution in production and simplicity over the first CD. The lyrics, which this time are quite personal,are more straight forward and with Jo's addition, it really made it closer to"my vision."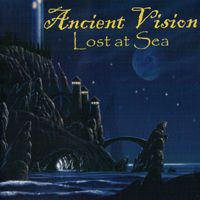 Lost At Sea from 2008 
 
Well, I will tell the tale of the lengthy 15-year break between releases on the next question. 
 
So, I will speak of the music first. By this time, including immediately after the recording of the second CD, I had started to feel somewhat frustrated with the whole "group" type thing, and had grown (thanks to Tim Matyear and Joe Allen) quite a bit in understanding on how to attain my vision. I decided to try and do all of the music in Kansas City, using the resources that were here in the community. I also decided to do all of the guitar work, and sing some of the material. We included Susan Harp as guest female vocalist, and Joe Miquelon (from the Celtic rock group "The Elders") for the saxophone parts. 
 
This album is the beginning of the true purpose of "The Ancient Vision" concept, bringing lyrically in; the trying/difficult times we have been thrown into, and the need for a possible "rebirth" of our world.I have included a short story to present the groundwork for the concept, and we"tied" all of the songs together musically, so to present it as a conceptual work. 
 
The music is now pretty much the groups own style (of course influences will always appear) and with much more emphasis on layering, dynamics, etc...Still lengthy songs, and very much in the progressive rock vein, the overall character of the music is very representative of my personal ideals of mixing electronic music with hard rock. 
 
"Lost At Sea" is the first of a 3 part CD release of this conceptual project. 

There is a fifteen years long break between Focus Or Blinders and Lost At Sea. What happened ? 

Well, that's a great question, and one that's a bit hard to answer. From the release of Focus or Blinders, I finally started to find the energy and strength to tackle the real story I wanted to tell. Knowing this was going to be a conceptual, long project, I decided to try and utilize the location and talents that were free to me, courtesy of great friends. A long time friend had a wonderful studio close by, so we rehearsed there, and started recording about a year and a half after our second release. 
 
This was an ADAT studio, and we knew we would eventually transfer the basictracks over to a digital workstation. Things went pretty good with the basic recording - lead vocals, drums, bass, most electric and acoustic guitars -keyboard parts had started at this point also, as they were originally done through sequencing. This recording process took about 3 months, as everyone was strewn across the country, and busy with their lives, but again, this went pretty smoothly, and we finished it up, leaving the transfer to Cubase (digital workstation) to Joe, our keyboardist and the engineer of the project. 
 
Now's the sad part of this little tale...once we finished with the initial recording, everything that could go wrong, did. From technical problems,laziness, apathy, personal loss (both my parents died) and just plain "too much life - not enough time" took place. So, I just sort of outwardly gave up...oh, we would talk about it, maybe deal a little with mixing - the transfer took forever, and didn't go as expected, so the mixing became tedious and maddening. Then we would just quit for a while, and then finally just quit altogether as personal lives became strained. Work, house payments, etc.... 
 
Then, about a year or so before we actually released the album, I sat and listened to some rough mixes we had done. This rejuvenated and inspired me again about the concept and the project...also, I had been working a little bit on the storyline which I had developed. So, Joe built a new computer, we got things going technically (still with difficulties - nature of technology) and through many tedious long evenings after work, we finished the product. 
 
At that point (and still to this day actually) my financial situation was quite strained, so I sought outside help in getting "Lost At Sea" released,and through a wonderful relationship with Bernard at Musea, the album was properly released (with Mario Barrett doing the cover) in late 2008/early 2009. 
 
Of course, going through all of the technical challenges had taken its toll on some of the recording, but I believe "Lost At Sea" to be quite professional, and am very proud of the final musical experience. I am also proud of the strength and patience that was given to me through the many friends and fellow band mates of The Ancient Vision. 

What is the latest update on Ancient Vision ? 
 
The second in the conceptual series is underway. Again, thanks to technology, I am able to do most of this at my home studio. I am about 3/4 of the way through the initial recording/mixing of this project, which is tentatively titled "The Return: Ancient Promises." So far, things are going quite good, but still a bit slow, as life continues to challenge me. But,I feel very positive and quite pleased at the preliminary results. I will be singing a bit more, and using female vocalist a lot more, with some real sax/flute added. I hope to have a sample of this up on our myspace site soon (myspace.com/focusorblinders.) 
 
Despite of your co-operation with Tim Matyear from Jethro Tull, your music is mainly symphonic prog with some folk and jazz influences. But how would you describe your music and which bands or scene would you compare your music with ? 
 
Well as I've stated before, the masters of progressive/hard rock have influenced me through the years, but being from the Mid-western part of the USA, other things have also been an impetus into my writing. Believe it or not,even country music has crept into some of the guitar playing, as well as some jazz influences from the great history here in Kansas City. Along with more and more of my own style being the center of the music, groups like Eloy, Genesis,Tull, Mike Oldfield, Terry Riley, The Enid, all have little bits of their inspiration behind some of the atmosphere's created. 
 
What is your experiences with the music scene and the industry ? Where do you think it is heading ? 
 
Boy, this one could get a bit sticky, as everyone has an opinion about the music industry. I will say this, that from the local Kansas City scene, and with regards to people striving to play their instrument and composition in a progressive way, there is little or no scene at all. On the national, and international level, there is definitely some growth going on,especially in the avant/RIO genre...younger players stretching themselves, both instrumentation and composition. Groups like Cheer-Accident, We Insist!, Algemon, etc...these musicians are really doing something different and exciting. 
 
But, I must say that for my personal ears, heart, spirit, and emotion, the traditional giants - from any prog rock genre - are the gods of our time... Jethro Tull, Yes, Genesis, ELP, King Crimson, Van Der Graf, Magma,Univers Zero, etc, etc, etc,… the list is thankfully too long to type. It's amazing all of these were born out of the Beatles revolution of music and are such strikingly different. I would hope that the young groups in the genre would study/enjoy these ground breaking monsters of music. 
 
You are a daily user of ProgArchives and as you stated in your reply; you see the value of the inclusion of your band in our interview data base these days and long after your passing. A website which also includes opinions about and reviews of Ancient Vision. I guess you sweated blood when you recorded those three albums and they are your children. 
What do you feel when you read Ancient Vision reviews and opinions about your band ? 
 
Nice that you ask these difficult questions, as the answers are hopefully honest as well. 
 
The truth is this: their are a few of us out there, trying to compose, record, play live, etc...that work and live in every day lives. AND,we're trying to do this with the idea of sounding as professional as our heroes do/did. Very, very difficult to do. And it's not just that we don't have the money for serious studio's. As I stated before, these technological days offer quite a bit for the small private studio. But, those heroes of ours made a decision to make the creation and production and live performance of music their livelihood. The made the sacrifice. They took the chance, got some breaks, were there at the right time, etc...but me, I have always enjoyed trying to straddle a normal life, mixing it with an expressive one. Of course the results are better or worse than hoped for, but the dream is still alive. 
 
So, when I read reviews, of course I want it glowing, and most the time it's an honest, positive reflection of the music. When I read something that's critical of the music, I feel instantly bad...but then, as I look at what was written, I first of all remember that there's a lot of very positive things said about Ancient Vision, AND, I try and learn from the criticism...again keeping in mind, that we do this on a shoe string budget, and not enough time to give. 
 
Having said all of that, I will state: I am so proud of what we have done. The experiences we have had (and will have) and the new exciting things that we are creating right now are truly "dreams into reality." 
 
When yourself review albums by other bands for ProgArchives; does your experience of sweating blood on the three Ancient Vision albums sneak into your reviews ? 
 
Well, I guess it does just by osmosis...but, the thing I have always been able to do is; to just "listen, think, and feel" the music. Not initially do any real in-depth scrutinizing, just experience how it makes me feel and think. Then, as I listen on the second or third time,needless to say, if it's something that I write on Progarchives about, my own experiences betray my opinion some. 
 
Just to wrap this interview up; do you have any regrets in your music career ? 
 
My god, you really are asking the tough ones! Of course I have regrets. As I stated above, I chose to try and combine a "normal"life with being engulfed in this thing called progressive music. That choice lost a marriage (happily married now though!) - has kept me in the music retail instrument sector (tough times at its best) and never really living up to my parents hopes and expectations. But the truth is; I believe that I should have pursued music as a career, the first time I heard Tull/Oldfield/Eloy.... But, I didn't, and chose the perhaps more difficult path of betraying both elements of "normal life" and "music creation." 
 
That is why I am so thankful for the other members of Ancient Vision, who have supported my dreams, traveled to far away places, drank way too much Guinness at times, and sought to discover each others love for the expression of ones self through music. Through this commune of music, they have pushed me into completing the music that I love so much. 
 
What is your five all time favourite albums ? 
 
That should be a difficult one, but it's not: 
 
1. Jethro Tull - Aqualung 
2. Jethro Tull - Thick As A Brick 
3. Jethro Tull - A Passion Play 
4. Eloy - Planets 
5. Mike Oldfield - Ommadawn 
 
Anything you want to add to this interview ? 
 
The main thing that I would like to add, is a big thank you for your (Progarchives.com) continued support and encouragement of progressive music of all types. There are other sites also, but for some reason Progarchives.com has struck just the right chord. Through web sites and forums such as this, like minds from around the world get to commune with open minds about something that is very personal, and very dear to them. 
 
I would also like to thank the distributor's, both retail and wholesale/manufactures that support progressive music of which there are too many to name, but to not mention Archie Patterson (Eurock) - Greg Walker (Syn-Phonic) - and Bernard Gueffier (Musea) would be doing a disservice, as they have been such wonderful friends, guides, and fellow travelers of progressive music. 
 
The thing that I hope for the most is; that there continues to be anew generation of progressive thinkers/musicians that will follow that spirit of heart and mind combining to make creative music. 

A big thank you to Tom May for this interview.

Ancient Vision's PA profile can be found here and their homepage is here