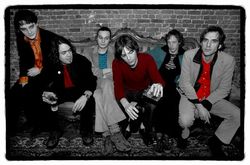 Die Anarchistische Abendunterhaltung is perhaps the band with one of the longest band names in ProgArchives. They therefore often shortens their name to DAAU. Their albums is pretty good so I got in touch with them through their manager Eric Didden. Han, their clarinet player answered my questions.
------------------ 
When was Die Anarchistische Abendunterhaltung formed and do you have any background from other bands ?

DAAU was formed in the early 90's, although we don't remember exactly in what year it happened. Probably 1992. In the early nineties,  Adrian Lenski  had a band called 'Subconsciousness'. Their sound was a strange mixture of modern classical with new wave minimalism, Joy Division style.  They rehearsed in the Lenski's music room. I was a friend of Buni, Adrian's little brother. I was 13 years old and completely fascinated by their music. Sometimes Adrian asked  Buni  to play violin with them. Another invitee was Roel Van Camp, a school mate of Adrian's. He played accordion. When the two of them performed with the band, they were announced as 'Die Anarchistische Abendunterhaltung'. After Subconsciousness fell apart, Buni and Roel decided to continue making music together. They asked Simon, Buni's younger brother on cello. I played clarinet myself and joined the band. We were only 14 or 15 year's old and apart from the experiences with Subconsciousness, we never played in a band before. So we just got started in a very naive way, trying to reproduce the energy of a rock band with our classical instruments. And as we achieved this goal in a very natural way, we didn't think one second about changing instruments, picking up guitar or bass like  many kids do in their search for rock&roll heaven. We catched the attention of the girls by playing violin, accordion, cello and clarinet! We played on street corners and in local bars.  Soon we started to play real gigs, mostly supporting Antwerp rock-acts such as dEUS, Moondog jr, etc.

Which bands were you influenced by ?

From the beginning, we didn't want to play a 'style'. We wanted to put everything in our music that we liked ourselves.  We liked the energy of rock and the exploring nature of 'experimental' music, electric or acoustic.  We didn't get why people made a difference between so called 'art' music and popular music. We listened to everything that we put our hands on from Stockhausen to Crass.  And of course we were inspired by our classical music education. Some of the bands that  influenced us because we tried to do in our way what they did are Sonic Youth, Soft Machine, Pink Floyd, Velvet Underground, Lounge Lizards and Kronos Quartet. We also got inspired by composers such as Shostakovich, Schnittke, Gorecki, musicians such as Jimi Hendrix  and rock bands like Nirvana, The Pixies,... I think we were also inspired a lot by dEUS, Kiss My Jazz and other Antwerp bands, as they showed us how to have confidence in your own creativity. Single albums that I like to claim as influences are : Sweet Smoke-Just a poke, Tom Waits-Swordfishtrombones, Keith Jarret-The Koln Concerto, The Doors-Absolutely live, Violent Femmes-Violent Femmes.
These were our influences, and not, as a lot of people referred to, folk music and minimalism genre Philip Glass. As a matter of fact we hated folk music, because it didn't have an edge, and we hated Philip Glass for the same reason. 

Please give me your (long or brief) thoughts and lowdowns on.......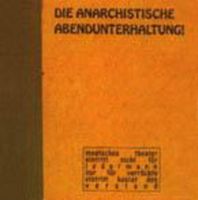 Die Anarchistische Abendunterhaltung from 1995

Our first album. On this record you can hear us exactly the way we sounded in the early years: it was recorded in two days. In the beginning, we didn't think of making an album. When we rehearsed, we used to put several small ideas one after another and then start to jam on it. This way the 'Driesl*gstelsels' were born. We played them as loud and fast as possible, jumping up and down like old school punks. The cello provided the heavy bass drive, pumping along with the accordion, while the violin and the clarinet used to scream out on top. We tried to build the music up to long ecstatic climaxes and then suddenly take the listener into a different mood.  It's also a very melodic album. I think we were afraid of being boring. The music was the result of playing three years  in bars in and around Antwerp. We also went a couple of times to France, where we travelled around with our instruments and busked on the streets.
It's very unspoiled music, without any rational or commercial consideration, romantic, highly naive  and 100% organically grown. But in my eyes it's got a certain innocence which is impossible to keep over the years. 
The album was a big success in Belgium and Holland. Suddenly we found ourselves playing in concert halls, at festivals, etc. We got a lot of media attention, went to tour abroad supporting Bjork and Tortoise, and were offered record deals by any major company. We went to New York and signed with Sony Classical. Of all the majors, they offered the biggest money. They had an ambitious plan: to give their label a new, sexy appeal. They figured out that we had to become their flag-ship.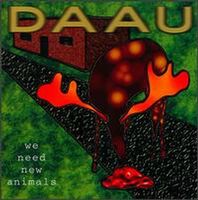 We Need New Animals from 1998

With the Sony dollars in the pocket, we got ourselves a pile of electronic effect pedals, samplers and recording gear, and went to Spain to record a new album.  The reason for this change was double: first of all we we tired of playing the music of the first album. But more important, we were excited by the idea of doing something completely different. The way we saw it, an artist has to evolve, explore new ways of expression, surprise his audience.  But what Sony really wanted was something else: they expected a sequel to our first album, showen to be such a big success with young people. It was the beginning of a long lasting war with the multinational and its employees. 
We took interest in trip-hop, dub, and different world music styles (balkan, flamenco, ...) We wanted to add more colours to our sound. We used effects on the instruments, programmed beats, and invited  guest musicians and singers.  But the creative process was very chaotic. Sony got scared. In an attempt to rescue the project, they hired Michael Brook as a producer and sent us to Peter Gabriel's Real World Studios (what's in a name!). He did a great job, but it was too late: DAAU wasn't anymore that easy marketble group of cute youngsters that played music which sounded classical but wasn't. In fact we had become any marketeer's nightmare.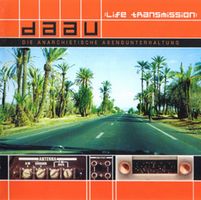 Life Transmission from 2001

This is our version of pop music. It's a rather abstract version, a possibility. We tried to make a mozaique, a colourful but coherent collection of extremes: symphonic orchestra parts, hiphop tracks, dirty electro, intimate acoustic songs, etc...Whether we achieved our ideal or not, I leave to the critics. We wanted Mad Professor to mix the album, but Sony was pissed off. They said dub doesn't sell. They fired us.
Sony asked Dan Lacksman to mix the album. He was one of the members of Telex, an 80's Belgium electro-disco project that scored a hit with 'Moscow Disco'. The album got a very clean, almost clinical sound. When I listen back to it today, it sounds very strange but rather interesting, almost as if the music is made by aliens. But that's my personal impression of course.
 
After being sacked by Sony, we founded our own record label: Radical Duke Entertainment.
Newspapers in Belgium stopped seeing us as the next national pride in the global soccer game of popular music.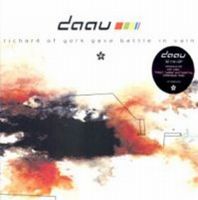 Richard Of York Gave Battle In Vain from 2002

The first album on our own  label. It's the music  we wrote for a piece of contemporary dance. It's similar to life transmission because it's going in many different directions, but the general atmosphere is more experimental.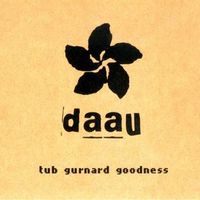 Tub Gurnard Goodness from 2004

A return to our roots: acoustical, instrumental music. Also an exercise of revenge to Sony Music: we threw away our electronic gear and returned to the sound of the first days. When we stayed in Spain to record the second album, we had been playing with local flamenco musicians. We composed music together and toured for a while. A fascination with gypsy and oriental music was the result. You can hear echoes of this music in almost every album we made, apart from the first and the last one. Also Tub Gurnard Goodness is very much influenced by balkan music. Another part of the music was made out of improvisations and sounds more modern classical, for instance the first composition ' My goodness!Poetry'.
We decided to play the concerts following this release with a new line-up: bass and drums were added. The gigs were becoming more and more groove-driven, DAAU became a sort of high-energy gypsy-punk band. By playing a lot with the new musicians, who came from a jazz and rock background, we developed a new sound, which resulted in Domestic Wildlife.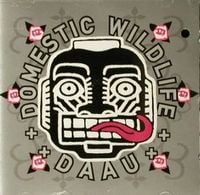 Domestic Wildlife from 2006

Recorded as a sextet, with double bass and drums. Later on Buni left the band and we continued as a quintet. It was a great album to play live, very energetic, based on rock and drum&bass beats. We had a lot of fun. The audience too. 




Unser Taglichen Brot/Our Daily Bread from 2007

This is an Austrian documentary about the food industry. What you see is a wordless stream of images, shot in industrial agricultural sites around the world. The images are beautiful, poetic and shocking at the same time. They make you think about the place of humanity in the way we relate to a completely industrialised production system. We were asked by the Unheard Festival in Amsterdam to perform a soundtrack to this music. 
We also made the music for another documentary, 'Archipels Nitrate', by director Claudio Pazienza. This film is enterily made by images collected in the Cinema Musuem in Brussel. It was presented at the re-opening of the museum.
Both experiences have deeply influenced our music. We learnt to make our music less dominant, more suggestive. We had to think profoundly about the emotional content of sound, and how to create it,  because the music has to dialogue with the images in a precise way. 
At the same moment we worked on the release 'This Immortal Coil', a tribute album to Coil. French label Ici d'Alleurs invited us, along with artists such as Binnie Prince Billy, Yann Tiersen and Matt Eliot, to rework some original Coil compositions. Also this project had a big influence: we discovered harmonic and melodic minimalism.

What is your latest update and what is your plans for this and next year ?

In 2009 we started to work on a new album. Buni had left the band, and we decided to work again without drums. We got together  to improvise on a regular base. No plans, no compositions, just instant reaction. The result is very slow and minimalistic music with a strong 'pastoral' feel. We created our own Arcadia: a musical universe that is regulated by the slow, the kind and the unfinished. We slowed down the pace of time, introduced silence and discovered the musicality of simple notes, the beauty of pure sound. It's our reaction to the accelerating world, a utopic manifest.  We released the album in April 2010 as ' The Shepherd's Dream'. 
There are plans to make the soundtrack for another movie next year. We also will start to work on a new album. We want to explore even more the organic way of playing and composing we found with 'The Shepherd's Dream', but the general feel may be less bucolic. We'll see. 

How is and was the writing and creative processes in your band ? 

Untill recently, most of the compositions were based on ideas of one of the band members: sometimes nothing more than a couple of riffs, sometimes entire arrangements. Then we would start to jam on it and develop the original idea.
With the last album we deliberately changed this working process. The exercise was to sit together and start to improvise out of nothing. Not jamming, but instant composition. We recorded everything. Then we reproduced  the parts that we liked. Some of the compositions were improvised entirely in one go. We kept our hands of the original improvisation in order the keep the organic, unfinished feel, that would get lost if we would rework the arrangement in a traditional way. Sometimes we puzzled a little with the material, but always careful not to brutalise it.

How would you describe your music and which bands would you compare your music with ?

I don't know a band which can be compared with ours.


You have included the Anarkist word in your bandname. Are you political anarkists or is this just an expression of your musical philosophy ? 

The name of the band has a poetical meaning, it's not about anarchy in the first sense. 

How is your current gigs situation ?

DAAU is above all a live-band. We released our new album in April and have been playing around Europe since then. We will continue to play in Europe this year, and we hope to make it to other countries as well. We were very much surprised by the very positive reactions on our new set, which is completely different compared to what we did before.  We play a lot in rock venues, festivals, etc. These are not evident places to experience the slow and quiet music of our new album, but often the concerts turn out to be real magic. 


What is your views and experiences with the music industry ? 
  
The music industry is, off course, as profit driven as all other industries. That's a fact, not a problem.
  But what you see today,  is that their possibilities to make profits are very much reduced. They search for ways to squeeze out a dry tomato. They take no more risks supporting artists that don't fit with the supposed taste of the week. They just aim to be original in the marketing field and abandon the idea of an album as a piece of art. Traditional music industry has become a full-time marketing affair. They are selling air mostly. I don't care. There are enough people who don't like their air. We shouldn't complain about the music industry, but realize that we are  the music industry ourselves. 
A big thank to Die Anarchistische Abendunterhaltung  for this interview.
I hope the Yotube videos has made it clear that this is a Belgium RIO/Avant-Garde band and a pretty original one too.

Their PA profile is here and their homepage is here