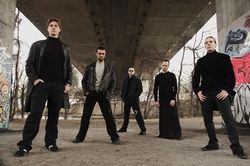 Alkemyst is a prog-power-metal that was born in France, in Annecy, in 1992, first under the name of Endless. 

In 1998, the band changed its name to Alkemyst. Since then, it has been performing all around France and Europe with their characteristic brand of power-speed Progressive-metal, with special focus on songwriting and musicianship.

I caught up with Arnaud Menard for their story.
~~~~~~~~~~~~~~~~~~~~~~~~~~~~~~~~
What are you up to these days ?
We are currently rehearsing in order to perform our next concert under the best conditions. We just came back from a short winter tour with Broken Mirrors, and now we just have two concerts left. Then, we'll probably work a bit more on writting new stuff. Everything is alright ! It has been a very good year for ALKEMYST, and we are happy some people are still interested in our activities, and send us some questions :).
When was Alkemyst (Endless) born, by whom and how was your formative years ?
Endless was born in 1992. I was 13. I had this project of creating a heavy metal band, and I began to search for people interested in involving themselves in writting their own music. As the metal scene was quite small in my area, it took many years. I was a passionated metal fan, and I felt a NEED to perform and create some good pieces of music. I can't explain it; I only can say that I've always been a creative-tempered being, and maybe I finaly found out during this teenage years the right way to express myself. In the begining, we were a bad imitation of the bands we were listening to. We did covers, and dreadful original songs. With the time, we worked hard on our instruments and seriously study a bit more music. When we talk together with Séverin, Denis and Arnaud, even though we did not know each others between 1992 and 1994, our original motivations were all the same, and our individual roads have a lot in common. I know Denis Mellion (bass) since 1994, Arnaud Gorbaty (drums) in 1996, Séverin Bonneville completed the band as a guitarist in 1998.
In 1998, the line-up was completed, and we began to play live. We recorded two demos in 1999, then change our name into ALKEMYST. In 2000, Ramon Messina entered the band as a singer. We recorded our first album, "Meeting in the Mist" in 2001. Due to a hard drive crash, we have had to record it twice. It was finally released in 2003 by Nuclear Blast records.


Your first name was Endless and I wagely remember a French band with that name. Please tell us more about your activities under that name.

"Activities" is a big word ! We were a bunch of teenagers trying to improve in order to reach their idols' level, in terms of writting skills. We recorded, I think, two or three very uninteresting demos. We were not good at all ! Although we were unable to play bearable stuff, I still remember some good pieces of riff. As a lot of people ask me about that period of our musical activities, I might well rearrange and record some couple of songs by Endless. As a prehistoric document, it could be interesting.

Please tell us more about your two demos.
"From Depths To Light" and "A Path to Heaven" were recording with a different singer than Ramon. Each demo contains two songs. The first demo was recorded to allow the concert venues to take a listen to our music. I think the master tape must hide in the depths of Séverin's home, but there is no need to hear it again : this effort was quickly recorded, with a poor sound, and we were not satisfied with the result at all. The second one is more interesting : we recorded it in a professional studio, and it contains primal versions of "It's Time" and "Up to Heaven's Gate", two songs you can discover, in more elaborate versions, on our first album.

You were snapped up by the biggest metal label in the world; Nuclear Blast for your first album. How has it to work with such a big, diverse label ?

Well, it was great, because NB are a very professional label, but on the other hand, as we were a very small band, we were not so much supported. It did not give us special opportunities, but, surely, we enjoyed a larger exposure than now.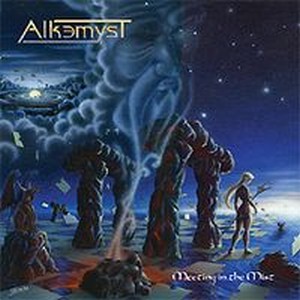 Please tell us more about your first album Meeting in the Mist from 2003.
As I told you, we recorded it twice, since the first version disappeared in a hard drive crash.
I think it is a good album, a good selection of the best we could do during that period. It contains the songs we selected among all those we wrote from 1996 to 2000. The production is clear and the instruments sound very natural. It a bit a paradox, but this a bit "vintage" production doesn't sound out of date, like a lot of "overproduced" albums. I keep on thinking "Meeting in the Mist" is a very good piece of work. We still are proud of it.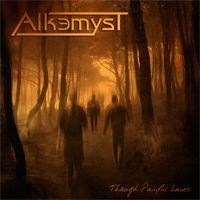 Please tell us more about your second album Through Painful Lanes from 2008.

For the first time, we decided to take care of all the technical aspects of the production, mainly due to financial issues. We had very few money to do it, so it was a challenge.
TPL has been a tremendously difficult album to write and record. During the songwritting period, I suffered from a very serious nerve injury which prevented me from playing guitar for two years - I recorded my guitar parts without having never played them before. Basic tracks were composed with the computer, we have had no opportunity to seriously rehearse the new songs, etc. Hell.
These difficulties made the writting process unusualy long, but as we are perfectionnists, we held on. We had the project to go further "meeting in the mist" in terms of inspiration, and to write songs that convey a wide range of sensations and atmospheres, without loosing any bit of power. I think we managed to do it, since the critical reception of this album is great ! TPL contains 9 songs of solid and inspired melodic metal, including a cover from Helloween, "Eagle Fly Free". We took a lot of pleasure recording it; it was an occasion for us to honor a major band and a major influence.


What is the musical philosophy behind Alkemyst and how would you describe your music ?

Our musical philosophy is quite simple to explain, but very difficult to apply : writting the best music possible, working very hard on details, always trying to improve our songs without loosing our personnality, in the respect of our common musical background.
Our music is rooted in melodic metal music, with influences from Helloween to Opeth, but has got a progressive touch, if you name progressive the constant will to explore our musical potential and a certain taste for sophistication. 


What is your plans for this year and where do you want to take this band ? 

Right now, after a small European tour in february, we still have to play in june, near our area. Then, I think we will stop playing live to concentrate on writting our new album. We also have recorded a lot of live stuff we would like to share with our fans, but nothing is decided yet.
Our aim with this band ? On an artistical point of view, we have really no limit but our tastes at the moment we write our music. On a more "material" point of view, we have to cope with our "ordinary" life, our regular jobs and so on, so it is sometimes difficult make everything we would like to do. Let's say we wish our music to be known and appreciated by the largest audience possible.

Just to wrap this interview up; do you have any regrets in your music career ? 

My only regret is not having exploited all the possibilities our contract with Nuclear Blast could have offered us. It was a complicated period for us, we were very young and very ignorant about the way we had to build up our musical carreer. We have lost a long time, being kind of paralized, when we should have acted in order to make our name known. Well, that's the past. Moreover, the conditions were different than now, and I think we could not behave in a different way.


What is your five alltime favourite albums ?
Well... I got a lot of favorite albums ! More than five, sure !
But I will try... Concerning the metal part, I would say EMPEROR and "Anthems to the Welkin at Dusk", HELLOWEEN and "Keeper of the Seven Keys part II", OPETH and "Blackwater Park", CYNIC and "Traced in Air", and maybe ANOREXIA NERVOSA and "New Obscurantis Order", which is a monument of true grandeur and hate.

I also listen to pop artists, such as Jeff Buckley ("Grace" could have been inserted in my Top Five albums) or Tori Amos, or even Depeche Mode. But, over the top, always stand some classical composers whose work have had, these last years, an overwhelming influence on the way I listen and write music : Wagner, Bruckner, Hans Rott, Berlioz, Ravel, Schmitt, and so on... I'm a lover of symphonic music, from the second half of the XIXth century until the World War II. Bruckner's last symphonies peculiarly move me. 

Anything you want to add to this interview ?  

Thank you for your interview. I would just tell the reader to stay tuned, because we will probably put some interesting stuff online between now and october. I won't say more, but I think our fans will love it !
Thank you to Arnaud Ménard for this interview.
Alkemyst's PA profile is here and their homepage is here