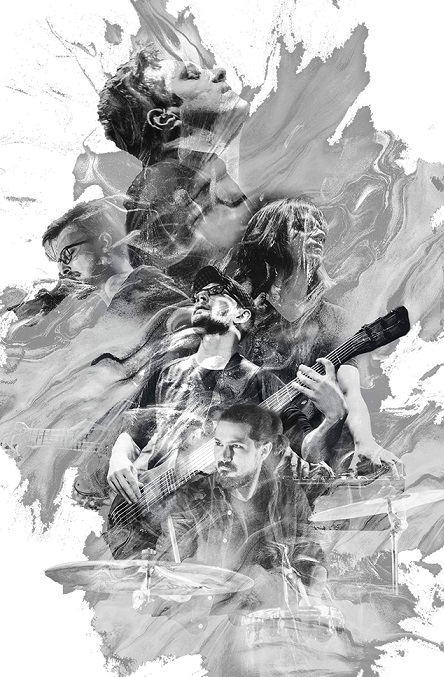 There are some bands in ProgArchives database who due to various reasons does not get the attention they deserve. I have to admit this is one my main motivation when I am compiling this ProgArchives interview database. I believe all good bands should be heard. 
One of these bands are Byron from Romania and I am delighted to bring this interview with them. With some support and very hard work, Byron has all the right attributes to make a name for  themselves. Let's hope we in ProgArchives can give them a small push. I contacted them for their story. Dan answered my questions.
##########################
Your background is from the bands Kumm and Urma. Please tell us more about these two bands.
Kumm was initially a prog band. I was a big fan of them (and a good friend). One year after the release of their first album, "Moonsweat March"(2000), they wanted to expand their horizons more into alternative and asked me to become their singer. Of course I accepted, even though I was supposed to move from my hometown and leave the band I was playing with. We've released two albums together, "Confuzz"(2002) and "Angels & Clowns"(2005), both pretty well received by the underground community.
Urma is a band I imagined in 2003 together with Mani Gutău. We met in Cluj in a friend's house and played anything we had in mind. Few weeks later we had enough songs for an album. So we gathered a band and went to a studio. Until 2007 we had released 3 records, "Nomad Rhymes"(2004), "Anger as a gift"(2005) and "Trend Off"(2007). With Urma I explored some other skills I have – I played mostly guitar and flute and sang just a little, the lead singer being the other guy. We were somehow an unplugged band, a friend of ours said we were playing "chamber grunge music".
When did you set up byron ?
We gathered in the autumn of 2006.
Please give me your (long or brief) thoughts and lowdowns on.........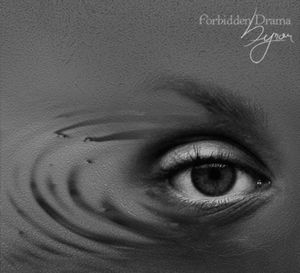 Forbidden Drama from 2007
Forbidden Drama is an album I wrote in 2006 during my departure from Urma, while I was looking for fine musicians willing to join my new project. It was a time of meeting new people and old friends together. They all inspired me to write new material.
On December the 1st we had our first club gig in Bucharest (it was sold out) and we played the album almost entirely. The people's reaction was surprising. They listened. There was silence on a Friday night in a club. Strange.
In January we had all the songs prepared and we started looking for a studio. Which is not an easy task in Romania, I assure you. I mean we have a lot of studios, of course, but generally not well equipped and usually managed by people who are not really sound engineers. We don't have a sound engineering school either. Anyway, in the end we were lucky enough to meet Victor Panfilov, a 43-years old quantum physicist & philosopher, who also played guitar in a metal band and had a studio pretty well equipped in his own house. And he really knew how to use it.
We finished the album in 7 months, we worked as hard as you can imagine, paying attention to every single detail. We started in March and finished in September. The studio was paid by some of my friends (Victor made a big discount for us anyway, he was already involved big time). Meanwhile we found a label willing to manufacture and distribute the record (another friend of ours knew the owner and invited him to a gig).
The artwork was done by some other friends who had a design company, Verticals.
We released the album in October 2007 at Fabrica (The Factory), a new club in Bucharest then. Again, we were lucky enough to know the right people - we received a sponsorship from two major companies in order to have a national tour.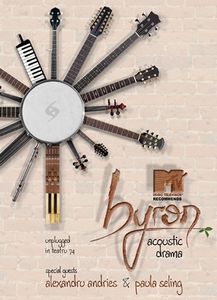 Acoustic Drama from 2008
Acoustic Drama is an unplugged version of Forbidden Drama, released on DVD. For years I dreamed of recording a real unplugged concert with a real piano, acoustic guitars, upright bass and a string quartet, with nice guests in a small special place. So this was my dream coming true. We played in the Butcher's Bastion in the medieval fortress of Târgu-Mureş city. There is an alternative theatre club there called Teatru 74 (Theatre 74). The bastion loft is barely touched by modernity, with few wires, some spotlights and 74 seats.
We rehearsed almost two months for this gig, making different versions for the songs, adapting them for acoustic instruments, writing scores for the string quartet, changing the initial vision. Two new songs were chosen to be some kind of a teaser for the next album. We had two guests, major artists in Romania, who sang one of our songs and one of theirs.
We did this completely independently, and the footage turned out really good. By the way, it was edited by Victor, the sound engineer I mentioned before.
The artwork was made by 6fingers, our keyboard player.
We released the DVD in October 2008 at Palatul Copiilor (Children's Palace) in Bucharest, re-doing the show entirely on a proper stage this time. Two weeks before that, 8 of the songs were played on MTV Romania in prime time, thanks to Codrut Dumitrescu, our manager since day one.
In December we had a little tour (4 cities) with the whole production, sponsored again by a major company.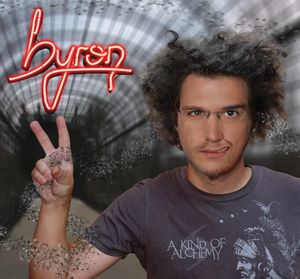 A Kind of Alchemy from 2009
By the time we were mixing Forbidden Drama, I began writing a new album, focusing my attention in two different directions. I finished it more than a year later.
We recorded it in the summer of 2009 in the same studio. This time it only took us two months, but I can assure you it wasn't easy to do it this fast. We spent many nights at the studio. And somehow we managed to release it in October, the same month our fans have gotten used to receiving new stuff from us. A tradition of sorts.
The artwork (we chose to make a bigger package for it, a DVD-sized art book) was again made by 6fingers, who had really outdone himself, making a different graphic concept for every song.
The release party was huge, in a new Bucharest club called The Silver Church.
The following tour was the first independent one, without any sponsorship, probably because of the economic depression.
How is your creative and writing processes and which themes do you deal with in your lyrics ?
For me it's enough to have an idea like a musical theme or a good lyric. The rest is craft, experience, artistry. Usually it takes me a day or two to write a song, but writing an inspiring theme can take up to a month.
Regarding lyrics, I'm very influenced by my environment, I'm usually writing about society and mankind. I like to have a major theme for the whole album, but I don't write that kind of concept albums some old bands used to do. I don't like to have a continuous story, I like to walk between states of mind, to make them grow in a direction or another, but at the same time having an axis to spin around.
I have to mention that 6fingers wrote a song for each album. The other guys contributed only with arrangements.
You are a bit of a strange bird in the progressive rock landscape due to the commercial successes of your independent released albums in your homeland. Albums I am listening to now and feel really deserve a lot of respect also outside your homeland. How would you describe your music and which bands would you compare your music with ?
Our music is a cocktail made of all the beverages we ever liked. I don't think you can actually call it progressive, maybe you called it like this because of its diversity. I usually call it rock-oriented music. I don't know how to compare it to other bands, but I can tell you that we listen to a lot of music from different genres.
Oh, and we still don't have any commercial success worth mentioning. We still play clubs and search for the money needed to make a new record. But we're doing it, no matter what. This world was never fair anyway.
The ex-Stalinist state Romania is perhaps a bit of a mystery to us all with Count Dracula and Transylvania as perhaps your best known cultural contribution to this world. How is the music scene in Romania and life in general ?
Yeah, Bram Stoker did it to us. We had a lot of important cultural figures here apart from that famous fairy tale. International ones too – Brâncuşi, Enescu, Eliade, Ionesco, Cioran, to name a few.
These last 20 years we've tried to erase the communist scar from our face and be more than just some freaks from Transylvania. We didn't finish the task, but we're still working on it. It's incredible what dictatorships can make of the people.
The musical scene here is rather small, the biggest stars play at weddings, the mentality in general is somehow wrong, everybody's trying to make a lot of money overnight (there are exceptions, of course). The underground scene is tiny but pretty nice, we have some notable bands, almost all of them are copying someone from the West, but still, they play from their hearts.
As I touched upon at a couple of questions ago, you are pretty big in your homeland and your music should do well everywhere. Do you have any plans to play gigs and market your albums in the rest of world like your fellow countrymen in Negură Bunget have done ?
We would surely like to, but we're not familiar with this road or any person who walked it. We've only played once outside Romania at a festival in Sarajevo.
We sent materials everywhere, at most European festivals, at every label we considered it was worth the try. No replies besides the automatic "thank you for your email". Considering this, I concluded that the only possibility for us to market albums or play gigs outside Romania remains chance. But our music is available in digital format outside Romania in the usual outlets: Amazon, iTunes, Bandcamp etc.
What are your plans for the rest of this year and next year ?
We have some projects in progress, including a new album for the autumn.
What are your five favourite albums of all time ?
Peter Gabriel – Up
Led Zeppelin III
My Brightest Diamond – Bring Me the Workhorse
dEUS – In a Bar, Under the Sea
King Crimson - Thrak
Anything you want to add to this interview ?
Yeah, I would like to mention the other guys: Costin Oprea – guitar, Cristi Matesan – drums, Vlady Sateanu – bass, 6fingers – keyboards, and the crew: Clara Litescu – live sound, Tibi Nedelcu – lights.
A big thank you to Byron for this interview and to my fellow collab harmonium.ro for making me aware of Byron and their music. 

Forbidden Drama (2007) is available as a free download from
here
A Kind of Alchemy (2009) is available as a free download from
here