Odd Logic from USA may be an odd band (sorry, but I could not resist). But this band is in the Ayreon mould and a pretty innovative band too. They are also pretty unheralded here in PA, but I think they deserve our attention.
I got in touch with Sean and he kindly answered my questions.
=================================================
When was Odd Logic formed and do you have any background from other bands ?
Odd Logic was formed in 2003 after my local Seattle touring band MINE! disbanded in 2002. MINE! had one independent album "Powerlines" which we toured WA on including some opening stage gigs for Sting, Journey, and John Waite. Odd Logic was formed as an outlet for my true passion of more progressive, hard-edged rock. The first album "Parallax Panorama" featured a guest percussionist and bassist who are in reality my alter egos. Starting with "Legends Of Monta: Part I" I am playing all of the instruments and recording all vocals. A few guests including my wife and family have helped with voice-overs.
Whose bands were you influenced by ?
Wow, so many bands and musicians to list. I've listened to everything from classical to Latin to art rock to death metal, etc… and have taken from all of them. If I had to narrow down some influences, I would have to at least mention the music of; King's X, Yes, Kansas, Rush, Queensryche, Dream Theater, Fates Warning, Styx, Rainbow, Enchant, The Police, Symphony X, Megadeth, Joe Satriani, Stevie Ray Vaughn, Al DiMeola, and many, many, many more.
To start with; please give me your (long or brief) thoughts and lowdowns on.......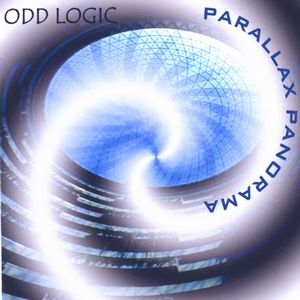 Parallax Panorama from 2003
This album was a compilation of tunes that either didn't fit the MINE! format or were slated to record for the new MINE! album. Distance issues were a large reason for MINE!'s end plus I felt a real need to get out a different sound. This album is a themed collection of songs about the different emotions we experience through life. The whole album was recorded on a digital 16 track machine and mastered in house.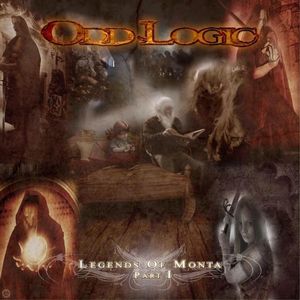 Legends of Monta: Part I from 2006
This release is the first of a 2 part story that began with a round robin fantasy story that my father and a friend got me into for some fun on the side of life's everyday hum. We wrote a few pages and passed it to the next guy. My father and I adopted the story, effectively transforming it into a musical screenplay if you will, ready for an album format. It is a typical fantasy hero/villain epic with some cool ideas to write music around. It was my first opportunity to write with sound effects in mind and a true concept rock opera delivery. With many family members getting involved, this was a very rewarding and fun experience. This was my first studio album recorded on PC format from start to finish and again mastered in house.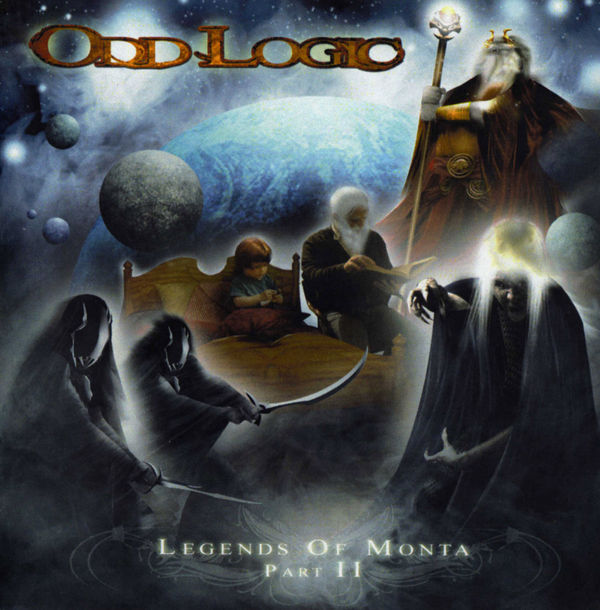 Legends of Monta: Part II from 2009
Monta II is obviously the conclusion to Part I. Another round of guest voice-overs and a better in house mastered release. This is the best sounding album so far for Odd Logic.
You are currently working on a new album. Please tell us more about this album.
I am very excited about the new album which should be ready for release sometime between the end of this year (2010) and early next year. This is another concept album yet different from what I have ever done. It is a "sync-to-movie" project meant to be played as a new soundtrack over a particular movie which will not yet be revealed. Some of you are aware of the more infamous syncs such as Pink Floyd's Darkside of the Moon and Rush's 2112. Where these artists choose to remain mysterious with their intentions, it is my goal that I may openly offer a sync with proper instructions included. This may ultimately be a dud, or with a little luck, enjoyed by many. Time will tell. With much of the scene changes dictating song pace and direction, the music so far has turned out very non-traditional in structure yet still nestled into the proper prog rock/metal arena. As it sits now, there will be 5 parts, the longest around 20 minutes, and each standing alone as its own work with vocals and some common themes throughout, giving the entire effort the continuity that exists in concept albums. This will be my first project not mastered in my studio. It's time to let someone else try. No I haven't been ego driven, I just haven't had the extra cash. Oh the life of an independent musician.
What is your other plans for this year, besides of this album ?
As far as this year is concerned I will be finishing vocals on the debut album for another local band in Seattle/Tacoma, WA called Graphic Light Theory. They are a metal band with influences such as Megadeth, Porcupine Tree, Iron Maiden, Fates Warning, Rush, and Rainbow. We will be scheduling a few live shows when the album is complete. Check at myspace.com/graphiclighttheory for future details.
How is the writing and creative processes in your band ?
I usually have a fairly consistent cycle I run through from album to album. While promoting, selling, and begging for attention for the first 6 months after an album release, I'll use that time to relax, let my mind reset, and help out other musical friends with their stuff. That separation is important to keep the music fresh. The next 6 months are usually sample building months. I carry around a digital recorder and try to sing or hum something new into it every day whether I am at home or driving around. Sometimes it is just strange noises that are supposed to be drums and bass, or a crazy mouth mimicked Zakk Wylde-like guitar solo. I get some weird looks when my windows are down. At that point a year has passed and I begin to think about the next concept. I start cataloging my ideas and then recording begins. I usually skip the full tilt writing stage and just start recording the album from start to finish with the sample outline I've laid out, leaving plenty of room for spontaneous new stuff as I go. I find it is more exciting and enjoyable this way. If I come back the next day and the previous part does not capture me, I simply try again until it is right. Recording an album is about 9 months and then the remainder of the year is mixing, mastering, and dealing with my artist and manufacturer. So that's it. The cycle usually takes between 2-3 years and it starts again.
How would you describe your music and which bands would you compare your music with ?
I have trouble describing my music because all of our ears are so subjective. I prefer the listener to come up with their own opinions without expectations. The influences above are as close as I can offer for comparisons. I'm just humbled by anyone who finds it enjoyable and I always will be.
How easy/difficult is it to promote your albums these days ?
Of course with the internet there has been an explosion of opportunities for independents to get their stuff out there, but that can only take you so far. Marketing is still something that takes money, know-how, and luck. It will never be easy. This is why sites like ProgArchives is so important so that prog-heads like myself have a common place to meet and share new ideas and new bands. Simply awesome!
What is your five favorite albums of all time ?
I guarantee you that I will think of more later and slap myself for not including them here but this in fact changes daily. Now, I am 36 so remember I am a child of the 80s. So, in no particular order let me go with;
Queensryche - Rage For Order
King's X - Gretchen Goes To Nebraska
Kansas - Leftoverture
Enchant - Break
Porcupine Tree - Deadwing
Anything you want to add to this interview ?
Thanks everybody. Keep checking
my homepage
and
cdbaby.com/oddlogic3
for news and updates. Thanks Torodd and ProgArchives for the interview. Keep up the great work! 
Thanx to Sean for this interview.
Odd Logic's PA profile is
here