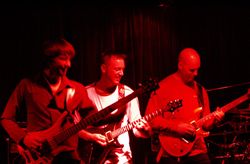 This is one of the two bands with the name Capharnaum listed in ProgArchives.  I am saying this because I first sent this band a very good interview sheet about the tech death scene in Florida. I was very pleased with my list of questions.......... until this band pointed out that they were a heavy prog band from Canada. Ooops... 
Anyway,  Capharnaum is a very promising band from Canada with two good albums under their wings. They are also signed on one of the more promising record labels on this planet. I got in touch with them for their story. Francois answered my questions.
&&&&&&&&&&&&&&&&&&&&&&&&&&&&&&&&&&&&&
Our Capharnaum biography is excellent so I am not going over that again. So to start with; please give me your (long or brief) thoughts and lowdowns on.........

Intrumental from 1999
At the beginning of the '90, Capharnaüm was mainly metal oriented while playing our favorite music's of that time (Metallica, Anthrax, Megadeth and so on). In between our gigs, François Blanchard wrote our first songs and brings them to the band. With the lineup of 1998, we finally decided to only focus in playing our own compositions.
Intrumental, was the first full-length demo "custom made" and proudly recorded by ourselves. Well, none of us knew what post editing was, so… we did it live in one shot. We learned the basic of recording with of course some mistakes but with a lot of passion while keeping our naïve way of doing music. This album is sold out and has never been reedited.
Some day, we may record them again. So, if you are lucky and you got a copy of Intrumental, please keep it.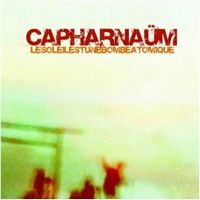 Le Soleil est une Bombe Atomique from 2006
Le soleil est une bombe atomique, is for sure a beautiful happening in the life of Capharnaüm.
Imagine yourself at the end of your twenty years old, being all gear set in a chalet (Wild studio), up north in St-Zénon (Québec) and recording loud music day and night with an Xbox waiting for the one who wanted to relax... So, that was it!
Recording that album was a way to turn a long "page" in our history since we succeed to give life to 10 songs that we played in numerous scenes all over Québec state. To achieve that, we went in different studios and try and try again. For two consecutives summer we were the "test sample" for a Switzerland studio recording school that came to Montréal to practice recording bands (in 2004 and 2005). This occasion kick us in the right place to decide to make a full-length album.
We will not forget Fred Lanteigne and Pierre-Hugues Rondeau who teach us the art of playing in a studio and greatly help to get to the point with this album.
What have you been up to since 2006 ?
In 2007, we sign a distribution contract with Unicorn Digital, a progressive label based in Montréal http://www.unicornrecords.com/. At the end of that year, we unfortunately face different unexpected conflicts with our bass player that brings us to continue with only 3 members, the Blanchard brothers (François and Marc-André at the guitars) and Maxime Brisebois (drum).
Of course this double happening (signing a contract and loosing one player) was a bit of a strange dream for Capharnaüm. Fortunately, we met different people who gave us new energy. In 2008 and at the beginning of 2009, we bring our group to another level with a live show in cooperation with a VJ, name Mothlight and the Mosquitos http://mothlight.ca/, thanks to Dustin Molicki. Our instrumental music mix with projected images in a live performance was just perfect!
But at the end of 2009, François Blanchard had to leave Montréal for a contract in Japan (not for music related things) and thus Capharnaüm become a virtual band (at least for now until… not determine yet).
How is the writing and creative processes in your band?
Because of the virtual fact of Capharnaüm as it is now (François in Japan, Marc-André in Québec and Maxime in Montréal), this time is for composition only. We have to say that "Intrumental" and "Le soleil est une bombe atomique" were borned because of such long process of composition. Being not force to produce and just being inspired by what's happen around us.
For the past album and demo, François composed the draft songs and the main ideas first, then the others members input their touch and inspiration which makes Capharnaüm sound.
At this moment, François is in the first step of composition (pre-production) and he will probably have music to complete two albums at the same time! Well, let say that we will purify his idea and make one great album.
We believe that we are not the first band in which distance has separate members for some time. Fortunately, Internet can be our friend and communications between members still keep going.
How would you describe your music and which bands would you compare your music with ?
Capharnaüm music is a kind of reaction to our society. By being sensitive to what's happening everywhere, music becomes a mixture of energy, craziness, hope and a way to fly in another world for sometime. We tries to give energy to the one who listen with some twist that keep the listener disturb and hopefully making him dream or travel. That is why some sound can be more understandable in a live performance or by listening it more than once.
Some indirect influence for us were Pink Floyd, Rush, Metallica, Vangelis, Joe Satriani, Igor Stravinsky, Brian Eno and more, but we are not sounding like one of them, it is simply some of our roots or our basis of… 20 years ago!
If one asked what are the bands similar to Capharnaüm, we believe that this person is better than us to judge it. The interesting thing is everyone always gives different references to our music.

Canada has given our planet some really fantastic bands. But how is the music scene and the gigs scene in Canada these days ?
We cannot talk for Canada globally since we played only in Québec province. For sure, Montréal is an attractive place for underground scene. There are many good bands and a lot of talents all over the place; we can definitively say that music scene is healthy.
However, instrumental music has for long time suffered in finding good place to show up, like festivals, TV programs or radio shows. We believe that this is somehow changing now. More bands are doing instrumental music or experimental tracks in these day and people are more open to search for specialized music's.
Internet community and the "freeness" of listening music out there are probably responsible for this new era. Everyone can now find his own space. But a question remains, is there a band that will be as big as our first inspirations (like Metallica in the '90)?
You have also been touring South Africa if I am not wrong. How was that experience ?
Oups… this was a kind of dream for us that unfortunately did not come true. François had a friend who could book numerous scenes in different city of South Africa. But, we never got the money for this tour. So, it was just a beautiful motivation for some time.
What is the latest update on your band and what is your plans for the rest of this year ?
Now days, Maxime Brisebois make his own music and drum experimentations as well as giving drumming class. You can find him at this address:  http://mistermax.ca/. On his side, François get inspiration by Japanese culture while tracking the pre-production of the next Capharnaüm album and finally, Marc-André keeps training himself in playing Satriani scores on his powerful Mesaboogie.
Our goal for this year his to all keep in touch and progress with the pre-production.
From where can your albums be purchased ?
Songs are available on iTune and amazon web. But, anyone can go through our distributor network Unicorn Digital and buy online or on the different shops in more than 20 countries. See  http://www.unicornrecords.com/capharnaum.html.
Anything you want to add to this interview ?
Best to you all and be sure not to miss our next album! Of course you are more than welcome to first discover our music with "Le soleil est une bombe atomique".
Finally, thanks to Torodd for our first Internet interview!
A big thank you to Francois for this interview 
Their PA profile can be found here and their homepage is here