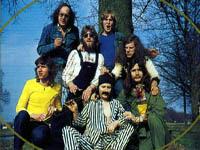 Germany has produced a lot of interesting bands. There is even a category here in ProgArchives dedicated to Germany (Krautrock). Grobschnitt is one of the best German bands. To my knowledge, very little info is available about them too. At least in English. I have therefore spent some time pestering Eroc in Grobschnitt for an interview. 
It is therefore with both pride and satisfaction I am now publishing this interview with Eroc which I am sure will be read with interest by the prog heads both this year and in the upcoming decades. 
---------------------------------------------------------------------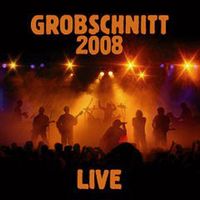 First question and a nice intro to the interview, Grobschnitt ceased to be in 1989. But there was a live album in 2008 Grobschnitt 2008 Live. You are neither listed as a participant in the gig or this album. But please enlighten us about this live album and the Grobschnitt incarnations which has been gigging for the last years.  
You're right. Grobschnitt ceased to exist in December 1989 with the very last concert in the city-hall of our hometown Hagen (Westfalia, Germany). The place was overcrowded by an audience of more than 2000 from all over Germany and the world. There were busses loaded with fans from e.g. the Netherlands and England. One guy even showed up from Christchurch, New Zealand to attend the last farewell of our band. Nearly all former members hit the stage again when the show had ended, celebrating with champaign in their glasses and tears in their eyes. Some of them even had joined the show, like me playing a few songs with the 1989 line-up. Others had watched the event from backstage.
That was the definite end of Grobschnitt. This band will never come back again and there's no chance for a true reunion, due to the death of some leading members and some present activities which are fascinating a good part of our fanship.
The 2008 live-album you're talking about (which has a follower this year introducing RPL again) is a result of a hobby-project which started out in a cellar in 2006. One of the former bassplayers of Grobschnitt, Milla Kapolke started to play Grobschnitt tunes together with his sons just for fun on weekends. This hobby developed and later some other musicians joined in, like Rolf Möller (Admiral Top Sahne), one of the later drummers of Grobschnitt and Stefan "Nuky" Danielak, a son of GS-singer and founding member Willi Wildschwein. They rehearsed for quite a while until one day Wildschwein himself showed up just to have a listen. I don't know if it sounded that worse or that good, so Wildschwein had to force himself to join the club and spread some professional input. That was a true jackpot for this band because now they had the original voice of Grobschnitt on board. But still it was a weekend-hobby and they didn't have further plans to hit the road.
Maybe therefore they didn't ask former leading and founding members like Lupo, Mist or me to join in. The whole thing then developed into two test-concers in spring 2007 in a club in Hagen. The first night was sold out and went pretty well, the second night was sold out, too, but was cancelled before the gig could take place, because Wildschwein had lost his voice. I attended both nights from among the audience rsp. from backstage.
Later this project "grew up". They began to take their thing more and more serious and ran for gigs and festivals. First they called themselves "Next Party" but after a few months some old fans, a lot of new fans and especially the press yelled "Grobschnitt is back". Don't ask me as a leading and founding-member about my true opinion – just that much: they are not Grobschnitt and they'll never be Grobschnitt. The absolute unique feeling and behaviour of our band in the 70s and early 80s can never been brought back to stage again. These guys just are "playing" Grobschnitt, but they do a f**kin' great job. So it could well be judged as a close copy of Grobschnitt or even – who knows – as some kind of further development from the band's final line-up in 1989. I think it's really great for many fans to can listen again live to tunes like RPL, Father Smith, Illegal or their contemporary version of Solar Music after so many years. And the biggest attraction of course is Willi Wildschwein as one of the original founding members with his unique voice and personality. But we should keep in mind: if 1000 people attend one of their gigs, another 1000 have decided to stay away just because they know they won't get that special feeling again, Grobschnitt could spread back then.
Let's start with your personal history. Where were you born and what was your introduction to rock music, which at that time was regarded as a bit "risky" for young people ?
I was born on Nov. 15th 1951 in Weimar (Thuringia) in the Eastern "Russian" part of Germany back then. In 1955 we moved to Oberhausen (Ruhr Valley) in the Western part and I started out with the music @ 1958, after I got a big wooden valve-radio from a friend of my mother. The first song I heard was "Peggy Sue" from Tommy Roe and I always wondered, where the music occured inside that machine. By looking at the glooming valves and all that electrical caboodle inside I had no idea, which may be quite normal for a boy at the age of 7. But very soon I found out how to get a better sound and could receive more stations by connecting the radio with a wire to the heat-pipe, which worked as a big aerial. That maybe was the start for my electronical career, while listening to the tunes on the radio and sometimes also attending concerts of some rockabilly band from outside a pub a few blocks away, where Mods and Rockers crowded that "risky" scene, can well be marked as the first steps of my musical career.
The "electronic" later developed when I got a reel-to-reel taperecorder for my 10th birthday in 1961 and one year later a second one of the same brand, which enabled me to copy tapes and do much more experiments. The "music" started to grow when we moved from Oberhausen to Hagen in 1962. There I could pull in one of my favourite radio-stations with my valve-radio a whole lot better. That was Canadian Forces Radio CAE, located near Werl (Westfalia) at that time and one of the few allied radio-stations presenting contemporary music and especially Country & Western, never to be found on German radio at that time. Also at school the interests in music grew and I began to exchange tape-recordings with my classmates.
My musical influences in the late 50's were a lot of those Rockabilly acts, also Elvis or Eddy Cochran, then in the early and mid 60s bands like The Stones, Kinks, Yardbirds, Searchers, Steppenwolf, Arthur Brown, Vanilla Fudge, The Who, Beatles and of course all those great instrumental groups like The Shadows, The Ventures, The Spotnicks and of course Joe Meek's Tornados. A preference I also shared with my classmate Lupo, who should play an important role later in my life. The outgoing 60s introduced me a lot to Soul stuff, but in first row to Underground bands like The Electric Prunes, The Love, The Seeds, Iron Butterfly and most of all to Frank Zappa with his Mothers, one of the ultimate geniusses in contemporary music ever. I'm really proud of my vast collection of Zappa's albums (more than 50), starting off with "Freak Out" from 1966.
Of course it was somehow "risky" to concentrate more and more on a band while finishing high-school. Needless to say that our mostly conservative parents not always were amused about our activities, although it used to put a proud smile on their faces whenever our picture was to be found in some daily newspaper. Another problem was the growing hair. I remember my stepfather stating again and again: "You definitely need a haircut, boy, you look like a gypsy." But I was clever and thought of a trick after a while. I said: "If you spend me 10,- Deutschmarks I'll go down to the barber's at once and have my hair cut short." He gave me the money, I went to the barber's and got the cheapest haircut possible for 5,- DMs. Then I went downtown to the record shop and bought me for the rest of the money my first vinyl-single. That was "My Generation" from The Who. Now I was proud like a King because I was the first at school to posess this gem. And I still keep it in my collection today.
But my stepfather was a really great guy and later we had a good laugh on that. And then I accepted his wish to get a job's education in the chemical industry, just to have "something at hands, if it may fail with the music". But it didn't fail, as you know. And many years later my stepfather was the proudest of them all whenever he heard my chart-success "Wolkenreise" again and again on his small kitchen-radio.
When and where was Grobschnitt formed ? By whom ? Who was your musical influences ?
Allow me to fly in an excerpt from the booklet of the new album "Kapelle Elias Grobschnitt", recently released by M.I.G. Music:
It all started out in the early 60s at Altenhagen highschool. Gerd (always called Lupo) and Achim (later called Eroc) were seat-neighbours and both loved to listen to The Tornados, The Shadows, The Spotnicks and The Ventures. Gerd helped Achim on with maths, Achim helped Gerd on with English and sometimes they thrashed each other. Then the teacher had to divide them. Anyway, Achim was the first one in class to call two tape-recorders his own and Gerd was the first one to have a moped. Later Gerd was the first one at school to have an electric guitar and Achim to have a drumkit. That lead 1965 into the foundation of a band with other classmates, which Achim first named "The Universals" and then in summer of 1966 "The Crew".
After The Crew was history in autumn 1969 two new bands hit the scene: guitar-player Lupo founded "Charing Cross" together with bassist Urmel (later called Baer, today written bAER) and drummer Felix, heading for the harder kind of style. Former Crew members Achim "Eroc" and Peter Klassen formed a gang called "Wutpickel" (Pimple Of Anger) together with Michael Barth and Carlos Böttcher, a kind of free-jazz colloquium heading into spontaneous improvisation and happenings.
By end of 1979 Wutpickel was history, too, and "Achim" Eroc met up with his old friend and Crew-singer Stefan (later called Wildschwein) to scheme and plot for the future. Lupo still was on the road with his Charing Cross and so they joined a round table with the result, that Eroc and Stefan joined this band in February of 1971. Charing Cross now lined up the musicians Baer, Lupo and Stefan, showing up with the two drummers Felix and Eroc, a rather unusual constellation at that time, which was at least in Germany to be found only with Amon Düül.
From the beginning two regular listeners joined the rehearsals at the THG assembly hall in Hagen: Rainer "Der kleine Mann" (the little man, later called Toni Moff Mollo) and his friend Ralf (later called John McPorneaux). Some day Rainer showed up with a photograh showing the "band" of his grandfather. Those gentlemen were active @ 1915 by the name of "Kapelle Grobschnitt" in and around Hagen city, playing on self-built instruments. Of course that photo impressed everyone and after some to and fro the decision was made to go on further as "Kapelle Elias Grobschnitt". Because the band had played a gig on April 4th in Rheine as Charing Cross, like it was printed in the Steinfurter Rundschau, but then did a concert as Kapelle Elias Grobschnitt on May 15th in Hagen city at the HDB, like the Hasper Zeitung announced, the foundation of Grobschnitt in it's own sense could be dated back to May 1971, although this particular name was accepted just one year later in April 1972 when the first album was released, as explained below.
Now "the Elias was in action" and did a lot of entrances of which the gigs at e.g. Jugendheim Buschey in downtown Hagen (today called "Kultopia"), at the HDB, the Jugendheim Haspe, in the "House Of The Opened Door" in Rheine, at the disco "Old Lady" in Mesum, in the townhalls of Wetter and Letmathe, the legendary concert in the Volkspark in Hagen in September 1971 and many more are still rembered today. The local press (Westfalenpost, Rundschau and especially the Hasper Zeitung) gave prior devotion to these activities. Maybe the band also would have recorded the first album with this line-up, if not Hermann Quetting (former Chris Braun Band, Dortmund) would have joined them in October 1971, influencing and progressing the style with his huge collection of keyboards.
The name "Kapelle Elias Grobschnitt" was shortened to "Grobschnitt" after finishing the album by pushing from the record-company, because this version alleged sounded better and could be more helpful for international sales. So Grobschnitt was "officially" by that name and with a keyboarder underway since spring 1972.
How was your first gigs and how did you get spotted by your first record label ?
The very first gigs took place in 1965 / 66 at school or in some pubs in Hagen, when we played as "The Universals" for classmates and friends. At that time we used to carry our instruments and amplifiers (quite a number of which where old valve-radios) on bicycles to the gig. In summer of '66 when I had brought up the name "The Crew" it all grew more professional and we then started out to play for money in pubs and youth centers. From the beginning three later Grobschnitt members were aboard: Lupo (gtr), Wildschwein (voc., gtr) and myself on drums and being responsible for all electrical and electronical things. The gigs then became more professional and spectacular. I remember when we started using fire, artificial fog and strange costumes in 1968 / 69, a period where also a piece called "Suntrip" was composed which later should develope into Solar Music". Our wild behaviour and some scandals on stage even lead into restrictions for some places and pubs, where we couldn't play any more.
The whole story of The Crew probably may be released with many sound-examples in a few years in my GS-Story series, but so much for now: we played as The Crew until autumn 1969, then disbanded for a year and went on in early 1971 with some different musicians as Charing Cross, developing in May 1971 into "Grobschnitt". This whole story is being told perfectly and featured with many original recordings from 1971 on the album "Kapelle Elias Grobschnitt" which was released my M.I.G. Music in June this year.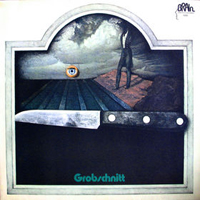 But you were a huge part of Grobschnitt's most classic albums. Let's run through them and get your inside view on these albums. Let's start with one of the best ever albums from Germany; your debut album Grobschnitt from 1972. Please tell us more about it. The recording, the music and what else you remember about this album.
Please allow me to fill in another excerpt from the original sleeve-notes which I wrote for the booklet of the album "Kapelle Elias Grobschnitt" which also answers to your question about being "spotted" by the record industry:
In fact we never had counted in the recording of an album. In the days of The Crew from 1966 to 1969 when Beat and Soul were still on the playlist, own albums were not considered at all. That was left to the "role models". But as in early 1971 or band became more serious, the plans for the future got more tangible and also more compelling. We all had finished our trainings and now it was up to completely hurl into the music or sooner or later resume the hated civilian jobs. So it was no question about putting all of one's eggs into one basket: the music.
In addition the music-industry had recognized how German bands were on their way and kept the doors wide open to any kinds of ideas and concepts. Eventually our guitarplayer Lupo who also did the management for the band, got into contact with Metronome, a record-company based in Hamburg, that recently founded their "Brain Label" and therefore was looking for new groups. With a suitcase packed with demotapes I had recorded in our rehersal room in summer of 1971, we hit the road for an adventuresome trip to the north. With a scrap-car and an overnight stay in a tent aside the highway we reached Hamburg at least in two days and then found ourselves stranded tired and starving right in the middle of the office of the company's boss Bruno Wendel, who immediately stood a round of cake and coffe for the whole gang. After that the eyes and ears of the boss and his staff opened up as we introduced our audiotapes. "Yes, this is really great and unique, we can surely do something for you!" And so our first record-deal was sealed.
Now was time to lock ourselves away in our rehersal room, the auditorium of the THG in Hagen for to work hard for the concept of the first record and in the middle of December it was high time. In a hired truck our whole equipment was stowed away on a frosty morning and we started off into one of the greatest adventures in our band's history. Destination were the "Windrose-Studios" in Hamburg. Engineer should be a guy by the name of Conny Plank, a newcomer, to whom Metronome had contracted several productions of their new bands. On board were Lupo, Wildschwein, Hermann Quetting, Baer und Felix plus Toni Moff Mollo and "Fiffi" Kortmann, two of the band's roadies, as well as myself saddled up with my drums and a suitcase packed with electronical effect's gear, intended to raise hell for the first time in a professional studio.
The upcoming days were filled up with work. The basic tracks had to be done for all songs, so everyone was needed. After four days all basic versions were taped and also the guitar-players had finished their overdubs. Now it was up to do some fine-tunings. First the violinists appeared. We had breeded the idea to fly in a real string quartet for Symphony. The quartet came from the "Hamburg State Opera" and was enormously professional. The notes for the arrangement were written by Baer and the four gentlemen kicked off straight away. Unfortunately a tiny disagreement appeared. One halftone was wrong and turned the intended soft minor cord into a sharp major cord. At fist Wildschwein thought of a performing-mistake, jumped into the recording room, pointed at the man with the cello and yelled: "You have laid an egg!" That was our way at that time to formulate very kindly when a member balled something up. The cello player raised his head, cleared his throat and then looked at his colleagues. The musicians shook their heads and then immediately started to pack up their instruments. Probably never before anyone had said anything like this to a respectable cellist of the "Hamburg States Opera" and only because of the comforting intercession of Conny Plank and Frank Mille the gentlemen eventually agreed to continue. Actually, the cellist had made no mistake at all: the fault obviously was written in Baer's notes. After it had been corrected the part worked perfect and the tension relieved. After it was done the quartet even agreed to have a drink with us in the studio's cantina and everybody ended up in laughing about the "egg", which probably found it's way into the Hamburg States Opera then.
Right before Christmas approached everything was finished, our trip back home was full of satisfaction and new impressions and everyone was skilled like never before. There is no doubt: Working in a studio creates incredible routine...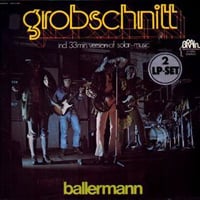 We continue this pilgrimage with Ballermann from 1974...... Please tell us more about this album.
Ballermann was recorded with a changed line-up. Some months after the release of our debut album in April 1972 our producer Frank Mille was concerned about rather poor attention and resonance on it and so he passed on some strange "rumours" to us, he claimed to have heard in Hamburg from some guys in the record-industry. The message was: other bands with one single drummer sound better by far than you with your two drummers. That was pure crap and a totally wrong message for an upcoming band with their first LP on the market. But we were young and unexperienced and didn't have enough self-confidence to ran against it, so we decided to fire Felix, our second drummer. That was a plain mistake which also lead into the leaving of Hermann Quetting, our keyboarder and then into changing the recording facility. We were so stupid to blame Conny Plank for a "poor sounding" first album and decided to record our next album at Dieter Dierks Studios near Cologne, which should turn out as another mistake. But the producer was convinced on all that and so we started off with the Ballermann recording-sessions in February 1974.
We only had one single week studio-time paid by the record-company for the production of this double-album, but thanks to extensive rehearsals in the passed months with our new keyboarder "Mist" we succeeded in e.g. recording Solar Music in just two hours: we played it once and we played it twice and then decided to take the second version, that's all. The whole mix of all songs was done in only two days by Dierks and Frank Mille, who finally threw me off the control room because there was no time and no mood left for my suggestions and complaints. So I went into a pub with bassplayer Baer, while the album was mixed "down".
The overall sound of this album finally was more than dissapointing for us. Especially Sahara and many parts of Solar Music were missing that certain "sparkle" we always could rise on stage. The whole thing sounded like played in a damped down-to-death booth and when I received my first copy of the album and had a listen together with Wildschwein, I smashed it to pieces and left the room. BTW: those pieces prevailed for years being nailed to the wall of Wildschwein's room and the worse sound later only could be corrected a little when I did the remastering for SPV/Universal's CD reissue in 2009. But all in all an old rule was proven again: great music with a bad sound always sells much better than bad music sounding great. Ballermann found a huge lot of fans and friends over the decades and developed into one of our most loved albums. No need to say people howling town recently for the remastered version...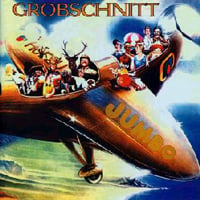 …...And please tell us more about Jumbo from 1975.
For Jumbo the line-up was changed again a little. Bassplayer and founding-member Baer had to leave the group due to reasons of health. But first he trained the new bassist "Popo" Hunter into the already existing songs for the album. After the mess with the Ballermann album we had fired producer Frank Mille and decided to get back to Conny Plank, who meanwhile had finished setting up his own studio somewhere in the hills south of Cologne. We wanted to produce Jumbo ourselves together with Plank and me at the controls. A much better constellation as it should turn out. The work was very familiar and most effective from the first day on at Conny's Studio, a nice and cozy former farm out in the countryside.
First we recorded Jumbo with English lyrics, as we used to with the former albums. But there always was a discussion among the members, why a German band has to sing in English. The main argument was: we always did it that way, because we grew up in the Beat era, when everyone sang English. But according to our musical visions and experiments it was a good question why not to try it the other way. I myself was responsible for writing all lyrics since years, so the others asked me, if I couldn't try it in German. And I did – the first text was the translation of "The Excursion Of Father Smith" into "Vater Schmidt's Wandertag". When I came up with the first German text and presented it to Wildschwein, he smashed it against my head and bursted into laughter. But that was his all-time special behaviour and after that we started to get into the singing arrangements in German quite soon.
The record-company agreed to this "experiment" and released Jumbo first with English lyrics in 1975. During mixdown we also mixed instrumental playbacks from each song and later that year Wildschwein, Conny and me started to add the German texts to these. That lead into the release of the German Jumbo in 1976.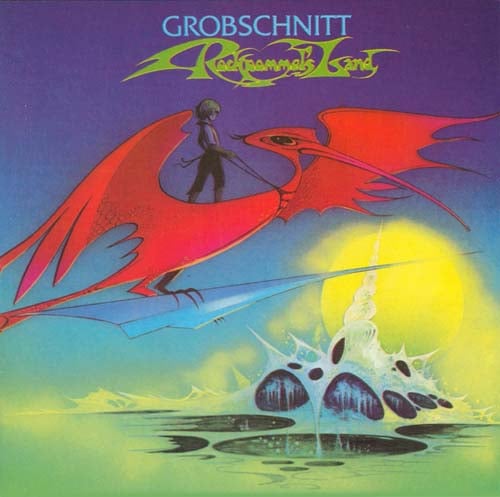 And Rockpommel's Land from 1977.....
RPL was the result of more than a year of very intensive rehearsals and arrangement work. For weeks and months we practiced each day up to 12 hours for that stuff, several times interrupted by long discussions and even fightings, when five heads rejected to wear them same hat.
The basic idea for RPL came from Mist, our keyboarder, being responsible for the first steps of the concept. Most of the melodies and lines were then arranged by Mist, Lupo and Wildschwein, while bassplayer "Popo" Hunter and me had to concentrate on our own parts. The lyrics weren't existing all that time, only the idea of the whole story as a scratchboard. When the whole "opera" was finished and all musical parts were set up, Wildschwein started to sing some la-la-la phrases to the parts where we intended the vocals to occur. I recorded it and then it was my turn to write songtexts onto those phrases which had to be singable, match Wildschwein's la-la-la melodies, make a good and correct sense for the whole story and last but not least should be in correct English. That took me weeks but it was not so stressy as you probably might think, because I was used to write all lyrics for the band that way since many years.
Later at Conny's studio our hard rehearsals made great sense: we were able to record the basic tracks completely live without any further edits or overdubs, except the vocals, some additional guitars and keyboards and some effects. Therefore RPL has got this special "lively magic" on the album which never can be reached by a band playing their stuff step by step with multitrack recording. We just could "perform" the whole thing absolutely perfect, in the studio as well as on stage.
The "fat ending" (as we use to say in German) occured some months later: when we presented RPL on stage most of the audience didn't seem to like it. We got real big hands for songs like Father Smith or Drummer's Dream, Nickel-Odeon and of course Solar Music. But RPL wasn't a success. The cheers were rather flat in most places, although we played it perfect and nice, like some live-recordings prove. Maybe it was "too much" for most of the people back then, maybe they didn't expect music like that from us – all in all we were very close to the decision to threw this horrible piece of music out of the set forever. We all hated it somehow because it was pure concentration-work and perfectionism, totally contraire to free and easy performances like e.g. Solar Music, where everone in the band could threw out his colours as he liked. But still it was keyboarder Mist who wanted to get on with "his baby" and he could convince the rest of the band to try it again and again. Well, the result is know up to this day...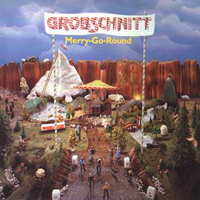 And Merry-Go-Round from 1979.....
Merry-Go-Round was another change. After the first album, Jumbo, RPL and Solar Music Live were recorded and mixed with Conny Plank, we wanted to try something different. The last albums meanwhile had sold quite well and the record-company offered us a budget of 100.000,- Deutsch Marks for the next production, quite a bunch at that time. So we got into contact with Walter Quintus, an engineer and producer from Bremen who should work with us in summer 1979 at the Rüssl Recording Studios in Hamburg, property of Otto Waalkes, a famous German comedian. The Rüssl was a "big one" at that time and Quintus was a very "experienced one", too. The album should show a more progressive, contemporary, maybe slightly political direction. And maybe again we headed slightly too far for the usual expectations of our fans. I myself like this album as one of or best, but like RPL it wasn't easy to "sell" in the first months, neither in the shops nor on stage. Funny that especially the Americans threw an eye on it: Bill Canney of American Forces Radio AFN invited us to an interview on his "Night Side" in 1979, in first row because of the lyrics of this album.

And Illegal from 1981.......
Illegal was a major change or better: another big step into a different direction. Bassplayer "Popo" Hunter was gone and the new bassist Milla Kapolke, an outstanding personality, had a big influence on our musical style and on some of the band's members. Also my musical and electronical ambitions had establihed: my instrumental "Wolkenreise" (from the album Eroc III) had become a chart success and so I had enough money to set up an own recording-studio at our rehersal farm. Now we were able to rehearse and record professional whenever we liked, and it was all for free. The budget for "Illegal" went into our live-equipment and I went behind my drums and then behind the controls in the studio. Illegal was the first production we could record without any schedules and time-frames. We played and recorded whenever we got the right mood for it, which took us the whole year 1980. Later I mixed the album in my batchelor's attic, assisted by Willi Wildschwein and Geheimrat Günstig, our live-mixer. The mixes took us about 6 weeks, a time-frame many of today's bands even can't expect being paid for a whole production in a pro studio. But we needed it for sure, because I wanted to set another standard concerning the sound. At that time we didn't have the benefits of automated mixdowns and total recall of all settings. So we had to mix all 52 channels of the desk by hand, sometimes using all six hands of us three at one time. To get the optimum I decided to mix all songs in several parts step by step, until each little detail was sounding perfect. Then we had to stick each single piece of tape together by use of glue and scissors, to receive a final mastertape. So all in all the whole Illegal album consists of 98 (!) single edited tape-splices and not one of them is audible. In fact we were totally professional back then and result was another remarkable album.

And finally; your final Grobschnitt album called Razzia from 1982.
Razzia was a consequent step further into the "illegal" direction, but also another necessary change. Keyboarder "Mist" had been forced to leave the band due to strong personal difficulties right after the recordings for the album were finished. It was a majority decision of all other members including myself, but today I'll judge it as another bad "mistake" in Grobschnitt's history. Of course the behaviour "one for all and all against one" was much more our leitmotif than being a psychological health-care institute, but in this case we better should have taken care on Mist's very own problems and should have offered him some help and understanding for his severe problems, so that he could have found some hold and a background in the band. But we fired him right in the middle of the Razzia production.
The consequences for me were a lot of additional work: I still was the recording-engineer with my studio-equipment for that project. And now there was no keyboarder in sight, so I also had to rearrange and play all keyboards for the songs. This created a very special situation: Eroc played the drums, but also was the producer, engineer, keyboarder and writer of the lyrics. So Razzia became more and more "my" album with all good and bad consequences. Good was I could force the mixes and the whole sound into the direction I intended. Bad was the others could hardly follow my ideas and I myself didn't have enough distance to the whole thing.
So this album became a very consequent one, but it was apart from Mist's ideas and sounds and quite another thing than the public knew from our days of RPL or Jumbo or Solar Music. It presented different and modern sounds and ideas as well as slightly more commercial songs than we had released the years before. For an artist maybe one or two necessary steps ahead, but for many fans maybe in some cases too far out.


You were not involved in the final two Grobschnitt studio albums Kinder + Narren from 1984 and Fantasten from 1987. Why did you leave the band and what is your views on those two albums now ?
Why did I leave Grobschnitt in summer 1983? Well, there was quite a bunch of reasons for that. First of all, the album Razzia was not quite accepted by some of the band's members which bothered me a lot. Especially Lupo hated the title track and made me know it each day. Second, I missed "Mist". The new keyboarder J.R. Cramer was a great one and of course his style forced me in many situations to play great things I never did before. But it wasn't that particular "band in the band" like Mist and me raised for so many times, especially in Solar Music. Third, there were alcoholic problems getting more worse than ever before for some members, which lead into decreasing shape on stage and lacks of performance. And another small but for me important fact: I had earned a whole lot of money with my hit "Wolkenreise" and so could fullfill my alltime-dream of a pro recording facility which I founded together with a partner in 1983 as the Woodhouse Studios.
Me leaving Grobschnitt did not happen in anger. I announced it one year before I did it and helped training the new drummer Peter Jureit into all songs. I also left all my shares on the equipment behind so that they could go on with the show like before. They could use my show-playbacks and everything else I had established over the years. It was my interest that Grobschnitt could play on and make it's way. I only wanted to leave the stages and concentrate on my own biz.
The band went on and later recorded their next albums "Kinder & Narren" and "Fantasten" in my new studio. But they didn't want to involve me and my experience. So I went on vacations to Denmark and Norway while they produced their albums with my partner Siggi Bemm, a plain newcomer who did his job quite well, but for sure not like I would have done it. The views on these albums now? Well, it hasn't changed that much over the decades. It still makes me vomit to listen e.g. to Milla Kapolke's impertinent singing on "Hello Mama" or those cold and harsh sounding synths and keyboards played by Thomas Waskonig. In many cases Grobschnitt went on like a stomache without a head in those days.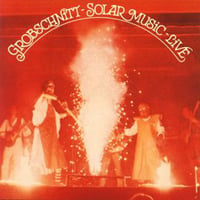 It is impossible to mention the name Grobschnitt without mentioning the phrase "Solar Music". Grobschnitt's excellent reputation was forever cemented with the live album Solar Music – Live from 1978. A live album which is one of the best ever prog rock live albums. Please tell us more about this live album.
What was the "Solar Music" concept ?
Solar Music wasn't based on a clear concept. It occured from a guitar theme in D-minor Wildschwein and Lupo brought up in 1968. Back then we decided to use this theme as the base for a longer improvisation at the end of our concerts with The Crew, where everything was allowed. Later we called it "Suntrip" and decorated it with everything we could imagine, reaching from costumes to artificial fog and fire and light-shows, from strange happenings to psychedelic slide shows like the band Nektar did and much more. And when later Grobschnitt thought in 1972 of producing the first album, the Suntrip-theme from the days of The Crew was brought up again and started to develope again with every concert.
The only "concept" ever was to build up tensions and allow each musician a creative playground where he can whip it out and take himself to the limit. Needless to say the limits in these days of dope and hope were quite smooth and sensitive compared to today's "limits" and standards set by bands e.g. like Slipknot (which I personally admire a lot). Everyone of us always was looking forward to the second half of each concert. The first half was filled up with all the strtíctly arranged and perfected tunes, while Solar Music allowed us to let us off. So it grew with each gig, each tour and with each change in the line-up over the years. In 1972 we had recorded a rather strong arranged version still called Suntrip for the first album. In 1974 we recorded this quick launched 33 minutes studio-improvisation for the album Ballermann, as I mentioned above. And in 1978 with the new bassplayer "Hunter" it was time to document it again because it had developed and changed again a lot.
I intended to record it live now because when atmo and audience and the band sometimes reached their maximum wavelength, this sign-piece of Grobschnitt wasn't to be beated out by anything else in the contemporary musical world. So I bought me an 8-track tape-recorder and started to record each single gig of the 1978 spring tour. Before the concerts started I did the sound and level checks and when we played Solar Music, our P.A. mixer Geheimrat Günstig only had to push the start button of the recorder and then quickly change tapes after 33 minutes.
The result was a bunch of recorded tapes with great and even greater versions. Later I listened to all of them carefully and then chose the one from Mülheim, which seemed to be the best one. Then I drove with Geheimrat Günstig to Conny's Studio to fetch his 16-track gear, which we then heaved upstairs to my bachelor's attic on 5th floor in Hagen. There I syncronized my 8-track tapes onto Conny's 16-track machine and so got 8 additional empty tracks for electronical effects and playbacks which I started to finish during the next two weeks. Later Geheimrat and me drove down to Conny's Studio to remix the whole thing which took us several days. At that time we didn't have the privileges of automated mixdowns and digital recalls of all settings, like we have today. We had to mix it on an analog console by hand and finish step by step each part of this nearly one hour lasting event of music, later being edited with scissors and glue on the analog mastertape. So all in all the whole Solar Music Live from 1978 consists of 99 (!) single pieces, each one carefully brought up to it's optimum and then had to be spliced together. In fact not one single of all the 198 edits is to be heard, because we were damn good back then. The final mix was a handcrafted and creative masterpiece with all pros and contras, like this unbelievable "piece" of music itself.
There is tens of other Grobschnitt live and compilation albums on the market now. What is your feelings about these ? Is there any of these you would recommend to us and is there any live/compilation albums you don't feel is worthy of the Grobschnitt name ?
Each single note of all these albums is pure golden dust compared to a lot of the contemporary crap on today's market. Especially because this kind of music and feeling will never ever happen again this way. All these albums you're talking about are true live-recordings carefully remastered by me. And since especially Solar Music changed and developed from one gig to the next, each album is unique and for each fan who is interested in Grobschnitt, their history and that feeling of the 70s a must-have.
Especially recommendable are the first three issues of the GS-Story, plus Vol. 2 of the "History Of Solar Music" presenting an unbelievable "mystery version". Also important is GS-4 showing a complete concert from 1981 lasting about 3 hours, and maybe GS-6 with the partly remixed RPL in absolute sound quality. What I can't recommend concerning the sound is the "Sonnentanz" album from the later 80s. They recorded it themselves with a rather cheap digital equipment and it sounds horrible cold and harsh. It's not my fault that it still isn't available on CD with a perfect, remastered sound. Due to lacks of communication between some former members and the industry we may have to wait for that maybe another 20 years? Confidential: of course I have remastered it already and am standby for a release any time...
Which was the biggest ever gig Grobschnitt played and in which country did you play live ? How popular was Grobschnitt ?
Grobschnitt became popular during the first years mainly in the German outbacks, because we went there and "conquered" nearly each small village with our circus. We started out to play for the people in the provinces, not in the big cities. So the outbacks started out to identify themselves with us and we became "their" special beloved band, which used to play especially for them next door. Later, when we did the big places in the metropoles, the folks from the outbacks came to see us there and these places were overcrowded. The bigger events were festivals with 10 to 30.000 people (e.g. in Dortmund in 1983), but we also succeeded to fill up e.g. the Munsterland Hall in 1977 or the Essen Gruga in 1981 with more than 6000 people, playing as head-liner without any opening act.
But all these years Grobschnitt stayed a typical German phenomenon. Maybe because of our strong and sometimes "beery" strange Westfalian humour, maybe because of our stage-acts which took place completely in German. The "world out there" only could participate on our albums, short momentary glimpses of studio-work, never to be compared with these huge breath-taking events lasting more than 3 hours, we celebrated each night on stage. Except Solar Music Live, and that may prove why this particular album still has got such a big name worldwide, besides RPL. Yes, we then gave some concerts in the later 70s in Zurich with great success (where btw. we were imprisioned for a few hours due to our "criminal" outlook and behaviour). And after I had left the band in 1983 I think they played some gigs in Amsterdam. But that was all, concerning foreign countries. Bur what shall's, as we used to say. It was adventure enough for us to conquer these "foreign" countries in Germany like Bavaria or Franconia.
It seems Grobschnitt becomes even more popular today. Not only because of the activities of the above mentioned revival project. The common interest in the German 70s music seems to grow worldwide, not only because the internet enables access to much more things. That's one of the reasons for me to re-release my GS-Story series now with bilangual booklets, because it's more important than ever to show the interested folks all over the world how our band back then acted on stage and what made us so unique. All our studio-albums never can fullfill this.
Musically; you went from symphonic prog on the first albums via space rock and to more commercial rock on Illegal and Razzia. What is your overall view on the Grobschnitt musical journey ?
I won't miss one single minute, at least from my time with the band. The musical journey always was interesting and all curves were always necessary. Grobschnitt was a collective of immense creative tension, reaching from unbelievable musical trips to plain fights with fists and bottles. It was a living and developing "family" involving everyone around, as well as the road-crew and the whole public each night.
Lyrics wise; what was the themes Grobschnitt was mostly writing about ?
Since I wrote most of it, I might say "as it came across". It reached from phantasy material and stories (RPL, Solar Music) to slight "political" themes (Suntrip, Coke Train, Razzia) to contemporary stuff (Illegal, Mary Green) and to my very personal self-reflecting pictures (Drummer's Dream, The Clown, Sunny Sunday's Sunset).
Was Grobschnitt ever a part of a music scene or had any political affiliation during the 1970s which saw a a lot of political activities in the then West-Germany with the Baader-Meinhof gang and other leftist "movements" ?
No. We were outsiders and hated by most fellow bands. We e.g. rejected to smoke the pipe with Mani Neumeier's Guru Guru as well as playing together with others on one stage. Most of the bands and the press didn't take us serious. They branded us as "The Westfalian Nuts" because we always used to laugh about ourselves, a habit which not all people can understand. Our saying was: "If you take yourself serious, you have lost".
My personal opinion always was that music shouldn't go together with politics. It offers so many great ways of phantasy and adventure, so it shouldn't be watered with statements and phrases. In spite of that I wrote some political texts as mentioned above and we also brought some "evil" German politicians (e.g. Franz Josef Strauss) on stage in our shows, to pull down their trousers. But it was all for fun in first row, not for changing the world. Of course in the days of Baader-Meinhof we often were thrown out of our trucks at night standing with our hands to the wall feeling the machine gun in our backs. The cops and the whole system in German was reacting completely nervous these days. And yes, we also used to carry guns and knives. But not for harming anyone else outside the band. Our biggest "crime" reached up to stealing a cop his cap and laughing at him...
A friend of mine in Norway wrote an essay called "Why the Berlin wall will never fall" and submitted it to his university professor. The Berlin Wall fell 5 days later. What is your memories from this event which sadly is almost forgotten by many of us non-Germans ?
I remember seeing it on TV while finishing my private house-building. I saw all those people dancing on the Berlin wall and thought by myself "we'll have to pay for that later and will get into some trouble". That's how it turned out...
What was Grobschnitt's experiences with the music industry ?
We were lucky to experience the music-industry in their best phase. In the early 70s there were a lot of musicians involved in the industry. The A&R of e.g. Metronome Records was a certain Hartwig Biereichel, drummer of the band Novalis. He was our "boss" back then and I still have a good friendship with him up to this day. Also the later the head of Metronome was a musician: Klaus Ebert, former member of The Petards. It's plain to see that musicians in these position have much bigger ears and understanding for the needs of a band on the road or in the studio, than a cool trained business-manager with a controller behind his back, like they are found everywhere in today's companies.
The other side of the medal I experienced in the 80s when I produced e.g. Phillip Boa & The Voodooclub. The A&R of their company Polydor was a young manager by the name of Tim Renner. In the first years he was very cooperative and something like a friend with whom you could go tothe pub next door. But when his chair grew bigger and he became the boss of Polydor/Universal in Germany, he began to ride the big horse against old friends, later leading e.g. into that legendary suitcase I fought against Universal up to the German Highcourt, with my old "friend" Tim pulling the strings behind the curtains...
You personally are still involved in the music industry as far as I am aware of and you have been active, sorry to remind you about your age, in the best part of forty years. I could had asked you about what has changed in the music industry over these years. But I think asking you that question would almost be an insult because the answers are pretty obvious. My question is therefore, what do you think about today's music industry and where is it heading in the next ten - twenty years ?
Today the music industry seems to be crumbling in many parts. That's because they haven't reacted fast enough to the changes of the market's structures in the passed years and in many cases still are too big and water-headed. For example take SPV Records: nobody (maybe except some closer involved) would have guessed that they can go bancroft in summer 2009. Even not me working exclusively for their reissues until they closed down from one day to the next. Like bands on the road an effective working company needs qualified people with own visions and idealism, and not trained managers who never saw a studio from inside. Of course they are necessary for the main business structures, but most important is the close contact to the artists and the consumers and their behaviours. They should be aware of selling music and not sacks of salt, which is something completely different.
We saw many small labels coming up with great success over the passed years (e.g. Drakkar, Nasoni, Nuclear Blast and many more), because they were acting much closer to their bands and their fans than those giants like Sony or Universal. It's the wrong way to sign a band and fire them a year later if they don't match expected sales. Especially in the music biz things must be allowed to grow and to build up, fast success is possible but not a guaranteed rule. But grown structures and high quality have the best chance to prevail and sell in the end.
I don't wanna hear any more those pleagues about illegal downloads and the going-down of the CD as a medium for spreading music. If the companies want to make money they have to get their hands more effective on the new structures and let the people pay for downloads. The German GEMA for example could act mighty enough to let close down illegal websites. And the IFPI can do something effective against illegal pressing plants if only the interests of the industry and the musicians would be more concentrated and bundled.
Sadly, some Grobschnitt members is no longer among us due to their far too early passings. Please tell us more about them and your memories of them.
I miss them dearly. My contact and friendship to Volker "Mist" (keyboards) and "Popo" Hunter (bass) were still alive until they had to go forever. In 1973 I had taken Mist into Grobschnitt via a friend of mine, and in 1974 I had recorded the first album conception for "Styx", Hunter's band at that time, just one year before he joined us. And during the passed years I worked for both doing the masterings for their productions. Mist with his small label "Magic Trees Music" was involved mainly in instrumental meditative stuff, while Hunter ran a little studio in his house where he produced his own act "Los Invalidos" as well as some newcomer bands from the Hagen area. I met very often with them and we also used to drive to the annual Grobschnitt fan-conventions.
But mostly missed is our common past when we acted on stage with all ups and downs. Mist as the "doctor" behind his keyboard castle and my best counterpart ever in the drums and keyboard parts of Solar Music, and Hunter as one of the most friendly and heartly persons ever on this planet, and a hell of a bassplayer, too.
But also some of the good ghosts behind the curtains will be remembered forever: the roadies and actors El Blindo, D. Rohr, Volle Quermann and Sabine, long-time friend of Mist and our backstage costume-lady for so many years.
What do you both think and hope will be the everlasting Grobschnitt legacy both they and you will leave to our music scene and to our grand-grand children?
In first row the possibility of that dream-come-true picture of a band starting out as friends at school on self-built instruments and old valve-radios used as amplifiers, growing up into a professional act with music and a name that still is remembered and honoured after decades. This kind of "fairy-tale" still is possible and will be possible in the future, as long as one clings to his dreams and visions and heads on with the necessary discipline.
Which is your favourite Grobschnitt album and the one you want to be forever remembered for ?
I'll never have the distance to judge them objective. Some of them which I didn't prefer for quite a while (like RPL or Jumbo) really started to grow on me when I listened to them again after a few years. All of the albums are great in their own special way and each one was a product of a certain phase of the band and their temporary zeitgeist. Merry-Go-Round always seemed a little underrated for me. Concerning the overall-sound and musical content maybe the productions after 1983 can be seen at the lower end of the scale, but since nobody starts a studio-production with the phrase "we gonna make a really worse album", also these may have their very own highlights apprechiated by a lot of fans.
Anything you want to add to this interview ?
Yes – thank you very much for your questions. It was a great pleasure for me to get back to the past for digging out all the answers. This was the longest interview I ever did in English. Maybe it will stay the only one. So pass it on.
Just that much: in many cases Grobschnitt was just another "band on the run" like many others. But in some cases Grobschnitt was like no other band in the whole wide world...
Cheers!
- Eroc, June 2010
A big sincere thank you to Eroc for this interview and I hope it will be read by as many as possible in the coming decades or so.