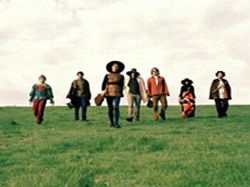 Eccentricity is one of the hallmarks of the British scene. Most of the Canterbury and the Symph Prog bands was pretty eccentric. The same can also be said about the Folk Rock bands. Circulus from London fits in nicely in this tradition. They have so far released three albums.  
I got in touch with Michael for their story.
----------------------------
When and by whom was Circulus formed and do you have any background from other bands ? Why did you choose that name ?

Circulus were formed in 1997 by myself and Emma Steel who spotted the name on an old map under glass which was my coffee table.. Emma was only about twenty two and hadn't been in bands before. I was previously in psych bands. At sixteen I recorded with the Mad Hatters. Our track Dancing With The Dead was on the Art For All And All For Art compilation which I believe was re-issued not too long ago. I was lucky to be involved with slightly older people making such high quality psych when I was only sixteen years old. It set the standards for later life. I moved to London from Cornwall at seventeen with my Cornish friends and we formed a band called the Jackals. Made one 12", you can get it on Ebay for nearly nothing. Played a few gigs with the Margin of Sanity and then emegrated to America and turned into a renaissance lute head.


To start with; please give me your (long or brief) thoughts and lowdowns on.......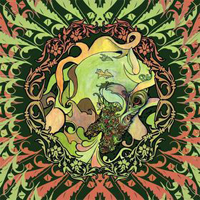 The Lick On The Tip Of An Envelope Yet To Be Sent from 2005

A suggestion of a coming message perhaps? I didn't know what the massage was then, the title someone told me. Apparently, I have no memory, it was my reply to Emily Barker (lovely folk singer) when in the land of shroom. She told me a year later that she had asked me how I was feeling. "I feel like the lick on the tip of an envelope yet to be sent". Good for Emily.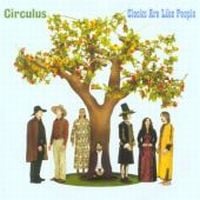 Clocks Are Like People from 2006

The message becomes a little clearer, but I still don't know what it is exactly. As you can see by the cover, people are like puppets. That's us as Trumpton puppets imitating a drawing I have in my Trumpton annual.

"Hear ye and heed my wisdom" cried Windy Miller in the lost episode of Camberwick Green.

People are like toys
Its not toys who destroy things
Its the people who play with the toys who destroy things
People are like cuddly toys
But soon they will learn to walk
And not to destroy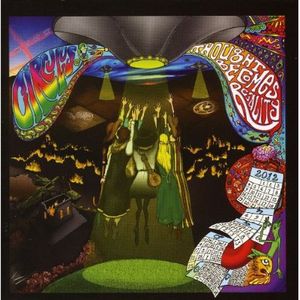 Thought Becomes Reality from 2009

Believe! Believe! Believe!

Mankind is in chains. Our minds have become prisons. Of course we have no right to be introduced to more technologically and spiritually advanced beings in our present hypnotic state. We have been hypnotised by believing in our televisions and are about to be murdered in our millions as a result of our misguided trust. Of course there are visitors. The metaphoric image on the cover symbolises that there is an escape. We wont be beamed up in a UFO but there will be a salvation for us all in this lifetime.

Please tell us more about your version of Lucy in the Sky With Diamonds for the Mojo magazine's tribute to the iconic Beatles album Sgt Pepper's.

It was a stupid thing to do. Sometimes the music industry forces you into all kinds deadline situations where there's neither enough money or time and that's what you get. I liked the bit where I wailed in the middle. Not as good as the Beatles original.


What is the latest update on your band and what is your plans for the rest of this year and next year ?

I have some good musicians around me, very capable. I'm working on a film called Thirteen Circles. There's only one way to say what I want to say and music is not enough so I'm combining everything I can, when I'm not doing this or that, into making a sort of fantasy truth information full length feature film. I'm halfway through recording the sound track, so things are on their way.

Pixies, farm fields, 1970s fashion and spaced out folk rock. I am probably not the only one who gets instant Gong vibes, although they are clearly not your main reference point. But your music is unusual, to say at least. How would you describe your music ?

To me I would like it to sound like a mixture of Tractor/Fuschia/ Keith Relf in Renaissance with the wisdom of COB. I love the English sound most of all. I like to think that there is a certain teat to suckle upon, a fountain of freedom and wisdom, your grand mother was once sweet sixteen, that is the breast I talk of. The breast of now and forever.


You are on Rise Above Records, the label set up and run by Lee Dorrian, ex Napalm Death and currently Cathedral. I guess your band is one of the more melodic bands in their very impressive roster. How is it to work with this label ?

We were on Rise Above. I now have my own label called Mythical Cake, which I run in an abominable manner. It was good to be able to play to metal audiences as a result of our affiliation with Rise Above, although all that "throwing the horns" was a little bit too George Bush for me.

What is the philosophy behind Circulus ?

Sacred geometry is a good starting point. Remember that any of you who voted in the last general election in England voted for WAR! You idiots, wake up ye sons of your star fathers. It is not too late to save ourselves. Power to us little people for we are not so little.

POWER TO THE PIXIES

Please tell us more about Circulus on stage and how you transfer your music from a studio setting to a live setting.

Its not easy. By the time we've finished the record so and so might have left the band. I just go with the flow, the easiest way, and I love every minute of it. When I get a good fee for a gig then we can pull the stops out... full band, dancers, that's when I feel like Circulus are getting some where. What are you? Circulus or Chrome Hoof? A never ending contest...

Just to wrap this interview up; do you have any regrets in your music career ?

None whatsoever. I am constantly grateful for the pleasure music brings me.

What is your five favourite albums of all time ?

I think it has to be "Mass in F Minor" by the Electric Prunes.

Anything you want to add to this interview ?

Its a really tough time for me. I can see what's happening in the world. Its sad but we will make it through the transition. Put the Reptillian thing aside if its too much, but read David Icke's new book and hats off to Alex Jones and RIP the greatest, Rik Clay. I love you Rik.  
A big thank you to Michael for this interview