The title "best prog rock band from Norway" has some really superb contenders. Magic Pie is one of them and probably most people's favorite to this title. They are about to unleash a new album christened The Suffering Joy and a new vocalist on us. The new vocalist is Eirikur Hauksson and I got in touch with him through Magic Pie's manager for his story and an update on Magic Pie.
########################################################
You are the new vocalist in Magic Pie and you have a long career. That include a stint in a band many regard as the pioneers in the current wave of Norwegian metal; Artch. Then you drifted off to other projects and your latest project are Skarr and Magic Pie. Many here are pretty familiar with the first two Magic Pie albums and the previous vocalist Allan Olsen. What are your contributions to Magic Pie and what do you do different than Allan ?
When I joined in, Kim already had the music in place.  His brother Tommy also had some basic ideas for lyrics.   But I plain simple just have to interfere ( he-he ) and it didn´t take too long before Kim and I started working on this together.  Always with Kim in the driver seat but I got some ideas in as well. My main tribute to " The Suffering Joy" are the lyrics, but I have also written a good deal melodies to Kim´s fantastic music. Alan, and his fantastic voice will be missed a lot by many!  But I have just done things my way, without ever thinking ´bout former vocal performances.  Me and Allan are old buddies and it was he who recommended me as his replacement. Well done lad !  
Magic Pie came to life ten years ago. Besides of yourself, does anyone else in the band have any background from other bands ?

What a nasty question... cause I don´t have the simplest clue!  I am the least curious guy on earth and since no one has told me... well then I don´t know.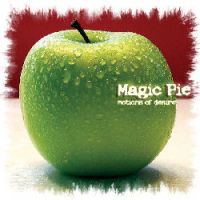 I guess you are pretty familiar with the two previous Magic Pie albums, but for the benefit of those readers who are not familiar with these albums, please give us your long or brief thoughts and lowdowns on........
I did of course listen closely through both of them Motions Of Desire ( 2005 ) and Circus of Life ( 2007 ) before deciding to join in or not.  I immediately fell in love with the music.  I had a kinda deja-vu with many of my old favorite bands like Kansas, Styx & City Boy ( just to name a few ) and I thought to myself... hey - I have been a prog-fan all along,- and I didn´t even know about it.  What basically ruled my decision to join the band though, was the blend of complicity and melody in the music. Just the thought of songs in full prog length did send shivers down my spine. Not the typical 3-4 minutes writing - where the record company calls in with ; " hey boys - we´re missing the radio hit here"... you know, that kinda sh*t.  In my opinion it is impossible to pick out any favorites from these two albums.  They are simply great from beginning to end. For those of you still wandering what Magic Pie is... go for it - there wil be no regretting.

You have a taster, a rough mix of a new track on your Myspace page which sounds very promising. Please tell us what we can expect from your long awaited upcoming album The Suffering Joy.
We are all very excited what the final mix-result will be, and of course what kind of a feedback we will get,  once we release "the beast"!  It is difficult to compare with the two others really, being so directly involved and all in this one.  But you will find many similarities and you will also find something completely new here.  I will dare to say that on "Suffering" we are a little more heavier than on the previous two.  It is quite a serious album really.  And I mean that with a positive approach. Without being a Concept Album, it in fact does tell a story.  And actually I started at the end with the lyrics. Tommy Stenberg had written some ideas under the "funny" title "Milkman".  But there were many good lines there, where i would pick out the once I liked the most and add my own story to it - and thereby turning it into something I wanted to sing about. And as we were sitting ( very tight ) in the band-bus in England some time way back the idea struck me ...  I was dead tired ( my own fault ) and feeling really sorry for myself, and this voice kept whispering in my head "suffering-suffering-suffering..." and at the same time I was saying to myself "oh shut up - you fool! - You get to travel, play music and party.,- so stop complaining - enjoy... it´s a joy,- isn´t it ?  And the answer came slowly ; Yes of course - it is a suffering joy!   And that is what life is all about - isn´t it ?  You have to take the good with the bad. If you have sunshine you can rest assure it´s gonna rain pretty soon.  Pessimistic thoughts you think ???  Nja... just my primitive way of defending myself you know.  Obs... I am way out of line again - Sorry !!! 
Besides of this album, what is your other plans for this year ?
I am gonna wait and see what happens with "Skarr".  We will probably record an album with Ken Hensley & Live Fire in August/September plus do some good festivals around in Europe. ( I get to play with Ozzy !!! ) But most of all I will enjoy the release of Magic Pie´s new masterpiece, I can hardly wait...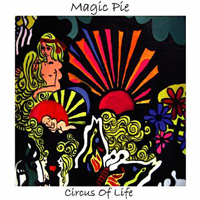 How is the writing and creative processes in Magic Pie ?
As I said earlier; Kim did all the composing on this one.  But I am both happy and proud to say that as we went along,- he wanted me in as well, so our creative cooperation is already well on it´s way, and my hope is that we will work together tight - right from the beginning on the next one.
A stupid question this one. But there are, believe it or not, people out there not familiar with your band and your music. So how would you describe your music and which bands would you compare your music with ?
Don´t ask stupid questions... you´ll only get silly answers !  But okay,- I´ll try to be serious...  If you like the creative music from the seventies & eighties, you will love Magic Pie.  Powerful and demanding instrumental parts joined in with very melodic melodies.  My main influence is the heavy metal of the 70´s and having said that I can promise you that I do not participate on a record, without leaving my marks on it !!!
You lost most of your equipment in a fire earlier this year and you had to cancel some jobs. How did this unfortunate fire impact on your band and the progress of the new album ?
It had a "horrifying" impact.  It is just now recently that we have gotten back all the stuff that we had from before.  So it has delayed the recordings a lot - yes.  We didn´t lose too many sessions in the fire though.  Luckily we had a safety copy of almost anything and thank god for that.  But to proof to you that laziness is a good thing...
We were to set up all our gear in the studio on Tuesday that same week.  And afterwards we would jam-away, you know just to loosen up a little. I was lazy that day ( as always ) and mailed the guys saying ; " I have done enough jamming in my old miserable life,- so please excuse me gentlemen - I will be practicing at home tonight and I will bring my gear down Thursday evening".  And the fire started the night before Thursday... Ergo - I didn´t lose a thing... except for beautiful memories from the presious moments we had in that "sacred" building.  And how my heart cries out for all those who lost so much during that dreadful night.  
Today's Norwegian prog rock scene reminds me a lot about the first years of the Norwegian metal scene where a lot of bands made it pretty big abroad while still being unknown in Norway. The same is now happening with the Norwegian prog rock scene. How is really the situation in Norway when it comes to gigs, media exposure and record sales ?

To tell you the truth, I know so much more about the metal scene than I do about the prog scene.  But you know,- you are right.  It´s not too easy to get attention here in Norway. Not too many places you can play at either.  But hey,- if it doesn´t kill ya´- it´ll only make you stronger.
You have been involved in everything from speed metal to pop. Name some of the best albums you have participated on ?
I love the two albums we did with "Artch".  My album with "Drysill" ( Icelandic ) rates high as well. But there´s no doubt that the best is yet to come - "The Suffering Joy".....
Anything you want to add to this interview ?
I know that many of you think that this "CD-Pregnancy" has taken a much too long time.  I can only say sorry, but I promise you as well - you will find the waiting worth the while once you have the new CD in your speakers  Play it loud - and make us proud !!!
Thank you to Eirikur for this interview.
Their PA profile is here and their homepage is here